Where Does Elizabeth Warren Actually Stand in the Race?
She still draws impressive crowds, but the senator's Brooklyn rally showed a candidate approaching a crossroads.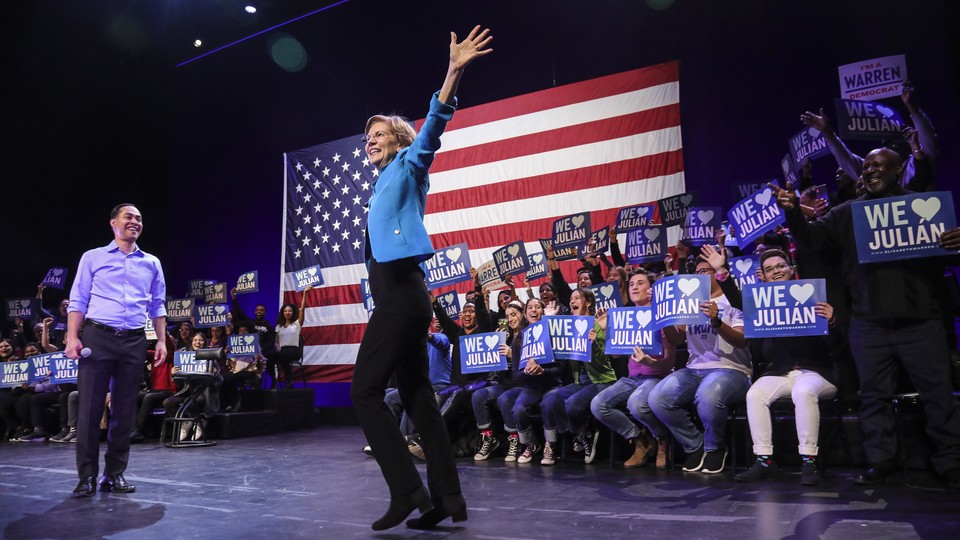 Sitting inside the cavernous Brooklyn auditorium where Senator Elizabeth Warren rallied before 3,000 cheering fans last night, you'd never have known that an Iranian retaliatory strike had brought the United States one step closer to another war in the Middle East. Nor would you have guessed that the candidate these people had waited, in some cases, more than four hours to see had recently lost her lead in the Democratic-primary polls and had found herself suddenly on the outer edge of the top tier less than a month before the primary season kicks off in Iowa.
For a while at least, Kings Theatre seemed to be an oasis from all that. A capacity crowd danced to Whitney Houston and tried, haphazardly but energetically, to start the wave while they waited for the late-arriving Warren. The jubilant vibe was no different from the last time the senator from Massachusetts held a major event in New York, in mid-September, when 20,000 people filled Washington Square Park to hear from the Democrat who was then surging to the front-runner's perch.
Only when Warren opened her remarks by detailing the reports of Iran's attack did the enthusiasm, briefly, go out of the room. "We have to start on a very sober note," she said. Warren offered prayers for U.S. service members stationed around the world, noting that her three older brothers had all served in the military. "This is a reminder of why we need to de-escalate tensions in the Middle East," she said. "The American people do not want a war with Iran." That last line drew a big cheer, as Warren moved on to acknowledging the earthquake in Puerto Rico.
Then, suddenly, the party was back on. "We're going to have some fun tonight!" Warren declared.
There would be no more references to Iran; indeed, there would be no further mention of foreign policy at all from Warren. She is not a candidate who focuses on foreign policy, yet the onset of a global crisis comes at a precarious moment for her campaign. Warren's goal last night—joined with a flurry of media appearances in the past few days—was to recapture the momentum that she has lost in recent months, and she gave the crowd not a new song but a collection of her greatest hits, a reminder of what had fueled her rise in the first place.
She did, however, debut a new sidekick: Julián Castro, the former Obama-administration housing secretary, who announced his support for her presidential bid just days after ending his own.
Castro told the room how, when he would meet voters in Iowa, many of them gently let him know that he was their second choice; Warren was first. "More than any other candidate in this race, more than any other candidate that's going to be on that debate stage in a few days, Elizabeth Warren is the candidate who can unite the entire Democratic Party," he said. "She can bring people together. She can appeal to all sides."
The two drew an enormous ovation when they embraced onstage, creating a tableau of a potential presidential ticket in the fall—a possibility that people in the audience were already speculating about in the lead-up to the event.
Yet Warren has to win the nomination first, and underneath all the enthusiasm inside the theater last night was a creeping nervousness about her diminished standing in the race, and one dominant theory about what explained it. "I'm petrified," Brent Lomas, a 33-year-old who handles communications for a nonprofit, told me. "I think it has more to do with sexism than anything Elizabeth Warren has done."
"That may be hurting her right now," added Tom Williams, 74, a retired attorney from Long Island. He referred to "a natural reluctance" on the part of many people, and white men in particular, to vote for a woman for president.
"I do think it's because she's a woman," said Ariel Jacobs, a 33-year-old piano teacher.
Warren's slide from a slim lead in early state and national polls in the fall, to third or fourth place now, followed sustained criticism she received from her rivals over her detailed plan to pay for her Medicare for All proposal. The Warren fans I spoke with last night acknowledged that correlation, but they said she was facing more scrutiny over her policy plans than the three male candidates—former Vice President Joe Biden, Senator Bernie Sanders of Vermont, and former South Bend, Indiana, Mayor Pete Buttigieg—who had eclipsed her in the polls. "Bernie Sanders literally had a heart attack!" Lomas noted. "It just reminds me of how Hillary was treated," he added, referring in part to the wall-to-wall news coverage after Clinton fainted at a 9/11 remembrance ceremony two months before the 2016 election.
Others I spoke with last night expressed no such worries, and dismissed the recent polling as inaccurate or noted—correctly—that many voters in Iowa and New Hampshire remain undecided or open to changing their minds in the weeks before the caucuses and primary in those states. Warren has largely refrained from attacking her rivals directly, but there was more urgency to the message that she and Castro delivered last night.
"We're meeting at a very special moment in this entire campaign cycle," Castro said. His argument that Warren was the one candidate "who can unite the entire Democratic Party" was light on specifics, but it seemed aimed at holding her up as a consensus alternative who could bridge the yawning gap between supporters of Biden and Sanders. Castro also talked up Warren's on-the-ground operation in the early states, an indirect way of rebutting polls that show her lagging behind her rivals. "She has the best damn organization in these early states," Castro told the crowd.
Warren stuck to the argument she has been making for months—that her far-reaching proposals and her call for "big structural change" are both necessary as policy and smart as politics. "We need big ideas to solve the big problems in this country," she said. "I get it: You could look oh so sophisticated, oh so smart, by backing off from the big ideas. 'Not now. Too hard. Can't do this.'" At that point, a person in the crowd shouted, "Mayor Pete!" The crowd laughed and cheered.
"I didn't hear that," Warren joked. She quickly moved on with her stump speech.
The storms overhead—political and otherwise—would stay outside Kings Theatre for the night.