Deval Patrick's Righteous Anger
The former Massachusetts governor is practicing the kind of politics many voters say they want. How come it's not working?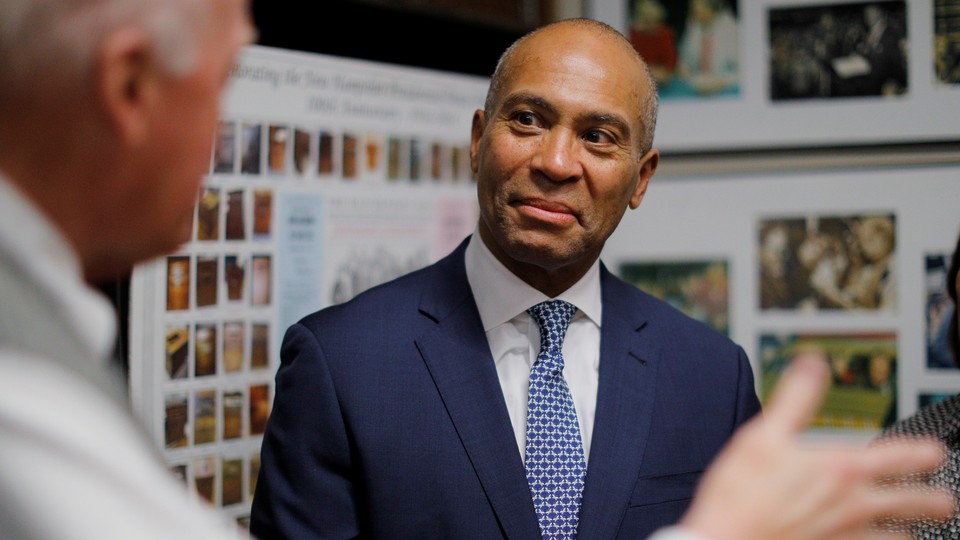 COLUMBIA, S.C.—Pretty much everyone hates what the Democratic primary race has become. It's gone on too long, cost too much money, and tended to reward people who've been repeating the same lines for years. Pretty much everyone also hates the debates. (How many people watched last week's debate and saw a future president? How many people saw someone who they're confident can beat Donald Trump?) And pretty much everyone hates what the process has churned out: A Des Moines Register poll three weeks before the Iowa caucuses, and 14 months after the campaign started, showed that 60 percent of people still hadn't made up their minds. The New York Times endorsed two candidates. "People like the field, but I don't think they feel that great about the front-runners," John Delaney, who is still winding down the final days of his own candidacy, told me a few weeks ago. New York magazine's latest cover headline nailed the Democratic panic: "Well, Here We Are."
And here I am, in the lobby restaurant of a Marriott, with a candidate who's telling me it's not too late to do something about all this. Deval Patrick says voters have been telling him directly that they like him, that they're ready to go with him, or at least consider him. "I meet donors who say, 'I am so there; I just want to see this in the polls, and then I want to bundle for you.' What are you waiting for? If you already think I contribute something that the rest of the field doesn't, why are you waiting for permission from pundits, pollsters, the party, somebody else?" Patrick said. I've heard the same thing from people who've been thinking about writing checks. More often, I've heard people tell me that they can't bring themselves to be a part of this.
When the lights in the lobby keep swelling high and low, and the manager comes over to apologize, he doesn't recognize the former Massachusetts governor. Neither does the waiter.
That's the problem for Patrick. He got in a year later than he was planning to, because his wife was diagnosed with cancer in late 2018. Then he spent this past fall stressing about how far off course the primary race seemed to be spinning, before deciding in November to go for it. That's a whole year he didn't spend getting better known, or building any kind of organization. By the time he did jump in, he had to argue with campaign staff he'd never met before about whether to spend days chasing the media exposure they said he needed or follow his gut and campaign more deliberately, one on one, the way he had in his first race, when he'd pulled off his out-of-nowhere win for the governorship of Massachusetts. He's annoyed about old friends and supporters who've been smiling to his face—and then telling reporters like me that they're heartbroken to see what a flop his campaign seems to be so far.
[Read: John Delaney is still running. Why?]
On the November day Patrick formally entered the race in New Hampshire, he said he didn't "aspire" to being part of the debates, but since then he's been calling Democratic National Committee Chairman Tom Perez, complaining about the polling and fundraising thresholds, which have kept him out. He says he still doesn't love the idea of participating, but wants his campaign to be taken seriously, and have reason to be taken seriously. He's still more interested in writing policy proposals than doing the kind of attention-grabbing being pushed by his younger aides. And he's tired of talking about his "path to the nomination," or how much trouble he brought himself by waiting until November to launch.
Patrick and former New York City Mayor Mike Bloomberg jumped in within days of each other, sensing the same weakness in and dissatisfaction with the field. Patrick is running a campaign that would seem to represent what so many Democrats say they want politics to be: a thoughtful candidate with a history of winning white and nonwhite voters, resisting the theatrics of the process, spending his time talking with people instead of fitting their problems into a preset worldview or cribbing talking points from aides. Bloomberg is running the opposite kind of campaign, one in which what counts more than anything else is how much money and how much time a candidate spends on TV. Bloomberg's the one actually registering in the polls.
If you want idealized politics, go watch Dave or The West Wing. Donald Trump's been building a billion-dollar campaign machine for three years—that's what Bloomberg is spending piles of money to combat. And while voters might not exactly be swooning for him or for the candidates who have weathered a year of scrutiny and pressure, the other remaining candidates Patrick is up against have at least semi-functional organizations, and, like Bloomberg, support that's larger than a polling margin of error.
Montana Governor Steve Bullock and Senator Cory Booker both tried versions of Patrick's campaign, emphasizing getting results as executives and bridging divides. Both are back at their day jobs.
Because Patrick got into the race so late, there haven't been many chances to see directly how he compares with the rest of the field. But Martin Luther King Day found him in South Carolina with many of the other candidates in the race, including the front-runners. They started the morning at Zion Baptist Church in Columbia, then linked arms to march to the state capitol for a program of short speeches. Bernie Sanders spent his four minutes all but declaring that King would have been voting for him, repeatedly stressing the word revolutionary. Biden, going with remarks not subtly geared to African American voters, mangled many of his lines—sounding like he was reading them for the first time, even though he'd read most of them verbatim at an event a few miles away the night before. Tom Steyer, who'd been doing goofy fist bumps during the the musical interludes, came up to the mic surrounded by African American members of his staff and made sure to mention that he's for reparations. Tulsi Gabbard managed to jam her usual campaign spiel about ending military spending into an appeal to build social programs. Elizabeth Warren gave a warm speech linking herself to the parable of the persistent widow. Amy Klobuchar spoke at length about voting rights and carrying King's spirit of justice into the impeachment trial. Buttigieg didn't speak, having ducked out to get on his charter plane back to Iowa before the program began.
[Read: Andrew Yang's campaign is not a joke]
Patrick spoke last, talking about how he'd gone from his childhood sharing a bed in a Chicago tenement on the South Side to a business career and two terms as Massachusetts governor. Standing a few feet away from where the Confederate flag had flown until it was taken down in the aftermath of the 2015 Mother Emanuel shooting in Charleston, Patrick talked about Strom Thurmond, who'd stood in the way of civil rights as a senator from the state—and then voted for Patrick's confirmation as head of the Justice Department's civil-rights division under Bill Clinton, where he'd led a task force that tracked down Klansmen who'd burned a church in Greeleyville.
The event had been going on for well over an hour. It was chilly, and past lunchtime. But the crowd remained focused, listening and reacting, as he spoke off a few note cards, delivering the kind of audience-grabbing oratory that, in this election cycle, only Cory Booker had come close to pulling off.
"We cannot go from hope and change to fear and 'settle for that.' Not a nation with a conscience. Dr. King and his allies didn't fight for the right to vote for us to sit idly by and wait for someone else to save us," Patrick said. "No one's coming to save us, but us."
Patrick was the only candidate who stayed after the program to greet voters, though not many rushed to him. Deborah Breedlove, a retired business owner from Columbia, told me she liked his honesty, and respected that he'd taken a pause for his wife's health, but acknowledged the downsides. "I think his only problem is that enough people haven't met him yet," she said.  Ahmuld Thomas, who works at a local supermarket, told me he'd logged on to Patrick's website during the speech, and wanted to read more. To that point, he'd been leaning toward Tom Steyer, distrustful of anyone who's been in D.C. for years. But "he's fresh," Thomas said of Patrick. "I'm definitely going to look him up." Neither was committed.
After the speech, Patrick ducked into the capitol building to regroup, but when I asked after him, the security guards misheard and told me there was no "Governor Kirkpatrick" inside. I elaborated. "Oh, the black guy?" one of them said, and then let me in. Patrick had been leaning on the back of a chair in an auditorium on the first floor, texting someone, but he almost leapt at me when I asked if he'd read the New York Times endorsement. He was bemused by both the wishy-washy double pick, and by the inclusion of his name in a throwaway line from the editorial board about how readers should "stop and consider the talents who did throw their hat into the ring and never got more than a passing glance from voters"—this written by a group of people who had called him in for an interview and, he felt, clearly not given him more than a passing glance themselves.
A day earlier, after a different church service he'd quietly sat through for an hour, I'd told him I'd met a voter with whom he seemed to be making a connection but who'd told me he thought Patrick would make a good vice president. Convinced I was just trying to elicit a fitting quote from him to end a precooked story about his no-chance presidential bid, he issued a terse "Thank you?" and walked away. After the speeches the next day, he was still hot about this. Growing up in poverty and fighting his way to success in school, government, business, and politics, he told me, he'd spent his whole life getting the "back of the hand" from people who told him to sit down, and it had never stopped him.
"We revere competition, until the competitor comes forward and says, 'Well, I'd like to compete.' And particularly in a field that has been working this hard and hasn't settled the question" of who should be the nominee, he continued, "there are all these people saying, 'Well, we'—we: pundits, pollsters—'can't handle any more candidates.' But the people can. They can. And the wise guys and wise gals consistently underestimate people."
Patrick wasn't done: "At the end of the day, functionally—I'm not talking about the material impact, but functionally—what is the difference between 'He's too late' and, a dozen years ago or more, 'We're not ready for a black president'? I would expect that commentators who are really sophisticated would be self-aware enough to examine those kinds of assumptions, instead of just accepting them."
It's true that the themes of the 2020 election on the Democratic side have been powerlessness, resignation, and bitterness. If you're looking at candidate events for the kind of passion that supporters showed for Obama in 2008, or for Donald Trump or Bernie Sanders in 2016, it's hard to find—I've tried. "I'm going to work real hard for the nominee," Patrick said, "but like most voters, I want to be excited about it. I don't want to be running from a position of, you know, 'elect or doom.'"
"I'm as angry as anybody, but in some ways, I listen to the anger and I think to myself, My gracious, I've been angry for generations about the same things—generations," he said. He's heartened that more people feel the anger now. He won't say their names explicitly, but he's worried about what happens if that anger is compounded by Sanders or Warren going to war with Republicans, or if Biden or Buttigieg tries to jam the anger back beneath the surface. He's worried about any of them failing to connect with enough voters to beat Trump, or to actually deal with what Trump has exposed about how close to the edge the country is. "Our determination to beat him is expressing itself the way people who are bullied sometimes express themselves: as fearful and overthought, instead of standing up for what we believe in."
"I'm not sure we will, but we might win the election," Patrick said. "But we won't win the one after that."