Democrats Should Be Worried About the Latino Vote
Political organizers have a warning for the 2020 candidates.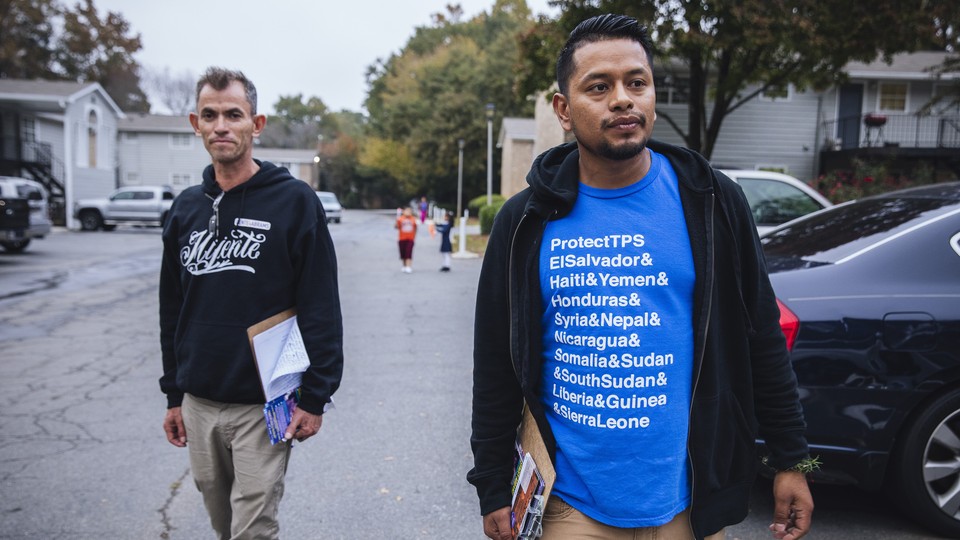 The first warning sign of the new year came three days into 2020. Speaking at a rally of conservative evangelicals in South Florida, President Donald Trump riffed on the targeted killing of Iran's Qassem Soleimani before the thousands assembled in the King Jesus International Ministry megachurch, outside of Miami.
That night, the president captured headlines for declaring that "God is on our side" and accusing Democrats of disloyalty for not supporting his air strike. But for Domingo Garcia, the national president of the League of United Latin American Citizens, what the headlines—and Democrats—missed was the significance of the rally's location: the home of the country's largest Hispanic evangelical congregation.
"That should be a serious red flag to Democrats," Garcia told me. Trump's outreach to conservative Latinos in the South serves as a warning sign for deeper concerns that several Latino leaders and political activists shared with me: that they are dissatisfied with the level of engagement they are seeing from the Democratic primary contenders and are noticing the same kind of poor strategizing by candidates that yielded disappointing turnout among Hispanic voters in 2016.
By all demographic counts, 2020 should be the year Latinos make a decisive mark on national politics: Their support could swing primary races in early-voting and Super Tuesday states, possibly securing the nomination for one of the Democratic contenders, and it could tip the scales in the general election if they turn out to vote in the same record-breaking numbers as they did during 2018's midterm elections.
But some of the Latino political organizers I spoke with described the primary season so far as a master class in "political malpractice"—as one person phrased it—with candidates struggling to engage Latino voters, address issues beyond immigration reform, and treat Latinos as the influential voting bloc they are. Others reported a lack of candidate interest in working with their organizations, including missed meetings and radio silence on questionnaires. (On top of all that, the only Latino candidate in the race, Julián Castro, dropped out earlier this month, leaving an all-white stage for tonight's debate.) There's a real risk that if Democrats don't sort out these issues soon, they could struggle to attract and mobilize what could be the largest minority voting bloc in 2020.
"It feels like every four years there's this clutching of the pearls and head-scratching about why the hell Latinos don't vote," Marisa Franco, a co-founder of the Latino activist network Mijente, told me. "I don't think it's an absence of interest. It's a hunger for options."
The only candidate still in the race to receive virtually universal praise from the organizers was Senator Bernie Sanders. Organizers from California to Texas highlighted the Sanders campaign's grassroots engagement, something that seems to be reflected in Latinos' consistently strong support for the senator: In poll after poll, Latinos, especially young Latinos, rank Sanders as their top pick among the primary contenders. Chuck Rocha, a top Sanders adviser, told me that the polls reflect the senator's priority of expanding the electorate, including young Latinos who have not voted before. Of the record 32 million Latinos eligible to cast a ballot in 2020, 4 million of them turned 18 after the 2016 election, María Teresa Kumar, the CEO of the political-advocacy group Voto Latino, told me.
Rocha and Sanders's national political director, Analilia Mejia, said the campaign has aired Spanish-language ads for the past eight months and hired more than 150 Latino staffers around the country. In vote-rich California specifically, the campaign opened most of its 14 field offices in heavily Latino communities, including East Los Angeles, Oxnard, San Jose, and the Central Valley region. "On our campaign, we're very clear about the rising Latino iceberg of voters, how for years to come there will be a need to deeply motivate and mobilize Latino voters," Mejia said. "When you have people who belong to that community [and] you empower those folks, of course you're going to do better within that community—if you have folks who know how to navigate it, folks who come from it, folks who respect it."
Sanders aside, the organizers I spoke with said the first signs of trouble in the 2020 campaign were clear during the two nights of the first Democratic debate, in June.
When several candidates broke into Spanish during those back-to-back performances, they quickly faced criticism from some quarters for "Hispandering." (Others said it was an attempt at displaying cultural competency that they appreciated.) But perhaps even more concerning for the organizers who spoke with me was how many of the candidates focused exclusively on immigration when speaking about "Latino issues."
"Yes, there are Latino citizens and voters who are more comfortable in Spanish, but people are interested in what kind of a candidate you are and … what are you planning to do," said Clarissa Martinez de Castro, the deputy vice president for policy and advocacy at UnidosUS, one of the oldest Latino advocacy groups in the country. "I think a lot of times, where Latino voters are concerned, they tend to be either taken for granted and/or attacked. And so our biggest fear is that we see a continuation of that."
She and other organizers are concerned that both parties are following an outdated political playbook that casts Latino interests as alien to the concerns of working-class white Americans in the Midwest and Rust Belt states that Democrats are determined to win in the general election. As my colleague Ron Brownstein wrote last week, demographic trends suggest that the Rust Belt states Democrats are trying to wrest from Trump will only lose political influence as Americans move south and west—lending more political power to the states where Latinos already reside.
Jacqueline Martinez Garcel, the head of the California-based Latino Community Foundation, points to the Democratic sweep of longtime Republican strongholds in Southern California during the midterms as evidence that candidates should think of Latino interests beyond immigration as part of their mainstream agendas. Democrats managed to flip four House seats in Orange County because of a significant increase in Latino participation, driven by candidates who went door to door and collaborated with grassroots activists in their communities, Martinez Garcel said.
Representative Norma Torres of California told me that some candidates seem to overlook how issues such as education, affordable housing, raising the minimum wage, and college affordability dominate the minds of many working-class and young Latinos in particular. Torres, who immigrated to the United States from Guatemala as a child, said three candidates had met with the Congressional Hispanic Caucus's political arm, of which she is a member. In those meetings, the candidates "regurgitate old policy," she said, and "forget that the majority of Latinos live in communities like mine, which are very, very poor, working-class."
Still, beyond their concerns about throwaway lines and policy blind spots, the organizers I spoke with said they fear that the candidates are struggling to understand a key fact about Latinos in America: They are a tremendously diverse group ideologically and culturally. And that diversity means there's an opening for Republican overtures.
"Latino conservatives in Florida and in Texas, by the way, are amenable to the Republican message and are willing to forgive Trump's anti-immigrant, anti-Latino rhetoric to a certain extent," said Garcia, the League of United Latin American Citizens leader. "That's a small minority. But, you know, the difference between 20 and 30 percent could mean the difference of winning Texas or Florida or losing them."
In other words: Republicans don't need to win all, or even a majority of, the Latino votes to win in competitive states. Trump seems on track to capture 25 to 30 percent of Latino voters in 2020, a steady showing from his 29 percent support in 2016 and the roughly 32 percent of Latinos who voted for Republicans in 2018.
"That's a concern that never leaves my mind," says Representative Joaquin Castro of Texas, the chairman of the Congressional Hispanic Caucus, who argues that his brother's now-defunct campaign demonstrated how candidates should weave Latinos' economic and social concerns into broader discussions of criminal-justice reform, affordable housing, and education. (He said Julían Castro plans to increase the presence of Senator Elizabeth Warren, whom they have both endorsed, in Latino communities.)
The common theme in my conversations with political activists was the stress they feel watching this campaign—the stress that too many candidates assume they're doing enough for Latino voters, and that they'll be lulled into a false sense of security come the general election. After the primary, the eventual nominee could end up assuming that the Latino vote is theirs for the taking, the thinking goes, since Latinos couldn't possibly vote to reelect the president or sit out another cycle. But the nominee could be very, very wrong.