Error and Trial
What's it like to go from serious presidential candidate to just another of 100 senators?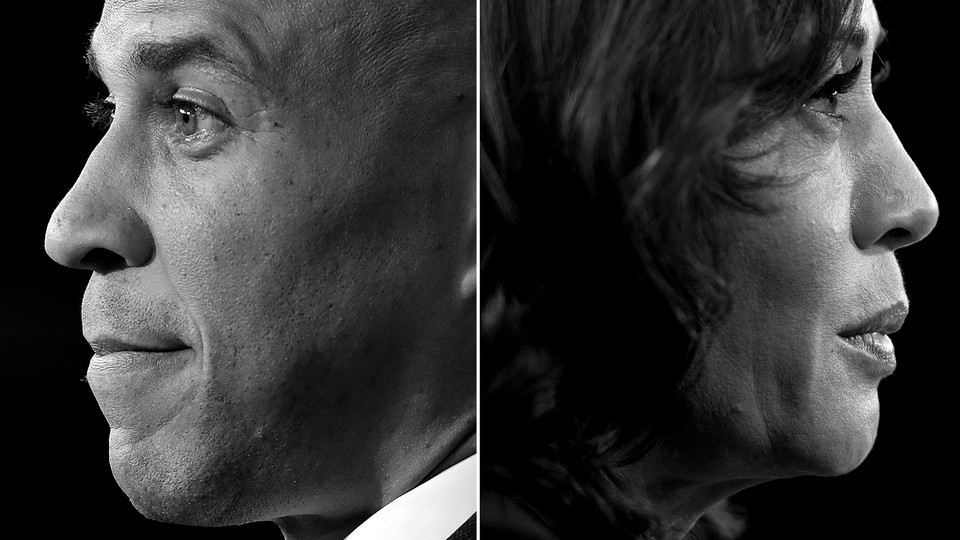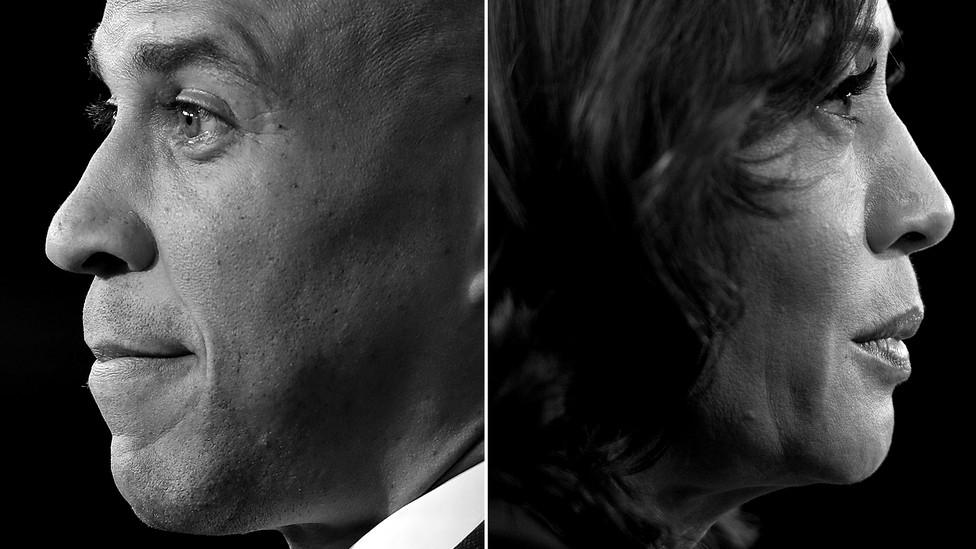 As the Senate impeachment trial droned on Thursday afternoon, Representative Jerry Nadler, one of the House managers prosecuting President Donald Trump, launched into a long, scholarly lecture on the constitutional remedy for presidential "abuse, betrayal, corruption"—what he called "the ABCs of impeachable offenses." In the last row of the chamber's Democratic side, Senators Cory Booker and Kamala Harris sat in forced silence.
This is surely not how either big-name Democrat had planned to spend the third week of January: in the political equivalent of their parents' basement, having flunked out of the presidential race they'd approached with such high hopes last year. Their backbench neighbor, Michael Bennet, who is still running but has long struggled for traction, languished in the same psychic dunce's row, listening listlessly.
Less than two weeks before the Iowa caucuses, much attention is focused on the three Democratic senators—Bernie Sanders of Vermont, Elizabeth Warren of Massachusetts, and Amy Klobuchar of Minnesota—who are compelled to be mute, hour after hour, while their top competitors, Joe Biden and Pete Buttigieg, are free to talk up a storm in Dubuque, Des Moines, Davenport, Marshalltown, Mason City, Ames, and Clear Lake, because neither is a sitting senator.
But the plight of the 2020 also-rans is in many ways more poignant: They've been reduced from addressing rousing rallies and applauding crowds to making quick stand-up hits on cable news and firing off occasional tweets, as junior members of a body where seniority still counts for so much. Even their limited communications privileges have been severely constrained, as Booker effectively acknowledged on Tuesday night when he slid a shiny red apple into the cloakroom cubby reserved for senators' mobile phones, which are verboten on the floor during the trial. "Last night, Cory Booker decided to rib us iPhone folks with his own real-life apple," Senator Angus King of Maine tweeted. "But does it stream CNN?"
Booker himself may have been rendered deviceless inside the Senate chamber, but his staff has seen to it that he's doing his best to keep up in the social-media race for attention. Early Thursday afternoon, his communications director, Kristin Lynch, tweeted a link to Booker's own highlighted annotations of discussions about impeachment at the 1787 Constitutional Convention.
For her part, Harris was buttonholed by CNN's Dana Bash Thursday morning on the balcony of the Russell Senate Office Building and offered her capsule review of the trial, in which Majority Leader Mitch McConnell has so far refused to allow the subpoena of witness testimony and documents. "Bring all the facts so we can determine what happened," Harris said.
Headline news, they're not making.
At the very moment when Booker and Harris are most eager to write their next chapters and look ahead, they are consigned by the rules of the trial into virtual purdah, their ability to communicate directly with viewers and voters—and by extension impress the remaining active candidates who might choose them as running mates—severely impeded. The New York Times reported late Thursday that Harris is considering endorsing Biden, but if true, the trial is hardly the time for her to say so. Moreover, the impeachment arena is one in which Harris—whose sharp, prosecutorial questioning of Trump nominees and appointees is part of what propelled her into presidential contention in the first place—might be expected to excel, except that all senators' questions for the presidents' lawyers must be submitted in writing to the presiding officer, Chief Justice John Roberts.
So how are the would-have-been presidents feeling?
Just before yesterday afternoon's trial session, Booker was waylaid in the Senate subway by the veteran Republican pollster Frank Luntz and a group of 11 international students. When I asked the senator how it felt to be stuck in Washington and not in Iowa, he fixed me with a mock-hurt gaze and said, "Really? You trying to poke my sadness?" Booker went on, "Look, it's definitely heartbreaking that things had to end, but at the same time, I cannot escape my gratitude for the experience. It's been really wonderful."
Moments later, Senator Richard Blumenthal of Connecticut, who sits between Booker and Harris, passed by. "Wish they were somewhere else?" he said with a grin, playing along with my question, before offering a serious reply. "They have been focused totally on the trial," he said. "I can tell you that all we've discussed is the trial, and they've both taken notes and they're both fully and completely attentive to what's going on."
"I'm sure it's mixed feelings," Bennet told me with a rueful smile when I caught up with him in the basement of the Capitol Thursday night to ask how he thought Booker and Harris were faring. As for himself, he's headed to New Hampshire tomorrow to continue fulfilling his promise to hold 50 town-hall meetings, even if his message of commonsense moderation has failed to catch on with fired-up primary voters. He also insisted that his forced attendance at the trial—he frequently stands up to stretch—hasn't been disappointing.
I stood with Bennet as he wolfed down a roast-beef sandwich in a hallway during a quick dinner break. "I think the House managers have presented such a compelling case. I think our democracy is at real risk," he added, bemoaning McConnell's refusal to allow a hearing on Barack Obama's nomination of Judge Merrick Garland to the Supreme Court, and his restrictive rules for the impeachment trial. "If this becomes a permanent state of affairs, this is what ancient observers said would be the end of the republic. We are at risk of having a set of rules that won't allow the American people to see what the facts are."
Booker's and Harris's primary-season comedown is nothing, of course, compared with the fate suffered by sitting senators such as George McGovern, John Kerry, and John McCain, who won their parties' nomination only to lose the biggest prize in the general election, and returned to Capitol Hill as one humble face among 100. After his losing campaigns for president, Senator Bob Dole liked to joke that he'd slept like a baby: "Every two hours I woke up and cried."
In 1980, Ted Kennedy returned to the Senate after his failed primary challenge to Jimmy Carter. But he was a senior member and chair of the Judiciary Committee, and slipped right back into place, his former aide Bill Carrick recalls. A bigger blow was the Democrats' loss of the Senate to the GOP in Ronald Reagan's victory that fall. "Being in the minority for the first time, now that is a transition," Carrick says. "Of course, he then became the de facto leader of the Reagan opposition in the '80s."
But dropping out before a single vote was cast still stings, and Booker's and Harris's body language in the chamber has seemed to reflect that this week. Booker tends to take notes on his lap, Harris on her desk. Booker rests his chin in his hand; Harris folds her arms across her chest. That's about the extent of the allowable variations in posture.
They appear to be making the best of things. Some Democratic Senate insiders say that Harris, whose once-promising campaign collapsed before Christmas, seems to have resigned herself to the reality that the Senate will be her perch for the time being.
When the trial is over, and assuming Bennet will have to drop out of the race after Iowa and New Hampshire, all three senators will certainly be welcome back on the hustings as surrogates and supporters for other candidates, and as united messengers for the eventual nominee in an all-hands-on-deck fight against Trump in November. Booker and Harris, especially, could be essential in motivating the voters of color who are expected to cast more than 40 percent of ballots in the Democratic primaries and caucuses this year, and who will be a vital part of any winning coalition in the fall.
"Even in the days since two Mondays ago," when he dropped out, Booker told me, "the goodness I've been hearing from everybody, from people in the media, to Republicans, to Democrats, about how the values we ran with this campaign—so many people have affirmed to me, from all sectors, that [they are] the values our nation needs, especially now."
Spoken like a politician who's a long way from throwing in the towel.