Cory Booker Runs Out of Time
Despite enthusiastic crowds and an impressive pile of endorsements, his campaign couldn't break through.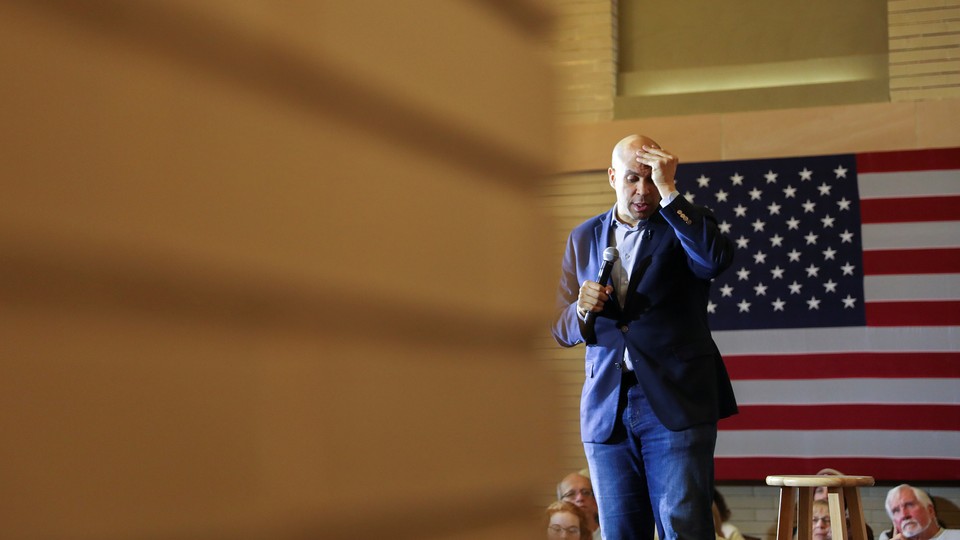 MOUNT VERNON, Iowa—Cory Booker had an original Jimmy Carter campaign button in his pocket. A woman at his previous event had handed it to him, and he was holding on to it as a final talisman of hope. It was Thursday, his second day trip to Iowa in three days. His flight out of Eastern Iowa Airport was in an hour. He hadn't slept in the same bed for more than a night in two weeks. He sat in the front seat of an SUV, rubbing his fingers up and down his nose.
"The question is," Booker said to me, "will we have the time in Iowa to close?"
He told me that he thought if he could qualify for tomorrow night's debate in Des Moines, he could win the Iowa caucus. The problem was, he knew by then that qualifying for the debate was highly unlikely—and he learned definitively a few hours later that he wouldn't qualify. If he could park himself in Iowa for the next three weeks, do 40 or more events in the state before the caucus, on February 3, he thought he could win. He'd been studying the metrics with his aides. He understood where he needed to go. He just didn't know if he had enough time to get there.
"We could literally be getting hundreds if not thousands more caucus-goers" in the next few weeks, he said, in each of the many "strategically placed towns we could visit." He could envision moving up in the polls, one place at a time.
But Senate duties called. Intelligence briefings on Iran. Soon, an impeachment trial. (He sits on the Judiciary Committee, which theoretically will hold hearings before the full Senate acts.) Every flight back and forth to Washington, D.C., was another event or two he could have done, another couple hundred people he could have tried to sway. He could feel the time ticking away.
"If we get folks to hear my message and feel my spirit, we will win this election," he told me. If he'd been a full-time campaigner in Iowa, "we would have run away with this."
In the end, he didn't have enough time. Yesterday, he and his top aides got to where they'd been inching toward: There was no way to win. His crowds were always enthusiastic—but his poll numbers and fundraising never took off. What little money he had, he was dumping into TV ads that he hoped would lift him high enough in the polls to qualify for the debate, but that hadn't worked—and so he couldn't count on the online fundraising boosts that other candidates had been getting off the debates. Earlier in the cycle, he'd gotten a bump of attention and money when Kamala Harris quit the race right after Thanksgiving. He got another, smaller one when Julián Castro dropped out right after New Year's. Booker and his aides kept holding out hope that moments like these would add up to some kind of magic, even as political observers outside the campaign were asking if he was the last person to realize it was over.
At the beginning and end of his campaign, events beyond Booker's control made it hard for his campaign to gain traction. On the day he announced his candidacy, in February, the political news cycle got consumed by the public release of a photo of Virginia Governor Ralph Northam in blackface. This month, impeachment and Iran made it hard to plan travel to Iowa or schedule fundraisers. This will be a problem for all the senators still in the race, but for Booker, who needed to move the most, Iran and impeachment were, as he admitted at one of his events, a "double blow."
Booker's supporters remained convinced to the end. Each of the two events Booker held on Thursday—which would turn out to be his final appearances on the trail—drew more than 150 people, who greeted both his introduction and the close of his speech with standing ovations. Booker attracted more people to the basement of a small-town community center at lunchtime on a weekday than Joe Biden had drawn to an event 60 miles away the Friday before. For that matter, two is more standing ovations than candidates tend to get. When people see Booker in person, they seem to get won over. It's a matter of puzzlement to campaign reporters that the enthusiastic response he generates at his appearances didn't translate into better standing in the polls. "You can tell this is who he is; it's not just what he's saying," a woman told me after seeing Booker speak in North Liberty on Thursday. A student who'd come to see Pete Buttigieg speak in Des Moines last night told me that while she likes the former South Bend, Indiana, mayor, she was more impressed by Booker's passion, and that his style fit more with what she's looking for in a president.
"Somebody here's thinking, Ohhhh, Cory Booker's going to talk about looove," Booker told the crowd in North Liberty. "Is this about who has the best 15-point plan? No. I think I do. But no. This election is about which leaders—plural—can inspire us again to see each other's hope and promise." Though this gushy, gauzy stuff might seem to be out of step with the crush-the-opposition partisanship of the moment, the people who were signing cards commiting to caucus for him—"Look at that stack!" he said when he saw the size of the pile—seemed to have eaten it up, saying they were just looking for someone to be kind.
County chairs and local politicians kept coming out for him, even into last week. "He has the strongest message," Tim Horrigan, a New Hampshire state representative who endorsed Booker on Thursday morning, told me late last week. "He's totally the antithesis of Trump and also somebody who could heal the damage that Trump has done." Bryce Smith, the chair of the Dallas County, Texas, Democrats, who endorsed Booker at the end of December, told me that he personally had been won over by how Booker seems to "ooze his love for everyone," and that he believed a "silent momentum" of elected officials and activists could help Booker win on caucus night.
Booker tried to make the case that his candidacy would bring what Democratic primary voters have been looking for all along: unity. Enthusiasm. Energy. Youthfulness. The high black turnout that might actually be the deciding factor in Pennsylvania, Ohio, Wisconsin, and Michigan.
But to Booker's frustration, a party that likes to see itself as representing America's multicultural future is being dominated by candidates who are mostly old, white, rich, and male—making it impossible for the candidate best positioned to beat Donald Trump to break through. "Yes, we could lose this election," Booker told me last week. "We need to elect the right person that can excite record turnouts, really have a wave election. I'm very concerned about it. Yes, I'm absolutely concerned about it."
What comes next for Booker and his team? Booker built an extensive operation in Iowa. Those organizers are now up for grabs. Meanwhile, Booker himself immediately moves to the top of potential-running-mate lists; he's possibly the only man who would make the shortlist if one of the male candidates becomes the presidential nominee—and he'd be a natural running mate for either Elizabeth Warren or Amy Klobuchar.
Booker's supporters are also up for grabs. Many I've spoken with seem inclined to gravitate toward Warren, though some like Buttigieg as well. In a race that's heading into the final three weeks in a four-way tie, his supporters could make the difference here in Iowa, and be an important element in determining the nominee.
"Don't make this Iowa-caucus decision out of fear," he said at his last events. "Make it out of faith."