The New Question Hanging Over the Impeachment Trial
Corroboration of President Trump's alleged abuse of power will change everything … or nothing at all.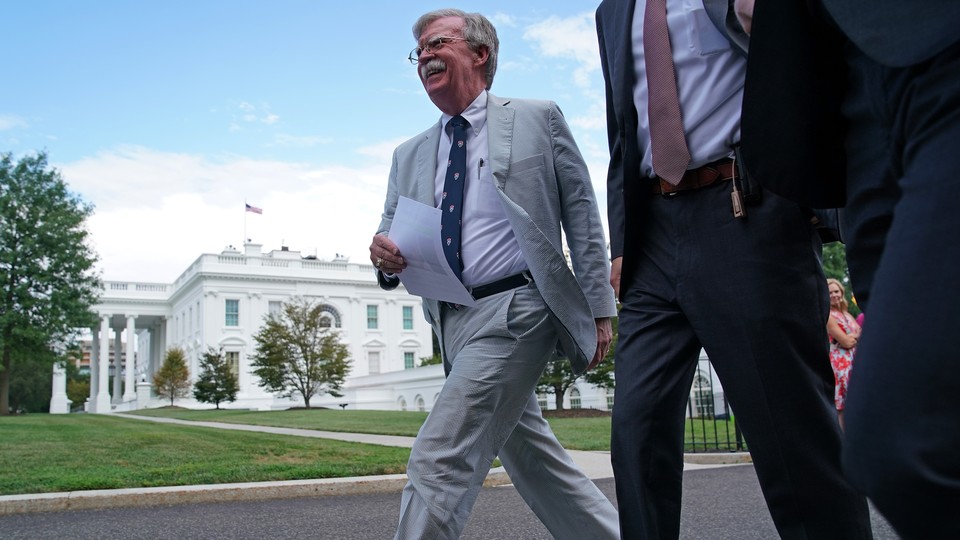 In the clattering corridors of the Capitol today, the hunt for the startling fact that could change the arc of the impeachment story was on in earnest, but Senator John Kennedy, Republican of Louisiana, wasn't much help. A clutch of reporters surrounded him at around noon, asking whether he believed John Bolton's assertion in a forthcoming memoir that appears to confirm President Donald Trump's alleged quid pro quo with Ukraine. "I wouldn't bet the house on it," Kennedy said with his trademark folksiness filtered through a Rhodes Scholar's intellect. "If I were betting your house, it would probably be a maybe."
Indeed, two questions hung over the Senate as the impeachment trial resumed this afternoon: What does John Bolton know, and when, if ever, will we know it? It turned out that the world's worst place to seek a reply to those questions was the Senate chamber itself, and a maybe seemed as good an answer as any.
Trump's legal team took up its second day of his defense just after 1 p.m. without so much as acknowledging what the rest of the world regarded as a Perry Mason moment: a riveting new report by The New York Times that a draft of Bolton's forthcoming memoir recounts Trump telling the national security adviser last summer that he was withholding military assistance to Ukraine until it helped with investigations into his Democratic rivals.
"We deal with transcript evidence," was Trump's personal lawyer Jay Sekulow's message to senators at the start of this afternoon's session. "We do not deal with speculations, allegations that are not based on evidentiary standards at all."
Never mind that Bolton's account, as reported by the Times, would seem to provide the very sort of firsthand evidence of the president's malign intent that his defenders contend the Democratic House managers' case has lacked. Never mind that Bolton may well have documentary records to buttress his claims—documents of just the kind that Democrats are demanding.
The defense's relentless refrain? Nothing to see here. Instead, the former Whitewater Special Prosecutor Kenneth Starr delivered a pious hour-long lecture on the history of presidential impeachment, in which he argued that the case against Trump failed to clear the necessary bar of careful due process and broad bipartisan public and political support. "The Clinton impeachment, even though severely and roundly criticized, charged crimes," Starr said, beseeching the senators not to adopt impeachment as a routine political exercise "tantamount to domestic war."
Outside the chamber, as journalists darted after Republican senators in a frantic attempt to ascertain how the Bolton revelations might have altered the prospect of the Senate's calling witnesses in the trial, the story was not much different.
Top Senate Republicans, including Majority Leader Mitch McConnell and the president's ardent defender, Lindsey Graham of South Carolina, were said to be seething after being blindsided by the White House. The National Security Council staff has had a copy of Bolton's manuscript for nearly a month, and senators had a chance to air their grievances about the latest developments in a private lunch just off the Senate floor. (Graham failed to appear at the morning GOP news conference, where he was scheduled to help deliver the party's message of the day, but separately told reporters, "I want to see what's in the manuscript." He added, "But I promise you this: If we add to the record, we're going to call Hunter Biden, Joe Biden, all these other people.")
But at least in public, there was no immediate sign that the math for calling witnesses—Democrats would need at least four Republican votes—had changed meaningfully. "Many of them are keeping their powder dry, and that is the right thing to do," the Republican whip, John Thune of South Dakota, told reporters about his colleagues as he squeezed past journalists into his office near the floor.
"I don't know what it is," Senator Ron Johnson of Wisconsin told another scrum of journalists minutes later. Johnson had confronted the president in August about rumors that the aid was being held up for political reasons, and received an emphatic denial from Trump. "Right now, we're talking about a leaked report. The bottom line is, we're going to go through phase one" of the trial, before a separate planned vote on subpoenaing witnesses and documents.
For now, phase one remains a muddle as the trial moved into its second week, with 22 hours and five minutes of time still available to the White House legal team when today's proceedings started. Once again, the Senate observed antique forms of civility while exhibiting little sincerity of purpose. Before the trial began, Starr mingled on the Senate floor, smiling and greeting House Intelligence Committee Chairman Adam Schiff, the lead House manager, with, "Mr. Chairman, good to see you," as Schiff's special counsel, Norm Eisen, draped an arm over Starr's shoulder. Lawyer to lawyer, combatant to combatant, for one fleeting moment, they preserved the forms of a bygone Washington in the face of that vanished capital's substantive collapse.
When the trial began, the niceties of pretense evaporated and the real pretending began. The rules allowed the White House lawyers to rehearse the same refrain they had sounded in their opening arguments on Saturday: that the president did nothing wrong and the Democrats' case is unproven, without any recognition that the Bolton revelations were challenging that contention in real time.
One of the president's lawyers, Michael Purpura, went so far as to repeat his earlier assertion that "anyone who spoke with the president said that the president made clear that there was no linkage between security assistance and investigations." Similarly, the trial procedures allowed the Democrats no opportunity to object to such apparent falsehoods, which thus went unchallenged.
In the Capitol's vaulted hallways and byways—the only places where senators can actually speak during the trial—well-practiced talking points also prevailed. Senator Rand Paul of Kentucky, racing into the caucus lunch in khakis and deck shoes, pronounced Bolton "an angry and disgruntled employee." Susan Collins of Maine, one of the four Republicans who have seemed most open to calling witnesses, allowed in a Delphic morning tweet that "the reports about John Bolton's book strengthen the case for witnesses and have prompted a number of conversations among my colleagues," but when reporters sought to probe further as she entered the lunch, she said, "I've made my statement," and hustled by.
For his part, the Senate Democratic leader, Chuck Schumer of New York, began the day by accusing Republicans of "talking out of both sides of their mouth"; they complain that the Democrats' case lacks evidence and simultaneously resist efforts to gather more. Schumer said he regarded Acting White House Chief of Staff Mick Mulvaney, who has also said that Trump conditioned the aide to Ukraine on political favors before recanting, as a perhaps even more important witness than Bolton. He called Mulvaney "the chief cook and bottle washer" of Trump's actions on Ukraine, and dismissed Republican arguments that calling White House aides could result in lengthy court battles over executive privilege. "I believe there would not be a protracted argument" over privilege, he said.
Senate Chaplain Barry Black, who opens each session with a prayer that seems gently but pointedly keyed to the occasion, began today's prayer by invoking Kobe Bryant and the brevity of life, and expressed the wish that the senators would be suffused with "a desire to make the most of their time on Earth." He summoned Jesus's injunction in the biblical Book of John to hope that that members "shall know the truth and the truth will make you free."
That seems a mighty tall order in the Senate this week.