The Real Power of Bloomberg's Money
It's not what he spends to get into office that's so transformative—it's what he spends once he gets there.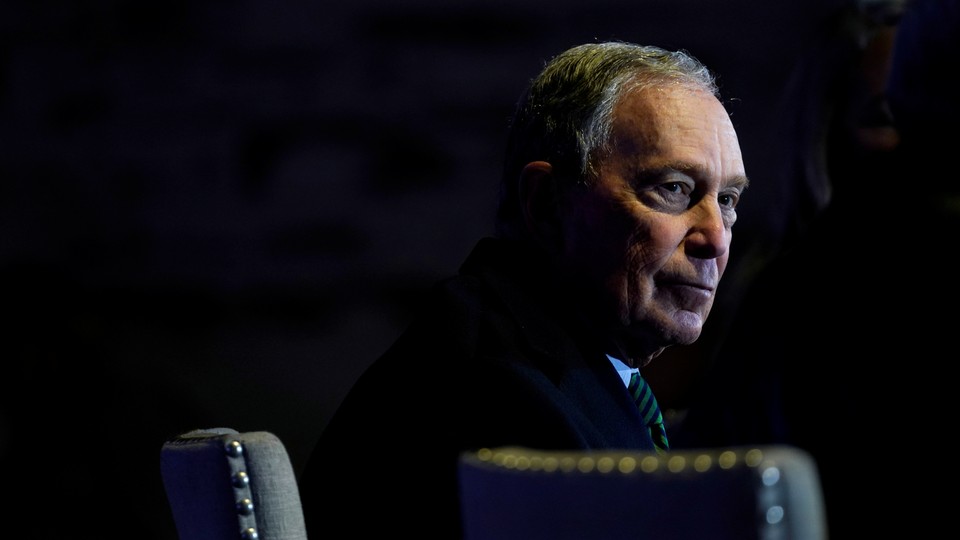 When people think about the political relevance of Michael Bloomberg's money, they tend to think about how his massive spending helps his campaigns: the record $261 million he spent on his three successful mayoral runs, the billions he could end up spending on his quest for the presidency. What people often miss is that Bloomberg actually spent more of his own money boosting his policy efforts in city hall than he did to get there.
Part of Bloomberg's presidential sales pitch is that his personal wealth—he's worth an estimated $56 billion—makes him incorruptible. Not only is he unbribeable; being rich enough to never take political contributions, he can assume office unbeholden to donors. But Bloomberg is so rich that he shifts the direction of potential influence: Donors may not be able to buy influence, but he can use his wealth to push things in the directions he wants.
Bloomberg spent extensively as mayor of New York. He gave massive sums to nonprofit organizations and arts groups. He contributed enormous amounts in political donations out of his personal bank account. (Most politicians make political donations out of their campaign accounts or PACs.) He funded nonprofit organizations that boosted his policy agenda. When church groups or community organizations threatened to get noisy in opposition to him or his programs, he wrote checks that tended to quiet them down. (Top Democrats were known to tease black ministers who got only $25,000 for their churches, when peers who'd held out longer received $50,000—the deal was that these ministers didn't have to support him, but if they wanted the checks to keep coming, they needed to stay neutral.) His company, Bloomberg LP, made many corporate contributions that lined up with his political interests. The money kept coming and coming and coming and coming. It broke logjams, and overcame institutional resistance. His money allowed him to drown out the opposition—and often made potential rivals hold their tongue. The timely and balanced budgets Bloomberg touted each year in PowerPoint presentations were enabled in part by spending cuts to groups that were then made whole again by the most transparent of anonymous donations. The money he spent led to fewer protests, and deals that were easier to make.
Think of his money, one Bloomberg aide told me, as powering a skunkworks for city innovations. It allowed him to reduce political risk, because he could foot the bill for policy experimentation himself, instead of leaving it to the taxpayers. When Bloomberg wanted to try covering paid-leave time for city workers, he didn't go to the city council to approve new funding for a program. When his administration wanted to reduce the number of garbage trucks on the road by splitting them between general waste and recyclables, he could use private money to underwrite the new equipment.
In short, the money Bloomberg spent in office helped him to be more popular and successful as mayor than he otherwise would have been. Much of this money can't be tracked by the usual means of measuring funds in politics: campaign-finance disclosures.
Bloomberg is generally seen as one of the most effective mayors in the history of the city. How much of that perception is based on the money he spent on ad campaigns that promoted his anti-smoking and healthy-eating initiatives; or on flying state legislators to his home in Bermuda, where they golfed and often walked away with big checks for their reelection committees; or on funding education-reform groups that backed his efforts to seize control of the public schools from the state government? How much of what seemed to be his organic grassroots support can be traced, directly and indirectly, to outlays of cash? "I think every other politician would love to have the money to reinforce their message and to tell people that, you know, they're great," Los Angeles Mayor Eric Garcetti said to me recently about Bloomberg's methods. (Garcetti has tried to copy them, albeit without the massive personal wealth to subsidize them. He has also said he's open to endorsing Bloomberg's presidential run.)
Bloomberg's private spending "is what defined him as somebody people had to like and at least respect—because he doesn't kiss up; he doesn't tell them what they want to hear," says Kathy Wylde, the president and CEO of the Partnership for New York City, which often served as a cheerleading group for Bloomberg while he was mayor. What made him "somebody that people would vote for and admire as mayor were his roles as a philanthropist and a selfless advocate on issues."
For his 2020 presidential run, top staff members of the Bloomberg nonprofits promoting gun control, climate-change prevention, and city innovation have started working for the campaign. He has unapologetically hamstrung the huge news organization he owns, Bloomberg News, which has gone from publishing implicitly pro-Bloomberg 2020 editorials in the weeks before he made his run official to suspending the editorial board and having many of the same people who were writing them also move over to the campaign; the political reporters there worry about not being taken seriously anymore. Using the standards by which other candidates are judged, all of this would be considered campaign expenses or hidden costs. Bloomberg shrugs this off, saying that because he's never taken any campaign contributions, he can't be bought.
"I agree with him," Randi Weingarten, the head of the national teachers' union who regularly tangled with Mayor Bloomberg when she led its New York City chapter, told me. "I don't think he can be bought. But that misunderstands the nature of politics and the importance of money in politics."
When there were fights over contracts and other policies, Weingarten remembers, old allies in church and civic groups suddenly fell "silent because of the influence the mayor had. We found out later that some of them were getting donations from him," she said. "You would notice it because people would whisper to us all the time about it."
People I spoke with recently told me that Eddy Castell, the campaign manager for the Democratic nominee against Bloomberg in 2009, used to say, "The way Bloomberg threw money around, it was more corrupting to the political process than any other elected official." (When I asked Castell about this, he declined to comment.)
For most of Bloomberg's 12 years as mayor, much of his giving to arts and civic groups would be routed through an organization called the Carnegie Corporation of New York, after being asked to help plug a gap in donations by its president, Vartan Gregorian. Officially, this money was given anonymously—but the foundation was in such close contact with city hall about which groups received the checks that government staff would reach out to reporters to flag the list of anonymous donations as soon as it was released by Carnegie. During his first nine years in office, Carnegie gave out $200 million in Bloomberg money.
"Whenever I saw the word anonymous, I knew" where the money had really come from, says Gale Brewer, the Manhattan borough president who was a member of the city council during the Bloomberg years.
Patti Harris—Bloomberg's top aide then and now—was the point person for this. She also ran the Mayor's Fund, a separate source of privately raised and Bloomberg-infused money that was directed into city initiatives. In 2010, halfway through his third term, this was all moved to Bloomberg Philanthropies, housed out of the same mansion on the Upper East Side that has largely been taken over by his presidential campaign.
Sometimes the influence of Bloomberg's money was direct and visible; sometimes it was more subtle. Never was it clearer than during his extension of city term limits. I covered the Bloomberg administration for eight years, and I remember standing outside the handful of show hearings the city council held concerning his term-limits extension in 2008. The rooms at city hall were packed with people who had never taken an interest in municipal affairs before, but were now showing their support for extending term limits. Why were they there? I kept getting the same answer: Their bosses had told them to come. A few worked for arts organizations and other nonprofits. A few worked for the Doe Fund, which provides an array of services for the city's homeless. The common thread: Bloomberg checks. (When I reached out to George McDonald, a long time term limits opponent who was then and is still the president of the Doe Fund, to ask him about this recently, he didn't return my call.)
The influence of Bloomberg's money was also exerted via the fascination he and his wealth held for other rich-but-not-as-rich business leaders. For instance, he was determined to make New York a tech hub, and used his connections and the appeal of hobnobbing with him to draw people in. "He was able to generate and leverage tremendous resources beyond what he contributed," Wylde says. "Today we are a global tech hub—and it's because of how Mike used his global reach into the tech community to drag them into New York. And they were happy to do it, because they wanted to be in the room with him." Occasionally, he would line up business leaders he could nudge into following him, such as when he dropped millions at crucial moments into the gay-marriage-legalization effort in 2011, while also encouraging business leaders to sign a letter of support. "Because he had so much money, he could make that an extension of his vision for New York," Jon Reinish, a Democratic operative who worked on that effort, told me recently. "He was able to do more, given who he was and what he had at his disposal."
Bloomberg's influence could be almost invisible, with him steering business to companies and firms connected to allies in ways that were whispered about but never fully traced or proved.
Stu Loeser, Bloomberg's longest-serving press secretary in city hall who now works on the presidential campaign, told me all the giving simply came down to asking wealthy New Yorkers to "follow his lead and donate to city nonprofits that were trying bold but yet-unproven policy proposals." This wasn't about trying to suppress dissent, Loeser argued, because Bloomberg often took pushback as evidence that he was doing well—he once told his staff that the lack of bigger protests made him think that he should have gone further in banning large sodas. (This initiative was later struck down by the courts).
Bloomberg is hardly the first politician to benefit from significant outside spending: All modern presidents have been helped by the Democratic or Republican National Committee; all presidents running for reelection have the benefit of their campaign organizations. During his second term, Barack Obama remade his campaign apparatus into the group Organizing for Action. And even as vast as Bloomberg's fortune is, he wouldn't be able to leverage it to the same degree beyond the city level—he's certainly not going to offset federal spending cuts with his private wealth, the way he did in New York. Still, it's not hard to imagine the way that a President Bloomberg, handing out billions to groups backing him up, would have a significant influence.
Bloomberg's critics on other campaigns warn that his money blinds him. They say that living in a moneyed bubble led him to choose as leader of the New York public schools a magazine executive he knew from Upper East Side cocktail parties who had never attended public schools and sent her sons to boarding schools. She lasted 95 days and generated multiple scandals, including one caused by her saying that the way to bring class sizes down was through birth control.
Others point out that Bloomberg's argument that his wealth makes him immune to the influence of money is familiar. "Sounds like Donald Trump's argument," Faiz Shakir, Bernie Sanders's campaign manager, told me. "And all he did was bring his elitist friends into government with him."
Greg Fischer, the mayor of Louisville, Kentucky, and a longtime Bloomberg supporter, was one of the first Democratic politicians to endorse the mayor's presidential question. When I saw him at a presidential forum that a group of mayors was hosting in Waterloo, Iowa, in November, I asked him about how Bloomberg might use his money if he were to win the White House. "Resources are always helpful. Mike has strong beliefs in policy and results, and he will marshal the resources to achieve those results," Fischer said.
What the impact would be at the scale Bloomberg can spend, though, is hard to know.
"We haven't seen anything like this before," Fischer said.