Two Jews Walk Into a Presidential Primary
In which Mike Bloomberg quotes Leviticus in Miami and Bernie Sanders lights a menorah with a blowtorch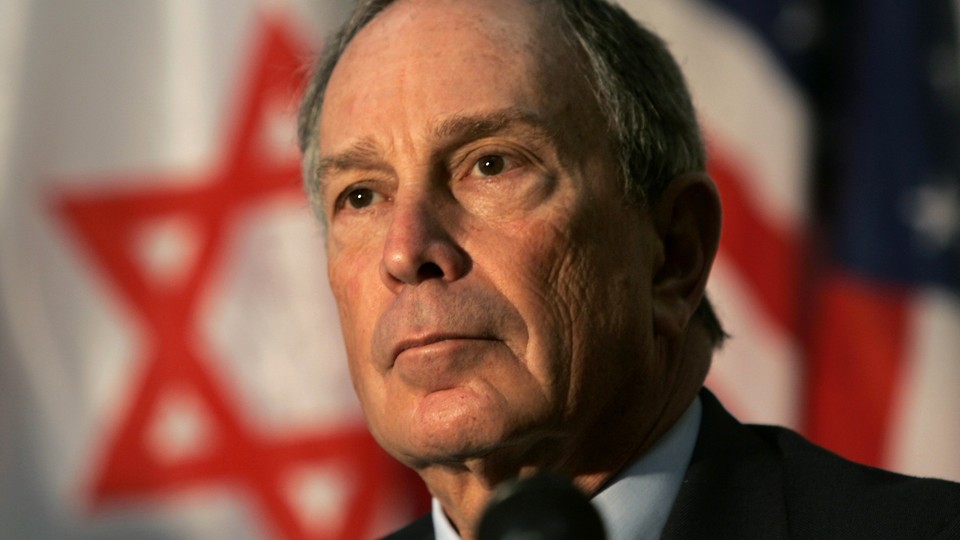 MIAMI—In a country where anti-Semitic attacks have spiked and the president has sometimes hesitated to condemn neo-Nazis, two men who celebrated their bar mitzvahs in the 1950s suddenly want to talk about their Jewishness.
"I know I'm not the only Jewish candidate running for president," Mike Bloomberg, the former New York City mayor, told a packed synagogue here today, referencing his Democratic-primary rival Senator Bernie Sanders. "But I am the only one who doesn't want to turn America into a kibbutz." For the first time in American history, this niche joke fit neatly into a campaign for the White House. And for the first time in American history, there's a good chance that a Jewish candidate for president will beat another Jewish candidate to become a major party's nominee.
Before this campaign, neither Bloomberg nor Sanders spent much time publicly discussing, let alone celebrating, their Jewishness. But a few weeks ago, Sanders was ice-skating during a Hanukkah party at a Des Moines rink, lighting a giant menorah with a blowtorch and mouthing the words to a few of the Hanukkah songs. And Bloomberg was here, making a direct appeal to Jewish voters complete with deli references and Catskills-style rim shots. He quoted Leviticus (a book he identified by its Hebrew name, Vayikra) in Hebrew and said, "Lo ta-amode, do not stand by idly while your neighbor's blood is shed," stumbling slightly over the pronunciation, much like how he misplaced the emphasis on the word kibbutz.
To those who know Bloomberg well and even spent years working for him, this is a surprising turn. As mayor, he was more of the stop-by-synagogue-on-Rosh-Hashanah kind of observer, not the guy who'd make a not-so-subtle reference to Donald Trump as "a pharaoh who knows not Joseph," and speak about "standing together, rejecting demagogues who try to seduce us by playing us against each other, and uniting behind the only shield that can protect us: our common values as American citizens and our common humanity as God's children." Bloomberg went all in, going directly from "When Moses descended from Mount Sinai, he smashed the golden calf and raised high a tablet of laws," to noting that Monday is "the 75th anniversary of Auschwitz's liberation," and recalling his own visit to the death camp a few years ago.
This wasn't a speech like any presidential candidate has delivered before—and that includes Sanders. Before launching his 2020 campaign, Sanders rarely discussed his Jewish roots, publicly or privately. Sanders superfans know he spent a few months after college in Israel working on a kibbutz, but he's talked about that more through his socialism than through any connection to the Jewish state. For years, Sanders referred to his father as a "Polish immigrant," which some saw as a pointed erasure of his identity—when Eli Sanders arrived in America, after all, his passport from the Polish government would have listed his nationality as "Jew." Jewish leaders have criticized him for decisions like speaking at the evangelical Liberty University in 2015 on the first day of Rosh Hashanah, the Jewish New Year.
Discussing his personal life doesn't come naturally to Sanders, either, and aides' efforts to get him to speak more about his own story last spring didn't lead to much. When Sanders does speak of his Jewishness, it tends to be in the context of larger values. At the Hanukkah celebration at the ice rink in Des Moines, Sanders condemned the stabbing attack that had just happened at a a rabbi's house in New York. He mentioned that his father's family had been "wiped out" by the Nazis, but spoke about it as instilling in him basic humanist values. His father fled anti-Semitism, he said, as well as violence and "terrible, terrible poverty." That, he said, is what America is supposed to be about: "What makes this country great is that we have people here from hundreds and hundreds of countries all over the world." That, Sanders and his supporters would argue, has much more in common with Jewish values than Bloomberg's style of economic policy, which boosted the rich during his time as mayor.
"I am what I am" is how Sanders put it in 2015, when Jimmy Kimmel asked whether he believed in God. "And what I believe in, and what my spirituality is about, is that we're all in this together." This view has evolved. In October, in an appearance in Washington at the national conference of J Street—a progressive organization that aims to influence American policy toward Israel—Sanders stood up during his interview and said, "I am very proud to be Jewish. I look forward to being the first Jewish president in the history of this country."
Sanders went on, arguing, "If there is any people on Earth who understands the dangers of racism and white nationalism, it is certainly the Jewish people. And if there is any people on Earth who should do everything humanly possible to fight against Trump's efforts to try to divide us up … and bring people together around a common and progressive agenda, it is the Jewish people." The Sanders campaign promoted those comments recently in a new online video. But most of the footage it uses to explain Sanders's "intrinsically Jewish values" is of Sanders's Jewish outreach director, not the candidate himself. And although Bloomberg kicked off his speech today with a video clip of just about every shot of him wearing a kippah during his years as mayor, Sanders's decision to wear a kippah at the Hanukkah celebration in Des Moines was notable in part because it's so rare to see one on him.
(Senator Michael Bennet and the investor and businessman Tom Steyer, who are still in the Democratic race, each have a Jewish parent, but neither grew up as a practicing Jew. Before Bloomberg and Sanders, the Jewish candidate who came closest to the White House was longtime Senator Joe Lieberman of Connecticut, who was Vice President Al Gore's running mate in 2000 and ran for president himself in 2004.)
In Miami, Bloomberg laid out a Sanders-esque argument that Jewish values require Jews to stand up for others who face discrimination, but going much further to specifically call out anti-Semitism: "A world in which a president traffics in conspiracy theories is a world in which Jews are not safe," he said, in a notable late addition to the speech. But he then turned almost immediately to an argument about Israel—one that draws a clear policy distinction with Sanders. Bloomberg would put no conditions on Israeli aid, "no matter who the prime minister is," he promised.
That is far from Sanders, who's spoken out forcefully against Netanyahu and his policies, and in favor of Palestinian rights. Jewish values, Sanders argued, are being betrayed every day by how the Israelis have treated Palestinians, and there's nothing defensible, or Jewish, about standing by him. That is a common opinion among Netanyahu's detractors. At the J Street conference, held before Bloomberg jumped into the race, Sanders said he felt that as a Jew, he could criticize Israeli policy without being called a bigot. "It's going to be very hard for anybody to call me—whose father's family was wiped out by Hitler—anti-Semitic," he said.
Trump voters attended Bloomberg's rally. Before the event started, I overheard a few talking to one another about wanting to hear what he had to say regarding his support for Israel. Winning over Trump supporters in Florida may make a difference for Bloomberg if he's the Democratic nominee. But he'll have to beat Sanders first.