Progressives Warn of a Great Deflation
The left is more energized than ever. So what happens if Joe Biden is the nominee?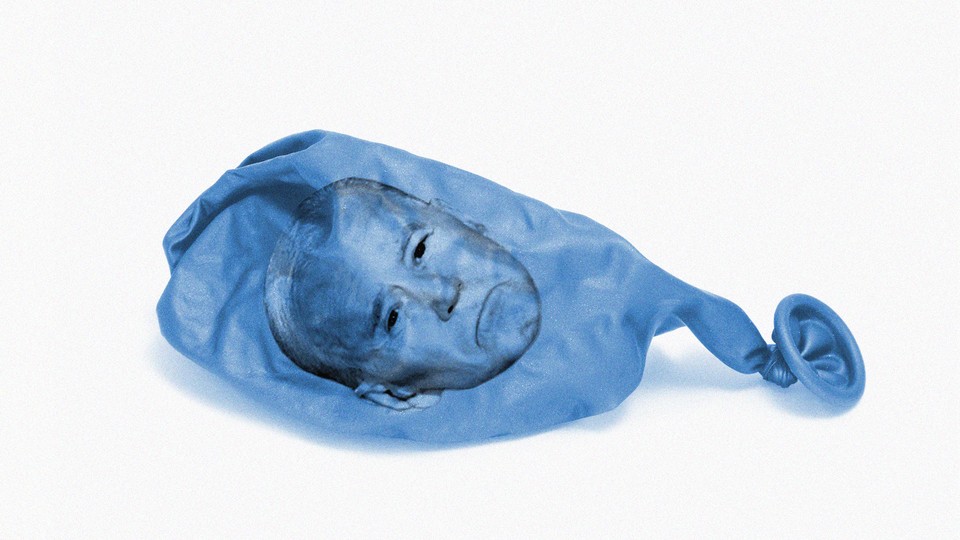 "Please don't make me vote for Joe Biden!" a flock of teenagers pleaded in a series of videos posted to the social-media app TikTok earlier this month.
But as the Iowa caucuses draw closer, a Biden nomination is looking more likely by the day. Lefty groups are worried—and warning that a Biden win could crush the activist enthusiasm they're counting on to win in November.
The thousands of Americans who wait for hours in line to snap a photo with Senator Elizabeth Warren of Massachusetts or who fill arenas for Senator Bernie Sanders of Vermont simply will not be as enthusiastic about the former vice president, leaders at nine progressive organizations, all of which are involved with organizing and get-out-the-vote efforts, told me in interviews this month. "I can't imagine having Biden on the ticket is going to be the thing that energizes these folks to get out and do the door-knocking and have the conversations we need them to have," said Natalia Salgado, who runs civic engagement at the Center for Popular Democracy, a left-wing advocacy group. "It's incredibly concerning to me."
Despite the conventional wisdom that Biden, with his nearly ubiquitous name recognition and decades of experience, is the safest candidate to put up against President Donald Trump in November, some progressives fear that he might actually be the riskiest.
Sanders and Warren, campaigning on promises to enact some form of Medicare for All, free public college, and a wealth tax, have delighted the leftmost segment of the Democratic base. Warren, with her steady stream of ambitious policy plans, has drawn consistently massive crowds that happily chant wonky slogans. Sanders raised $34.5 million in the last three months of 2019—far more money than any other presidential candidate. And more than 26,000 people attended Sanders's October rally with Representative Alexandria Ocasio-Cortez of New York, making it the largest event held by any Democratic presidential candidate this cycle.
Biden's rallies are consistently much less well attended. And although crowd size is not necessarily predictive of electoral success, it could indicate whether a candidate has a sizable pool of enthusiastic volunteers to draw from in the general election. A Biden nomination would trigger a huge deflation in enthusiasm, and a shrinking of that volunteer pool, progressives argue. "If a candidate that gets selected doesn't have the type of energy and excitement from the troops—the people who give small dollars, the people who phone bank, who show up to rallies—it will be harder" said Rashad Robinson, the president of the racial-justice organization Color of Change.
For many Democrats, that warning triggers an unpleasant flashback to 2016. Sanders, after losing the primary, was late to endorse Hillary Clinton. At least 20 percent of the people who voted for Sanders in the primary did not vote for Clinton in the general election against Trump, according to one study. But every progressive organizer and leader I talked with for this story told me a variation of the same thing: They're not concerned that Americans will choose Trump over Biden. They're worried that, absent a Democratic candidate who excites them, many Americans might not vote at all.
Democrats have two theories of how to win the 2020 presidential election: persuasion versus turnout. Advocates of the former, generally moderates, believe that Clinton lost to Trump mostly because she failed to convince enough moderate voters in swing states. But progressives say that an emphasis on turning nonvoters into voters is more important for a Democratic victory in November. They blame Clinton's loss on failing to inspire and mobilize Americans: An estimated 4.4 million people who voted for Barack Obama did not vote in 2016.
This kind of mobilization strategy relies heavily on local canvassing, and some of the activists involved with grassroots progressive groups told me that they have serious concerns about being able to mobilize volunteers for Biden. Jackie Dempsey, a 53-year-old member of the Forest Hills, Pennsylvania, chapter of Indivisible, a progressive group, intends to campaign for Biden just as vigorously as she would for any other nominee. But when Dempsey asked other members of the group what they'd do if Biden was the Democratic nominee, she received a range of responses: "Some people said, 'I'll vote for him but I won't work for him,'" Dempsey told me. "Some people said, 'I'll work around him.' [Others said,] 'I'll make sure Democrats are registered, but I won't even vote for him.'"
Linda Bishop, a member of Progress PA, a group based in Pittsburgh, told me that she's especially worried about youth organizing. "Will [older people] get out and canvass for him? You bet they will," she said. "The younger people, not as much."
Young voters tend to prefer Sanders and Warren to Biden. Of all the 2020 Democrats, the two senators have the most and second-most support, respectively, among voters ages 18 to 34, according to the latest national poll from Quinnipiac University. Several youth-led progressive groups have warned that a Biden nomination would be disastrous for enthusiasm. "In 2018, in states where we had progressive champions running on the Green New Deal, we saw that we could turn out huge numbers of young people to knock doors and organize their friends," said Stephen O'Hanlon, the communications director at Sunrise Movement, a climate-change group that is led by a 26-year-old and that recently endorsed Sanders. A Biden nomination "will make it harder for us to mobilize as many young people to give as many hours to help defeat Donald Trump this fall," O'Hanlon said.
Biden's campaign insists that it has worked for months to engage and mobilize young people and college students. "Joe Biden is best positioned to beat Donald Trump because of his broad, diverse coalition, which includes support from younger voters," says TJ Ducklo, Biden's national press secretary. Biden also polls better among black voters than both Sanders and Warren do. And a Sanders or Warren nomination presents its own risks for Democrats. Although a progressive might be more appealing to a particular segment of Americans, they might also turn off other voters. In the 2018 midterm elections, when Democrats flipped 41 House seats from red to blue, the majority of the party's winning candidates were more moderate. Candidates endorsed by lefty groups such as Our Revolution and Justice Democrats had much less success. Lanae Erickson, a senior vice president at Third Way, a center-left think tank, cited those gains as a reason to stick with a more moderate presidential candidate this year. "Why would we think we can throw persuasion out the window in 2020?" she said. "We should probably think about running that same playbook."
In six key swing states—Arizona, Florida, Michigan, North Carolina, Pennsylvania, and Wisconsin—Democrats would prefer a 2020 nominee who is more moderate, a November poll from The New York Times and Siena College showed. Among those same voters, Biden performed better than other Democrats in theoretical head-to-head matchups with Trump. Which is to say that although progressives contend that nominating Biden would deflate the progressive base, a Sanders or Warren candidacy could just as likely dampen turnout with moderates. "If it's Bernie, you're going to have slightly fewer of the upscale suburban women and slightly more folks whose involvement has been in [the Democratic Socialists of America] and other progressive [groups]," says Lara Putnam, a history professor at the University of Pittsburgh who has studied the anti-Trump movement. Like Biden, if Sanders or Warren wins the nomination, they would also have to figure out how to mobilize people who didn't support them in the primary.
Above all, progressives want to beat Trump. The Democratic front-runners have all pledged to support the eventual nominee no matter who it is. And this week, the leaders of six national progressive organizations sent out a "unity statement" to this effect: "While we firmly believe that either Warren or Sanders should lead our nation in 2021, we will, in the end, go all-out to defeat Trump no matter who the Democratic nominee is."
Still, progressives can't shake the feeling that they've seen this movie before. Like Biden, Clinton was once widely considered to be the safest bet to beat Trump. She wasn't as radical as Sanders, the thinking went, so she could better appeal to voters straddling the political middle. She was a known quantity, a bridge builder, a shoo-in. But then millions of American voters who once voted for Obama didn't vote for her. To some lefties, a Biden nomination feels like déjà vu.
"This is an exciting time," Salgado said. "And I can't imagine anyone that's less exciting than Joe Biden."