The Atlantic Politics Daily: Democrats Are Still Searching for a Savior
Adam Schiff was never going to be the hero Democrats wanted.
It's Thursday, January 30. The World Health Organization declared the Coronavirus outbreak a public health emergency. "To succeed, Trump will have to trust the kind of government experts he has disdained to date," writes the former Ebola Czar Ron Klain.
On Capitol Hill, the impeachment trial's Q&A period ends tonight before a vote on new witnesses tomorrow.
In the rest of today's newsletter: Adam Schiff was never going to be the hero Democrats wanted. Plus: 2020 Democrats learn to love the Imperial presidency.
*
« TODAY IN POLITICS »
(Tom Brenner / Getty)
Democrats Are Still Searching for a Savior
Since 2016, Democrats have been hopelessly looking for one thing: a savior. Since Trump took up residence at 1600 Pennsylvania Avenue, the left has been itching for anyone and anything to put an end to their MAGA misery. But while Democrats keep pinning their hopes on a cast of would-be heroes, they have been let down again and again and again.
The latest potential savior? Adam Schiff. The California congressman-turned-impeachment manager has relished his role as Trump's top adversary in Congress, fueling whispers of a potential Senate run.
But as impeachment seems poised to end in Trump's acquittal, Democrats are coming to realize that Schiff's rousing speeches aren't doing a thing to budge the outcome, as my colleague Todd Purdum writes:
Now, with the defendant's foregone acquittal in sight as soon as tomorrow, it's all come down to Schiff, the terminally earnest chairman of the House Intelligence Committee. Schiff's powers, while formidable, have proved just as un-super as everyone else's in the near-lockstep partisan loyalty that fear of Trump has produced.
It's a pattern that dates back, in part, to Robert Mueller. Democrats mythologized the notoriously quiet special counsel, who oversaw the Russia investigation, as a Superhero-type figure who could bring down the president. (Among the Mueller-themed wares that were up for sale at one point: a prayer candle, Christmas ornaments, and throw pillows.)
But when Mueller's report didn't directly implicate Trump, once again Democrats' hopes were dashed.
And even before that, Democrats had their eyes on Jim Comey, the former FBI director who claimed that Trump had tried to meddle in the Russia investigation.
But as my colleague David Graham wrote in 2018, when Comey testified on Capitol Hill, eventually Democrats grew disgruntled with him:
It's hard to imagine that the lanky lawman has anything fresh to say to anybody. Other than Trump himself, Comey might be the most overexposed figure in American politics, from his many prior appearances to Congress to his autobiography, with its splashy publicity tour. Though Comey tried to convince a judge to make his testimony public, the court might have been doing the nation a favor by declining.
*
« SNAPSHOT »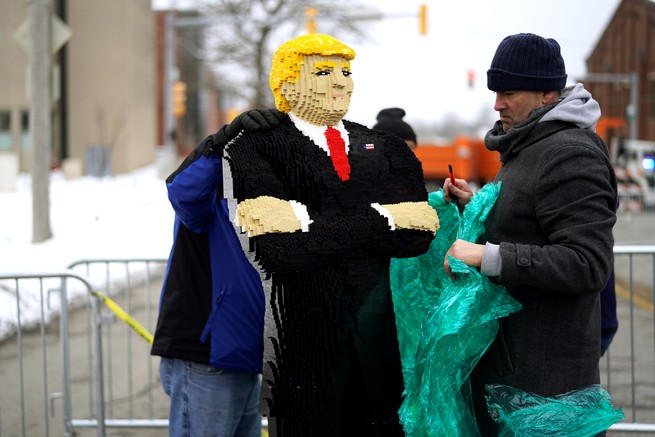 (Rick Wilking / Reuters)
Chris Ihle unwraps a likeness of Donald Trump he made out of 44,000 plastic blocks outside a Trump rally in Des Moines, Iowa.
*
« IDEAS AND ARGUMENTS »
(PETER NICHOLLS / REUTERS)
1. "Even if Bolton did time his truth telling to maximize book sales, the fact remains: He appears to have told the truth about Trump ..."
John Bolton's ideological fervor is probably most to blame for his falling out with Trump, Peter Beinart writes.
2. "Lawmakers could sit back and watch. 'We can't afford to wait for Congress to act,' [Elizabeth Warren] wrote."
Some of the Democrats running for president share Trump's expansive view of presidential power, Russell Berman reports.
3. "It's a false dichotomy, and a dangerous one, portraying an imagined homogeneous 'heartland' as somehow more authentically American than the rest of the country."
Pete Buttigieg frequently uses the term "heartland" to describe Middle America, as he did in a tweet on Wednesday. But the word too often means "white" and only intensifies "us" versus "them" mentalities, Ben Zimmer writes.
---
*
« EVENING READ »
President Trump speaking to evangelical supporters in Miami, Florida on January 3, 2020. (EVA MARIE UZCATEGUI / REUTERS)
There Is No Christian Case for Trump
After an editorial in the evangelical publication Christianity Today called for Trump's removal from office, the theologian Wayne Grudem prepared a lengthy rebuttal to explain the Christian case for supporting Trump.
But the argument is misinformed and fallacious, Peter Wehner writes:
What most stands out to me about Grudem's case on behalf of Trump is that he is a near-perfect embodiment of an individual fully in the grip of confirmation bias and motivated reasoning. And in that sense, he is a near-perfect embodiment of some of the president's most committed evangelical supporters.
---
*
Today's newsletter was written by Saahil Desai, an associate editor on the Politics desk, and Christian Paz, a Politics fellow.

You can reply directly to this newsletter with questions or comments, or send a note to politicsdaily@theatlantic.com.

Your support makes our journalism possible. Subscribe here.