An American Prisoner Comes Home From Iran
The Trump administration has made a priority of bringing prisoners home—and of pressuring Iran. With Xiyue Wang's release, it can claim victory on two fronts.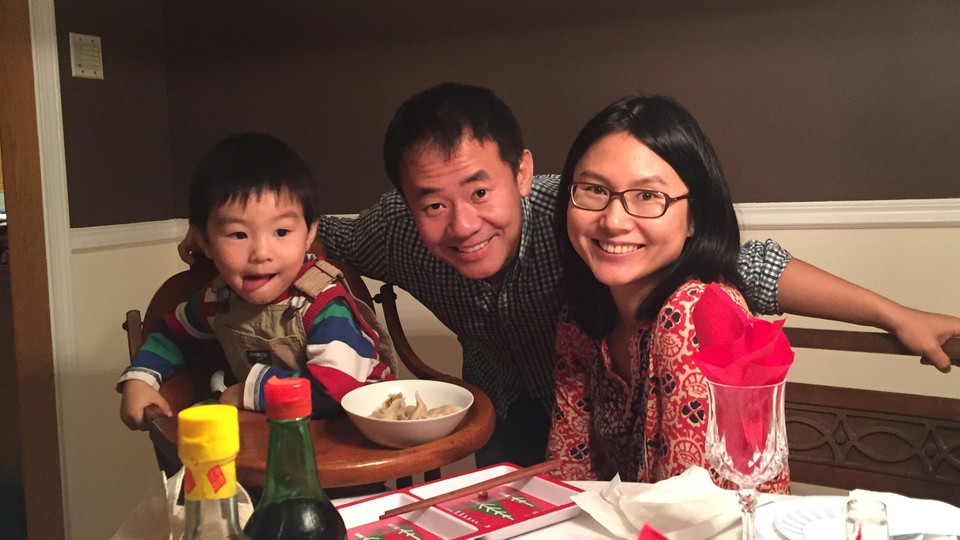 Updated at 12 p.m. ET on December 7, 2019.
For Donald Trump, Wang's release is a twofold victory: This administration has made a priority of getting U.S. hostages freed from overseas jails, and Wang is the first American citizen freed from Iran since the beginning of the Trump administration. (Nizar Zakka, a Lebanese citizen and U.S. permanent resident, was freed this summer.) The White House is also likely to present Wang's release as proof that its maximum-pressure campaign against the Islamic Republic is working.
"The highest priority of the United States is the safety and well-being of its citizens," Trump said in a statement. "Freeing Americans held captive is of vital importance to my Administration, and we will continue to work hard to bring home all our citizens wrongfully held captive overseas."
Trump last year claimed that he'd gotten 17 people out of imprisonment around the world. "We're very proud of that record. Very proud," he said then. "And we have others coming." In most cases, the U.S. determined the detentions to be unjust and arbitrary—like, for instance, the case of Aya Hijazi, an Egyptian American aid worker who was imprisoned in Egypt in 2014. In 2017, the Trump administration negotiated her release and brought her to the Oval Office to celebrate. Another case—that of the American college student Otto Warmbier—ended tragically; the Trump administration managed to secure his release and that of three others imprisoned in North Korea, but by the time Warmbier got home, he was suffering such serious injuries from his captivity that he died within days. He arrived home in a coma and never woke up.
With some exceptions, the U.S. has generally articulated a policy of no exchanges or ransoms for prisoners, for fear of encouraging further hostage-taking. Asked about Americans imprisoned in Iran, U.S. officials have tended to insist that Iran should unconditionally release the prisoners because it's the right thing to do, and have refused to discuss inducements such as sanctions relief.
Yet some cases get tangled up with other objectives and other countries' policies. In November, for instance, the U.S. facilitated a deal in which the Afghan government swapped three Taliban prisoners for the freedom of two Western university professors in Taliban captivity since 2016, one of them American. Within weeks, the U.S. formally restarted peace talks with the Taliban after breaking them off in September.
And when Barack Obama's administration secured the release of six U.S. citizens from Iranian imprisonment in 2016, it was part of a swap for seven Iranians in the United States. Wang will come home to the United States as Masoud Soleimani, an Iranian stem-cell scientist held on sanctions-evasion charges, goes free and heads back to Iran.
Wang's release still leaves at least five other Americans detained or unaccounted for in Iran, including the businessman Siamak Namazi and his elderly father, Baquer. Siamak Namazi's brother Babak said in a statement today that he was "absolutely thrilled" for Wang and his family. "At the same time," he wrote, "I am beyond devastated that a second president has left my ailing father Baquer Namazi and brother Siamak Namazi behind as American hostages in Iran in a second swap deal." Siamak Namazi, who was detained in October 2015, was not part of the prisoner exchange the Obama administration implemented in January 2016; news of his father's arrest came the following month.
Robert Levinson, who disappeared from Iran in 2007 while on an unofficial mission for the CIA, has now been gone for more than a decade, and his whereabouts are a mystery. The Iranian government has denied holding him and the last proof of life appeared in a 2010 video, in which, according to the Associated Press, Pashto music could be heard in the background, suggesting that he might have no longer been in Iran but in Afghanistan or Pakistan.
But the Iranian government may have inadvertently offered a new clue recently. In a filing to the United Nations, it referred to an "ongoing case" against him before Iran's Revolutionary Court. The Trump administration, meanwhile, raised the potential reward for information leading to his whereabouts to a total of $25 million.
This fall, Iranian Foreign Minister Javad Zarif hinted that he was looking for another prisoner exchange, saying he had submitted a list to the U.S. of Iranians he hoped would be freed from American jails. The U.S. side gave no public indication of interest at the time. But in a background phone call with reporters this morning, a senior administration official celebrated Wang's release and said that the administration would continue to work for the freedom of other American hostages around the world. Wang's release, the official said, should be viewed by other families as a hopeful sign. "We haven't forgotten them," the official said.
Meanwhile, the administration continues to squeeze Iran financially in pursuit of a broad set of objectives that include not only prisoner releases but also a halt to backing regional proxies, an end to ballistic-missile testing, and expanded restrictions on its nuclear program. More recently, as protests have swept the country, the administration has cheered the protesters and condemned the regime's violent crackdown in response. On Thursday, Brian Hook, the U.S. special representative for Iran, declared that the protests demonstrated the regime's loss of legitimacy among broad segments of the population. He also indicated that there would be still more pressure, and that the State Department sought to sanction two Iranian prisons he said were guilty of gross human-rights abuses in their detentions of protesters.
It's unlikely that Wang's release will change this broader campaign to squeeze the Iranian government, or even that it was intended to, especially while other Americans remain behind bars. And if, in fact, Wang's release was a response to the administration's economic pressure campaign, the administration may be encouraged to double down in hopes of getting even more concessions. In congressional testimony earlier this month, family members of some Western hostages called for still more pressure on the regime over their loved ones' cases. But critics of the overall sanctions program have said that it will only encourage Tehran to lash out more in the region, as it apparently did over the summer with attacks on shipping and the shooting down of a U.S. drone.
As for Wang, he will, after three years, finally be reunited with his wife, Hua Qu, and his son, Shaofan, who was only 3 when his father disappeared. At a press conference over the summer, Qu noted that her son was now 6, meaning his father had spent half of the boy's life behind bars in Tehran's notorious Evin Prison.
At her Washington, D.C., appearance in August, Qu described the conditions of his confinement, wistfully noting that he was still a "nerd" and that he had asked her to send academic books when she could. "Even now, books, when he gets hold of them, [give a] few moments of comfort amid the horrible conditions of Evin Prison," she said.
Today she said in a statement, "Our family is complete once again."