This Isn't What Progressives Wanted From Impeachment
They feel betrayed, and Democrats' newly announced support for President Trump's trade deal isn't helping.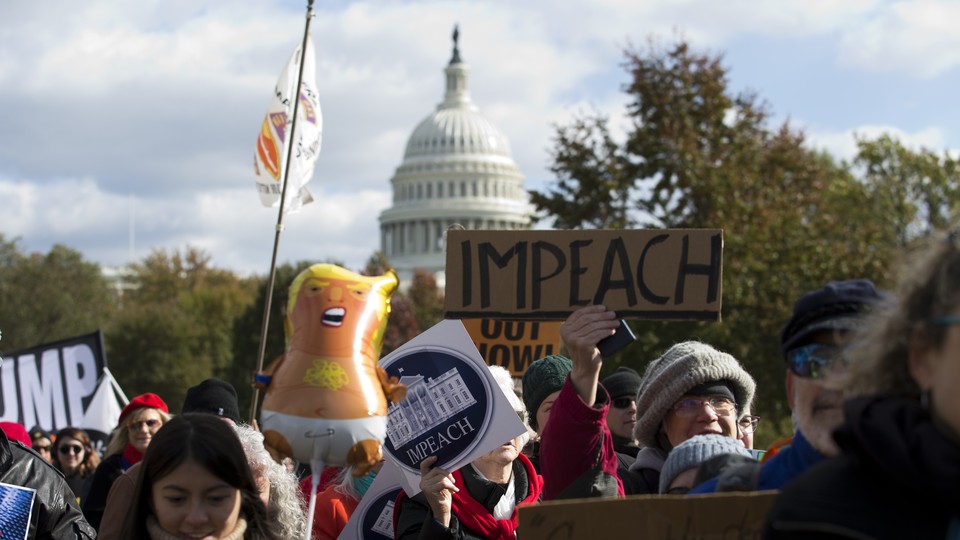 In theory, progressives should be happy right now. After years of hesitation and deliberation, House Democrats are finally going to impeach Donald Trump, a man many liberals regard as the most dangerous president to ever occupy the Oval Office.
But as the House moves closer to approving two articles of impeachment against him—both concerning the president's interactions with Ukraine—progressive activists and organizers have felt deflated instead. They had been advocating for Democrats to levy a much broader set of charges to paint a thorough portrait of the president's wrongdoing, not the discreet list the House Judiciary Committee revealed on Tuesday. Making matters worse, they told me, House Democratic leaders' near-simultaneous announcement of their support for Trump's new trade deal diluted the significance of the moment, giving Trump and Republicans a key win on a day that should have been focused entirely on Democrats' denunciation of the president.
Their grievances not only reflect the ideological fissures within today's Democratic Party, but they may also foreshadow arguments to come next year as Democrats attempt to hang on to their House majority and win back the Senate and the White House. The disagreement over scope and timing is yet another sign that Democrats aren't even close to a consensus on which strategy is best for beating Republicans in 2020.
"This isn't walking and chewing gum," says Heidi Hess, a co-director of CREDO Action, the advocacy arm of a progressive group that supports grassroots organizing. "This is trying to get the bully to like you in hopes that the bully will stop being mean to you. The idea that that's driving political decision making for the folks who are supposed to be on our team is just terrifying."
Representative Rashida Tlaib of Michigan, a member of the high-profile group of progressive freshmen known as the Squad, expressed a similar frustration. She told me that while she is still reviewing the content of the two Ukraine-centered articles, she's concerned that the charges don't include "some of [Trump's] abuse of power, especially the racist abuse of power, and some of the direct violations [of] the Constitution, especially the emoluments clause."
For months now, activists on the left have been pushing Democrats to consider drafting a comprehensive list of articles that would include Trump's purported self-enrichment, the 10 instances of obstruction of justice identified in Special Counsel Robert Mueller's report, and even the alleged human-rights abuses by the Trump administration at the U.S.-Mexico border. As I've written before, these Democrats had hoped that drawing such a portrait of wrongdoing would set a precedent for unacceptable presidential behavior.
Moderates and other rank-and-file members of the caucus, meanwhile, were concerned that straying from Trump's Ukraine-related offenses could create the appearance of a partisan fishing expedition—as if Democrats were simply intent on removing a president they strongly oppose. After several weeks of consideration, their wishes, which were shared by House leadership, won out: The House Judiciary Committee ultimately decided to keep the list of charges limited to Trump's abuse of power in his dealings with Ukraine—his demand that the country investigate his political rival—and his obstruction of Congress, which relates to the president's "unprecedented, categorical and indiscriminate defiance" of the House's impeachment investigation, as the article text puts it.
The progressives I spoke with said that Democrats are letting Trump off the hook far too easily. "There's something incongruous about [the fact that] the president's committing new impeachable offenses [is] giving him an escape hatch from the old impeachable offenses," said Ben Clements, a constitutional lawyer and board chair of Free Speech for People, a nonprofit advocating for a new constitutional amendment to limit campaign spending.
There's also a concern that, by holding Trump accountable only for the offenses that are most politically expedient, Democrats are implicitly sanctioning the president's other actions—actions that deserve much more scrutiny. "I don't understand [House Speaker Nancy] Pelosi's rush," says Rebecca Katz, the founder of New Deal Strategies, a progressive political-consulting group, and a former adviser to Senate Democratic Leader Harry Reid and New York Mayor Bill de Blasio, in an email. "The sooner the House votes on impeachment, the sooner Mitch McConnell and the Senate can vote to acquit him. Let's get it all out in the open. This president has committed enough impeachable crimes for another six months' worth of hearings."
Representative Andy Levin of Michigan, a member of the Congressional Progressive Caucus, told me that he was "fine" with the two articles the House settled on. But "would I personally do more? Yes … I believe that the president has violated the emoluments clause since the day he came into office, for example." Tlaib echoed her colleague: "For many of my residents, from the beginning—before the Ukraine call—they were very concerned that they had a sitting CEO in the Oval Office that was making decisions in the best interest of his foreign investment versus the best interest of the American people."
Not only did Democrats miss a powerful opportunity to catalog—and denounce—what they see as the full extent of Trump's wrongdoing, progressives told me, but they completely flubbed the delivery. An hour after condemning Trump's lawlessness in a speech announcing the articles of impeachment on Tuesday morning, Pelosi held a second press conference to reveal that Democrats had finally reached a deal with the White House on a trade deal, the North American Free Trade Agreement replacement called the United States–Mexico–Canada Agreement.
"Some have said that we need to pass this to show that we will work with Trump, and others have said that, somehow, we can pass this and it'll be a victory for us," Levin said. "I don't think either is really that true … No matter how we message this, this will be seen as a big victory for Donald Trump."
Pelosi, for her part, has argued that the timing of the USMCA announcement was coincidental, and she's rejected criticism that the deal is a win for the president, telling reporters after the second press conference that it "came a long way from what [Trump] originally proposed" and should be seen as an achievement for American workers.
It's not hard to see why some in the Democratic caucus wanted the trade deal done and announced. The agreement may give vulnerable Democrats, especially those from districts Trump won in 2016, something useful to bring back home—evidence that they aren't obstructionists. That could, in turn, potentially help blunt the impact of any impeachment-related backlash and, given these Democrats' key role in winning the House last year, ultimately help protect the Democratic majority. (Although, as my colleague Ronald Brownstein wrote recently, impeaching Trump might not be as politically risky as it may seem to these lawmakers.)
Progressives I talked with don't buy this. They see both the content of the articles and the timing of the USMCA announcement as cowardly: When faced with a historic opportunity to call out a historically lawless president, progressives said, House leadership chose to play it safe.
"They are catering to scared members of their caucus who think they won [in 2018] by [toeing] a middle ground, when they actually won due to anti-Trump outrage," argues Adam Green, a co-founder of the Progressive Change Campaign Committee, a political-action committee.
Ultimately, the week's events help illustrate one of the core disagreements between the two wings of the party going into 2020: whether vulnerable frontline members should be protected at all costs—even if that means appealing to moderate and Trump-sympathetic voters—or if, as progressives argue, the party should leave those voters behind. "We don't fight Trump and Republican extremism by coming to the middle," Hess says.