What Pete Buttigieg Says He Did at McKinsey
In an exclusive interview, the presidential candidate reveals the clients he worked with, what he did for them, and how the experience shaped the way he solves problems.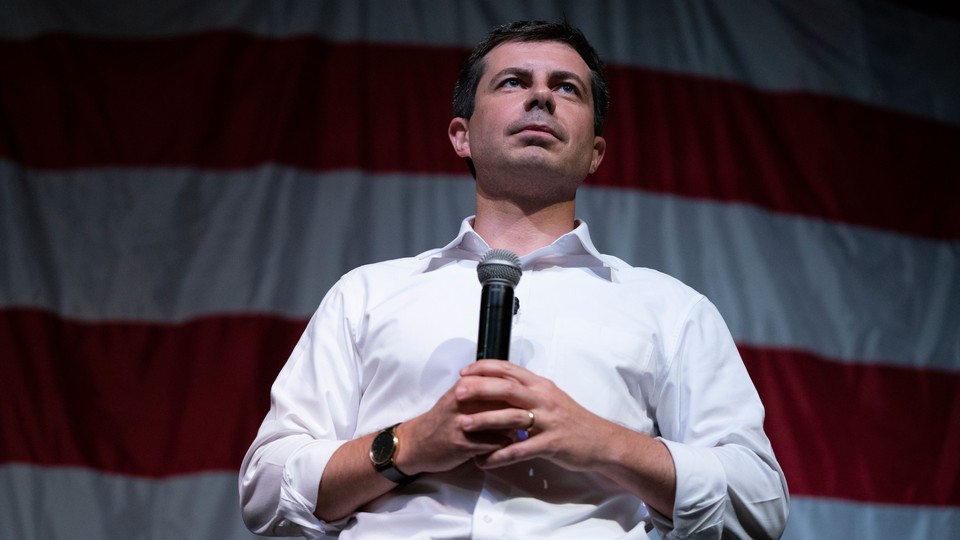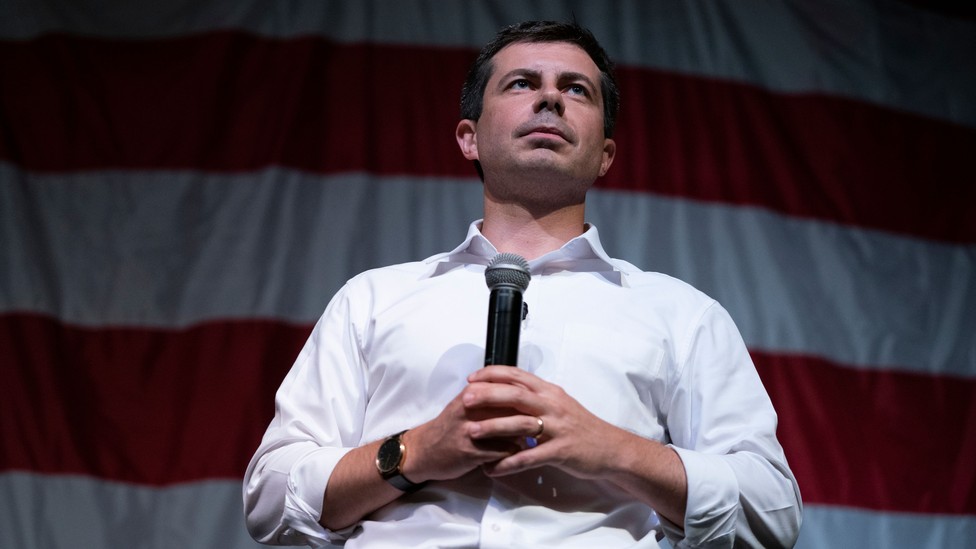 Last month, a source emailed a colleague of mine with a complicated theory that, the source claimed, proved Pete Buttigieg had been in the CIA. "The American people have the right to know if he was ever an agent or officer," the person wrote, with the kind of baseless confidence that lives on the internet.
By then, Buttigieg's critics on the left had started to focus more on what the South Bend, Indiana, mayor could have been doing at McKinsey, a company that seems to look worse with each passing week. Progressives, and in particular the Elizabeth Warren campaign, pounced: What was Buttigieg doing at McKinsey for two and a half years? How many people had lost their jobs because of him? How shady was the work conveniently hidden behind a standard McKinsey nondisclosure agreement?
Earlier today, I talked with the mayor by phone as he sat on a charter plane about to fly from South Bend to New York. No, he told me, he was not in the CIA. He said the work he did was mainly about, in consultant-speak, reducing "overhead expenditures" and increasing "efficiencies"—but he said he doesn't believe that any of the work he did led to job cuts, or to changes in people's insurance. His campaign also revealed to me his clients from his time at McKinsey: Blue Cross Blue Shield of Michigan; Loblaws, a Canadian supermarket chain; Best Buy; the Natural Resources Defense Council; the Environmental Protection Agency; the Department of Energy; the Energy Foundation, an environmental nonprofit; the U.S. Postal Service; and the U.S. Department of Defense.
The decision to release his client list came slowly, in political terms. As the calls for him to be more transparent about his consulting work got louder, Buttigieg initially resorted to saying he was bound by his NDA, which was true. But the pressure was clearly getting to him. In three years of covering Buttigieg, I've never seen him stumble as much as he did in a brief press conference after an event last Friday night in Waterloo, Iowa, where Lori Lightfoot, the mayor of Chicago, had confronted him, asking him why he didn't just break the NDA. Battered by rapid-fire questions from reporters about both McKinsey and his fundraising, he was curt and unrepentant, coming across as squirmy if not downright suspicious. On The Daily Show a few days later, Trevor Noah compared him to a teenager pretending he'd done his homework and then getting mad while trying to hide the evidence he hadn't.
Realizing his position was untenable, Buttigieg asked McKinsey to release him from his NDA (his campaign said he'd first asked in June), and the company complied. Yesterday, his campaign announced that he would be publishing his list of McKinsey clients today at 6:30 p.m. eastern time. When I talked with him earlier today, he repeated a point he's made several times previously: He said he's disappointed in some of the work the company has done. "Since I've left," he said, "there are at least four cases that I can think of where someone at McKinsey has done something upsetting."
By releasing the names of his clients and talking about his work at McKinsey, Buttigieg is trying to end this conversation. And he recognizes that the sudden public interest over his time there proves both that he's being taken seriously as a threat by other campaigns, and that they're not focusing on more substantive issues his campaign is truly concerned with.
"I think people are going to pounce on things no matter what. The best I can do is to explain my story—as much as I can responsibly share," Buttigieg said. "But if folks are going to come up with a fanciful theory based on consulting work I did four and a half years out of school, chances are they'll find a way to do it no matter what I say or do."
But if McKinsey is doing bad or unethical work now, wasn't that likely when he was working there? It was only a few years ago.
"It's a place that is as amoral as the American business community in general, or at least the corporate community, can be. And that's one of the problems with it," Buttigieg said. "I never worked or was asked to work on things that I had a problem with, but it's a place that I think, like any other law firm or firms that deal with companies, just thinks about client work and doesn't always think about the bigger implications."
Buttigieg has intentionally tried to position himself as the next Barack Obama, another "young man with a funny name," as he put it in a big speech in Iowa last month. But this is among the points where they diverge. Obama took two years after college to work for a few thousand dollars a year as a community organizer in Chicago. Buttigieg came back from Oxford a Rhodes Scholar, and could have had almost any first job he wanted. He chose McKinsey, working out of a Chicago office a few miles from where Obama had been knocking on doors to fight for issues like tenants' rights. To his critics, going to work at McKinsey at all says something about what the mayor values.
"Well, I chose to work in the private sector," Buttigieg said, in response to the Obama comparison. "Most Americans work in the private sector. And I think the experience I got there served me well. If you're going to manage the largest economy in the world, it's probably a good idea that you've had a little bit of professional experience looking at a balance sheet or knowing what an income statement is. I also walked away from the private sector early in my career to take on public service, and never looked back.
"I was looking for a place where I could learn as much as I could by working on interesting problems and challenges in the private sector, the public sector, in the nonprofit sector," he said. "And that's what I got to do. And of course, I needed income. I'm not going to pretend that I wasn't earning a paycheck too, and knew that."
Buttigieg pointed out that after living off his savings from McKinsey for his first two runs for office, he'd spent himself into credit-card debt by the time he was elected mayor in 2011. He noted, as he often does, that he is the only one of the four current front-runners in the polls whose net worth is under $1 million. He observed that lawyers running for president in past elections hadn't been asked to disclose their clients. (Warren has—her campaign released a new round of disclosures on Sunday night.)
As for what the work actually was, Buttigieg said it was mostly on screens and paper. Math. Databases. PowerPoint presentations. Rarely did he interact with employees of the clients he was advising. He said that while working with Blue Cross Blue Shield of Michigan, he remembered going along with his manager to a few meetings with people on staff, but he couldn't remember any meeting he'd been able to attend on his own. "Mostly I was with fellow consultants in a room working on a spreadsheet," he said, explaining that the analysis had focused on rent, travel costs, mail, and printing, but nothing having to do with policy or premium costs. He insisted that none of his work could have led to people's insurance changing, or being taken away. Because the Blue Cross Blue Shield work had been his first assignment, he said, he'd been even more removed from any of the real substance of it, describing his work as feeding math into "a PowerPoint that my manager would take and then bring to a partner who I imagine eventually presented something to a decision maker." As to whether advising on cutting costs led to people losing their jobs, Buttigieg said he'd been moved off the project after three months, in 2007, years before the company made cuts that caused an outcry. "I don't know what the conclusions were or what it led to. So it's tough for me to say."
But it worked out well for him. His next assignment was a six-month stint in Toronto working for a supermarket chain called Loblaws, which was looking to cut prices, and brought him in to figure out how to do it in a way that would actually help the bottom line. The analysis he built, Buttigieg told me, was millions of lines of data. It was too big for Excel, so he put it into a different program that needed to be run through a special laptop that he toted around and nicknamed Bertha.
"There's an exquisite science to this, because it all depends on how many competing stores are in the same area," Buttigieg said, in a very Buttigiegian sentence.
Last April, though, when he was pressed about revelations regarding McKinsey's role in helping drug companies navigate the opioid crisis, Buttigieg shrugged off his consulting work to the Los Angeles Times by saying "my specialty was grocery prices, but I also worked on renewable energy." Grocery prices were what he worked on for just that one client, and just for six months. By playing up this aspect of his McKinsey career, was he trying to make all of it seem innocuous?
"It's a bit silly to talk about a specialty at all in a career that lasted two years," Buttigieg conceded, while pointing out that the six months he spent in Toronto is long for a McKinsey project. "But," he added with a sprinkle of self-awareness, "to the extent that I was uniquely qualified on something, it was definitely Canadian grocery prices."
By the time of the Loblaws project, Buttigieg was becoming known within the company for being a particularly good McKinsey consultant. He was working with the ranks of managers and partners, impressing them. He attended company happy hours on Friday afternoons. He made sure people knew he was interested in foreign policy, had studied Arabic in college. When someone asked whether he'd be interested in a project working for the Defense Department studying economic development in Afghanistan and Iraq, he said yes. He was given the assignment, although, as he acknowledges, nothing in his career made him particularly suited for that gig. He worked out of an office in Washington, making one trip to Iraq and two to Afghanistan, where he stayed in hotels and occasionally drove out to meetings.
"In Iraq, it had to do with a lot of state-owned enterprises that were learning to function in the post-Saddam world, helping them with basic stuff like business planning that just hadn't been done in the style of international business norms, because it was a quasi-socialist system over there," Buttigieg told me. "In Afghanistan, they knew how to do business, but then there was a lot of trouble scaling it. So we were working more on figuring out how to help businesses grow."
Four years later, Buttigieg would return to Afghanistan as a Naval intelligence officer. He stayed on bases for the most part, venturing out only as an armed escort on an occasional trip. On the McKinsey work, they were outside the wire more, but "there was no moment of great adventure or danger for me, other than just the fact of we drove from Kabul to Jalalabad. That was a little risky. But in Iraq we were on base, or at least in the Green Zone, almost all the time."
Over time, Buttigieg has massaged how he's talked about his McKinsey work. In 2010, when he was running for Indiana state treasurer, he made his time as a consultant central to his pitch. During his presidential run, as the optics of McKinsey have changed, he's actively tried to push that experience to the margins. In an interview conducted that October, Buttigieg said that at McKinsey, he spent most of his time "in two areas: one was energy—a lot of time doing the math around the economics and the business side of climate change and coping with changes in the way our country is going to get our energy going forward. The other thing I did was economic stabilization. I would go to distressed areas around the world, and try to shore up the private sector."
But the only projects around the world he worked on were the Toronto supermarkets and the contract for Afghanistan and Iraq. He did, though, spend a fair amount of time on climate-related projects, whether advising Best Buy on selling more energy-efficient home projects or working on a report for several government agencies titled Unlocking Energy Efficiency in the U.S. Economy. This is an area where his work products can easily be tracked down, now that he's put his client list out.
Nothing here comes anywhere close to supporting the conspiracy theories that have circulated about Buttigieg's McKinsey work, some of which are like the one that Mister Rogers was actually an expert sniper in Vietnam. If anything, what Buttigieg's McKinsey experience mainly reveals is how young Buttigieg is: While he was on a contract in Iraq in his first job out of school, Joe Biden was already vice president working on the American withdrawal from Afghanistan, Elizabeth Warren was in Washington working on starting the Consumer Financial Protection Bureau, and Bernie Sanders was beginning to work community health-care centers into the Affordable Care Act.
I asked him why he seemed to struggle so much last week when peppered with questions about McKinsey that he couldn't answer without violating his NDA. And why not just violate the NDA, given the foul odor McKinsey now has?
"I think keeping your word matters. I'm not the kind of guy who is going to make a commitment and then the moment it's inconvenient, politically or otherwise, just break it," Buttigieg said. "Right now, we've got a president who breaks a promise or tells a lie every day and does [not] seem to care about codes, norms, or even laws. We need something different."
Attacks by other campaigns on his McKinsey affiliation may not be terribly effective at this point—because he's not the only one with a history with the company. In 1999, when Warren was chairing a committee at Harvard Law looking to improve student experience, she hired McKinsey for a contract worth upwards of $1 million, creating backlash among students at the time. "We wanted to talk systematically to all of our students and not just to the handful who serve on committees, student government, or the campus newspaper," Warren told The Harvard Crimson at the time, explaining the value of bringing McKinsey on board. (The Warren campaign declined to comment on this, beyond confirming that she ran the committee and worked with McKinsey to conduct the survey.)
Everything about Buttigieg can seem McKinsey—in part because of the two and a half years he spent there, but mostly because he's exactly the kind of smart and serious Ivy Leaguer who goes to work at a consulting firm; it's the surest way to cash in on a fancy education when you're not sure what else to do. How, for example, did he begin to tackle his problems attracting black voters? By releasing "a comprehensive and intentional dismantling of racist structures and systems" that he called his Douglass Plan, as though it were a deliverable for a consulting client. His campaign structure, likewise, is a collection of some of the best operatives in politics, building what they believe will be a much more efficient and successful structure for a presidential campaign.
Has McKinsey defined him? I asked him.
"I think it's incomplete. It's part of how I come to things. But I started out as a humanities guy for a reason. And as I wrote about in [Shortest Way Home], part of the growth that I went through as mayor was understanding how often narrative and symbolic things and cultural things are as important as anything you can measure or count," he said. "So it's a part of how I think about solving problems, for sure. It's part of how I think about dealing with data and systems and tackling big and complicated problems. But it's far from all there is to the way I approach the world."