The Next Debate Stage Won't Look Like the Democratic Party
With Kamala Harris out of the race, the Democrats have an image problem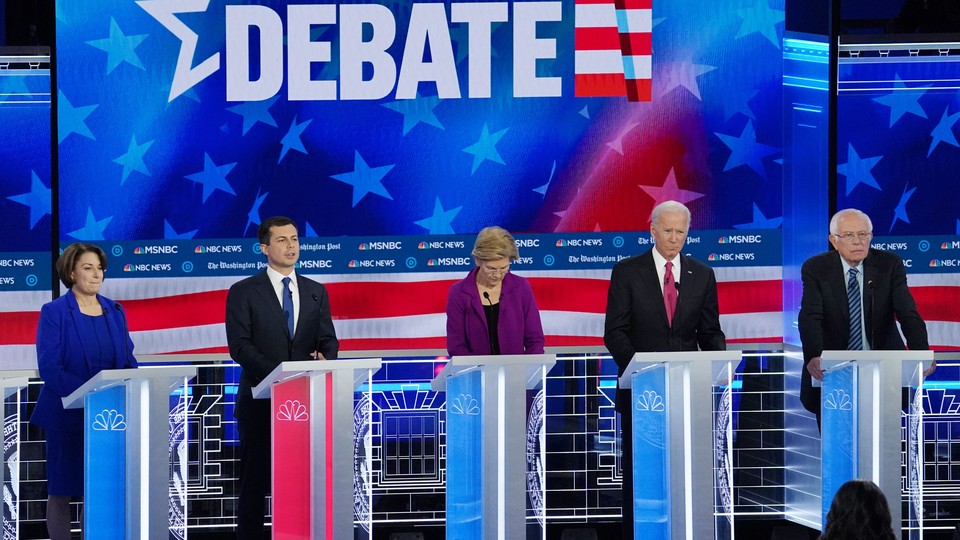 With Kamala Harris's unexpected departure from the presidential race Tuesday, the lineup of the next primary debate has become something the Democratic Party as a whole decidedly is not: all white. With Tulsi Gabbard and Andrew Yang yet to qualify, and Cory Booker and Julían Castro unlikely to, the debate stage will be notably lacking in ethnic diversity.
For a political party—and a country—whose minority population is growing, this is a problem. How did we go from a debate stage early last summer that was the most diverse in history to a race where all the leading candidates are white?
"A media narrative has emerged that says, 'In order for Democrats to win, they really need to get working-class whites in the Midwest,'"  Castro, the former housing secretary who's the first major Latino candidate to run in a Democratic primary, but who didn't make the cutoff for the last debate and won't make this one, told me. "And what people are taking from that is, 'Well, only a certain profile of candidates go and get those votes.' There's a big mistake that's being made. We may not see the consequence of that until 2020."
Democrats still haven't gotten past their obsession with winning back the white working-class voters who defected to Trump after dripping away from Democrats for years. Because Hillary Clinton lost the last election by only a few hundred thousand votes total in three states—Michigan, Wisconsin, and Pennsylvania—Democrats can prevail, or so this theory goes, by winning back those voters. And to do that, the party needs to pick someone "electable"—which is to say, "white."
Of course, complicating this theory is the fact that the only Democrat who's won the presidency in the past 20 years is a black man—one whose winning coalition consisted of not just white working-class voters from rural areas, but also a lot more nonwhite voters in urban areas than Clinton received. Clinton lost Michigan by only 10,704 votes. Yes, she got pummeled by Trump in rural areas. But she also won some 70,000 fewer votes than Obama did in the heavily minority counties that include Detroit and Flint, just like what happened to her in Philadelphia, Pittsburgh, and Milwaukee. (She also lost in the suburbs.) Losing swing-state white voters to Trump certainly hurt Hillary—but losing those minority voters who didn't turn out may have hurt her more.
The importance of turning out minority voters in those states was on happy display for the Democrats during their blue wave of 2018. Michigan elected a 37-year-old African American man who'd never held elected office before as its lieutenant governor. Wisconsin elected a 33-year-old lieutenant governor, Mandela Barnes, whose presence on the ticket boosted black turnout in and around his old state-assembly district in Milwaukee, which in turn provided the narrow margin the Democratic ticket needed to defeat the incumbent governor, Scott Walker.
The problems presented by the absence of visible minority candidates in the Democratic primary go beyond motivating turnout; they affect what gets most talked about in the campaign.
The process the Democratic National Committee is using to winnow who gets to appear on the debate stage "seems to be selecting for the very things the Democratic Party is talking about trying to reduce: the outsized influence on our democracy of the wealthy to warp the rules for more of a stratification of wealth in our country," Booker told me yesterday morning.
Aside from making it harder for the candidates who haven't qualified to fundraise and get attention, the debates themselves have done nothing to significantly shape the race so far. Notably, television audiences have been nosediving—the last debate attracted only 6.5 million viewers, and expectations for the next one, to be broadcast on PBS on December 19, are low.
Still, many African American and Latino leaders are outraged about the likely composition of the December debate, charging that the DNC has fumbled by imposing debate-qualification rules that have hamstrung candidates who might have been able to assemble a winning coalition. An all-white debate stage might come off like a two-hour infomercial for minority voters about how the party doesn't look like them.
Of course, the candidate who consistently polls the highest among minority voters has never been Harris or Booker or Castro. It's Joe Biden. His campaign argues that this suggests he'll have no trouble turning out minority voters.
Booker said that's not enough. "It is not about who can get 90-plus percent of the African American vote. Everybody in this field right now will get 90-plus percent of the African American vote. What we need is a candidate that could draw larger black turnout, record black turnout. The last time we won, we won with a candidate that got record black turnout," he told me. "It's not just the issues that are not discussed. It is the contours and quality of that discussion." He said you "can't talk about LGBTQ issues without talking about violence against black trans women. You can't talk about entrepreneurialism and not talk about the incredible dearth of access to capital for people of color."
Naturally, Booker and Castro would say that the lack of color on the next debate stage is a big problem, because they've both so far failed to qualify for it. But that doesn't mean they're wrong.
"There are ways that we could have run a stronger campaign," Castro said. "But I also don't accept that it's a complete coincidence that every single candidate of color is struggling in 2020, especially with the talent level of people."
Notably, both Booker and Castro saw bumps in their attention and online fundraising after Harris quit. Whether that will be anywhere near enough to matter, though, is a different question.