'We're Not Safe as Jews in New York'
The Monsey stabbing is the latest in an escalating drumbeat of anti-Semitic violence in the hub of American Jewish life.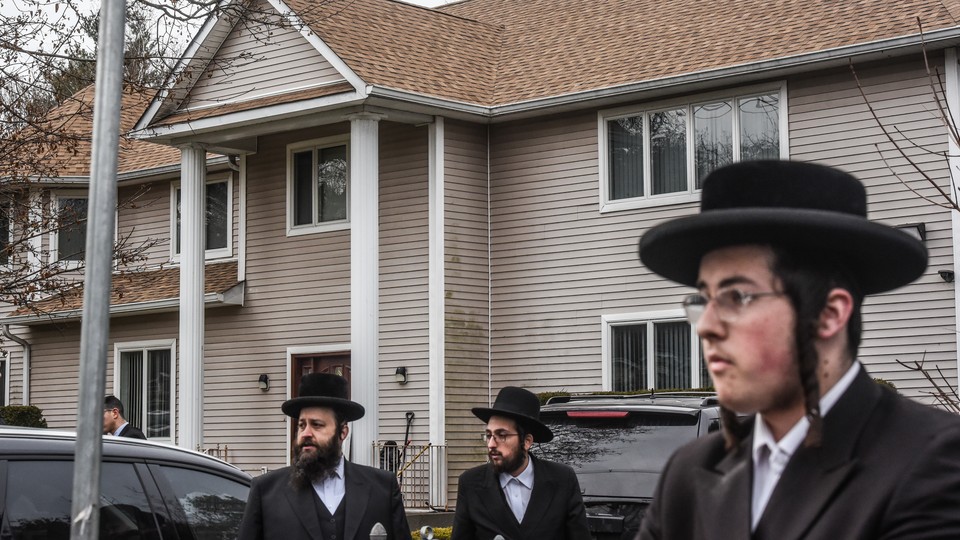 Saturday was the seventh night of Hanukkah, a holiday normally celebrated with singing and fried foods and the soft glow of lit menorahs. A gathering of Hasidic Jews at the home of a rabbi in Monsey, New York, instead turned into a nightmare when a man wielding a large knife rushed in and began attacking. Five people were reportedly stabbed and wounded. As of midday Sunday, according to law enforcement, two victims were still in the hospital.
"There's a lot of horror," Shoshana Bernstein, a community organizer and mother who lives in Monsey, told me. "It's tapping into every fear." Part of the shock is that this happened in Monsey, a densely Jewish community just north of New York City, in the metropolitan area that is home to the largest population of Jews outside of Israel. Jews have been in New York since before the city got its name, and have deeply influenced its culture. At one point, they made up as much as a quarter of its population. Now, according to researchers at Brandeis University, roughly 1.7 million Jews live in the metropolitan area, nearly 10 percent of the population. By comparison, Jews make up roughly 2 percent of the United States population as a whole.
Here, of all places, Jews should feel safe. But the Monsey stabbing is just the latest in an escalating drumbeat of violence in the area. Less than three weeks ago, a pair of assailants allegedly murdered two Jews, a law-enforcement officer, and a clerk at a kosher grocery store in Jersey City, New Jersey. There have been at least 13 anti-Semitic incidents in New York State since early December, according to Governor Andrew Cuomo, and at least 10 in the New York–New Jersey area in the past week alone, according to the Anti-Defamation League. The Monsey attack could mark a fundamental turning point for Jews in New York, and across the country: Jews are being targeted for violence, whether they live in the heart of Brooklyn or the suburbs of Rockland County, where Monsey is located. "I think the reality is seeping in," Bernstein said. "It doesn't matter who you are [or] what your religious affiliation is. We're not safe as Jews in New York."
There has always been anti-Semitism in New York City. Orthodox Jews, who are usually visibly identifiable by the way they dress and the geographically concentrated nature of their communities, have often been the targets. But Evan Bernstein, the New York–New Jersey regional director at the Anti-Defamation League, told me he has seen the situation "ramping up" over the past few years. "We're seeing more and more assaults," he said. Incidents have included graffiti sprayed on the walls of Jewish schools, men stabbed on their way to synagogue, and verbal and physical harassment following a measles outbreak earlier this year.
Still, the suburbs of Rockland County have continued to feel somewhat removed from the violence, Rivkie Feiner, another local community organizer, told me. Monsey has been the kind of place where mothers send their kids out to ride bikes or around the corner to play at a friend's house without worrying, she said: It's "an insular, safer community." Recently, however, as Hasidic enclaves have grown in size, local community members have clashed over issues such as traffic and taxes. In April, the Rockland County Republican Party released a widely condemned video warning that "a storm is brewing" and that Jews were "plotting a takeover" in the area. Saturday night's stabbing was "like lighting a match and throwing it on a pile of tinder," Bernstein said. "There's a lot of hate out there."
After a lifetime of feeling secure in the suburbs of New York, Feiner is no longer confident that she and her family are safe from violence, especially because her sons dress in a way that clearly marks them as Jewish. "You have to be aware of your surroundings," she said, "and not have your head buried in the sand." Bernstein, who has long worked with the Rockland County Jewish community on security issues, said she plans to teach her 11-year-old son how to defend himself on his way home from the bus stop: "Use your briefcase as a weapon if someone approaches," she said, giving an example of a possible tactic. "Just thinking that I have to do that is just beyond horrifying, as a parent."
The Hanukkah stabbing has started a new conversation about communal security, says Yossi Gestetner, a co-founder of the Orthodox Jewish Public Affairs Council, who lives a seven-minute drive from the house in Monsey where the attack took place. Ambulances were still at the scene when he got there last night, he told me, but people were already saying it was time to embrace stronger forms of self-defense. One person quipped to Gestetner that "we have sidelocks," referring to the long curls of hair that some Jewish men wear close to their ears, and now "it's time for sidearms." "I don't think it's in the culture of Hasidic Jews to be with weapons," Gestetner told me.
Government officials have announced plans to strengthen security measures: New York City Mayor Bill de Blasio promised a stronger police presence in Jewish communities following the Jersey City shooting, and on Sunday, Cuomo pledged to aggressively enforce the state's hate-crimes statutes, calling the latest attack an act of terrorism. Stepped-up security is not a cure-all for violence and harassment, however, or for addressing a rising culture of anti-Semitism. Increased security often places a financial burden on religious communities that have been attacked: Hiring security guards and arranging for extra police presence can be expensive. It can also reinforce people's fears. Jews have long lived and moved freely in New York, feeling safe in a city they helped build. The more security barriers Jewish communities have to erect, the clearer it is that Jewish identity can also be a source of vulnerability.
While recent deadly synagogue attacks in Pittsburgh and Poway, California, were allegedly perpetrated by white supremacists, at least some of the recent anti-Semitic violence in New York has been exacerbated by long-standing and complex racial tensions, especially in certain neighborhoods of Brooklyn. "People need to feel safe," Audrey Sasson, the executive director of Jews for Racial and Economic Justice, a progressive Jewish advocacy group, told me. "If bringing police into your neighborhood makes you feel safe, then there's no finger-wagging coming from us. But we're also scared that that's not going to help the situation. It's going to deepen divisions between our communities. It's sort of like a vicious cycle."
Sunday is the last night of Hanukkah. For Jews in Monsey and beyond, it can no longer be an evening of lightness and festivity. Gestetner told me he knows the father of Moshe Deutsch, the yeshiva student who was shot in Jersey City; the brother of Leah Mindel Ferencz, the other Jew who died there, sang at his wedding. There may be millions of Jews in and around New York, but even in a city this big and this Jewish, every anti-Semitic attack can feel personal. "People feel their families [and] their friends are under attack," he said. "A lot of people can identify with the attacks up close."