American Jews Are Terrified
A deadly shooting at a kosher grocery store in New Jersey is the latest manifestation of anti-Semitic violence that doesn't fit in a neat, ideological box.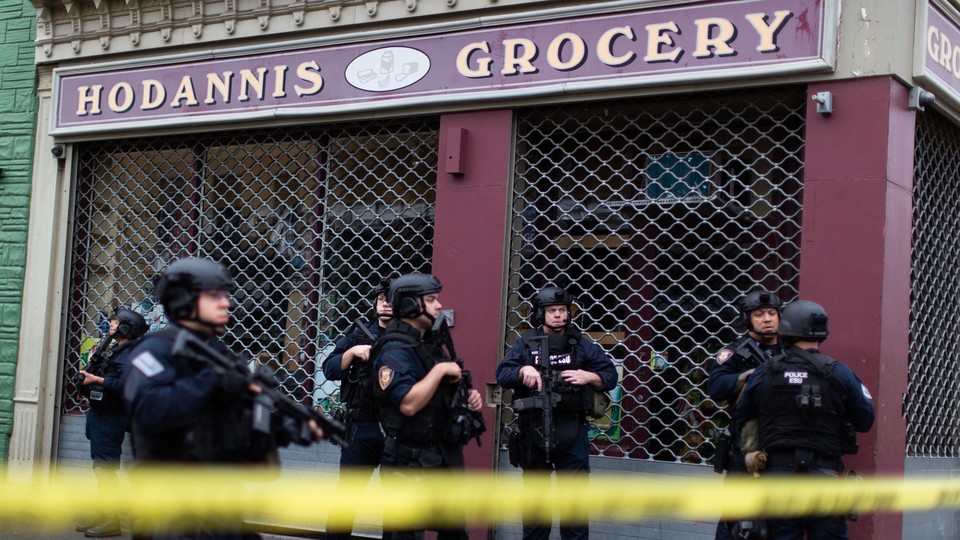 Jews have once again been murdered, and their children will have to live with the knowledge of that violence. This is the thought that has been haunting Rabbi David Niederman, a leader of the Satmar Hasidic Jewish community: How will he and others explain that two shooters apparently targeted a kosher grocery store run by members of his community in Jersey City, New Jersey, yesterday? "How long," Niederman asked at a press conference hosted by New York City Mayor Bill de Blasio today, "are these children going to live with their scars?"
In recent months, America has faced nearly nonstop reports of anti-Semitism in all forms. A swastika scrawled on the outside of a synagogue. A string of assaults against Orthodox Jews in Brooklyn. Jewish students pushed out of progressive circles on campuses because of their presumed views on Israel. Slurs shouted at Jews out shopping during a measles outbreak. Especially in the realm of politics, fear is extremely close to the surface: Any statement or action from the Trump administration related to Jews immediately conjures intense backlash from progressives, whether or not it's based on facts.
On the evening of the Jersey City shooting, reports of a planned executive order that would allow the government to pursue complaints of anti-Semitism on campuses led some rabbis, activists, and journalists to compare President Donald Trump to Adolf Hitler. The two incidents were a study in how fraught debates about anti-Semitism have become: In the face of a tangible, deadly attack, activists immediately jumped to fears that the American government is about to begin targeting Jews.
This is the pernicious nature of anti-Semitism: It emerges in many different forms, from all sides of the political spectrum. It is impossible to name a single enemy responsible for the apparent recent spike of anti-Semitic incidents in the United States; Jew hatred easily shape-shifts to fit the purposes of many ideologies. Many Jews feel scared by anti-Semitic violence and discrimination, and yet they disagree about its source and cause. That's why yesterday's kosher-grocery-store shooting is so complicated to explain, and yet so straightforward: As Jonathan Greenblatt, the head of the Anti-Defamation League, told me in an interview today, "Jews are being shot in the supermarkets where they shop, simply for the crime of being Jewish."
Details of the Jersey City shooting are still emerging, but Mayor Steven Fulop has said that the shooters clearly "targeted" a small kosher grocery store in a shoot-out that killed a police officer, a shopper, a store employee, and Mindel Ferencz, who owned the store with her husband. This is just the latest act of deadly violence against Jews: Last spring, a shooter murdered a woman at a synagogue in Poway, California, and a year ago, another gunman killed 11 Jews at a synagogue in Pittsburgh.
"People are concerned here, and people are concerned all over the country," said Moshe Schapiro, the rabbi of the Chabad Hasidic community in Hoboken and Jersey City. Schapiro said he spoke with Moishe Ferencz, the grocery-store owner whose wife was killed, after the shooting. Like other members of their community, Schapiro said, he asked for prayers and good deeds.
Law-enforcement officials have told reporters that at least one of the shooters was apparently linked to the Black Hebrew Israelites, a fringe group whose followers espouse anti-Semitic views and sometimes deny that white-skinned Jews are truly Jewish. Black Hebrew Israelites do not fit neatly into America's left-right political divide. The main thing they share with white nationalists such as Robert Bowers, the alleged shooter in the 2018 Pittsburgh attack, is a brand of conspiratorial thinking that blames Jews for all manner of political and social ills.
This is the twisted logic of anti-Semitism: Jews are blamed for bringing immigrant "invaders" to the United States while being simultaneously smeared as white supremacists. Jews are the targets of conspiracy theories and stereotypes, and yet Jewish vulnerability is constantly questioned and undermined by people who perceive Jews to have outsize cultural power. Visibly identifiable Jews, including those who might shop at kosher grocery stores like the one in Jersey City, are often targets for violence. At today's press conference, Niederman, the Satmar rabbi, referred to an old article in The New York Times that asked whether Jews are safe in New York City. "Unfortunately, we see now that we are not safe in the New York metropolitan area," he said. It's remarkable that he has come to believe this about New York, of all places: An estimated 1.7 million Jews live in the metropolitan area, the highest concentration of Jews in America.
Just as anti-Semitism doesn't fit a single ideological mold, however, acts of anti-Semitism affect Jews from every religious tradition and political camp. "Jewish people know: When a vandal desecrates a synagogue with a swastika, he typically doesn't distinguish between one that's Orthodox or Reform," Greenblatt said. "This is one of the hallmarks of anti-Semitism: Ultimately, it doesn't differentiate between your level of observance or your degree of Zionism." This is what makes anti-Semitism so challenging to confront: It has been sustained across different times and political contexts, taking many different forms and claiming a wide variety of victims.
But not even Jews agree on what anti-Semitism looks like, or who is responsible for it, or how to fight it. On the evening of the kosher-grocery-store shooting, reports of a new Trump-administration executive order emerged, accompanied by rumors that the administration would now categorize Judaism as a race or nationality for the purpose of enforcing civil-rights complaints on college campuses. As the White House senior adviser Jared Kushner wrote today in an op-ed for The New York Times, the executive order doesn't exclusively define Judaism as a nationality. Rather, it clarifies that "to the extent that Jews are discriminated against for ethnic, racial or national characteristics," he wrote, "they are entitled to protection by the anti-discrimination law."
This effort mirrors stalled, bipartisan efforts in Congress to create similar protections for Jewish students who face alleged discrimination on campus. It also echoes the Obama administration's interpretation of Title VI, which affords protections to students based on their race and nationality. The Trump administration has long positioned itself as a fierce opponent of anti-Semitism, and this move was part of that spirit. Yet before the order was even published, activists and journalists had begun decrying the order itself as anti-Semitic. As leaders of the left-wing activist group If Not Now wrote in a statement, "The order's move to define Judaism as a 'nationality' promotes the classically bigoted idea that American Jews are not American." One could make many things of the intense progressive backlash against an unreleased executive order, but the clearest takeaway is this: Jews in America are primed for fear. Some link the recent spike in anti-Semitism to the actions of the Trump administration, including the president's past reluctance to condemn Nazis and white supremacists. Others dismiss criticism of the Trump administration as unfounded, pointing to violence like the Jersey City attack as the true manifestation of anti-Semitism in America. The result is a giant, confusing mess: Jews are being targeted from all different directions while also eviscerating one another.
"There's a reason why Jewish people feel afraid. The threats against them are undeniable," Greenblatt said. "In this moment, whether you're a Democrat or Republican, whether you like the president or don't like the president—I don't think that should be the point. It should be nonpartisan to push back against prejudice."
Anti-Semitism is terrifying because of its myriad forms, and for its ability to sow division among Jews themselves. But it is also terrifying because it is not possible to solve, and it never goes away. The grocery-store attack is undeniably scary, said Schapiro, the Chabad rabbi. People in his community are concerned. But they refuse to cede their lives to fear. Ultimately, he said, "they're staying put."