It Was Never Just About Human Rights in Iran
The administration's commitment to a better future for Iranians may last only as long as that commitment can be used to secure the regime's demise or a better nuclear deal—whichever comes first.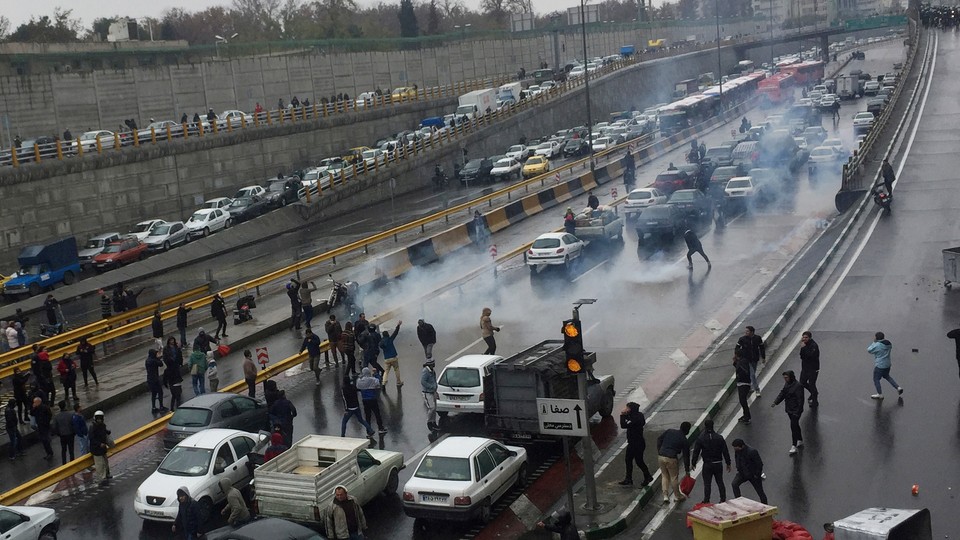 The horrifying numbers are still trickling in: Anywhere from 200 to more than 1,000 people dead. Seven thousand people in prison. The full human cost of Iran's recent crackdown on protests that started last month is only now coming into focus, as the demonstrations taper off and more details come out of an opaque country where authorities shut down the internet during some of the worst violence. And suddenly, the Trump administration spoke out on human rights.
Secretary of State Mike Pompeo said today that the United States is "proud to be the world's leading advocate on human rights," shortly before his administration put financial penalties on a number of individual human-rights abusers, including officials in South Sudan, Slovakia, and Saudi Arabia. But when it comes to condemning entire governments, he has put particular emphasis on Iran. "This administration has taken a completely opposite view of the important political protests, the freedom-seeking, the freedom-loving people of Iran, than President Obama and his administration did," Pompeo said in one interview, referring to Obama's reluctance to speak out in support of Iran's Green Movement protesters in 2009. "These people are simply asking for a basic set of freedoms, and the Iranian leadership—that regime should change in a way that reflects the desires of their own people," he said in another one.
As part of a foreign policy that Pompeo has described as one of "realism and restraint"—which recognizes that the U.S. cannot remake other societies in its own image—this administration has been selective about where it seizes on the suffering of the masses. America always aims to support regimes it sees as friendly and weaken the unfriendly ones; Trump's is by no means the only administration to criticize enemies more vigorously than allies when it comes to human rights. In Iran's case, the administration has found that condemning violence and suffering and pushing for human rights can also serve a much bigger agenda.
"Allies should be treated differently—and better—than adversaries," one top State Department official explained in a memo early in the Trump administration, noting that maintaining good relations with allies such as Saudi Arabia entailed "difficult tradeoffs" with regard to human rights. Trump would later veto a bill requiring him to cut off military support to Saudi Arabia's disastrous air campaign in Yemen, which has contributed to the worst humanitarian catastrophe in the world, in order to avoid antagonizing an ally.
But Iran is no ally. The administration has waged a campaign of "maximum pressure" against the Iranian regime that has helped devastate the country's economy. The protesters' revolt—over gas-subsidy cuts imposed by a financially desperate regime—has created another source of pressure, this one from within the country. "We should consider human rights as an important issue in regard to US relations with China, Russia, North Korea, and Iran," the official wrote, not just out of moral concern, but because "pressing those regimes on human rights is one way to impose costs, apply counter-pressure, and regain the initiative from them strategically."
That official, Brian Hook, now oversees U.S. policy on Iran.
True to this philosophy, Hook spoke forcefully to reporters at the State Department recently about the plight of Iran's protesters. He detailed a horrific shooting spree by regime forces against a group of protesters hiding in marshland. He said the death toll had risen to perhaps more than 1,000, though Amnesty International has put the figure at 208, counting only the names it can confirm. He claimed that the regime was charging families to receive the bodies of their slain loved ones and even asking to be reimbursed for the bullets that killed them. Hook said the department had received 32,000 videos, in response to a call from Pompeo on Twitter for Iranians to send evidence of the crackdown.
"This is the worst political crisis the regime has faced in its 40 years," Hook said. "All of these protests are directed at a corrupt religious mafia that has been terrorizing its own people."
Since the Trump administration took the drastic step of imposing a nearly complete oil embargo on Iran, officials have been quick to highlight examples of Iran's resulting economic distress and its impact on Iran's foreign policy—"off the charts" inflation; appeals for donations by Iran's Lebanese proxy, Hezbollah. But the outbreak of protests in mid-November, which roughly coincided with major protests in Iraq and Lebanon (where Tehran wields considerable influence), marked a new moment in the "maximum pressure" campaign, one Pompeo hinted he was angling for back when he announced the administration's Iran strategy in May 2018. "At the end of the day, the Iranian people will get to make a choice about their leadership," he said in a speech at the Heritage Foundation. "If they make the decision quickly, that would be wonderful. If they choose not to do so, we will stay hard at this until we achieve the outcomes that I set forward today."
Those objectives included a halt to uranium enrichment and a full withdrawal of Iranian forces from Syria. Hook was himself pursuing another of those goals last week, the release of a U.S. prisoner from Iran. Trump, who has denounced the regime for its crackdown on the protesters, praised Iran as "very fair" after last weekend's release of that prisoner, the Princeton student Xiyue Wang. "See," Trump tweeted, "we can make a deal together!"
The Iranians may gamble that Trump, despite saying in another tweet that he supports the protesters and "always will," meant it when he said he believed Iran wanted a deal, "and my deal is nuclear"—implying that his top issue was to keep Iran from getting the bomb, even if that meant ignoring all his administration's other demands. If Trump does get a new agreement with Iran, will he really "always" support the opposition to the regime that gave it to him? There is precedent in the case of North Korea, where Trump has also sought a nuclear deal and where he has tweeted praise for Kim Jong Un, who leads perhaps the most abusive regime on the planet.
"I do appreciate the government's support and statements," Hadi Ghaemi, the executive director of the Center for Human Rights in Iran, told me. "But the protests and the human-rights situation cannot become another football in the conflict between Iran and the U.S."
Ghaemi's organization, a New York–based advocacy group, has collected testimonials from people who have lost family members in the protests. One woman, Nahid Shirpisheh, went to a protest with her son west of Tehran; she told the center that she had seen people get shot there but did not know that the bullets were real. At one point, though, a group of people came toward her carrying a body. When she looked at the clothes and the shoes, she realized it was her son. "My innocent son was killed by this corrupt regime; this tyrannical, criminal, treacherous regime that deserves every bad name you can think of," she told the center.
"What is shocking, really, is that they had prepared their troops to shoot to kill from the very beginning," Ghaemi said. He surmised that the regime could have foreseen that raising gas prices would trigger protests, since such a move has in the past, and that the extreme violence was meant to send the message that the regime would tolerate no dissent. And for now, Ghaemi said, the protests have settled down.
But he is confident this won't be the last of it. "There is fire under the ashes," he said, citing an Iranian proverb. "They did not put out the fire. And don't be surprised if it gets inflamed."
In the meantime, the U.S. will "stay hard at this," in Pompeo's words. But its commitment to a better future for Iranians may last only as long as that commitment is a useful cudgel to secure the regime's demise or a better nuclear deal—whichever comes first.