Trump Is Forever
The president's latest rally, which coincided with his impeachment, previewed just how toxic—and long—the coming year will be.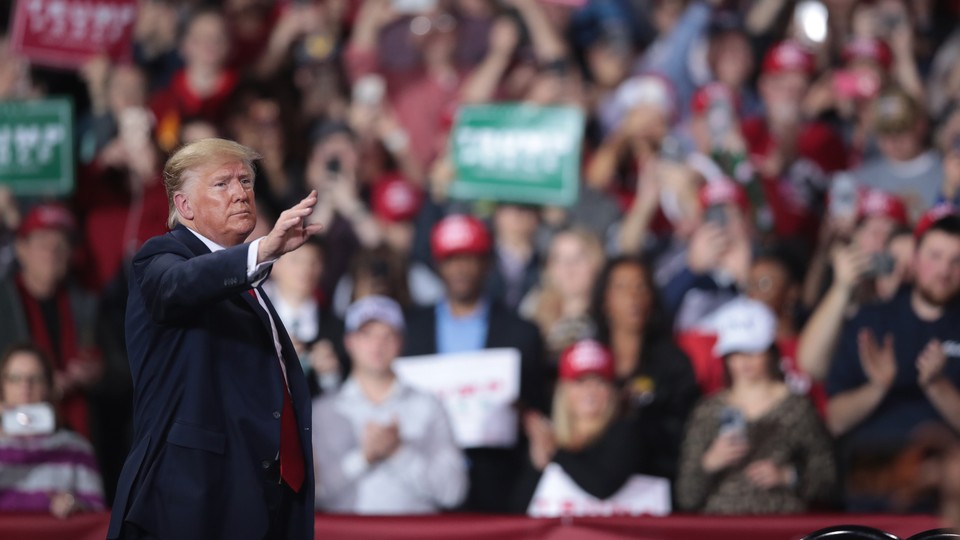 Updated on December 19, 2019 at 11:41 a.m. ET
A Trump rally is often a miasma of misstatements and distortions, but in one unscripted aside last night at his appearance in Michigan, Donald Trump succinctly captured what living through his presidency is like. "You know, in the life of Trump, 10 months is an eternity," he said. "It's a long time."
For that matter, even a single day in Trumpworld seems measured on the geologic clock, yesterday being possibly the most outsized example. In the House chamber last night, lawmakers formally impeached Trump after a marathon debate, clearing the 216-vote threshold while he stood onstage in an arena in Battle Creek, face moist with sweat, delivering a speech that previewed just how toxic the coming year will be.
A Senate trial determining Trump's fate could take place in January. After that, Trump's focus will shift more to the 2020 election. With his legacy at stake, he used the rally to lash out indiscriminately at threats real and imagined. He skewered the living and the dead, deadbeat NATO countries and Democratic rivals, energy-efficient light bulbs and low-flow showers, while dragging into the discussion his adolescent son, Barron, whom the first lady and White House aides have long declared off-limits.
"History is unfolding as we speak," CNN's Wolf Blitzer intoned as the House inched toward making Trump only the third president ever to be impeached. History wouldn't be made, though, without Trump getting his say. Cable TV was riveted to the House floor all day long, but Trump engineered some counterprogramming with his chaotic two-hour speech, one of the longest he's given since taking office. At one point, he made time to criticize the genteel way security guards had corralled a protester who had flashed her middle finger on her way out the door. Watching from the stage, Trump seemed disappointed that they hadn't roughed her up more, mocking the guards for grabbing her wrist "lightly" and beseeching her to "please come."
"You gotta get a little bit stronger than that, folks," the president advised. (The admonition carries an eerie echo: Another president who faced impeachment wasn't squeamish about manhandling protesters either. White House tapes show that in 1971, Richard Nixon privately endorsed an idea to use the Teamsters to beat up anti–Vietnam War demonstrators massed in Washington. "They've got guys who'll go in and knock their heads off," Nixon was recorded as saying.)
As ever, a president bent on goosing his base blew past the boundaries of civility. He faulted Democratic Representative Debbie Dingell of Michigan for supporting impeachment even though she had called to thank him for the courtesies shown to her late husband, former Representative John Dingell, upon his death earlier this year at age 92. Trump called the widow "a real beauty" and suggested that she should have repaid him for the "A-plus treatment" he extended to her husband by voting against impeachment. Then things turned darker. John Dingell, who was the longest-serving member of Congress in history and represented a district about an hour-and-a-half drive from Battle Creek, might be "looking up" from hell, Trump said. That proved too much even for a crowd of his ardent supporters. Groans wafted from the seats.
It's not clear what happens now that the House has passed the impeachment articles declaring that Trump both abused his power by pressuring Ukraine to undertake investigations that would serve his political interests and obstructed Congress's subsequent investigation. Senate Majority Leader Mitch McConnell said this week that a Senate trial will be held in January. But in a news conference last night after the vote, House Speaker Nancy Pelosi said that she would delay sending the articles to the upper chamber until she gets assurances that the body will hold what she sees as a fair trial that would take testimony from additional witnesses. McConnell has indicated that he wants a speedier proceeding; he's made no secret of his loyalties, freely conceding that he's not an impartial juror.
A conventional president beset by political crisis would strive to show that he's focused on the job, but that's not Trump's way. Impeachment is, for him, an obsession that he's taking no steps to conceal. Campaign aides insist that the furor has boosted fundraising and helped mobilize supporters, though they have an incentive to say so—admitting that it's a setback of any sort is unthinkable. "Ever since this began, every time the Democrats or the media go into impeachment frenzy, our fundraising—particularly small-dollar fundraising—goes through the roof," Tim Murtaugh, a Trump-campaign spokesman, told me.
Still, Trump clearly is unhappy about the permanent blot on his record, even if the Republican-controlled Senate ultimately acquits him, as is expected. Last night, he singled out Senate Minority Leader Chuck Schumer, who has demanded that a trial make space for more witnesses. "I used to be a big contributor. He used to kiss my ass," the president said of Schumer, a fellow New Yorker. "Find out how much money did I give or raise to Chuck Schumer. And Chuck, give all that money back, please."
Reelection is also a Trumpian preoccupation, and in attacking one of his rivals last night, he resurrected a drama from two years ago—wait, no, it was only two weeks ago. He mentioned a leading Democratic presidential candidate, Senator Elizabeth Warren of Massachusetts, and claimed that she isn't filling the seats at her events. His son Barron, he argued, could draw bigger crowds than Warren in New York's Central Park—"and he's 13." Earlier this month, the first lady, Melania Trump, criticized a Stanford University professor, Pamela Karlan, who testified in the impeachment proceedings and invoked Barron's name. Though Karlan would later apologize, Donald Trump doesn't seem as concerned as his wife about shielding his son.
A Trump rally is always a kind of performance art. As one person close to the White House told me recently, Trump believes that the audience wants a show and sees it as his job to deliver. Last night, he went on a long, nostalgic tangent about sinks, showers, toilets, and light bulbs that weren't built to conserve energy or resources. He misses them. These days, said the loud guy on the bar stool—er, the 45th president—"you want to wash your hands and turn on the sink," but "no water comes out."
It says something about the times we live in that when I hear these sorts of musings, I find myself unclenching a bit. Even a temporary break from the vitriol and nonstop name-calling is welcome. At the very least, in the age of Trump, it can make a day seem like a day, not an eternity.