Trump's Scarlet Letter
A historic House vote has made Donald Trump the third president in U.S. history to be impeached. Tonight caps a two-month investigation, but it was years in the making.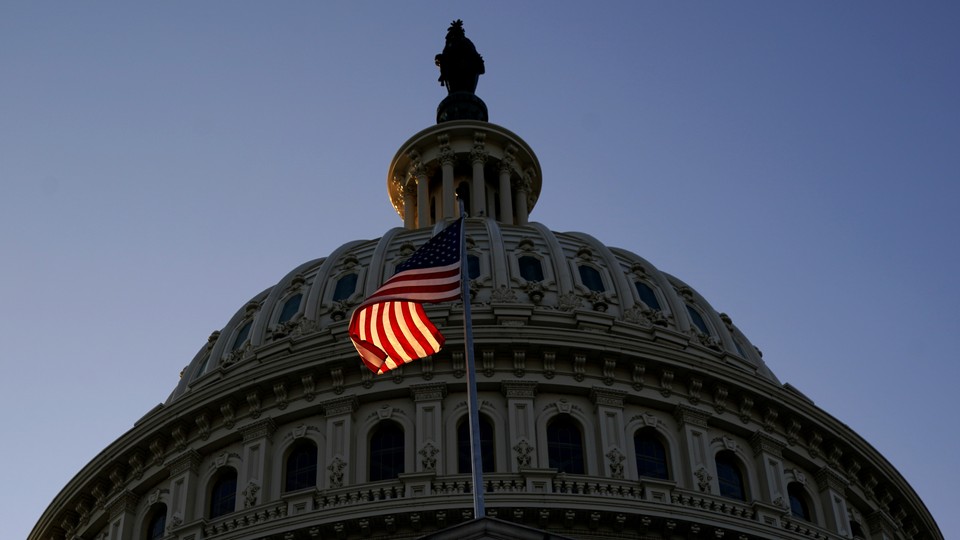 There was the 230–197 tally itself—nearly all Democrats voting in favor of making Trump the third president in history to be impeached by the House of Representatives, with every single Republican, as expected, in opposition. But there was also the sense that this moment—rancorous yet solemn, dramatic yet not suspenseful—had been building for much longer than the two and a half months since Pelosi dropped her long-standing opposition to impeachment and formally opened the Democrats' case against Trump. It began before the July 25 phone call in which Trump infamously asked Ukrainian President Volodymyr Zelensky for the "favor" of investigating his political rival, former Vice President Joe Biden. And maybe it even began before last year's midterm elections, when voters across the country handed Democrats the House majority and, with it, the power to confront the president.
In truth, the inexorable march toward impeachment probably began on January 20, 2017.
That is, of course, the main Republican talking point. In speech after speech, hour after hour, GOP lawmakers this afternoon weaponized the Democratic "resistance" to blunt the wound of impeachment. "This should surprise no one," declared Representative Doug Collins of Georgia, who, as the top Republican on the House Judiciary Committee, has led the GOP's defense of the president. "From the very moment that the majority party in this House won, the inevitability that we would be here today was only a matter of what date they would schedule it. Nothing else."
Representative Mike Kelly of Pennsylvania reached for a different comparison, likening the Democrats' December impeachment of Trump to the Japanese bombing of Pearl Harbor, which drew the U.S. into World War II. "Today, December 18, 2019, is another date that will live in infamy," he said.
Republicans said the Democrats had had it in for Trump from the minute he took office; that they could not countenance an election in which the states, through the Electoral College, overruled the popular vote of the people; that they would gin up any controversy as an excuse to impeach a president they just plain didn't like.
There was some truth in this. There were Democrats who saw Trump as a threat to the constitutional order from the outset, who called for his ouster for all manner of actions and statements, from the corporate profits he continued to rake in as president, to his various racist outbursts, to his drive to ban travel from majority-Muslim countries, to the allegations of obstruction of justice documented by Special Counsel Robert Mueller.
If there was a mandate in Trump's slim 2016 victory, it wasn't for a particular set of policies but for a tough-talking dealmaker to dispense with the stale niceties of official Washington. The new president delivered on that promise with his Twitter feed alone, and if it were only a few cherished norms that he'd abandoned, perhaps today's vote would never have happened.
Opening the six-hour floor debate shortly after noon today, Pelosi said Trump was "an ongoing threat to our national security and the integrity of our elections." Standing alongside an image of the American flag and a quote from the Pledge of Allegiance, Pelosi struck the same somber, more-in-sorrow-than-in-anger tone that she has throughout the process. Impeachment was not a desire but an obligation. "If we do not act now, we would be derelict in our duty," she said. "It is tragic that the president's actions make impeachment necessary."
That message became a theme among Pelosi's members. "I did not come to Congress to impeach the president" was the refrain, uttered as a rebuttal to the GOP's argument that the whole thing was precooked and as a reminder that Democrats waited nine months before even launching their inquiry.
As the debate wore on and the votes drew close, Republicans began heckling Democrats, drawing reprimands for order in the chamber from the presiding officer. They jeered Representative Adam Schiff of California, the chairman of the House Intelligence Committee, and they audibly scoffed as Majority Leader Steny Hoyer recounted the Democrats' reluctance to pursue impeachment until recently. "We did not want this," Hoyer said somberly. A Republican on the floor replied, "Oh, come on!"
It wasn't Trump's shirking of norms but his obvious and outspoken disdain for rules and even laws that made his impeachment, at least with the benefit of hindsight, inevitable. That, and his refusal to quit when he was ahead. Pelosi was ready to give Trump a pass for his profiteering, for his defiance of Congress in directing money to his border wall and in stonewalling Democratic oversight investigations, for his alleged misdeeds in the Mueller report. But it was lost on no one that Trump's call with Zelensky came on the day after Mueller's lackluster performance on Capitol Hill lifted, once and for all, the two-year cloud that had cast his presidency in shadow.
The Mueller investigation was a look-back at 2016; Trump's alleged quid pro quo with Ukraine was about 2020. A president who was exonerated—in part, if not in whole—for conspiring with Russia to interfere in his first election was now, apparently, soliciting foreign help for his second. When the call record came out in September, rank-and-file Democrats who had spent the summer deflecting demands for impeachment from progressive activists now turned quickly around. They saw a crime in progress, and no choice but to act.
"Make no mistake," Representative Susan Davis of California said as the debate wound down this evening. "We are not impeaching this president. He is impeaching himself."
By the time Pelosi announced her intention to move forward with an impeachment inquiry, support for the investigation within the Democratic caucus was nearly unanimous. Just two Democrats—freshman Representative Jeff Van Drew of New Jersey and veteran Representative Collin Peterson of Minnesota—broke with the party on an initial vote setting up the rules for public hearings. Despite speculation that more Democrats would defect, the vote this evening was largely the same. Representative Tulsi Gabbard of Hawaii, the long-shot presidential hopeful, voted present. One freshman Democrat, Representative Jared Golden of Maine, split his vote on the two articles, backing Trump's impeachment for abuse of power while opposing it for obstructing Congress.
The Democrats' push for impeachment did not come without a price. They will lose a member of their majority when Van Drew switches parties, as he reportedly plans to do. And weeks of compelling testimony from current and former Trump-administration officials did little to move public opinion, which remains divided but narrowly supportive of impeachment. Nor was it enough to persuade any House Republicans to go along, depriving Pelosi of the imprimatur of bipartisanship she had long sought for the impeachment process. (It was not strictly partisan, however, since Democrats had the support of an independent, Representative Justin Amash of Michigan, who abandoned the GOP over its steadfast support for Trump.)
In the Senate, the best Democrats likely can hope for are the votes of a few Republicans, such as Senators Mitt Romney of Utah, Susan Collins of Maine, and/or Lisa Murkowski of Alaska, and potentially one or two others, who could help them muster a slim majority for conviction. But that would still leave them far short of the 67 votes they'd need to remove Trump from office.
This reality is not news to Pelosi, nor to any other Democrat who voted to impeach Trump today knowing full well that his conviction in the Republican-controlled Senate was highly unlikely. This was an institutional stand, a message to future generations that at least they tried to check a president they view as an outlaw, even a danger. Nor is the House's action today meant to signal an irrevocable breach between Congress and the Trump administration. Indeed, tomorrow Pelosi will lead her members in approving a rewritten NAFTA that represents the president's top domestic priority, giving him a key policy achievement that—progressive activists fear—he'll use to boost his reelection campaign. For the more vulnerable Democrats representing districts Trump won, who might have taken a risk by backing impeachment, this second vote is something of a reward.
But as my colleague David A. Graham writes, impeachment is a stain that no trade agreement will wash away. Trump may stay in office, but in their vote today, House Democrats have affixed a scarlet I to his legacy. No one knows this better than the president, whose six-page letter of protest to Pelosi represented a final projection of rage at a process he considered deeply unfair. "You are the ones interfering in our elections," Trump wrote. "You are the ones subverting America's Democracy. You are the ones Obstructing Justice. You are the ones bringing pain and suffering to our Republic for your own selfish, personal, political, and partisan gain."
In classic Trump fashion, the president accused his opponents of the very high crimes they were charging him with. It was a reaction fitting for a man who has not changed in office, as inevitable in its indignation as was the vote to impeach him that occurred this evening.
---
Elaine Godfrey contributed reporting.