The Votes That Could Deliver Democrats Another Majority
Impeachment isn't the most significant ballot lawmakers are casting this month—or even this week.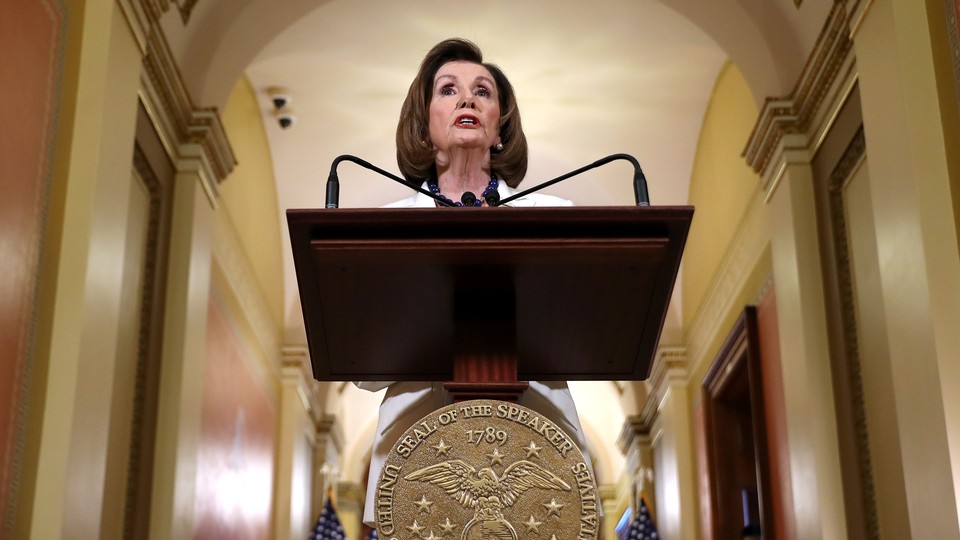 In the eyes of history, the ballot that House Democrats cast to impeach President Donald Trump will stand as the most significant vote they take this year, and maybe in their entire careers.
But in terms of whether the party can keep its House majority after 2020, impeachment may not be the most important vote the Democrats cast this month, or even this week. Policy choices—namely, legislation to reduce prescription-drug pricing approved yesterday, and the revised free-trade deal that's due for a vote next week—will likely have greater effects on the battle for control of Congress next fall, many Democratic strategists believe.
Though many liberal commentators and activists complained that Democrats were contradicting their message on Tuesday by reaching an agreement with Trump on the trade pact while announcing articles of impeachment against him, some House Democrats in vulnerable seats see precisely the opposite connection. For them, the timing underscores their message that they are not blindly opposed to Trump, even as they move to hold him accountable for behavior they view as a clear abuse of power.
"We need to check him when he's not working in the country's interest, and we need to work together when he is willing to work in the country's interest," Democratic Representative Stephanie Murphy of Florida, a co-chair of the moderate Blue Dog Coalition, told me.
Impeachment remains an uneasy vote for some Democrats in the districts where Trump has been most popular. But both recent history and current conditions suggest that the risks of a backlash, while real in some seats, are limited overall.
The members who have shown the most hesitation are predominantly from the 31 districts that voted for the president in 2016. There, they face an argument from Republicans that they are effectively nullifying their constituents' votes. During Bill Clinton's 1998 impeachment, Democrats raised that same argument against Republicans occupying districts that voted for Clinton. At the time, there were many more split-ticket districts: 91 Republicans represented seats that backed Clinton in the 1996 race.
Impeaching him was much less popular with the public than the prospect of removing Trump: While most surveys show Americans divided roughly in half on whether to remove Trump from office, nearly two-thirds of the country opposed Clinton's removal at every stage of the process. And Trump's job-approval rating, now in the low 40s, is about 20 percentage points below Clinton's during his impeachment.
Despite all that, only seven of those 91 Republicans were defeated in the two elections following Clinton's impeachment. Though Republicans unexpectedly lost House seats in the 1998 midterm elections, they didn't give up nearly enough to lose control of the chamber, and they held their House majority again in 2000. And Republicans won the White House in 2000 with George W. Bush, whose promise to restore "honor and dignity to the Oval Office" directly targeted unease about Clinton's behavior.
It creates new anxieties for some swing-district Democrats that Trump himself will be on the ballot in the next election, unlike any of the other three American presidents who faced impeachment. That prospect changes the dynamic from previous impeachments in one crucial way. Neither Gerald Ford, the GOP nominee after Richard Nixon, nor Al Gore, the Democratic nominee after Clinton, argued that the impeachment against their predecessor was unfair or misguided; Trump, on the other hand, is much more likely to attack the impeachment vote itself and portray it as evidence of Democratic extremism. The inevitability of such attacks raises the stakes for House Democrats to prove to voters that they have accomplished more than the impeachment of the president.
Already the overwhelming media focus on the biggest Trump scandals—first, Robert Mueller's investigation of Russian election interference in 2016, and then the Ukraine affair—has almost entirely eclipsed coverage of the House Democrats' success at passing key elements of their agenda, and how they've done so with a virtually unprecedented level of party unity. As of yesterday, with the prescription-drug legislation, Democrats have passed eight of the nine bills they identified as their top priorities for this year. (Only legislation on infrastructure has yet to be introduced.)
The bills have sometimes required difficult negotiations between Democratic moderates and progressives; the two camps only reached agreement on the prescription-drug bill Tuesday night. But in the end, they have passed with extraordinarily few defections.
Every House Democrat who cast a ballot voted in favor of the following: an omnibus bill reforming campaign finance and establishing national standards for voting access (H.R. 1); the prescription-drug law, which empowers Medicare to negotiate lower prices and to extend those savings to consumers covered by private insurance (H.R. 3); legislation, passed last week, to restore key segments of the Voting Rights Act (H.R. 4); the Equality Act, banning discrimination based on sexual orientation or gender identity (H.R. 5); a bill providing legal status to "Dreamers," brought to the country illegally as children (H.R. 6); a women's-pay-equity act (H.R. 7); and legislation opposing Trump's decision to abandon the Paris climate accord (H.R. 9). Democrats additionally backed H.R. 8, which would establish universal background checks for gun purchases, by a vote of 232–2. Those two "no" votes, from Collin Peterson of Minnesota and Jared Golden of Maine, have been the only dissenting votes cast by House Democrats on any of the party's top-priority bills.
By contrast, when Democrats last held the House majority, in 2009 and 2010, 34 Democrats voted against the Affordable Care Act and 44 opposed cap-and-trade legislation to combat climate change, which was crucial to Speaker Nancy Pelosi. When Democrats held the majority under Clinton, dozens of House Democrats voted against his budget, an omnibus crime bill, and gun control; Clinton faced so much resistance from congressional Democrats that his universal-health-coverage plan never reached the floor for a vote.
The greater unity in this caucus reflects the determination of Pelosi and other Democratic leaders to forge agreements acceptable to both the party's liberal and moderate wings. "We have our fingerprints on every single one of those bills," Murphy told me, referring to the top-priority legislation the House has passed. "That is why you are not seeing the fractures [the party had] in previous decades."
But the consensus also reflects the party's evolution away from the rural and blue-collar districts where that earlier dissent was centered; today the party is predominantly rooted in urban and suburban districts that largely agree on cultural and social issues, even if they don't precisely match on government spending and taxes.
Perhaps unsurprisingly, it's those Democrats remaining in culturally conservative, small-town, and rural seats who could face the most difficult races in 2020—and more difficult choices on the impeachment vote. (So could several first-term Democrats in white-collar seats that typically voted Republican until the Trump era.)
Of all the measures House Democrats have passed this year, party strategists generally believe vulnerable incumbents are most likely to emphasize a handful in their reelection campaigns: In suburban and small-town seats alike, it'll be the omnibus political-reform bill, and in suburban areas primarily, the expanded gun-control measures.
But they expect their candidates, across almost all districts, to highlight the prescription-drug legislation more than any other. It probably wasn't a coincidence that first-term swing-district Democrats—including Elaine Luria of Virginia, Cindy Axne and Abby Finkenauer of Iowa, and Haley Stevens and Elissa Slotkin of Michigan—were either given prominent speaking roles during the bill's debate or sponsored amendments to it, or both. "The ability to tie health-care prescription-drug costs to your cost of living will be a cornerstone to winning in 2020, not only to the presidential, but to every race up and down the ticket," said Dan Sena, the former executive director of the Democratic Congressional Campaign Committee, the caucus's election arm.
Each of the House's top-priority measures will provide clear points of contrast with Republicans next year, particularly because Senate Majority Leader Mitch McConnell has refused to allow a vote on any of them. Still, these stymied proposals may carry Democrats only so far in rebutting the GOP charge that they are more focused on fighting the president, especially in the most Republican-leaning seats.
"They all campaigned on getting stuff done for their districts," noted a senior House Democratic aide who works with moderate members. "Nobody campaigns on just getting a bill passed in the House. Republican voters typically vote for a Democrat on the premise that you'll work with the other side to get things done for me."
That's where the new trade deal, known formally as the United States–Mexico–Canada Agreement, fits in, because it's guaranteed to become law. So is the defense-authorization bill the House is slated to approve in the next few days, which funds the military. A third bill approved this week, providing legal status for undocumented farm workers, also has a chance, albeit a smaller one, of reaching Trump's desk.
"It's critically important that we, as a Congress, pass bills into law," Murphy said. "That's part of our jobs. I always say the only bills that matter to my constituents are the ones that can become law, because that's the point at which it affects their lives."
It's still an open question how strong Trump will be next year in the 31 Democratic-held House districts that he carried in 2016. Even back then, Trump reached 50 percent of the vote in only 13 of those districts. In the suburban areas on that list especially, he may have lost some ground, despite the booming economies around America's cities. A national Quinnipiac University poll released Tuesday found that an unprecedented one-fifth of voters who approve of Trump's handling of the economy nonetheless say they disapprove of his overall job performance, according to detailed results provided to me by the pollsters.
Still, that same Quinnipiac survey found that 99 percent of voters who approve of Trump's job performance oppose his impeachment and removal, while only 81 percent of those who disapprove back those steps. These numbers may encourage some of the Democrats in the districts where Trump remains strongest to vote against impeachment. And even those who intend to support it will be looking for ways to show that it isn't all they've accomplished in Washington.
Some on the left continue to believe the prescription-drug bill doesn't go far enough, and others remain dissatisfied about reaching a trade agreement with Trump at all. But it's clear those accomplishments are helping Democrats from marginal seats feel more comfortable going along with the caucus on impeachment. Indeed, reaching a deal with Trump on trade in particular, however paradoxical it seems, may have been the crucial final step toward building a Democratic majority next week for the vote that will brand him as only the third president ever impeached by the House.