What Yang Voters Really Want
To them, his victory matters less than whether Americans are sold on his ideas.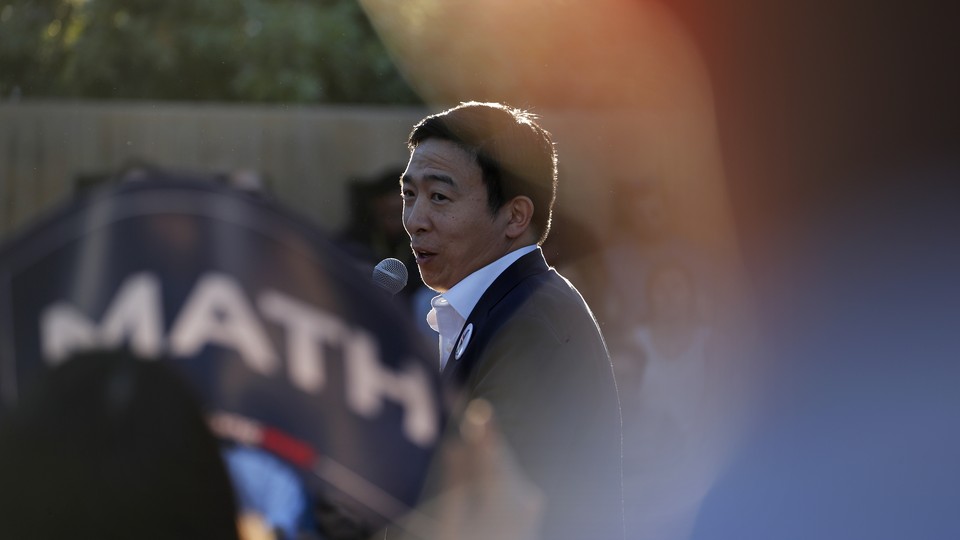 Updated at 9:28 a.m. on December 21, 2019.
If you ask members of the Yang Gang to explain their love for Andrew Yang, they will smile—they love this question—take a deep breath, and begin bragging on his behalf.
"Imagine someone that is, like, really smart," said AJ Sutton, a 32-year-old attorney, at a trivia night for Yang supporters in Arlington, Virginia, earlier this month. Sutton wore a navy-blue MATH hat—the acronym stands for Yang's slogan—and gestured excitedly as he spoke. "He sits down and just spends years thinking about various solutions to problems that we're facing, and then he runs for president based on that."
That's Yang, Sutton said, and he has "really, really good ideas."
It's natural that a supporter of a presidential candidate would approve of that candidate's proposals. But Sutton and other fans of the long-shot Democrat are different. To them, Yang's victory matters less than whether American voters are sold on his ideas: namely, universal basic income as an aggressive government response to the rise of automation. Indeed, his supporters, who span the political spectrum from the far left to the Trumpian right, tend to describe their guy in the way Bernie Sanders's supporters talk about the senator from Vermont: an insurgent idealist with specific, radical proposals for disrupting America's political system. Their enthusiasm, combined with Yang's resilience in the race, may suggest that his policy platform could also have a long tail in American politics—even if Yang himself does not.
"He has [said] that if he's not the president, the nominee will sound a lot like him, and I think we're starting to see that," said Trami Pham, who lives in Springfield, Virginia, and helps run the Northern Virginia Yang Gang volunteer group. "That's fine. That's all we want."
Yang, a 44-year-old businessman and father of two from New York, launched a presidential campaign in November 2017 fixated on preparing the country's workforce for coming technological shifts—a so-called fourth industrial revolution that he believes will lead to the culling of millions of American jobs. Yang has argued that the election of Donald Trump was largely due to job displacement spurred by automation. "The more we act like Donald Trump is the cause of all of our problems, the more Americans lose trust that we can actually see what's going on in our communities and solve those problems," he said at Thursday night's debate. But Yang is perhaps just as famous for his ideas as for his campaign's irreverence, like his "Make America think harder" slogan—a snarky rejoinder to Trump's own motto and a cheeky acronym that fits well on a hat.
So far, Yang hasn't hit the top tier of candidates. In Iowa, he's polling somewhere between 1 and 4 percent, and his national average, according to RealClearPolitics, is about 2.6 percent. But his campaign is durable. His fundraising is impressive for a first-time political candidate, and he's outlasted other prominent politicos in the race, including sitting senators and members of Congress. More than anything else, though, his campaign's focus sets him apart from his Democratic opponents.
Yang's signature campaign proposal, a UBI payment called the "freedom dividend," is a relatively radical concept, not unlike the policy priorities Sanders first campaigned on in 2016. Yang wants the government to give people money—$1,000 a month, to be exact—to help support those who have lost their jobs due to automation; remedy income inequality; and compensate for unpaid labor performed by millions of Americans, including child rearing and caregiving.
During his 2016 race, Sanders amassed a grassroots following with ideas like Medicare for All and tuition-free public college, two policies that initially had little mainstream support. That was the first year a majority of Americans backed Medicare for All, and their support has remained steady ever since, according to figures from the Kaiser Family Foundation. Also since 2016, support for free public college has grown from 47 to 63 percent.
Sanders, of course, didn't win the Democratic nomination. But his campaign did inspire hundreds of down-ballot progressive candidates across the country to embrace his platform: In the 2018 midterm elections, more than half of all Democratic candidates for the House backed Medicare for All, including his former campaign organizer Alexandria Ocasio-Cortez. Now, with Sanders on his second campaign, his trademark proposals have dominated the 2020 primary race: Seven of the remaining 15 Democratic candidates have embraced some version of Medicare for All, and multiple debates have featured a sustained discussion about the proposal. Similarly, almost every candidate has promised to eliminate tuition for two-year community colleges, with several, in addition to Sanders, vowing to make all public four-year colleges free.
Sanders, in other words, has served as a transformational figure on the left—someone who was able to fundamentally shift the Democratic political conversation toward these ambitious policy goals. Whether or not Yang earns his party's nomination, he, too, could be an influential figure. His policy proposals have already moved the primary's Overton window, even as many American voters are only just starting to tune in to the race. Before his campaign, UBI wasn't an often-discussed proposal in the United States outside the lefty-think-tank world, though a few cities have run pilot programs to varying degrees of success. Public support for the proposal increased by 6 percent from February to September of this year, according to the latest Hill and HarrisX polling. Among Democrats in particular, support for UBI ticked up 12 percent in the same period.
As Yang's campaign has captured more attention, his competitors have been forced to take a position on UBI. Several—including Senator Elizabeth Warren of Massachusetts; former Housing and Urban Development Secretary Julián Castro; Representative Tulsi Gabbard of Hawaii; and South Bend, Indiana, Mayor Pete Buttigieg—expressed openness to the policy in the months after Yang's candidacy began to gain traction. "I think that it's worth taking seriously," Buttigieg said in an interview this spring on the liberal podcast Pod Save America.
In debates, Yang has hammered home his warnings about automation, and during the October contest, the CNN moderator Erin Burnett asked a question seemingly inspired by that message. She wanted to know how candidates would prevent job losses due to automation, leading to an argument between Yang and the primary front-runners about whether implementing UBI would be more effective than raising the minimum wage or instituting a federal-jobs guarantee.
"It's likely," Dave Wasserman, the House editor of the nonpartisan Cook Political Report, told me, "that candidates will only be talking more about automation and its impact and its role in inequality in future years—whether they want to address it with some kind of enhanced safety net and a guaranteed income or not." Already, Wasserman added, Yang's ideas are speaking to "anxieties that a number of younger voters have about the future of the economy."
I've spoken with many of these young voters, who told me that they want Yang's ideas to permeate the mainstream the way Sanders's have since 2016. Joshua Kaipo Bader, a security guard living in Honolulu who describes himself as "a Bernie supporter, 100 percent," told me he's already donated to the Yang campaign three times. "People are tired of establishment-style politics," Bader said. "I want to fund and hear more from these candidates—a lot of them have good things to say."
Pham, the Yang volunteer, works as a data scientist developing chatbots—software that mimics human conversation—that will eventually replace call-center workers. Automation, Pham told me, is "something that we need to address, and … a lot of candidates don't."
John Michael Haas, a 32-year-old Orange Theory instructor from Fort Worth, Texas, told me that he first heard Yang on the comedian Joe Rogan's popular podcast back in February. (This is one of the more common ways voters discover Yang: through his interviews on podcasts and YouTube channels, or conversations on the massive online discussion forum Reddit. His fans call it being Yanged). "It was the UBI that hooked me first," Haas said. A thousand dollars a month would have helped his mother immeasurably while she was taking care of his sick grandparents, Haas explained, and it would make it easier for him and his wife to start a family. "UBI is a good way to fix a lot of the issues that face this country," he said. "That's going to be [Yang's] biggest legacy for this primary."
Yang's warnings about the threat that automation poses to America's workforce have been called into question by economists, many of whom argue that trade—not automation—is more responsible for the decline in U.S. factory work. Critics have also challenged his campaign's seriousness. Last month, a video of the candidate gleefully squirting whipped cream into his kneeling supporters' open mouths inspired some in the Twitter commentariat to label him a "frat boy." But Yang's supporters said all they saw in the clip was a normal person experiencing the sheer human delight of a full can of Reddi-wip. He is so unpolished in the way that other politicians aren't, Haas remembered thinking when he saw it for the first time.
If Yang's supporters see Sanders as a model for what his campaign's success would look like, it could be because there's overlap between the two candidates' fan bases, despite their differences in policy and experience. More Bernie fans consider Yang to be their second-choice candidate than do fans of the other front-runners, according to recent polling from Morning Consult. Sixteen percent of self-described potential Sanders voters said they were keeping an eye on Yang too, according to an Ipsos/FiveThirtyEight poll from earlier this fall. In the same poll, some 57 percent of Yang backers reported they're also considering Sanders.
Pham's fiance, Eric Huynh, who also discovered Yang on The Joe Rogan Experience, was a Sanders backer in 2016. Now he wants Yang. "Some people like supporting the underdog," Huynh told me at trivia night with a shrug, "the candidates who have the more interesting ideas or out-there ideas, but are really trying to break into the top tier."
That Yang's campaign has lasted this long already, attracting voters from various political factions, suggests that his ideas have at least some level of staying power. "I know what you're thinking, America. How am I still on this stage with them?" Yang said with a smile during his closing statement during Thursday's debate, for which he was the last candidate to qualify. "Our campaign is growing all the time because we are laser-focused on solving the real problems that got Donald Trump elected in the first place."
As the primary wears on, the bar to qualify for debates will only get higher, and the first elections of the primary are coming in just over a month, which will likely significantly winnow the field. But regardless of whether his candidacy survives, his supporters are betting, with every dollar they donate and person they're able to Yang, that his message will.