Amy Klobuchar Is Still Here
The senator from Minnesota has outlasted flashier candidates, and dominated in last night's debate. But can she escape the shadow of her nemesis, Pete Buttigieg, who has seized her sensible-midwesterner mantle?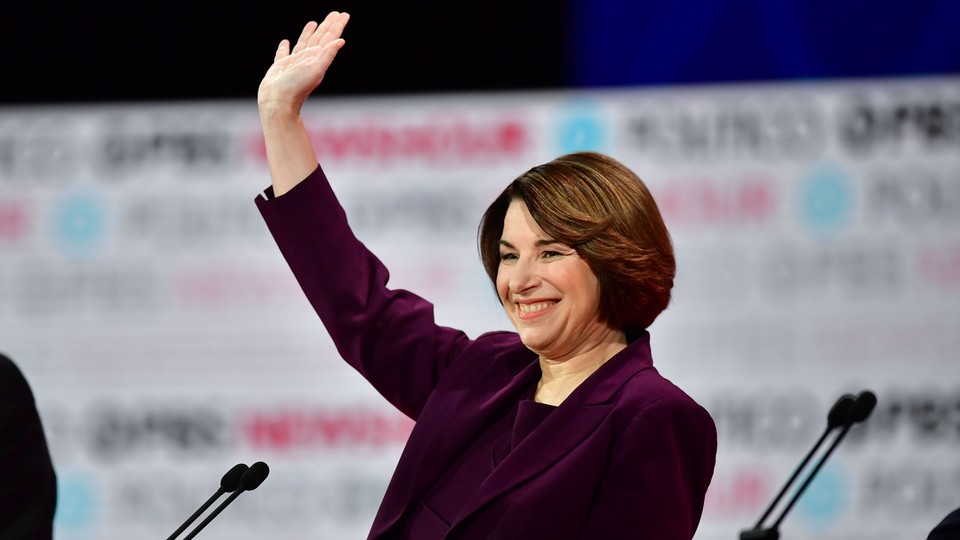 WAUKON, Iowa—Amy Klobuchar is counting on the process of elimination: that as candidates with higher profiles or greater media appeal fall away, she'll be revealed as the Democrats' best chance to defeat Donald Trump in November.
When I asked the senator from Minnesota how it felt to have outlasted flashier candidates and qualified for Thursday night's debate, in California, she said, "You mean the Elton John standard?" She paused, and drew out the lyrics, as if hearing the music in her head. "I'm. Still. Standing."
She is, and takes satisfaction from persevering and "gaining speed," she told me, "especially when so many people have predicted your demise." She's proud to be the dismissed candidate who's persisted, and draws fuel from that. Yes, other candidates were easier for journalists to write about. Other candidates did better on Twitter. Other candidates' staffers laughed at her when she got into the race. Now some of them are coming to work for her. Ruth Thompson, an influential Democratic activist in Iowa who is half of a married pair known as the "Caucus Couple," has become a big Klobuchar supporter. "My husband and I had a top-six list, and Amy wasn't on it" initially, Thompson told the crowd before introducing Klobuchar in Des Moines a few days ago. "Three of [those candidates] have already left" the race.
But none of this will mean much if Klobuchar can't poll above 6 percent, which is about as high as she's gotten—enough to be considered upper second tier, at best. With the days until the Iowa caucus dwindling, Klobuchar went on the offensive during the debate Thursday, jumping in at every possible opportunity and speaking for more time than any other candidate except Bernie Sanders. She tangled with Sanders and Joe Biden and, most of all, Pete Buttigieg, whose campaign seems to offend her at a visceral level; she did not try to hide her disdain for him.
It will be interesting to see whether her debate performance can propel her out of a frustrating electoral purgatory in which Democratic voters aren't sure what to think of her and not enough of them will fully commit. Her campaign was excited about the 250 people who came to an event one Thursday night in Des Moines—but then couldn't figure out whether to be encouraged or disheartened when most of those people said they're still making up their mind about whom to support. Klobuchar has tried to be lighthearted about situations like this, but she's getting impatient. She talked about the former mayor of Cedar Rapids, Kay Halloran, who finished a breakfast with Klobuchar by saying she was "78 percent" there for her. "It's time to decide!" Klobuchar said to the crowd in Des Moines, an edge creeping into her voice. (Halloran did eventually endorse her.)
I asked Klobuchar why she thinks she's spent the year being overlooked. She joked that it's because she's 5 foot 4—James Madison's height, she then immediately pointed out. "Some people have this image of what they want right now," she said. "And it's not necessarily what the American people want right now, what the pundits think people should want right now."
Klobuchar's case for being the nominee, aimed right at panic-attack Democrats, is that they'd "better not screw this up." She warns that the wrong candidate will give voters permission to reelect Donald Trump. She's directing her pitch at voters like Sandi McIntire, a 68-year-old retired nurse from Ankeny who's skeptical about the size of the government-funded programs being promised by other candidates. "I don't know that they should happen," McIntire told me. "If you get everything for free, you don't appreciate anything."
The polls have been relatively stable the past few weeks: At the top, you've got the beloved but stumbling uncle, followed by the railing socialist grandpa, the endearing but unrelentingly left-wing professor, and the whiz kid who doesn't seem old enough to be taken seriously and rarely makes an emotional connection. C'mon, Klobuchar is trying to telegraph to Iowa caucus-goers, can you imagine any of these characters successfully going up against Trump?
Klobuchar can come across as a combination of the A-student whose hand always shot up first in class, only to get annoyed when the teacher called on someone else, and Selina Meyer from Veep; early campaign stories said she berates her staff and once ate salad with a comb. "Guess who's the highest-ranking Democrat on the antitrust committee?" she said in a speech, before pointing both index fingers at herself: "Me!"
In 2008, Barack Obama managed to make Americans see themselves in his story—the half Kenyan, half Kansan who grew up in Hawaii and Indonesia, representing the America that people wanted to believe had come, or was coming. Similarly, Klobuchar hopes to get Americans to see themselves in her family's story: her grandfather, a miner, saving money in a coffee can to send her father to community college; her father, a journalist who struggled with alcoholism, making sure she got to college herself.
But while Obama sold the excitement of a new frontier, Klobuchar is trying to sell the comfort of the familiar. "Sometimes people thought when this started, We have to have someone exactly like Barack Obama," Klobuchar told me. "I think that's because we love Barack Obama. But maybe what people want is something different right now," she said. "They don't have to come in the same package."
"I say this is America," she said on the debate stage when questioned about how she would attract attract minority voters. "You're looking at it."
Quinton Lucas, who was elected mayor of Kansas City in June, recently heard Klobuchar speak at a mayor's forum in Iowa. "I saw Senator Klobuchar as the kind of person who told us what we couldn't afford," he told me a few days later. In her, he saw a candidate "whose story related to the people in the room and to this guy, who's a black guy from inner-city Kansas City; [she was] talking about gun violence, talking about infrastructure and local government.
"Getting her away from the giant debate stage helps. She may not be one for quips, but she certainly connects with people," Lucas continued. "I don't know if at this point in the election she has a chance to get that in-front-enough of people—but if she did, I think there would be a broad reassessment of her and her candidacy."
---
Waukon is not far from the border corner where Iowa meets Wisconsin and Klobuchar's native Minnesota. This is a part of Iowa that, in 2018, helped Democrats flip a Republican seat in the House of Representatives—but on that same day helped reelect the Republican governor. On a freezing Saturday morning at the beginning of December, Klobuchar spoke to about 100 people in the common room of a wellness center.
For Klobuchar, everything is rooted in her Minnesota-ness—from the constant Vikings references, to the way she says sorry, to a foreign policy she says is based in midwestern values, to how she discusses immigration citing not abstract principles but a hardheaded analysis of costs and benefits. When she addresses climate change, she talks about homeowner's-insurance prices going up, fields getting harder to plant. She focuses on its midwestern impact. People didn't care much when the climate discussion was about "an ice sheet over in Greenland," she told me. "When there are increased tornadoes or there's increased flooding, those are real things" that affect the Midwest. To do anything about this before it's too late, she says, we've got to dislodge the climate-change denier occupying the White House—and that will require midwestern votes.
After the event, Mary Kate Cola, a 66-year-old from Harpers Ferry, Iowa, told me she'd been impressed by how grounded Klobuchar's pitch seemed. She mentioned that the night before, in Decorah, she'd attended an event for Joe Biden, who's occupying the space Klobuchar would need to grab for any of this to work. "I have a lot of respect for Joe Biden, but he focused a bit too much on the dignity of the country," Cola said. So was she sold on Klobuchar? "She's just moved up my list," Cola said.
I asked what was keeping her from committing fully.
"Too many choices," she said.
Female candidates tend to be held back by a double standard that affects how they run for office: Men campaign on what they say they will do if elected; women campaign by showing what they have done. Sure enough, Klobuchar has a "here's my track record" section in every speech, in which she talks about bills she's passed and Republican districts she's won during her Senate campaigns. This makes her seem worthy, but it's hardly exciting. Maybe, I suggested to her, she's a really good senator, but not in a way that translates into being an effective presidential candidate. "You have to look at the fact that I always rise to the occasion of every job I have," she told me. "When I was county attorney, I ran unopposed for my second time in a race that was often very contested," observing pointedly that the county was bigger than "many small towns."
Of course, counties are generally bigger than towns—her reference to "small towns" is yet another dig at Buttigieg. (Hennepin County, which she represented as county attorney, is 10 times the size of South Bend, Indiana.) Buttigieg's (pretty successful) effort to establish himself as the sober, center-left midwesterner clearly eats at Klobuchar. She's the midwesterner people should be paying attention to. She's the one who can point to a long career of actual achievements. When Buttigieg laments what Washington hasn't gotten things done, she takes it personally. Those were some of her bills that he's dismissing, belittling work she and others did on the Affordable Care Act, the Iran nuclear deal, the response to the global financial crisis, as well as other, smaller issues. "I don't view these as wasted times," she said. "I view them as frustrating times, but I don't think of them as wasted."
(When I asked Buttigieg about this, he didn't back away from his criticisms. "While there is no equivalency between the bad faith of the Republican Party and the challenges we face on the Democratic side," he said, "I do think we need an overall different approach than what's been going on for the better part of my lifetime in Washington, and on Capitol Hill in particular.")
All of the candidates outside the top four (Biden, Sanders, Elizabeth Warren, and Buttigieg) have been hoping for some big shake-up that upends the race. "I still believe, and the data supports this, this is going to be as late-breaking a Democratic race as we have ever had," Addisu Demissie, Cory Booker's campaign manager, said on a conference call with reporters last week, trying to argue that it's no big deal the senator from New Jersey was not in last night's debate and is even further back in the polls than Klobuchar, citing recent data that suggest many voters have yet to settle on a candidate.
In Waukon, a woman asked Klobuchar whether she'd ever just given up. "She never does that," her husband, John, piped up from the back. "I can tell you that."