America's Love-Hate Relationship With Adam Schiff
The California congressman is a villain to the right and a rock star to the left. And he's more powerful than ever.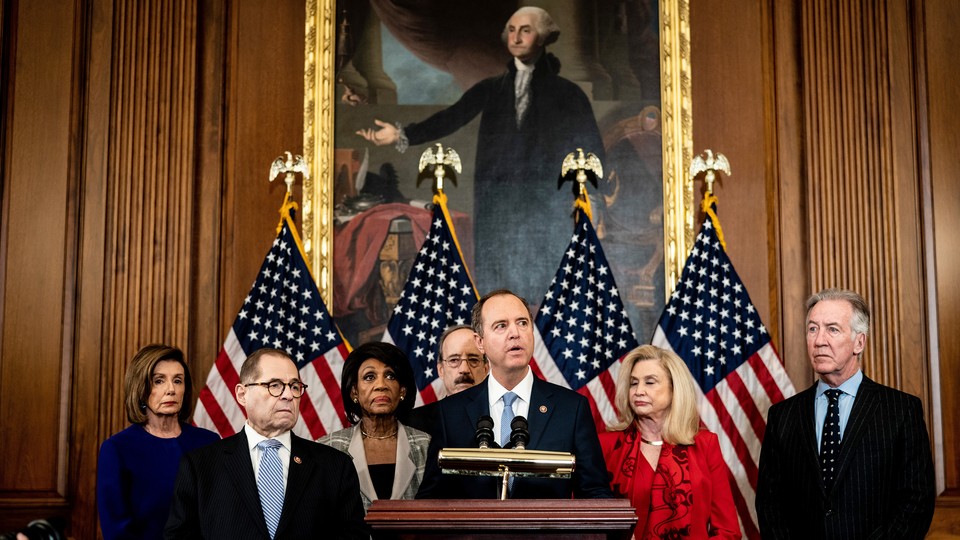 He stood for hours on the House floor, solemn and ramrod-straight. He wore his regulation uniform of a dark suit, crisp white shirt, and bright-blue tie. Only when one of his Republican colleagues, Representative Lee Zeldin of New York, described President Donald Trump's impeachment as "a total Schiff show" did the target allow himself the barest chuckle.
Perhaps that's because, at this signal moment in history, House Intelligence Committee Chairman Adam Schiff himself realizes that he has emerged as one of the most familiar names and faces in all of American politics. On Wednesday night, he had pride of place as the Democrats' closing speaker before the impeachment vote. "What is at risk here is the very idea of America," Schiff said just after 8 p.m. ET, his jaw set and his voice thick with emotion. "That idea holds that we are a nation of laws, not of men."
Not so long ago, Schiff was just one among California's 53-member House delegation, contending for recognition in the nation's most populous state and one of its biggest media markets. "We used to joke in L.A.—not just myself, but other members," he told me in an interview the other day—"that if you wanted to get on the local news, it wasn't enough to kill someone; you had to also be in a high-speed chase."
No more. As Trump's chief congressional antagonist, Schiff has played the parts of Law & Order's Jerry Orbach and Sam Waterston rolled into one, both investigator and prosecutor in the Ukraine impeachment inquiry now racing to its high-speed climax. That role has made him a formidable political figure, and he is sitting atop a campaign war chest of nearly $7 million, more than half of it raised in the past nine months alone. Only three years ago, when he considered a run for the open Senate seat that Kamala Harris went on to win, a Los Angeles Times poll found that just 19 percent of Californians knew enough about him to have an opinion; now nearly three-quarters of voters statewide do.
"He's done an incredible job," says Garry South, a veteran California Democratic strategist. "He's got the right demeanor, he's got the right persona, he's extremely well-spoken, he's very judicious in terms of his public utterances. Not just the impeachment inquiry, but the Russia inquiry before that, has really elevated him into a national figure."
That reality was on stark display last weekend in a pair of contrasting scenes on Schiff's home turf of Los Angeles.
One was a celebration—of the long-sought final passage of a joint congressional resolution condemning the Ottoman Empire's massacre of Armenians as the 20th century's first genocide. And when Schiff, the measure's chief sponsor, arrived in suburban Glendale for the event, he was welcomed with cheers and whoops and thunderous applause from some 200 representatives of the largest Armenian enclave outside of Armenia itself.
But just moments after he began speaking, angry shouts of "Liar!" rang out in the second-floor auditorium of the Glendale Central Library. "You should be in jail!" someone exclaimed. Had Turkish protesters crashed the party? No, just a rowdy, angry contingent of Donald Trump supporters, chanting and holding up red-white-and-blue signs proclaiming Don't Impeach! A tug of war erupted over a Trump T-shirt, and as the demonstrators scuffled with the crowd, a couple of people stumbled and fell to the floor. For 15 or 20 minutes as Schiff stood calmly by onstage, a full-scale brawl seemed about to break out.
The scene had been different just hours before at a community parade in the diverse, hip, and gentrifying neighborhood of Echo Park, near Dodger Stadium. There, Schiff rolled down Sunset Boulevard on the back of a bright-red Mustang convertible, a string of plastic Christmas lights around his neck, as spectators hollered friendly greetings to the hometown hero he has become."Thank you for standing up for America!" one yelled. "Go get 'em, Adam! Put him away!" cried another. A third simply called out, "We love you, Adam Schiff!"
This is the slightly surreal reality of Schiff, blue America's man of the hour, red America's public enemy No. 1, and California's fairest-haired political prospect for (some) higher office. For most of his nearly 19 years in Congress, Schiff toiled in comparative obscurity, an earnest, respected legislator but not a bold-faced figure. Now seemingly everybody knows the House Intelligence Committee chairman by his face.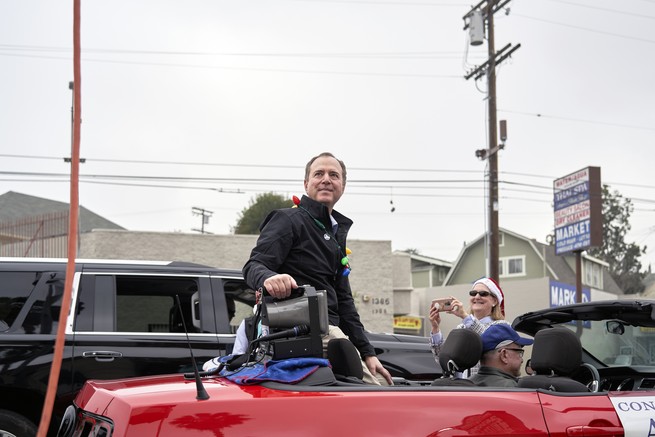 "I did not imagine that I would become a household name," Schiff told me before the Armenian event. "There is a popular mythology of the last couple of years that I was a complete unknown before Donald Trump, which wasn't true. I used to do lots of Sunday-morning shows and whatnot, but as an expert on national security and foreign policy. So I was known to those who are devoted to the policy debate, but that's a very different thing than the kind of recognition that has come with this—both for and against."
Schiff is now a natural contender for Dianne Feinstein's Senate seat, which will be up for grabs in four years unless she retires sooner, though he could well face competition from Attorney General Xavier Becerra, Los Angeles Mayor Eric Garcetti, or Secretary of State Alex Padilla.
But at the moment, Schiff, a 59-year-old vegan triathlete, is resolutely focused on the task at hand. He says he has told Speaker Nancy Pelosi, who put him in charge of the impeachment inquiry this fall, that he will play whatever role she wishes in the coming Senate trial.
"There's no shortage of people who are interested in serving as managers," he told me, "and I don't envy her task in deciding who. But I think the most important thing is the case itself, rather than who presents it, and I think the case is overwhelming. You know, I keep coming back to something one of the constitutional experts said—which I think is quite right—which is, 'If this is not impeachable, nothing is.' This is a test as much of the process as it is whether that provision still has viability. And if it doesn't, God help us. Because it means that any future president, or this one, can be as corrupt as they want without repercussions."
For his part, Trump is eager to take the fight to Schiff. He tweeted this week that Pelosi has delayed sending the House's impeachment articles to the Senate because Democrats "don't want corrupt politician Adam Shifty Schiff to testify under oath, nor do they want the Whistleblower, the missing second Whistleblower, the informer, the Bidens, to testify!"
It is not lost on Schiff that he first won his seat in 2000 in a voter backlash against his Republican predecessor, James Rogan, who had been one of the House managers in the impeachment of Bill Clinton. Does he worry about the danger of seeming to overreach now, in a process that has so far drawn no Republican support and about which public opinion seems static, with most polls showing a bare majority in support of removing the president from office?
"I worried about that with the Clinton impeachment," Schiff says, "because that seemed to be so much at odds with the gravity of the impeachment clause." But he says his bigger worry now "is that a party would devote itself so entirely to the person of the president that it's unwilling to do its constitutional duty, and that when impeachment provisions are really warranted, they're still unwilling to go there because they're tethered now to Donald Trump."
The sharp divisions over impeachment were evident at the event last weekend in Glendale. Schiff had been pushing for the Armenian genocide resolution, which passed the House in October and the Senate earlier this month, since he first got to Washington. But even such a solemn occasion could not mask internecine divisions in the Armenian community over impeachment. After the scene, a small knot of protesters stood on the library steps chanting, "Adam Schiff is a scumbag!"
Rob Stutzman, a longtime GOP strategist in Sacramento who has been a vocal Trump critic, has known Schiff since he first got to the state Senate in 1996 and generally admires him, but he points out that Schiff's handling of the inquiry has not been without missteps. One long-standing rap on Schiff is that he lacks charisma, and in his opening statement in the Intelligence Committee's first hearing on the Ukraine affair in late September, he sought to spice things up by rendering the content of Trump's July 25 phone call with the Ukrainian president in mocking, mob-style dialogue. He acknowledged that he was re-stating the call "shorn of its rambling character" and "in not so many words," but it was a rare miscalculation that allowed Trump and Republicans to claim Schiff had badly twisted the president's words.
It also suggested that Schiff is less sure-footed when he strives for sound bites than when he sticks to the sober approach of the federal prosecutor he once was. Stutzman says the mockery might have cost Schiff the support of Republican House members who are skeptical of Trump, such as the retiring Representative Will Hurd of Texas.
"This is what we don't know," Stutzman told me. "How does it really all shake out in the end? And I have a feeling at the moment that this is not going all that great for the Democrats, and there's going to be some recrimination about that, and that could land on Schiff and Jerry Nadler," the chair of the Judiciary Committee. "It'll be interesting to see how his party treats him if impeachment doesn't go well. I think the rap would be that they didn't do it well enough, that they didn't take their time to go to court, get their subpoenas enforced, and so on."
But Rose Kapolczynski, a longtime Democratic consultant who ran all four of Barbara Boxer's statewide campaigns, told me that, in purely political terms, impeachment has been nothing but a gift for Schiff in this bluest of states. His daily extemporaneous summing up of the intelligence committee's recent hearings stood out as textbook examples of plainspoken explication.
"Schiff has always had a reputation as a bit of a Boy Scout: very smart, ethical, kind, helpful," Kapolczynski says. "But pretty bland. I don't think he's changed during the Trump era, but in this extraordinary time, he's really risen to the occasion and been very forceful on the wrongdoing he sees. It's nothing he has sought out or tried to exploit."
Indeed, Trump's attacks on Schiff have been so relentless and varied—the president has tried out multiple epithets, including "shifty Schiff," and "pencil neck"—that Schiff is at a loss as to how to respond, if at all. "The president's attacks are just so personal, ad hominem, false," he told me. "His most recent, I can't remember which language he used, but I thought about responding with a tweet that merely was the Merriam-Webster definition of projection, to project onto others. But I decided that even that I didn't need to do." I asked him what he makes of Trump's recent declaration that Schiff is "a deranged human being" and "a very sick man." He replied simply, "I think he's unwell."
Schiff is looking forward to the Senate trial, and is hopeful that it might yet produce more witnesses and documents to bolster the Democrats' case. "I would hope that the senators from both parties would want to see the documentary evidence, and would want to hear from these witnesses who've made themselves unavailable." He added: "At the end of the day, no senator should countenance the administration's effort to obstruct the investigation and now to obstruct the trial."
But when I ask Schiff what keeps him awake at night, the answer isn't impeachment at all—it's something much broader.
"You know, I have a lot of optimism about the country," he said. "We're going to get through this. We've been through worse. Vietnam was much more divisive and deadly than the current circumstances. So we've been through worse, even recently. What I worry about in the long term is, the way we get our information now divides the country and makes it difficult to communicate with each other. In social media, fear and lies and anger travel so much faster than truth. And we haven't figured out how to deal with it. I don't think anybody has.
"And it is dividing us, it is polarizing us, it's a dangerous development for the country," Schiff continued. "I think the revolution in how we get our information is every bit as significant as the invention of the printing press. But we had hundreds of years to get used to that innovation, and we've had practically no time to get used to this one. So there isn't an easy answer to that. And we're not going to tell Fox News what they can say, no matter how bitterly divisive it is, and we're not going to tell the social-media companies how to construct their algorithms."
Still, Schiff said, "we have to figure this out, because it is, I think, rapidly balkanizing the country, and it has also created an environment in which there is a wholesale attack on the idea of truth. If we don't have a set of common experiences, then there's nothing more deleterious to a democracy than that."