They Support Trump. They Want Him Impeached.
In 2016, 81 percent of voters in Sioux County chose Donald Trump, though some would feel relief if he were impeached.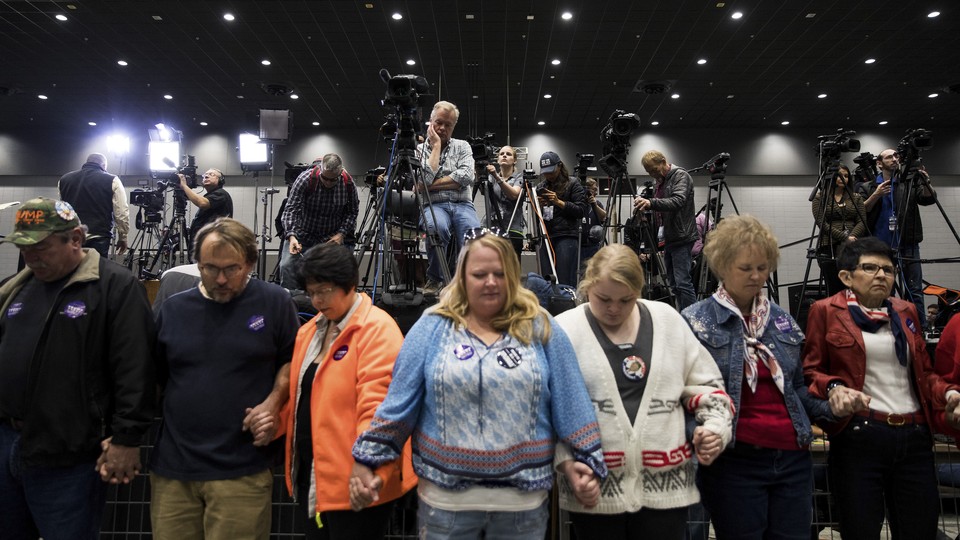 SIOUX CENTER, Iowa—The small towns that run across Iowa's northwest corner form a district that is as politically red as it gets in America. There are vast stretches of farmland; public-school football teams pray together after games; Christian music regularly plays over the loudspeakers in shopping centers. Voters here in Iowa's Fourth Congressional District have sent Representative Steve King back to Washington every year since 2003, and 81 percent of those in Sioux County, near the district's northwest corner, chose Donald Trump over Hillary Clinton in 2016, a higher pro-Trump percentage than anywhere else in the state.*
Still, even some of these hard-core Republicans wouldn't mind if Trump were impeached before Election Day 2020.
Polling suggests the president's base nationwide is firmly opposed to impeachment, and that people's opinions on the inquiry are split neatly along partisan lines. But at least in Sioux Center, where Republican presidential candidates regularly make pit stops during the primary season, some conservatives still feel ambivalent about Trump's policies and character. In my conversations around town, people were skeptical that the impeachment inquiry would go anywhere, but they smiled ruefully at the fantasy of a President Mike Pence and a clean slate of Republican candidates in 2020. While voters in this area clearly preferred Trump over Clinton in 2016 and told me they have appreciated some of his work over the past two and a half years, there's a difference between defending Trump and supporting him. However skeptical people here may be of Democrats' motives and the likelihood of success, impeachment offers a distant dream of a return to Republican "politics as usual."
[Read: Why Steve King's supporters are staying loyal]
On Election Night in 2016, Pastor John Lee and his wife, Mary Jo, waited to vote until 8:59 p.m. CT, hoping by then the winner would already be clear and they wouldn't have to cast a ballot. Like others in Sioux County, they had been skeptical of Trump during the Republican primary race—Texas Senator Ted Cruz and Florida Senator Marco Rubio each received roughly triple the votes that Trump did here during that year's Iowa caucuses. Most of the 700 or so members of Lee's congregation, Bethel Christian Reformed Church, eventually chose Trump in the general election, Lee told me, "but there were very few who voted for Trump who found that a comfortable choice, or an enthusiastic one."
According to Lee and others I spoke with, this discomfort was in large part due to the immense gap between Trump's style and rhetoric as a leader and the cultural heritage of this region. Northwest Iowa has long been dominated by Dutch Reformed Christians, whose theology emphasizes the totality of humanity's sins, the irresistibility of God's grace, and salvation dependent on God's mercy alone. Culturally speaking, Lee said, people here are peak Midwest: unfailingly polite and ultra-neighborly, with a tendency to pinch "pennies so hard, they have Lincoln on their thumb." Sioux County is roughly 86 percent white, according to census data, and has one of the highest rates of upward economic mobility of rural areas in the country, according to Brookings. While many residents of this area might identify as evangelicals, they don't necessarily fit the one-dimensional stereotypes that have come to be associated with that group: When Trump came here in January 2016 and made his famous claim that he "could stand in the middle of Fifth Avenue and shoot somebody" and still not lose any voters, the most common reaction was horror, according to some of the people who were there.
Over the past two and a half years, Lee says he has seen some growing appreciation for Trump in his community, if only based on the belief that the enemy of an enemy is a friend: People sense that those "who have attacked them are attacking Trump," so they feel compelled to defend him, Lee said. Dordt University, a small Christian school in Sioux Center, was one of several religious nonprofits around the country that sued the Obama administration over the so-called contraceptive mandate in the Affordable Care Act. People here felt cultural headwinds during the Obama years, and they've been grateful for a reprieve under Trump, according to Lee. (While I was in Sioux Center, I gave a talk at Dordt's quadrennial Presidential Politics Conference.)
[Read: Americans hate one another. Impeachment isn't helping.]
Pat national narratives don't fit Sioux County well. According to census data, the Latino population has grown significantly over the past two decades, rising from roughly 2 percent in 2000 to more than 10 percent in 2017. Pastor Eddy Olguin of Amistad Cristiana, a predominantly Latino Reformed Church, told me through a translator that "the community that lives in Sioux Center has been warm and respectful to the people here." By and large, he said his congregants do not feel like they are under attack from their neighbors or at risk of random deportations. In fact, Latinos often provide labor for local farms and businesses, he pointed out. "In a county that voted for Donald Trump, a county that is heavily Republican, who say they don't like immigrants," Olguin said, "100 percent of businesses hire undocumented individuals." (I could not independently confirm this statement. Olguin later followed up to clarify that he was speaking in general terms about hiring practices in the community.) No matter how nasty the rhetoric around illegal immigrants might be, "at the end of the day, everything is a fiction," he said. "It's not convenient for [Republicans] to kick Hispanics out, because they need them."
This is one of many factors that can make national politics feel far away in a place like Sioux Center, including the fight over impeachment. Several people told me they don't think or talk much about the impeachment inquiry; they don't hear about it from their friends, at church, or at work. Democrats have clearly wanted Trump out since the moment he took office, they said—the latest allegations hardly seem different from past accusations the party has made. "Here's what the impeachment stuff tells me," said Jacob Hall, a local sports reporter who helps lead Sioux County Conservatives, a local activist group. Democrats "know they can't beat him in 2020."
Unlike some of his neighbors in Sioux County, Hall does not believe Republicans should turn back to an older, more civil style of politics. Impeachment is just one more front in an all-out partisan battle for the nation's soul. Hall doesn't love Trump, he said, but he voted for him in 2016 because "the future of the country, in my opinion, was legitimately on the line." He has no doubt that "at some point in my kids' lives, in America, they're going to have to choose between denouncing their faith," he said, and getting "locked up in a prison somewhere. I fully expect that."
Trump hasn't stopped the country's leftward slide, Hall said, but America could endure "a four-year term of one of the members of the kook left." "We're in a better position now to withstand it than we were B.T.E.—before [the] Trump era." Hall is a transplant from Des Moines, and he's found that in northwest Iowa, "people truly are in a bubble," he told me. "They have no idea how bad it is out there. And they have no idea that if they don't stand up, and if they don't fight, they're going to lose it."
[Read: Nothing will persuade white evangelicals to support impeachment]
Locals like Lee, however, see the Trump era not as an epic fight, but as a source of lament. "I wouldn't lose sleep if there actually was an impeachment," he said. He doesn't want his parishioners to have to make another "agonizing choice" in 2020, which he called "caustic to the soul" for the moral trade-offs it would require. "I think many of us are hoping he does get impeached," Lee said. "Then that conflicted choice won't be presented."
At the moment, however, that outcome seems implausible, at least to the people I spoke with here. Evidence of Trump's bad judgment and misconduct might keep trickling out, and the impeachment proceedings may ramp up. But the president will probably top the Republican ticket in 2020—as likely as not facing a Democrat who is openly hostile to more conservative views on some of the issues people here care about most, such as abortion. If that happens, "I'll become dispensationalist," Lee said, referring to a theory of human history popular among some evangelicals, "and start hoping for the rapture."
---
Vita Dadoo contributed reporting.
* This article previously stated that 81 percent of voters in Iowa's Fourth Congressional District chose Donald Trump over Hillary Clinton in 2016, rather than 81 percent of voters in Sioux County.