Will the Generals Ever Crack?
Retired senior military officers tend to avoid weighing in on politics. But not always.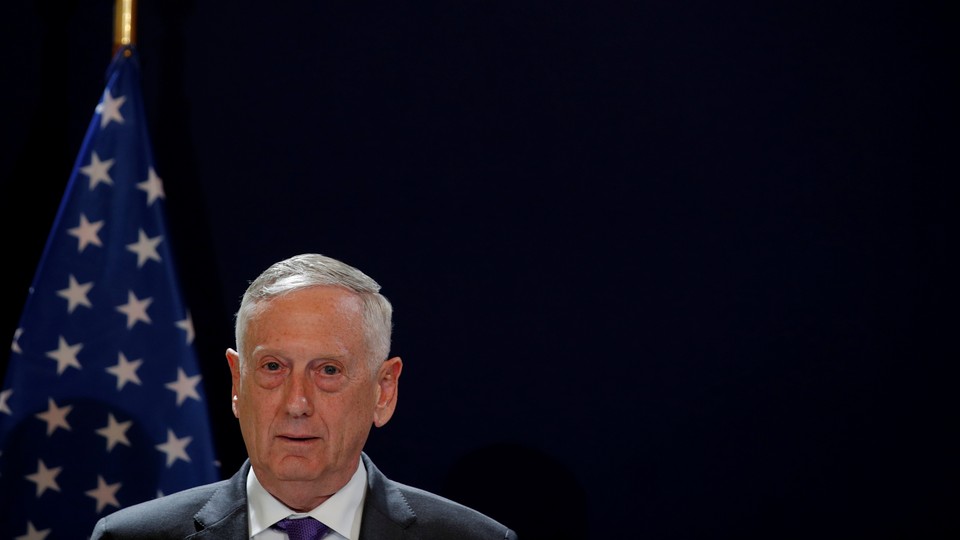 James Mattis doesn't want to talk about it—except when he does. The retired four-star general who resigned on principle as Donald Trump's secretary of defense has said ever since that he will not publicly criticize the sitting president, because he owes a "duty of silence." But his public resignation letter was a clear airing of policy differences. And then there was this swipe he took at the president in a recent speech: "I earned my spurs on the battlefield … And Donald Trump earned his spurs in a letter from a doctor."
While Mattis maintains his semi-silence—which he cryptically promised The Atlantic's editor in chief, Jeffrey Goldberg, is "not going to be forever"—a small but growing number of retired senior officers have come forward, taking the rare step of criticizing the president despite the military's strong apolitical tradition. Three retired generals who spoke with us underscored why this is so rare, and why they take this tradition so seriously. The military is one of the most overwhelmingly respected institutions left in a bitterly divided country; one reason is that its current and former leaders tend to stay out of partisan politics. As such, the exceptions are extraordinary. What follows is a running list of retired senior officers who have criticized Trump or his policies—plus a few who explained why they won't.
---
William H. McRaven
Rank: Four-star admiral
Notable experience: Head of United States Special Operations Command, and architect of the raid that killed Osama bin Laden in 2011
Retirement: From the Navy in 2014
What he's said: Last year, McRaven wrote an op-ed after Trump threatened to revoke former CIA Director John Brennan's security clearance, asking the president to revoke his as well, "so I can add my name to the list of men and women who have spoken up against your presidency." In mid-October, he went further in The New York Times—right up to the verge of calling for the president's removal from office: "If we don't care about our values, if we don't care about duty and honor, if we don't help the weak and stand up against oppression and injustice—what will happen to the Kurds, the Iraqis, the Afghans, the Syrians, the Rohingyas, the South Sudanese and the millions of people under the boot of tyranny or left abandoned by their failing states? … President Trump seems to believe that these qualities are unimportant or show weakness. He is wrong … If this president doesn't demonstrate the leadership that America needs, both domestically and abroad, then it is time for a new person in the Oval Office—Republican, Democrat or independent—the sooner, the better. The fate of our Republic depends upon it."
---
Michael Hayden
Rank: Four-star general
Notable experience: Director of the CIA, director of the NSA, and principal deputy director of national intelligence
Retirement: From the Air Force in 2008
What he's said: Hayden has been a strong critic of Trump almost from the beginning of his presidency, but avoided calling for an impeachment investigation until this year, when he did so in a Washington Post op-ed with Neal Katyal. In a phone conversation with us this October, he explained why: "If we survive two terms [of Trump], I think America will be very different."
"After careful review of the articles of impeachment for President Richard M. Nixon, we now believe it is appropriate for the House of Representatives to begin the process by launching an impeachment investigation," he and Katyal wrote for the Post. "No legislator should rush to judgment one way or the other. The process should be designed to uncover the facts … But if the facts show that Trump ordered or participated in the commission of crimes, in particular crimes that may have allowed him to win the election, we think it incontrovertible that impeachment would be warranted."
---
Stanley McChrystal
Rank: Four-star general
Notable experience: Commanded special-operations forces in Iraq and the international mission in Afghanistan, and was the architect of the raid that killed the al-Qaeda in Iraq chief Abu Musab al-Zarqawi in 2006
Retirement: From the Army in 2010
What he's said: Last year, McChrystal described Trump as immoral and dishonest in an interview with ABC News: "If we have someone who is as selfless and as committed as Jim Mattis resign his position, walking away from all the responsibility he feels for every service member in our forces, and he does so in a public way like that, we ought to stop and say, Okay, why did he do it? We ought to ask what kind of commander in chief he had that Jim Mattis the good marine felt he had to walk away … I think it's important for me to work for people who I think are basically honest. Who tell the truth as best they know it. I don't think [Trump] tells the truth."
ABC's Martha Raddatz asked whether McChrystal thought Trump was immoral."I think he is [immoral]," he responded. "If we want to be governed by someone we wouldn't do a business deal with because their background is so shady, if we're willing to do that, then that's in conflict with who I think we are. And so I think it's necessary at those times to take a stand."
---
James Stavridis
Rank: Four-star admiral
Notable experience: Supreme allied commander for NATO
Retirement: From the Navy in 2013
What he's said: Stavridis called Trump's plans to withdraw from northeastern Syria a "mistake of epic proportions"; earlier this year he took aim at the president personally in Time magazine, where he explained why he thought the retired generals who had served in Trump's Cabinet had left.
"What attracted Trump to generals in the first place? It seems he was attracted to the macho, direct, domineering profile that many civilians associate with generals, like Jack Nicholson's portrayal of a Marine in A Few Good Men," Stavridis wrote in Time. "He may have thought associating with them would burnish his own credentials as an alpha male. (Remember, he also hired General Michael Flynn, who later pleaded guilty to making false statements to the FBI.) But it has likely dawned on Trump that generals are more cerebral than he ever would have guessed, have a pesky habit of quietly judging him in ways that got under his skin, are more intellectual planners than operational Rambos, and don't quite care about the politics and media signals that the President holds dear."
---
Colin Powell
Rank: Four-star general
Notable experience: Chairman of the Joint Chiefs of Staff under George H. W. Bush and Bill Clinton, and secretary of state under George W. Bush
Retirement: From the Army in 1993
What he's said: Active in Republican politics in the 1990s, Powell has since said the GOP needs to "get a grip" and that Republican politicians are afraid to speak out, despite a foreign policy "in shambles" under Trump.
"A couple [of] weeks ago, the president put a circle around Southeast Alabama, saying it's going to get hit by a hurricane. He put it on top of the meteorological prediction," Powell said in remarks at the New Albany Community Foundation, in Ohio, in October. "In my time, one of us would have gone to the president and said, 'Mr. President, you screwed up, so we've got to fix it and we'll put out a correction' … We've got to remember that the Constitution started with 'We the People,' not 'Me the President.' This is not the way the country is supposed to run."
---
John Kelly
Rank: Four-star general
Notable experience: Head of United States Southern Command; served as Trump's secretary of homeland security and then chief of staff, and resigned in 2018
Retirement: From the Marines in 2016
What he's said: This fall, Kelly criticized Trump's Syria policy and his White House staff. "I think that, with all due respect to the president, was a catastrophically bad idea [to pull out of northeastern Syria]," he said at a political conference hosted by the Washington Examiner in October. "And I would just offer, it didn't happen while I was there. A couple of other people recently left the administration and then he went with his instinct. But it was on a number of levels the wrong thing to do … [I told Trump when I left] 'Don't hire someone that will just nod and say, 'That's a great idea, Mr. President.' Because you will be impeached … I have an awful lot of second thoughts about leaving. Because whether you like Mr. Trump or not, he's the president of the United States."
---
Joseph Votel
Rank: Four-star general
Notable experience: Head of United States Central Command
Retirement: From the Army in 2019
What he's said: In an essay with Elizabeth Dent in The Atlantic, Votel criticized the pullout from northeastern Syria: "The abrupt policy decision to seemingly abandon our Kurdish partners could not come at a worse time. The decision was made without consulting U.S. allies or senior U.S. military leadership and threatens to affect future partnerships at precisely the time we need them most, given the war-weariness of the American public coupled with ever more sophisticated enemies determined to come after us … This policy abandonment threatens to undo five years' worth of fighting against [the Islamic State] and will severely damage American credibility and reliability in any future fights where we need strong allies."
---
James Mattis
Rank: Four-star general
Notable experience: Head of United States Central Command. Mattis led an infantry battalion in Iraq in 1991, an expeditionary brigade in Afghanistan in 2001, and a Marine division in Iraq in 2003; he was Trump's first secretary of defense before resigning in protest over Trump's first call to pull out of Syria, in December 2018.
Retirement: From the Marines in 2013
What he's said: He has declined to criticize the president, but came tauntingly close in an interview with The Atlantic's editor in chief, Jeffrey Goldberg: "You don't endanger the country by attacking the elected commander in chief. I may not like a commander in chief one fricking bit, but our system puts the commander in chief there, and to further weaken him when we're up against real threats—I mean, we could be at war on the Korean peninsula, every time they start launching something."
---
H. R. McMaster
Rank: Three-star general
Notable experience: Director of United States Army Training and Doctrine Command's Army Capabilities Integration Center; Trump's second national security adviser; served as a tank commander during the Gulf War
Retirement: From the Army in 2018
What he's said: McMaster almost never criticizes the president in public, although he spoke out against Trump's "unfortunate" Syria pullout this fall: "Perception of power is important. And I think we are losing a bit now because of perceived inconsistency and, therefore, unreliability," he said in a panel appearance in October. "And as a result what happens is, like-minded partners, whose interests really align with yours, they start to hedge … There have been doubts [among allies] across multiple [U.S.] administrations. I do think it's reaching a dangerous point here where there's too much misunderstanding and doubt … Gratuitous insults don't really help. They're not productive … It's absolutely not [appropriate to solicit foreign interference in a U.S. election]. And of course what has to happen here is seeing our democracy play out, right? And for the American people, through their representatives … in Congress, to make a judgment as to whether or not that happened."
---
Martin Dempsey
Rank: Four-star general
Notable experience: Chairman of the Joint Chiefs of Staff
Retirement: From the Army in 2015
What he's said: Although Dempsey has written that it is largely unacceptable for retired military brass to criticize the president, he freely subtweets him. On numerous occasions, Dempsey has tweeted oblique responses to Trump's own tweets about immigrants or Barack Obama.
POTUS 43 & 44 and first ladies cared deeply, worked tirelessly for the serving, the fallen, and their families. Not politics. Sacred Trust.

— GEN(R) Marty Dempsey (@Martin_Dempsey) October 17, 2017
---
David Petraeus
Rank: Four-star general
Notable experience: Commander of the international mission in Afghanistan, and then CIA director
Retirement: From the Army in 2011
What he's said: Petraeus opines on policy questions but generally avoids criticizing the president directly. He was, however, among 12 intelligence veterans who signed a statement in 2018 saying Trump was trying to stifle free speech by threatening to revoke the security clearance of ex–CIA Director John Brennan, an extremely vocal critic of the president. Petraeus recently criticized the decision to remove troops from northeast Syria.
"I think we have abandoned our Syrian Kurdish partners," Petraeus said in an appearance on CNN in October. "They took over 10,000 losses as the defeat of Islamic State was carried out … The elimination of the caliphate that ISIS had certainly with our advice and assistance and enabling and then very suddenly, this is not a phased deliberate plan withdrawal, this is a very sudden exit … This does not end an endless war. It probably prolongs it because this gives ISIS an opportunity for a resurgence … This is not a strategic success."
---
Jack Keane
Rank: Four-star general
Notable experience: Vice chief of staff of the United States Army
Retirement: From the Army in 2003
What he's said: Although he has argued that retired military officials should remain apolitical, Keane frequently appears on Fox News as a national-security analyst and advises Trump. He recently criticized Trump's pullout from northeast Syria.
"I think it is a strategic blunder of significant consequence to permit [Turkish President Recep Tayyip] Erdoğan to use military force to establish a buffer zone," Keane said in an interview with NPR. "[Trump] has national security advisers around him, obviously. I do believe that most of those advisers were surprised by this decision and clearly believed that we still should be supporting the Syrian Kurds and getting back to the negotiating table with Turkey [on] what the size of that buffer zone should be. And hopefully we'll be able to do that. But I'm not confident as of today, certainly."
---
Paul Zukunft
Rank: Four-star admiral
Notable experience: Former commandant of the Coast Guard
Retirement: From the Coast Guard in 2018
What he's said: In a phone call with us in November, he said he would "never" call Trump a national-security threat, and said that speaking out on politics can "erode the credibility … for the next generation of military leaders." But he also explained his prior public comments defending transgender troops after Trump banned their service via tweet in 2017.
"That came out in the form of a tweet from the White House that we were going to banish all transgender service members that would basically reverse a policy decision that had been made during the previous administration," Zukunft said. "I immediately contacted the secretary of homeland security—in that case, it was John Kelly—to get clarity on whether a tweet constituted a policy. And then the Coast Guard, while I was commandant … we had roughly 20 transgender members that had come out, and there was a policy for them to do [that] … So when I was speaking at [the Center for Strategic and International Studies, a think tank] on a completely different topic, the last question that was asked is where do I stand? And I said, well, I stand with my people. As a leader, I have their back. And so there was an immediate [reaction as if] I was refuting a policy, when in fact, we had a tweet that at that time was not policy. And so I stood behind that comment."
---
Joseph Dunford
Rank: Four-star general
Notable experience: Former chairman of the Joint Chiefs of Staff
Retirement: From the Marines in 2019
What he's said: Dunford has not directly criticized Trump or his policies, though he did come to the defense of Lieutenant Colonel Alexander Vindman, a White House Ukraine specialist and witness in the impeachment inquiry, following attacks on Vindman's loyalty. When we corresponded with Dunford in October, he explained why he was committed to staying apolitical.
"I will remain apolitical in retirement—I will not comment on President Trump or his policies in public," he said. "I do believe that retired senior leaders can contribute to shaping defense policy, but that can be done without engaging in partisan politics … Individuals who believe they must act in a manner inconsistent with our ethos must weigh the perceived need to speak out with the potential damage to the institution of the U.S. military. As a matter of routine, nearly 80 percent of the American people trust the U.S. military … That is in large part because we are not seen as Democrats or Republicans. We are seen as Americans who take an oath to support and defend the Constitution of the United States."
---
Vincent K. Brooks
Rank: Four-star general
Notable experience: Former commander of United States Forces Korea and United Nations Command
Retirement: From the Army in 2018
What he's said: Brooks has spoken publicly on Korea policy and the importance of diplomacy, but hasn't criticized Trump directly. In October he discussed with us the importance of an apolitical military, but also hinted at the cost of silence.
"What's at stake, of course, is making sure that our public is being served by people who are indeed apolitical as much as possible. [There is] in many ways frustration about military advice being ignored or undermined. And that is not good for the republic either … I'm not in the way of public speaking about specific persons … But silence itself, like being overly aggressive, can undermine the Constitution."