The Real Story Behind the Steele Dossier
A new book from the operatives at Fusion GPS is a master class in how Washington works.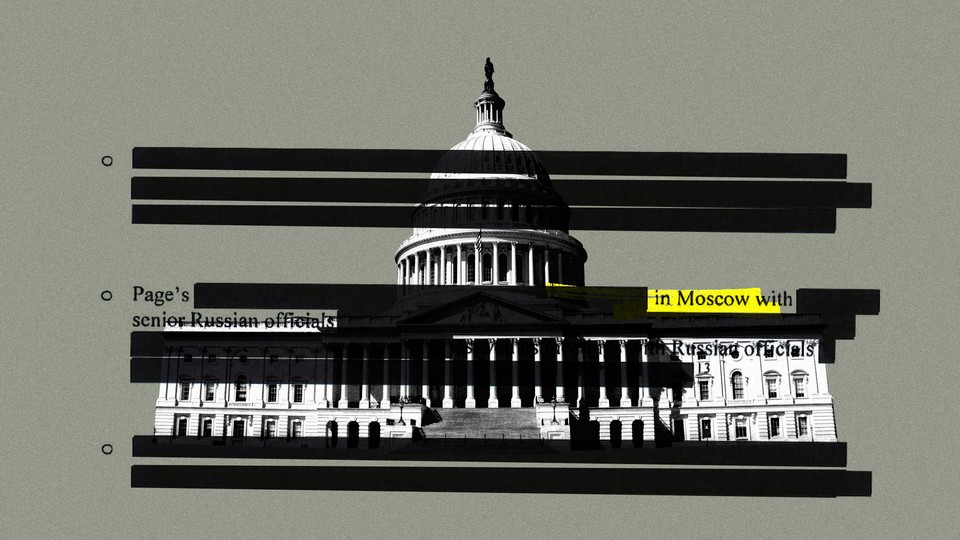 For a reporter, it's a heart-stopping moment. You're in an interview and suddenly a source offers up something you never expected anyone to unearth: video evidence of the president's perverse pleasures.
"You were going to ask about the pee tape?" Glenn Simpson, the co-founder of the research firm Fusion GPS, which commissioned the infamous Steele dossier, asks me. "We're going to screen it for you right now." He motions to a TV on the wall of his conference room. I turn to look, taken in by Simpson's deadpan expression and convinced for a half second that he and his partner, Peter Fritsch, somehow possess the alleged clandestine video of Russian prostitutes urinating on a bed at the Ritz-Carlton Hotel in Moscow for the delectation of future President Donald Trump.
But, no—he is kidding. No one has yet proved the existence of the pee tape, the most lurid allegation in a dossier that still reverberates through Washington nearly three years after its public release. Dossier is a word forever chiseled into Washington's political lexicon. During the ongoing impeachment hearings on Capitol Hill, Devin Nunes, the ranking member of the House Intelligence Committee, has repeatedly invoked the dossier, saying its reliance on Russian sources points to Democratic collusion with that country.
Simpson's joke was a dark one, but at least he and Fritsch can still laugh. The dossier upended their lives, making the former journalists a piñata for conservatives, who depicted them as masterminds of a vast left-wing conspiracy to topple the president. Now Simpson and Fritsch are offering a full rebuttal and defense of their work in a new book they co-wrote, Crime in Progress: Inside the Steele Dossier and the Fusion GPS Investigation of Donald Trump, which will be released Tuesday. I reviewed an advance copy. "We got a little bit tired of having our story told for us by people who were not telling it faithfully," Fritsch told me during my recent visit to their office. But retelling a story that had proved so painful to them personally wasn't easy, Simpson said: "I thought writing the book would be cathartic, and it turned out to be more like reliving a nightmare."
Embedded in Washington's professional class is a loose network of opposition researchers, journalists, ex-journalists, and past and present government officials. They've known one another as sources and reporters, clients and contractors, friends and neighbors, colleagues and co-workers. They're part of an ecosystem in which tips and inside information flow back and forth. Participants have different motivations for taking part: ideological, financial, moral, or journalistic, to name a few. Crime in Progress is, at one level, a master class in how this network operates.
Simpson and Fritsch are two of its participants. What started out for them as a research project and a business opportunity—learning all they could about Trump's history for clients dubious of his rise—morphed into a cause. They concluded, after poring over records, that he was grossly unfit for public office.
Both are respected ex-newspapermen with contacts all over the world. After leaving the news business, they started Fusion in 2010, focusing primarily on commercial clients looking to tap their investigative skills in mining court files and hunting down public records. They also performed some political-opposition work, diving into the Republican Mitt Romney's business record in the 2012 presidential race. After Trump jumped into the campaign in 2015—before his effective takeover of the GOP—Simpson spotted an opening. He sent an email to a Republican contact that summer with a one-word subject line: "Trump."
"Couple of interesting threads that might be worth a look if you know anyone who might be interested in funding," Simpson wrote, according to the new book. The reply: "Yes." Fusion found initial clients in the conservative online news site The Washington Free Beacon and, later, a law firm representing the Democratic National Committee and Hillary Clinton's campaign. (The authors write that no one from Fusion ever met or talked with Clinton and that she herself "had no idea who they were.")
Fusion plowed deeply into Trump's past. Researchers looked at Trump's bankruptcies and business partners, as well as cases in which unsavory buyers paid large sums for Trump real estate. The more the Fusion team members learned, the more alarmed they say they grew. After months of excavating Trump's history, the firm came to a unanimous conclusion in the spring of 2016, as Trump was locking up the Republican nomination: Its staff members needed "to do what they could to keep Trump out of the White House."
Deciding the company needed more insight into Trump's Russia dealings, Fusion hired Christopher Steele, who had worked in Moscow as a spy for Britain's MI6 and now had his own private intelligence firm. They thought that "no one would ever find out" about the discreet work Steele would perform. That prediction proved naive: In time, the whole world would know.
The dossier Steele produced was actually a series of 17 memos written for Fusion in the second half of 2016. Steele's findings were stark. The first memo that arrived at Fusion's office via FedEx said that Russia had been "cultivating, supporting and assisting Trump" for years, Simpson and Fritsch write. What's more, Russia had dirt on Trump that left him vulnerable to "blackmail," Steele alleged.
"We threw a line in the water and Moby Dick came back," Simpson would later testify in Congress. A good chunk of the book details how Fusion and Steele tried to alert U.S. law enforcement and the news media to the material they'd uncovered. The firm's office in Washington's Dupont Circle neighborhood became "something of a public reading room" for journalists seeking information about Trumpworld, the authors write. Looking to meet with reporters and possibly advance stories about Trump and Russia, Simpson and Fritsch made an appearance at the Democratic convention in Philadelphia in July 2016. While there, they met the New York Times executive editor Dean Baquet and another of the paper's editors at a Rittenhouse Square–hotel restaurant to lay out Trump's "ongoing flirtation with Putin's Russia." Two months later, Simpson and Fritsch arranged for Steele to come to Washington and meet privately with The Washington Post and marquee investigative reporters at the Times, The New Yorker, ABC News, and other outlets.
In the end, they write, they were disappointed that the news media largely missed an important story before Election Day: that the FBI was investigating Russia's furtive efforts to install Trump in the White House. Steele himself had met with an FBI contact in London in July 2016 to share his findings, the book says. The agent was "flabbergasted," according to Steele, and pledged to notify his bosses.
The authors were particularly incensed over a Times piece published a week before the election with the headline: "Investigating Donald Trump, FBI Sees No Clear Link to Russia." In fact, Russia was meddling in the election to help Trump win, the U.S. intelligence community would later conclude, though Special Counsel Robert Mueller did not find evidence that Trump's campaign team conspired with the country. "I think, first of all, you need to know what an abortion of a story you guys wrote on Halloween," Simpson told the paper's reporters in a private meeting after the election.
Parts of the book seem straight out of Spy vs. Spy. After the election, an adviser to Senator John McCain of Arizona, David Kramer, flew to London to meet Steele. When his plane landed at Heathrow Airport, he got a text message from Steele telling him to look for a man in a blue coat holding a copy of the Financial Times. That was Steele. He drove Kramer to his house, showed him a copy of the dossier, took him to lunch, and drove him back to Heathrow for his flight home. Simpson would later give Kramer a copy of the dossier, which McCain turned over to James Comey, the then-director of the FBI. Comey would go on to brief President-elect Trump on some of the dossier's allegations in the days before he was sworn in.
In leaky Washington, it was only a matter of time before the dossier got out. Kramer would later say in a deposition that he gave it to multiple reporters, though he cautioned them that it needed to be verified and shouldn't be published. BuzzFeed ultimately posted it on January 10, 2017, 10 days before the inauguration. Soon afterward, news reports would out Steele and Fusion, setting in motion a conservative counterattack that continues to this day.
Mueller dealt with Steele's claims during the Russia investigation, too. His report includes a footnote showing that intelligence-community leaders at the time traded notes about Trump's request that they issue a statement refuting the dossier. James Clapper, who was then the director of national intelligence, sent an email to Comey the day after BuzzFeed's posting, saying that Trump "asked if I could put out a statement. He would prefer of course that I say the documents are bogus, which, of course, I can't do."
Accustomed to writing the story, the two ex-journalists, Simpson and Fritsch, had now become one. Since the dossier's publication, they have been sued and hauled before Congress. They've had company bank records examined by Republican-controlled congressional committees and been targets of sustained attacks by the opinion writers at their old newspaper (and my old newspaper), The Wall Street Journal. They feared the firm would be bankrupted by legal fees, and they worried for their safety. That wasn't paranoia: Trump used his Twitter feed to repeatedly attack the firm by name and discredit the dossier. "If you want to visit Glenn, this is his office," someone wrote on Twitter, posting the company's address. As a precaution, Simpson installed a fence around his house; Fritsch let his dog wander his home more freely in case of intruders.
Events move quickly in Donald Trump's Washington. Today, the city is consumed by an impeachment probe that poses the most perilous threat to Trump's presidency to date. In a sense, though, the impeachment saga echoes one of the dossier's main takeaways: the dangers of foreign meddling in American elections. The Democrats are building the case that Trump actively sought foreign interference in the 2020 election when he asked his Ukrainian counterpart to help dig up dirt on a potential rival, former Vice President Joe Biden. "There's an element of Shakespearean or Greek tragedy to it," Simpson told me.
Some important assertions in the dossier remain unconfirmed. No pee tape has surfaced, nor is there any evidence that Trump's former lawyer Michael Cohen traveled to Prague during the 2016 campaign to meet with Kremlin officials and discuss payments to hackers, as the dossier alleged. Fiona Hill, who served on the National Security Council and is the author of a book about Russian President Vladimir Putin, testified in a recent closed-door impeachment hearing that the dossier was a "rabbit hole." She said it's possible that Steele might have been "played" and fed "misinformation" by Russian sources. Hill, who left the NSC in July, is scheduled to publicly testify in an impeachment hearing today.
Still, Simpson and Fritsch argue that the report was accurate in its warnings about Trump's conduct and Russia's willingness to undermine Western democracies. They note that the dossier mentioned how Russia had sought to woo Trump through real-estate deals. Trump long denied that he had any business dealings in Russia, though evidence emerged last year that Cohen had been talking with Russian figures about a Trump real-estate deal in Moscow deep into the 2016 campaign.
"After three years of investigations, a fair assessment of the memos would conclude that many of the allegations in the dossier have been borne out," the authors write in the book's epilogue. "Some proved remarkably prescient. Other details remain stubbornly unconfirmed, while a handful now appear to be doubtful, though not yet disproven." The dossier, they concluded, is "already perhaps the most famous work of opposition research in American politics."
Simpson and Fritsch expect that more will come out on Trump. It's not clear that they'll be the ones to pry it loose, though. "The whole experience has been very taxing," Simpson told me. "Mentally and emotionally, you just feel like you've put everything into it and you know you don't have much left. You feel empty at this point. The tank is empty."