This Isn't Just Another Buttigieg Bump
The mayor's supporters argue that he has the singular ability to bring a fractured Democratic Party together. But first they'll have to convince everyone else that's true.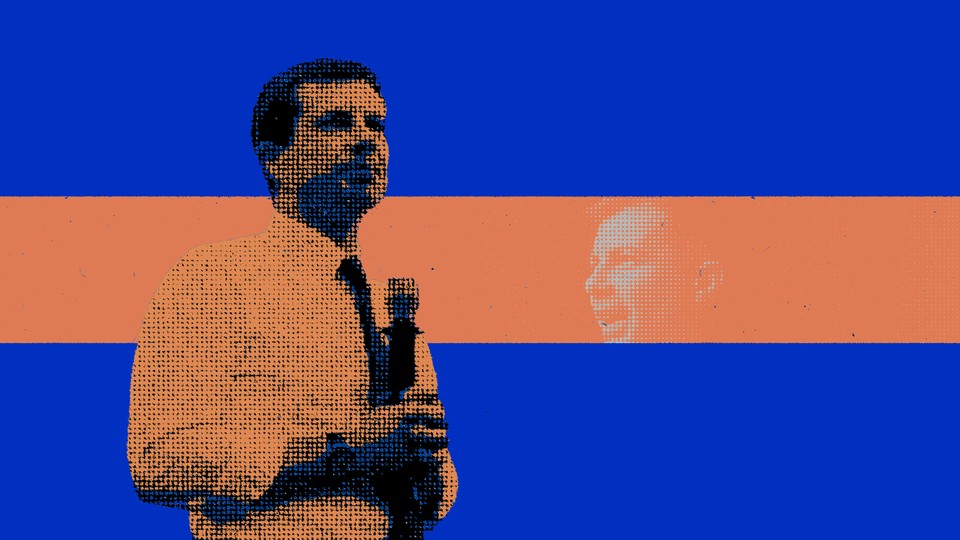 Listening to the radio on her drive home from work back in January, 48-year-old Brooke Clagett caught the tail end of an interview with a man she couldn't identify. "I was just stunned by how, on every subject that he discussed, he sounded reasonable and thoughtful," Clagett told me last night. She pulled up in front of her house, but she didn't go inside: "It was one of those classic driveway moments where you stay in the car to get to the end of the interview to find out who the hell it was."
The man turned out to be Pete Buttigieg, the 37-year-old mayor of South Bend, Indiana. Fans I've spoken with have sometimes talked about their first time hearing Buttigieg in the same way someone might describe a religious experience. But Buttigieg's success in the presidential primary has, in some ways, been miraculous: A little-known Midwest mayor who decided less than a year ago to run for president is now leading polls in the first two voting states. And yesterday, Clagett, who first heard his voice 10 months ago, was the happy host of a crowded pro-Buttigieg debate-watch party at Hank's Oyster Bar in the Dupont Circle neighborhood of Washington, D.C.
"I feel very strongly that Pete would make the best president," said Clagett, an attorney who co-runs a Facebook group called "DC for Pete" that has become a grassroots organization. "It's worth my while to throw my energies behind him. He's not going away."
"This is a movement," said James Sands, who leads the group with Clagett. "He's articulate. He's smart. He's the real deal."
Indeed, to the supporters buzzing around the second floor of the bar, which had been decorated with streamers and a cardboard cutout of the mayor, Buttigieg isn't just experiencing a temporary bump. Instead, he's well on his way to securing the Democratic nomination, a victory that, they argue, will come from his singular ability to bring the entire party together. And at this point, they're all in. They just have to persuade the rest of the party's base to get on board—not an uncomplicated task.
Buttigieg has had several "moments" throughout the past year where he's gained traction in the press and the polls, including in October, when his national popularity ticked upward after he criticized Senator Elizabeth Warren for her views on health care. The past few New Hampshire polls have shown Buttigieg with a double-digit lead. In Iowa, he has started polling among the top four candidates, and last weekend, a survey from the Des Moines Register offered a jaw-dropping result: Buttigieg, it found, has the support of 25 percent of likely Iowa caucus-goers.
The watch party, then, was a big deal for Buttigieg's D.C. fan club. It was the first debate in which the Indiana Democrat would be perceived as a genuine campaign front-runner, and Clagett and Sands had gone all out for the occasion, passing out magnets and T-shirts and copies of the U.S. Constitution emblazoned with DC for Pete stickers. The two had also prepared a game of bingo, with squares containing words and phrases such as Chasten and first gentleman—references to Buttigieg's husband—for which the winner would receive a copy of A Warning, the new book from an anonymous Trump-administration official.
Buttigieg's supporters at the watch party offered a few policy-related reasons for backing him: They appreciate his dedication to fighting climate change, for example, and his promises to end gerrymandering. But more often, they framed Buttigieg as a kind of healer for the country—the Great American Unifier.
"His message reminds me of the hope and change from 2008," said Kelly Ganzberger, a 38-year-old attorney, as waiters walked by carrying platters of oysters, fried calamari, and shrimp. She likes Warren too, but sees the senator as a better fit for Congress than the White House. "Warren is all about the fighting, and I think that's a good trait to have in the Senate," she said. "Whereas the president is more about coalition building and bringing people together." Ganzberger, who is originally from Michigan, told me that several of her family members are moderate Republicans. "Some of the more extreme candidates are not welcoming them," she said. "And Pete is just that perfect candidate, where if you're progressive, he's got your back, but also if you're a little bit center-left, he's got your back too."
On the campaign trail, Buttigieg promises that he's the candidate who can "build something new and better on the rubble" of Donald Trump's presidency. His appeals to voters include motivational messages about reforming democracy and restoring a sense of belonging to all Americans. "People really feel a genuine connection [to him]," said 41-year-old Brenda Eribo, an HR director and a volunteer with DC for Pete. "And while he is highly intelligent, he doesn't make others feel like they are breathing his rarefied air. The fact that he's focusing his campaign on belonging is really not only astute but genuine, and will continue to resonate."
Buttigieg used to sound more radical: His campaign stump speeches once featured ambitious proposals for overhauling the Supreme Court and abolishing the Electoral College, but in the past few months, as he has begun to more directly position himself as an alternative to former Vice President Joe Biden, Buttigieg has focused more on critiquing the plans of Warren and Senator Bernie Sanders, including their support for Medicare for All. Buttigieg has been touting his own, narrower health-care plan, which he has dubbed "Medicare for All Who Want It."
"That is something that, as a galvanizing strategy, we can unify the American people around—creating a version of Medicare, making it available to anyone who wants it, but without the divisive step of ordering people onto it whether they want to or not," he said at one point during the debate last night. "Holy shit, that was good!" one woman yelled from across the room.
The plan was popular among the self-described moderates watching. "It's supposed to lead into Medicare for All without making people feel like they don't have a choice in the matter," said 24-year-old James Bond (yes, James Bond), a receptionist at a local law firm, "which is not something you're going to be able to convince Americans to get behind." At this particular juncture in American politics, said Rosa Pittman, a 44-year-old Maryland resident, "we really have to be very, very practical." And Buttigieg, she said, unlike Warren or Sanders to his left, has comprehensive plans "that will actually have a chance of getting through Congress."
Buttigieg's rise hasn't come without backlash. Many members of the political left, and especially Sanders supporters, find his success infuriating. They've called him an establishment hack for raising money at high-dollar fundraisers, and a corporate shill for his work at the management-consulting firm McKinsey and his relationship with Silicon Valley executives. His policy positions have been routinely excoriated by lefties on Twitter. And teenagers have begun ruthlessly mocking the Buttigieg campaign's new campaign dance on TikTok.
"I don't know why they hate him so much," Clagett said when I asked why she thinks Buttigieg has been the target of so much criticism recently. "I think some of it's homophobic, subliminally maybe." Several of the voters I spoke with accused Sanders fans of reigniting the same intra-party conflict that occurred between Sanders and Hillary Clinton supporters in 2016. "If Kamala [Harris] was doing as well as he is, she would be a corporate shill" too, Bond said. "That would have been a label that was put on just about any candidate that wasn't Bernie Sanders." (Attendees at the watch party were expecting other candidates to attack Buttigieg head-on during the debate. But for the most part, they didn't.)
Another recent event has drawn criticism toward the mayor's campaign: In South Carolina, where Buttigieg is currently polling at exactly zero percent among black voters, his team boasted about having support from "over 400 South Carolinians" for his Douglass Plan, even though some signees do not even live in the state, and at least three black officials listed said they had not actually endorsed the plan to "dismantle racist structures and systems" in America. Even on this misstep, though, the Buttigieg supporters I spoke with were ready to help him apologize and move on. Pittman, who is black, told me that she was disappointed by the error. But "there was no intent to deceive or lie about the voters," she said. "I believe there was probably a glitch in how the rollouts occurred."
So far, the biggest obstacle facing Buttigieg is something his supporters view as his greatest strength: his potential to build a Democratic coalition. Doubters question whether he can come close to replicating the multiracial bloc that helped Barack Obama win the presidency twice. But his supporters at the event told me that as the candidate becomes a household name, they expect that his support among black voters in particular will increase. "Nobody knew who this guy was a year ago, and he's skyrocketed in popularity just in this short amount of time," said Sands, a local TV producer. "He needs time to be on the scene to reach out."
The Buttigieg backers I spoke with are counting on the mayor's momentum to only grow in the days and weeks to come. Most don't have second- or third-choice candidates. Sure, they'll vote for the eventual nominee if, for some reason, it isn't him. But for now, they told me, they're sticking with Buttigieg, come hell, high water, or snide jokes from teenagers on TikTok.
"I remember the first time they said he boomed, which was probably about six months ago," Eribo told me with a chuckle. "They were saying, 'This is a boom.' Some were saying, 'This is a boomlet.'"
Well, Eribo continued, "he's going to continue to have them, and the distance between them is going to be shorter and shorter."