The Democrats' Next Goal for Impeachment
They have the facts. Now they have to figure out what to do with them.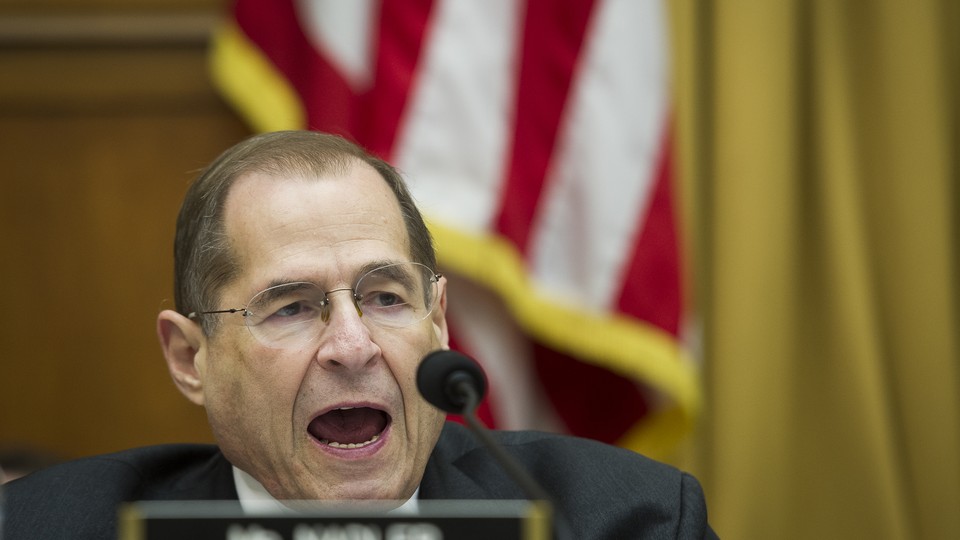 For two weeks, Americans—somewhere between 10 million and 14 million of them—were fixated on the impeachment drama unfolding before the House Intelligence Committee: Ambassador William Taylor's revelation of another damning phone call involving President Donald Trump; Ambassador to the European Union Gordon Sondland's explicit confirmation of a quid pro quo between the president and Ukraine; former Trump adviser Fiona Hill's firm rebuke of Republicans indulging in Russian conspiracy theories.
This portion of the House's impeachment inquiry is over, but the process is far from complete. Now that the facts have been laid out, Democrats are moving on to the decidedly less flashy but possibly even more crucial next step: deciding what to do with them. The House Judiciary Committee, chaired by Representative Jerry Nadler of New York, will pick up the impeachment baton, kick-starting this phase with a public hearing after Thanksgiving where it will discuss whether Trump's alleged wrongdoing is impeachable.
Democrats have a lot riding on this: This next phase of the inquiry will offer them one last chance to sell Republicans in Congress, as well as a divided American public, on impeachment. The success of their efforts will hinge on whether they are able to effectively articulate the case—and on whether there's anyone left to convince.
"This is a persuasive exercise," says Frank O. Bowman III, a law professor at the University of Missouri. "You need to persuade [the public] not only that the president did XYZ, but that what he did is of sufficient gravity to merit his removal."
The public hearing, which is scheduled for December 4, follows historical precedent. During the impeachment of President Bill Clinton in 1998, the House Judiciary Committee held a similar hearing on the background and history of impeachment. The committee members called on 19 experts to determine whether Clinton's alleged conduct justified impeachment, including 10 who testified on the Republican side, eight on the Democratic side, and one joint witness, the constitutional-law expert Michael Gerhardt.
Such a hearing "provide[s] the members of the committee with some expert guidance," Gerhardt, now a law professor at the University of North Carolina, told me in an interview. "People on the committee will be the ones who make the final judgment, but they really want and perhaps need some educated, informed judgment about what the law is, and that will provide a foundation for them."
It's still unclear which witnesses will be called to testify. But both Gerhardt and Bowman told me they expect the hearing to operate similarly to the one held in 1998. The members will likely ask questions about the Intelligence Committee's forthcoming report, which will compile all the evidence gathered by Democrats throughout their two-month impeachment inquiry. Witnesses will offer definitions of misdeeds such as "bribery" and "high crimes and misdemeanors," which are among the impeachable offenses listed in Article II of the Constitution. It's likely, too, that there will be a discussion of where obstruction of justice and the Trump administration's flouting of congressional subpoenas fit in.
Even after two weeks of public hearings, Americans are deeply divided on impeachment, and not a single Republican in either the House or the Senate publicly supports it. So Democrats are viewing this hearing as one of the last opportunities they have to convince congressional Republicans that impeachment is warranted. "Ideally, [committee members] would conceive their role as educative at this point, of explaining to the country why it is the facts we know are impeachable and on what grounds," Bowman told me.
"We often say 'high crimes and misdemeanors,' but we say this with no understanding of what that actually means," said one Democratic aide to a member on the Judiciary Committee, who spoke on the condition of anonymity. Impeachment is a fundamentally political process, not a legal one.
But the hearing is far from an easy win for Democrats. They'll need to nail their approach, Bowman said, deciding ahead of time what kind of case they want to make against the president. And they'll need to think about how to frame the president's alleged quid pro quo with Ukraine, to show how it falls into the category of "high crimes and misdemeanors." Committee members will also need to decide the extent to which they'll broaden the scope of the inquiry to include issues such as Russian election interference and potential violations of the Constitution's emoluments clause. It will be a challenge: Democrats have a wealth of grievances against the president, and, given the party's stated goal to wrap up the process before the end of the year, there's not much time for them to arrange it concisely.
The committee members themselves might also pose a problem for Democrats. There are more "wild cards" on the Judiciary Committee than on the Intelligence Committee, said the Democratic aide I spoke with, such as a few of the president's most outspoken defenders, including Republican Representatives Jim Jordan of Ohio, Matt Gaetz of Florida, Debbie Lesko of Arizona, and Louie Gohmert of Texas. And there are some less "disciplined" Democrats on the committee who might "feed into the shenanigans and games" that could distract from the party's overarching goals, he added.
Whether Democrats can successfully pull off the hearing is still up in the air, Bowman said. "Can they do it in a way that will seem as evenhanded as it can and not turn into another circus?"
While it's quite unlikely, at least at this point, that the GOP-controlled Senate will vote to remove Trump from office, Democrats are hoping to convince at least a few Republicans with a strong case against the president. And regardless of what happens at the hearing, it's not clear that it will persuade many members of the public. Even after this month's high-profile testimonies, most Americans' opinions on impeachment haven't budged, according to a CNN poll released Tuesday; people who strongly support the inquiry still do, and vice versa.
What is certain, though, is that the next phase of the impeachment inquiry, in which Democratic members of Congress actively begin to outline a case for removing the president, is bound to be just as divisive as the last one. The first public hearings may have been a partisan spectacle, but the next one, Gerhardt said, might bring "a new understanding of what contentious looks like."