Josh Hawley's Mission to Remake the GOP
The freshman senator from Missouri wants to build on Trump's tenure and end the GOP's free-market worship for good.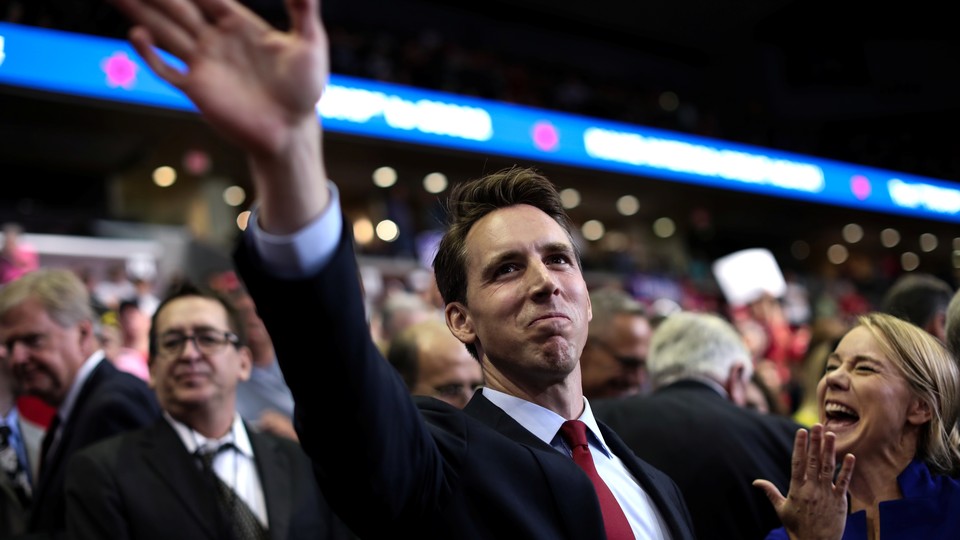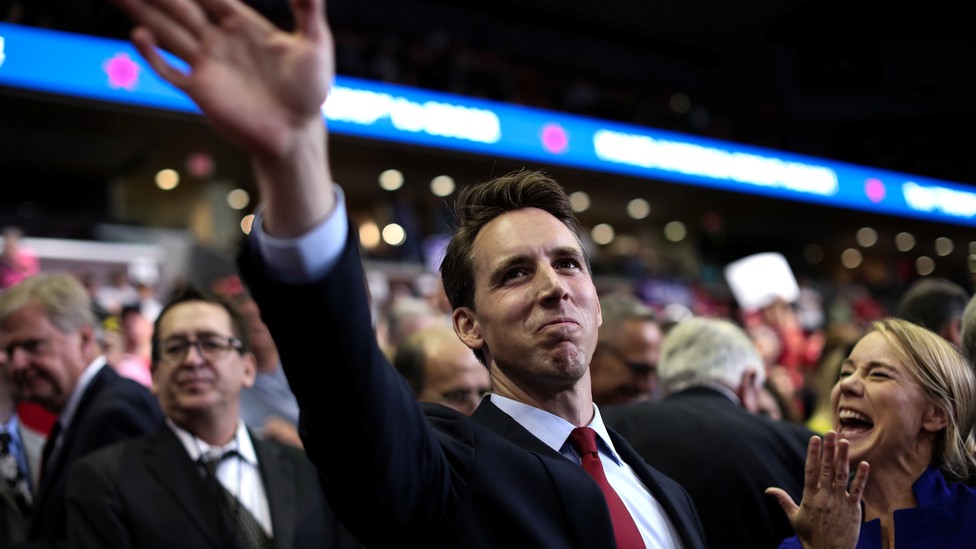 Washington is in an unusually high state of chaos. Impeachment hearings are proceeding dramatically in the House. Donald Trump has taken to tweeting videos about the purported "coup" being staged against his presidency by Democrats, complete with an ominous musical score. But from the view of Senator Josh Hawley's office, its walls covered in tasteful kid art and a large desk offering up a mugful of crisp yellow pencils, it's hard to tell that anything is amiss. The Missouri freshman is too busy laying out the future of the Republican Party to pay much mind to the partisan death spiral unfolding around him.
By Hawley's own account, some conservatives on Capitol Hill have spent the past three years with their eyes tightly shut, waiting for the Trump era to pass and everything to return to normal. "That's not going to happen," he told me in an interview this week. If the Republican Party returns to its pre-Trump ideological defaults—standing up for big business over the middle class, prioritizing free-market principles over social issues—"we're not going to be a majority party, ever," he said. "That's just not the future."
Hawley, 39, became the youngest member of the Senate after a 2018 upset victory over a powerful Democratic incumbent, Claire McCaskill, and he has quickly vaulted himself to prominence in Washington's elite conservative circles. Along with Senate Republicans such as Ted Cruz, and ex–Trump-administration officials such as Nikki Haley, his name is frequently floated as a potential lead architect of Trumpism after Trump. His speeches around town, including one he delivered on Tuesday evening while accepting an award at the annual gala of the American Principles Project Foundation, a socially conservative public-policy organization, are bracingly defiant of Republican orthodoxy: He rails against income inequality, condemns the policy deference afforded to corporations, and speaks warmly about the civic value of labor unions. He often talks about the "great American middle" being crushed by the decline of local communities, the winner-take-all concentration of wealth, and the inaccessibility of higher education. And he said that the modern Republican Party's split over competing impulses toward free-market economics and social conservatism has led some conservatives to ignore the effects of their policies on the middle and working class. "It's time to do away with that," he told me.
Trump began the work of redirecting the GOP by building a working-class coalition, Hawley argues. In his view, Trump's bombastic style and penchant for chaos bear no consequence for the new brand of conservatism Hawley envisions; affairs like impeachment amount to ephemeral antics. "For all of us who are in public office, and especially for those of us who are younger, this isn't the work of a day or a season," Hawley told me. "This is the work of a generation."
In many ways, Hawley's brand of populism follows a familiar playbook. He peppers speeches with phrases like "the rise of a new oligarchy," and he leans into his small-town Missouri upbringing in interviews. But he bears an elite pedigree: His résumé includes degrees from Stanford and Yale, a leadership role in Yale's chapter of the Federalist Society, the elite conservative legal group, and a clerkship for Chief Justice John Roberts. Before he got into politics, he worked for Becket, the D.C.-based religious-liberty law firm, and was part of the victorious legal team in Burwell v. Hobby Lobby, the Supreme Court decision that allowed certain religious exemptions from the contraceptive mandate in the Affordable Care Act.
While many Republicans have tried to sell themselves as populists, Hawley has adopted unusual language for talking about his economic views. He is totally comfortable citing statistics popular on the progressive left: the fact that 70 percent of American wealth is held by the top 10 percent of households, according to the Federal Reserve, or that working-class wages have stagnated compared with the rapid wage growth among top earners. When I asked him whether he sees himself as a Bernie Sanders or a Donald Trump–style politician, he laughed loudly—for all of Hawley's rhetoric, he's nowhere near a flirtation with socialism. But he clearly admires the work of upsetting the political order. In his 2008 book on Theodore Roosevelt, Hawley wrote approvingly that the former president "talked as a conservative, but harbored the political ambitions of a radical."
Hawley's economic views are set apart from the left in part by his diagnosis of America's problems. He sees social isolation and the erosion of local communal life—including church, family, neighborhoods, and labor unions—as intimately tied to declining economic opportunity for the middle class. "Economic policy and our communities and neighborhoods sit right together. They're really intertwined," Hawley told me.
And unlike most Democrats, Hawley argues that cultural pathologies have helped create this fractured political moment, particularly the cult of individualism that he says drives everything from public policy to pop culture. In a vision of America in which liberty is primarily about unlimited personal freedom, he said in his speech to the American Principles Project Foundation, "place and home don't matter much, and civic participation is beside the point." This same vision produces "economic policy focused on individual advancement, where advancement means making more money and consuming more stuff," he said, according to his prepared remarks. "So in popular culture, billionaires become heroes, and the everyday working man becomes just some guy who never realized his potential."
It's no small irony that Hawley credits the start of the conservative populist revolution to a man who has spent his career crafting his image as a glamorous billionaire. The Missouri senator is willing to obliquely criticize some of Trump's policies. Hawley defended Trump's 2017 tax cuts, which radically lowered the corporate tax rate, while he was campaigning for his Senate seat. But now that he's in office, Hawley told me, he would want to give any similar proposals "a lot of scrutiny." Since the tax bill passed two years ago, evidence suggests that some large companies have enjoyed a zero-percent effective tax rate while making few investments in workers. "It is amazing how many of these major companies pay no taxes in the United States," Hawley said. "We've lost out on companies moving jobs overseas. We've lost out on them hiring workers at ever-lower wages in this country. And we've lost out from the lack of taxes being paid."
As for Trump himself, however, Hawley is an unapologetic supporter. He says that insofar as the president's rhetoric is focused on voters' fears—mirroring Hawley's own speeches about media censorship and the menace of cosmopolitan elites—"you have to acknowledge where people are," including their anger and anxiety. He waved away the insults that freely flow from Trump's Twitter feed about "crazy" House Speaker Nancy Pelosi or "shifty" Adam Schiff, the California congressman leading the impeachment hearings. "The president [is] commenting in an adversarial way on people who are trying to remove him from office," Hawley said. His behavior "is both understandable and doesn't necessarily say anything more, I think, about broader policies, issues, vision." The impeachment process has been "clownish" and "reeks of politics," he said, and he doesn't think any information about the president's conduct that has come out so far is "remotely impeachable." He wants Trump elected to a second term in 2020, and believes it will happen.
Unlike some of his peers in Congress, however, he doesn't think Republicans should simply try to clone Trump. "His style is uniquely him," Hawley said. "The people who try to imitate that will come off looking like cheap imitators." Instead, Trump's enduring legacy will be in laying the groundwork for a long-term shift in Republican vision and strategy.
Hawley has successfully positioned himself as a potential leader for this new movement, at least in Washington. He sells himself as an ideas guy, casually citing the philosopher Edmund Burke and the Christian monk Pelagius in a single stretch. In his first year in office, he has broken with his GOP colleagues on a number of issues, including proposing regulations on big tech companies such as Facebook and Google and challenging the nomination of a D.C. Circuit Court judge, Neomi Rao, whom he deemed insufficiently pro-life. (These moves have attracted a fair amount of controversy, including from Hawley's fellow conservatives.)
But he also easily switches into electoral mode, making folksy references to his family's long history of involvement with farm co-ops. His ambition is apparent: During his run for Missouri attorney general in 2016, he released an ad criticizing the "career politicians just climbing the ladder" in Jefferson City, the state's capital. A little more than a year later, he announced his intention to run for the United States Senate, with encouragement from national leaders such as Senate Majority Leader Mitch McConnell. He gave me an aww, shucks chuckle and a standard denial when I asked him if he planned to run for president in 2024 or beyond. But he probably doesn't mind social conservatives' dreamy whispers about his potential future.
"We must forge in this century a new politics of family and neighborhood, a new politics of love and belonging, a new politics of home," he said in his speech this week. "That will mean rethinking old positions and revisiting old orthodoxies. It will mean challenging the old priorities of the political class." In this particular moment in the nation's history, "a new politics of love and belonging" seems about as distant a prospect as Trump giving friendly testimony to the House Democrats who want to impeach him. (It's also not a particularly Trumpian sentiment, no matter how much Hawley may admire the president.) But this is the moment Hawley's been handed, and he's going to do what he can to carve out a leading role in what comes next. As he said in his speech, "we cannot wait any longer."