The Return of Jerry Nadler
The Judiciary Committee, which he chairs, is fractious and unruly. And it's about to take over impeachment.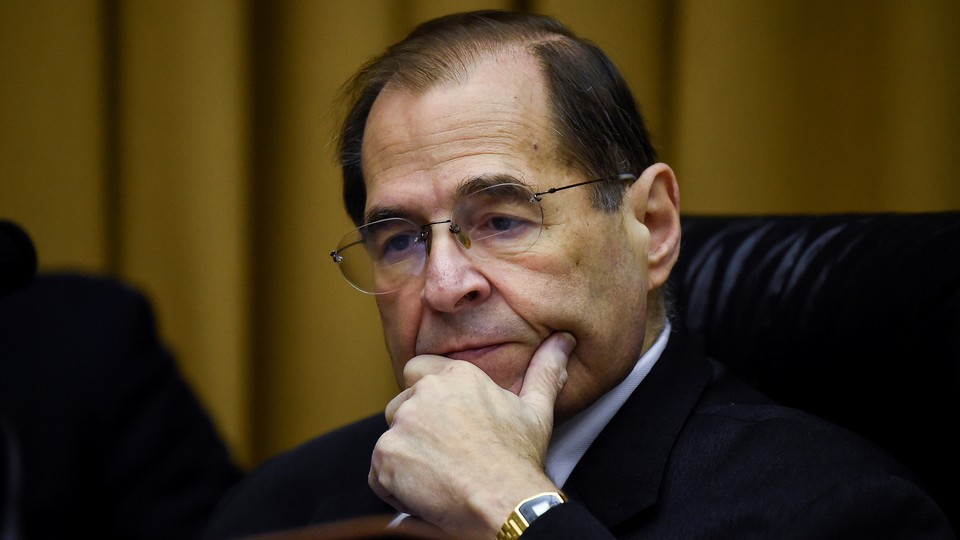 For two months, Representative Jerry Nadler has been the Maytag repairman of the House impeachment inquiry: idled and isolated as his colleague Adam Schiff has presided over a parade of witnesses in public and private hearings before the Intelligence Committee.
But now, as the focus of impeachment shifts to the Judiciary Committee that he chairs, Nadler, a scrappy Democratic veteran of New York's and Washington's political wars, will be back in the spin cycle and up to his elbows in hot water. He will find himself tested—not only by comparisons with Schiff, whose performance Democrats have praised, but also by his own committee, which is far more fractious and unruly than the California Democrat's.
Andrew Kirtzman, a seasoned New York journalist turned political and communications consultant who has watched Nadler for years, sums up his situation: "Schiff did such a remarkable job running those hearings with military precision. But Schiff didn't have to balance having Republicans be able to present their own witnesses. It's going to be much more of a brawl in the Judiciary Committee, so the comparisons with Schiff are going to be kind of cruel, and to some extent unfair."
Nadler assumed chairmanship of the committee when Democrats took control of the House in January, and despite his long alliance with Speaker Nancy Pelosi, their relations have sometimes seemed strained in the months since. Over the summer, Nadler, who has said that Donald Trump "richly deserves impeachment," not-so-quietly chafed at Pelosi's reluctance to begin such proceedings. For her part, Pelosi was not-so-quietly irked at increasing pressure from Nadler and his staff to do so. Then, in September, Pelosi seemed to throw some shade at Nadler's management of a carnival committee hearing in which Trump's former campaign manager Corey Lewandowksi bobbed and weaved and resisted answering questions for the better part of four hours; she later privately told her Democratic caucus that she would have held Lewandowksi in contempt "then and there."
Just last week, Devin Nunes, the ranking Republican member on the Intelligence Committee, himself took a shot at Nadler, suggesting that the Intelligence Committee took the lead on impeachment because the Judiciary Committee, the typical arena for such matters, was headed by someone "in whom the Democrat leaders obviously have no confidence."
Pelosi's allies insist that is untrue. But in any case, her interests and Nadler's are now fully aligned. After Thanksgiving, the Judiciary Committee will set about weighing the evidence gathered against Trump in his attempted military-aid-for-political-dirt swap with Ukraine, and it will draft, as the formal House resolution authorizing the inquiry puts it, "such resolutions, articles of impeachment, or other recommendations as it deems proper."
Mitchell Moss, a professor of urban policy and planning at New York University and another longtime Nadler watcher, told me that the congressman has a sophisticated understanding of the Constitution that will serve him well in the weeks ahead. "The Judiciary Committee is actually going to play to Jerry's strength, which is: What are the behaviors the president has done to warrant impeachment?" Moss said. "I think this is going to be a process which will bring out the best in Jerry, which is pretty impressive."
If Schiff is a cool television presence, a slim 59-year-old triathlete who speaks in modulated, extemporaneous sound bites, Nadler, 72, is a hotter, blunter personality. His default mode is a wised-up Big Apple belligerence, and he speaks in a nasal New York accent that summons memories of George Costanza. He is a classic legislative debater: Once, while arguing with a conservative Democratic colleague in the New York State Assembly about whether Jewish religious tradition condones the death penalty, he rattled off memorized passages from the Talmud to defend his liberal viewpoint. His biography page on the Judiciary Committee's website features glowing testimonials from the likes of former President Bill Clinton; Representative John Lewis of Georgia, the civil-rights icon; and the former head of NARAL Pro-Choice America Kate Michelman.
Nadler was first sent to Congress 27 years ago, after winning a special party convention to succeed Ted Weiss, who had died on the eve of the Democratic primary in September 1992. He represents a district that stretches from Manhattan's Upper West Side to the Orthodox Jewish enclave of Borough Park, in Brooklyn, and he's known for being a consistent foe of expanded police powers to combat terrorism, a reliable battler against the National Rifle Association, and a passionate advocate for economic aid and disaster relief for New York. (With memories of Representative Alexandria Ocasio-Cortez's toppling of a longtime establishment incumbent still fresh in New York, Nadler is facing an unusually vigorous primary challenge next year from six potential contenders, chief among them Lindsey Boylan, a former New York State economic-development official.)
Since January, Nadler's committee has been investigating various aspects of Trump's presidency and business career. In the spring, he raised alarm when he was hospitalized for dehydration after briefly fainting at an event in his district with Mayor Bill de Blasio, but he quickly returned to work.
Nadler's office did not return requests for comment on this story. But a Democratic colleague on the Judiciary Committee says he expects that the chairman will take full command of the impeachment hearings.
"You know, I have been in politics long enough to recognize people who have executive style and temperament and people who have legislative temperament," says Representative Jamie Raskin of Maryland, who was an early advocate for impeachment. "And Jerry is the quintessential legislative player. He really believes in doing things [through] teamwork. I mean, he has a healthy ego like everybody else, but he wants to see the truth come out and he has had very clear ideas about how to organize things legally. It's really not about promoting his own brand in any way."
Part of the tension between Nadler and Pelosi in recent months seemed to be the natural result of their differing institutional roles. Pelosi repeatedly made it clear that she was waiting for the views of her caucus and the public to jell before moving forward with any impeachment effort, while the role of Nadler and his committee was to follow the developing facts and alert the public to their findings.
Given the gravity of impeachment, the expectation on Capitol Hill is that Pelosi, who's kept a tight rein on the process with her usual iron hand, and her leadership staff will be intimately involved in determining just what the House's final bill of particulars against Trump should be, and just how the actual articles of impeachment should read. She has so far declined to detail her thinking in public and her office did not respond to a request for comment.
The precise ground rules for how the Judiciary Committee will operate have yet to be fully spelled out, but Nadler will face challenges that Schiff did not have to manage. The resolution authorizing the impeachment inquiry specifies that the Judiciary Committee will make "such provisions as to allow for the participation of the President and his counsel," which was not a consideration in the Intelligence Committee's fact-finding hearings. The Judiciary Committee, with 41 members, is much larger than the Intelligence Committee, at 23, and because it deals with contentious issues such as crime and civil liberties, it has long been a coveted stepping-stone for some of the most voluble members of Congress from both parties. Some of the most outspoken Republicans on the Intelligence Committee—including Representatives Jim Jordan of Ohio and John Ratcliffe of Texas—also sit on Judiciary and can be expected to offer fierce defenses of Trump, as they did during the past two weeks of public hearings.
"The House Judiciary Committee is just a magnet for ambitious and high-profile members," Moss told me. "Jerry has a tougher job. His basic challenge is to keep his members in order and to manage whatever shenanigans the Republicans engage in … They're not planning to stop the impeachment; they know they can't. They're planning to win praise from Trump."
Nadler and Trump, who in the spring derided the chairman as "Fat Jerry" in a private White House meeting with House Republicans—Nadler underwent stomach-reduction surgery in 2002—have a long personal history. In the 1980s and '90s, Nadler led the opposition to a huge residential-and-commercial-development project Trump had proposed for Manhattan's West Side, which would have included the world's tallest building, a 150-story skyscraper. But the plan generated fierce neighborhood resistance and Nadler fought it for years. In the end, Trump built a much smaller project, which he later sold. But during the fight, Trump called Nadler "dumb" and said, "He needs to lose about 200 pounds." Trump's ire at Nadler these days is rooted in his committee's activity. In recent months, it has filed suit in federal court seeking to obtain secret grand-jury material from Special Counsel Robert Mueller's investigation and to compel former White House Counsel Don McGahn to appear and answer questions about whether Trump obstructed justice in the Mueller probe. A federal judge determined yesterday that McGahn does have to appear, though the Justice Department will appeal the ruling.
Twenty years ago, Nadler was an outspoken opponent of the Whitewater independent counsel, Ken Starr, and the Republican-led impeachment of Clinton, denouncing it at one point as "a partisan coup d'état." And he has been a gradual convert to the cause in the case of Trump: Just over a year ago, as my colleague Russell Berman reported, Nadler was reluctant to discuss the topic in the run-up to the 2018 midterm elections. But since the conclusion of the Mueller investigation, Nadler has made no secret of his views that Trump's behavior meets the constitutional threshold of high crimes and misdemeanors. "He has done many impeachable offenses," Nadler told CNN in July, after Mueller issued his final report. "He's violated the law six ways from Sunday. But that's not the question. The question is: Can we develop enough evidence to put before the American people? We have broken the logjam." Nadler added, referring to the Mueller report: "There was very damning evidence put forward on the record. And I think, as the American people understand that, as people absorb that information, as we bring out more evidence, people will understand the gravity of the situation. It's not one that can be ignored."
With a whole new raft of Ukraine-related evidence now on the record, Nadler's thesis will soon be put to the ultimate test.