The Atlantic Politics Daily: Jerry Nadler Returns to the Spotlight
What to know about the New York Democrat picking up the impeachment-inquiry baton. Plus, how a Fox News host and his liberal mother get along
It's Tuesday, November 26. In today's newsletter: the New York Democrat picking up the impeachment-inquiry baton. Plus, how a Fox News host and his liberal mother get along (pretty well, thanks for asking)
*
« TODAY IN POLITICS »
(Tom Brenner / Reuters)
The Return of Jerry Nadler
The House Judiciary Committee inherits the impeachment mantle after Thanksgiving, with a public hearing for December 4 (yes, there's more coming). And it'll ultimately draft the actual articles of impeachment.
The new face of the impeachment proceedings—and likely the target of renewed Trump insults—will be the committee's chairman, Jerry Nadler.
As the spotlight turns his way, here are a few details about the stalwart New York Democrat's long political career.
1. Nadler wasn't always on board with impeachment
Before Democrats snatched back the House of Representatives and the Ukraine scandal consumed Capitol Hill, Nadler's public stance on impeachment sounded very different than it does now.
In September of 2018, he told my colleague Russell Berman that he wanted to avoid a partisan impeachment fight, like the one that Bill Clinton survived in the '90s—yet that's precisely the type of brawl he now must navigate.
… there is likely no Democrat currently serving in Congress who has talked more about impeachment or developed a more fully formed opinion about its intended purpose than Jerry Nadler. He first articulated his view under vastly different circumstances, and in defense of a Democratic president. But over the course of 20 years, it hasn't changed much.
Read Russell Berman's profile of Nadler, before impeachment was a twinkle in anyone's eye.
2. Nadler's Judiciary Committee will squabble
Adam Schiff managed somewhat to keep the public impeachment hearings in the House Intelligence Committee from becoming a televised spectacle. Nadler will have a harder time keeping his committee in order.
For one, it's nearly double the size, at 41 members. My colleague Todd Purdum writes
... because it deals with contentious issues such as crime and civil liberties, it has long been a coveted stepping-stone for some of the most voluble members of Congress from both parties.
Some of the most outspoken Republicans on the Intelligence Committee—including Jim Jordan of Ohio and John Ratcliffe of Texas—also sit on Judiciary and are expected to offer new rounds of fierce defense of Trump.
3. Nadler and Trump go way, way back
Like lots of New York politicians, Nadler knew Trump back when he was just another real-estate mogul.
Unlike a lot of New York politicians, their relationship wasn't chummy. Nadler led the opposition to a Manhattan development project Trump proposed in the '80s and '90s, which ultimately led Trump to scale back his ambitions.
In his 2000 book The America We Deserve, Trump singles out three politicians we especially detests. Two have long since retired. The third? One Jerry Nadler.
*
« SNAPSHOT »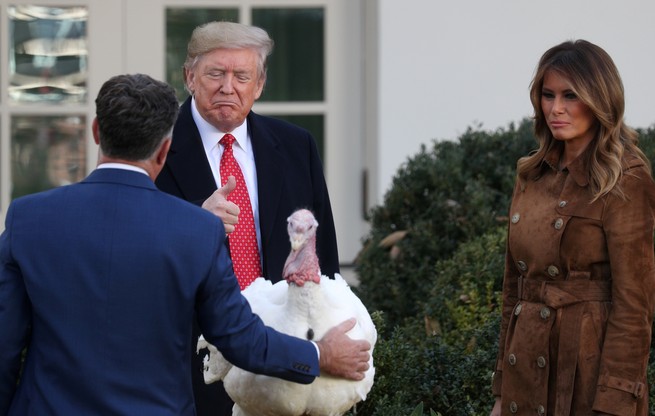 (Loren Elliott / Reuters)
America's fowlest tradition took center stage at the White House today, as President Trump officially pardoned a 47-pound turkey named Butter.
Trump also took the time to crack an impeachment joke, saying the bird had been subpoenaed by the House Intelligence Committee.
*
« ARGUMENT OF THE DAY »
(Paul Spella / The Atlantic)
Child care is ridiculously expensive
Health care has been a major focus of the 2020 Democratic primaries. More overlooked is the cost of child care, which hasn't registered the same attention.
Our economics writer Derek Thompson examines some of the policy solutions to ballooning cost of caring for kids (which is now averaging nationally at $16,000 a year):
One simple reason Washington should play a bigger role in child care is that the benefits of early-childhood care and education are so large—and accrue over such a long period of time—that the only institution big enough to capture the upside is the federal government.
Read the rest

+ Derek has tracked the growing cost of raising children in America's urban cores. Read his analysis of declining birth rates in major cities
*
« EVENING READ »
(Fox News Channel)
A Fox News host and his mother exchange texts after his show
It started last February, when Fox News host Jesse Watters's mother began to send him critical, but affectionate text messages commenting on her son's conservative cable commentary.
Since then, the host has anchored a regular segment showcasing the notes he gets from home.
Joe Pinsker documents the conservative son-liberal mother relationship, interviewing both:
Jesse thinks that "Mom Texts" makes for good TV because it "humanizes" him: "It's even funnier that it's my mom—everybody can relate to it … It's just another layer to getting to know, or feeling like you know, the host."
Ahead of any Thanksgiving family politics you may be dealing with, read this story.
*
Today's edition of our daily newsletter of political ideas and arguments was written by Saahil Desai with help from Christian Paz, and edited by Shan Wang.

You can reply directly to this newsletter with questions or comments, or send a note to politicsdaily@theatlantic.com.

Your support makes our journalism possible. Subscribe here.