William Taylor's Big Impeachment Reveal
The ambassador to Ukraine detailed a previously unknown phone call involving President Trump, potentially adding to the Democrats' case that he put his own interests above the nation's.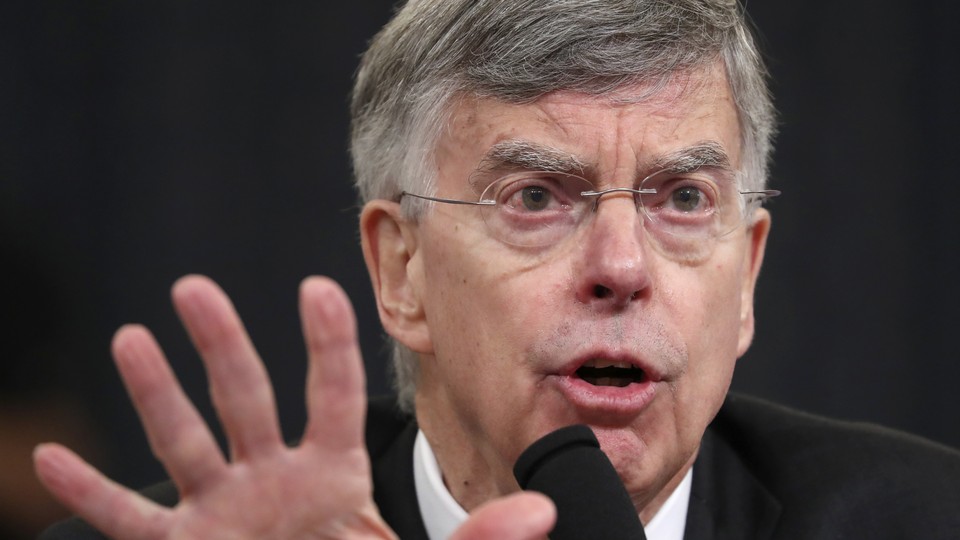 It took all of about 90 minutes for the public phase of the House Democrats' impeachment inquiry against President Donald Trump to yield its first big new revelation.
Appearing this morning before the House Intelligence Committee, Ambassador William Taylor told lawmakers—and the millions of people watching around the world—that on the day after his now-infamous call with Ukrainian President Volodymyr Zelensky, Trump personally asked a top U.S. diplomat, Ambassador Gordon Sondland, about the investigations he wanted Zelensky to pursue against the Biden family. Taylor told the committee that a member of his staff overheard the call between Trump and Sondland and then asked Sondland, the ambassador to the European Union, what the president thought about Ukraine.
"Ambassador Sondland responded that President Trump cares more about the investigations of Biden, which [Rudy] Giuliani was pressing for," Taylor testified, referring to the presidential lawyer and former New York City mayor, who had been conducting a back-channel effort in Ukraine on Trump's behalf.
Taylor, the ambassador to Ukraine, had already testified for hours behind closed doors before the House Intelligence Committee last month, and much of the account he delivered this morning had already become public in transcripts of his earlier deposition. But this part of the story was new and potentially damaging to the president's case. Taylor told lawmakers that this staff member only informed him about the Trump-Sondland phone call in the days after his private deposition on October 22.
House Democrats called Taylor and George Kent, a deputy assistant secretary in the State Department, as their opening witnesses in the public impeachment hearings because the two veteran diplomats have made the most detailed and explicit allegations against the president and his top lieutenants. The Democrats' case centers on a quid pro quo—all but acknowledged by top White House officials—in which the Trump administration held up crucial U.S. aid to Ukraine for a public commitment by Zelensky to investigate former Vice President Joe Biden—a potential Trump foe in 2020—and an energy company that appointed his son Hunter to sit on its board.
Republicans defending the president have complained that much of the Democrats' case for impeachment has relied on second- or thirdhand information far removed from Trump. This phone call, however, involves the president directly and offers more evidence that he sought to use U.S. policy toward Ukraine for his own political interests.
In questioning after Taylor's opening statement, Intelligence Committee Chairman Adam Schiff asked the ambassador whether Sondland was saying that Trump cared more about the investigations of Biden "than he does about Ukraine."
"Yes, sir," Taylor replied.
The hearings that began this morning in the ornate Ways and Means Committee room on Capitol Hill will introduce Americans for the first time to a cast of senior diplomats and White House officials who have come forward to report alleged wrongdoing following an initial complaint by a still-anonymous whistle-blower in the U.S. intelligence community. Democrats are hoping that the credibility of veteran public servants like Taylor, a Vietnam veteran who has served in the State Department for nearly 35 years, and Kent, another senior official, who comes from a family of diplomats, will sway both the viewing public and ultimately the Senate Republicans who could decide whether to remove Trump from office.
The president has labeled nearly all of the Democrats' witnesses, even officials he has named to their posts, as "Never Trumpers." At the outset, however, both Kent and Taylor stressed that they had worked for presidents of both parties and were not pursuing an agenda against Trump.
"I am not here to take one side or the other or to advocate for one particular outcome of these proceedings," Taylor said.
Trump's defenders have denounced the process as a "sham" and tried to disrupt this morning's hearing from its opening minutes with procedural inquiries. Representative Devin Nunes of California, the top Republican on the Intelligence Committee and a staunch ally of the president, accused Democrats of running a casting call for witnesses with their initial round of closed-door depositions in the Capitol basement. He dismissed Taylor and Kent as "witnesses deemed suitable for television by the Democrats."
The jab ignores both men's decades of service and their seemingly genuine belief that the president crossed a bright line in his execution of foreign policy. But there was more than a ring of truth in Nunes's backhanded comment about Taylor's and Kent's readiness for the cameras.
Kent, appearing in a crisp three-piece suit with matching bow tie and pocket square, used his opening statement to deliver a lesson on recent Ukrainian history, drawing repeated parallels between its 2014 revolution and the war for American independence in 1776. Taylor, in a deep voice reminiscent of the late broadcast icon Walter Cronkite, noted that he pushed the Obama administration to step up its efforts to protect Ukraine from Russian aggression. He spoke of how his wife had opposed his decision to rejoin the government under Trump and said that when he took the ambassador's job, he told Secretary of State Mike Pompeo that if the U.S. backed off its strong support for Ukraine, "he would not want me there, and I would not stay."
When Daniel Goldman, the Democratic committee counsel, asked Taylor whether he had ever seen another example of foreign aid conditioned on the personal or political interests of the president of the United States, the ambassador didn't hesitate. "No, Mr. Goldman, I have not," he replied.
The public, if not the committee, heard Taylor's and Kent's accounts for the first time. Neither man was the first to blow the whistle, and both were technically appearing before Congress under subpoena because the administration had opposed their cooperation with the impeachment inquiry. But neither man held back.
In vivid and urgent testimonies, including one fresh new revelation, Taylor and Kent demonstrated that no one was dragging them to Capitol Hill to speak out against Trump. They believed the president had acted in ways that could have serious, in some cases deadly, consequences for a key U.S. ally, and they wanted the public to know. That single fact, along with their clear and compelling presentation this morning, may be the most damaging revelation of all.