The First Impeachment Witness to Go After Republicans
Democrats have accused the GOP of peddling Russian propaganda. This morning, that charge came from a former Trump adviser, Fiona Hill.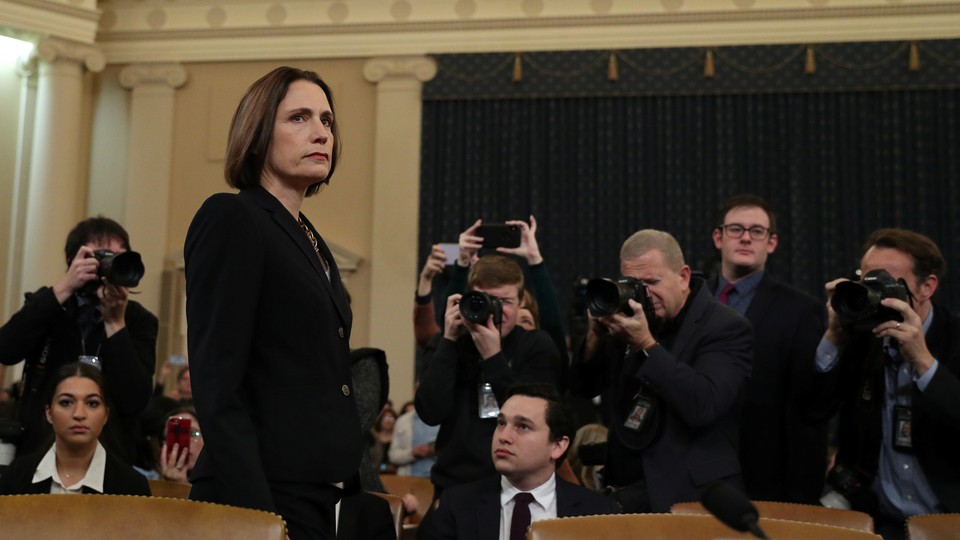 Updated at 3:19 p.m. ET on November 21, 2019.
Through four long days of impeachment hearings, witness after witness sat passively by as Republican lawmakers responded to their detailed testimony by arguing that President Donald Trump had a legitimate reason to be suspicious of Ukraine, because he believed that the country "tried to take me down" in 2016.
That silence from the witness table ended this morning, as Fiona Hill used her opening statement before the House Intelligence Committee to accuse Republicans on the panel of peddling a "false narrative" that amounted to Russian propaganda.
"Based on questions and statements I have heard, some of you on this committee appear to believe that Russia and its security services did not conduct a campaign against our country—and that perhaps, somehow, for some reason, Ukraine did," Hill, the former top expert for Ukraine and Russia on the National Security Council, told the lawmakers. "This is a fictional narrative that has been perpetrated and propagated by the Russian security services themselves."
Hill warned in stark terms that Russia is already preparing its efforts to interfere in the 2020 election, and suggested that it had succeeded in sowing discord in the United States. "Our nation is being torn apart," she said. "Truth is questioned. Our highly professional and expert career Foreign Service is being undermined. U.S. support for Ukraine—which continues to face armed Russian aggression—has been politicized.
The Russian government's goal is to weaken our country, to diminish America's global role, and to neutralize a perceived U.S. threat to Russian interests."
"We are running out of time to stop them," she said of the Russians. And then she addressed lawmakers again: "In the course of this investigation, I would ask that you please not promote politically driven falsehoods that so clearly advance Russian interests."
Hill's testimony amounted to a remarkably direct rebuttal to House Republicans who have stood resolutely in support of Trump during the impeachment inquiry. And it drew a preemptive response from Representative Devin Nunes of California, the top Republican on the committee. He addressed Hill's remarks before she even delivered them, after her opening statement was given to reporters. He noted that Republicans, when they ran the Intelligence Committee, had acknowledged Russian interference in 2016 in a report they issued a year later. But he did not back down from the GOP's claims that Ukraine interfered in the 2016 election on behalf of Democrats—which impeachment witnesses such as Ambassador Kurt Volker have labeled "conspiracy theories."
"Needless to say, it is entirely possible for two separate nations to engage in election meddling at the same time, and Republicans believe we should take meddling seriously by all foreign countries, regardless of which campaign is the target," Nunes said.
Hill did not name Republicans specifically during her opening statement, but she did when the committee's Democratic chairman, Adam Schiff of California, asked her to elaborate. She emphasized "to the Republicans on the committee" that the Russians' interest was to "delegitimize our entire presidency," and that their efforts would have continued even if Hillary Clinton had won the 2016 election.
A veteran Russia expert and the co-author of a biography of Vladimir Putin, Hill served under John Bolton, Trump's former national security adviser. She testified today alongside David Holmes, a staffer in the Ukrainian embassy who recounted in exhaustive detail a phone call he overheard between Trump and Ambassador Gordon Sondland, after which, Holmes said, Sondland said that the president cared only about "big stuff" like "the Biden investigation."
Like previous witnesses, Hill began with her biography, noting her work for presidents from both parties. She said that she is "an American by choice" and grew up in the north of England, near where George Washington's ancestors came from—a detail that explained her British accent. Both her testimony and that of Holmes are likely to prove damaging to the president's case. They've filled in key details pointing to the existence of a quid pro quo, in which Trump demanded that Ukraine launch an investigation into former Vice President Joe Biden before he would agree to meet with its new president and, subsequently, release $400 million in foreign aid to Kyiv.
Republicans on the committee were generally unbowed by Hill's admonition, as they continued to press her and Holmes on the discredited allegation that Ukraine interfered on Clinton's behalf to the same extent that Russia interfered on Trump's. They also asked her to square her version of events surrounding the alleged quid pro quo with Ukraine with the recollections offered by earlier witnesses. That led to a dramatic exchange between Hill and Steve Castor, the Republican committee counsel.
After Castor asked Hill about what she had described as a "blowup" between her and Sondland in June over a lack of coordination on Ukraine policy, Hill took the opportunity to say that, in retrospect, she had been angry at Sondland without proper cause. In the process, she ended up explaining the entire crux of the Ukraine scandal—how over a period of months, a political priority of Trump's ended up converging with and then overtaking the nation's official policy of support for an adversary of Russia. Hill said that while she had confronted Sondland because she had perceived that he was keeping her and others on the NSC out of the loop, she realized only later that the two were on different missions.
"He was absolutely right—that he wasn't coordinating with us, because we weren't doing the same thing that he was doing," Hill testified. "He was being involved in a domestic political errand, and we were being involved in national-security foreign policy. And those two things had just diverged."
She recalled that she told the ambassador, "I think this is all going to blow up." She added: "And here we are."
As the hearing proceeded, Republican lawmakers asked fewer questions of Hill and Holmes and used their allotted time to instead make speeches. At one point, after three GOP members in a row had ranted at Hill without allowing her to respond, she asked for the opportunity to speak. She spoke up in defense of immigrants and elections free of interference from any country, voicing the hope that the 2020 election would offer Americans a clear opportunity to make a "monumental" choice about their future.
By the time she spoke, however, she noted that two of the three Republicans who had criticized her had left the room.
As compelling as her entire account turned out to be, it is Hill's blunt warning to Republicans at the outset that might break through the din of a process that has, like so many previous investigations, become ensnared in partisan bickering. Democrats have been trying for years to call out both Trump and his GOP allies for, wittingly or not, falling prey to Russian propaganda campaigns. None of those attempts, however, has resonated as loudly as the siren sounded this morning—not from the committee dais but from the witness table, and sung not by a Democrat but by a policy expert who worked for the president himself.