How Biden Killed Prison Education
My friend Twist and I are both incarcerated. But I'm getting a college degree, and he, like most prisoners in recent decades, hasn't been able to.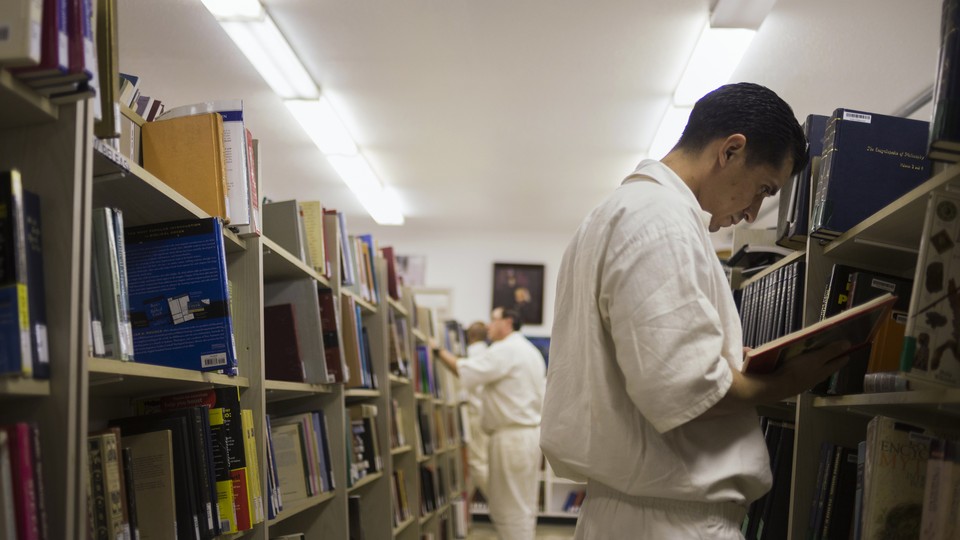 In 2010, I joined a creative-writing workshop taught by a volunteer at New York's Attica prison, where I was incarcerated at the time. A handful of us sat in a half circle in a classroom in an otherwise deserted school building on prison grounds. We were reading one of the Best American Essays collections. I checked to see where the stories had originally been published and eventually decided to send a piece about gun control to one of the listed magazines. In 2013, The Atlantic published "A Convicted Murderer's Case for Gun Control," my professional debut.
Around that time, my writing instructor secured funding for a pilot community-college liberal-arts program in Attica. Just 23 of the 2,300 men in the prison made the cut, including those of us who had been in the workshop. Attica was a crazy place in which to study or find peace of mind. Alarm bells rang. Men cut and stabbed one another. Tear gas dropped. After class, I'd return to my cell in C Block and sometimes watch sanctioned fight nights, in which two prisoners would brawl on the tier while guards looked on and wagered on them.
This is how I first met Gerard Johnson, who calls himself Twist. He was 23 years old, one of the brawlers, and my neighbor. He had a lot of problems back then, not least because he had renounced his affiliation with the Bloods. When my cell door popped for evening class, I'd hear Twist tell his neighbor in the cell across the tier that he wished he could be in college. He was a knucklehead, but he was also a curious kid who yearned to learn. I shared with Twist a book of essays; he was drawn to W. E. B. Du Bois. In the midst of the chaos, Twist and I would talk about what I was learning in sociology class. Leaning on our gates, we would discuss questions such as, Do our circumstances shape our lives? Do we make choices that carve our own paths? Do we even have choices?
Twist told me he never knew his father; he had grown up mostly with his mother and his little brother. He had experienced and observed lots of violence at a young age, both inside and outside the household. When Twist was in his early teens, his mother had a seizure and died.
In June 2006, when Twist was 16, he and some teenage friends were walking in the East Village in the early-morning hours and crossed paths with a man named Kevin Aviance, a drag-queen nightclub singer. After an exchange, Twist and his friends jumped him. It may have been one of Twist's blows that broke the singer's jaw. A report from New York's district attorney said that Twist was using anti-gay slurs; Twist says he didn't even know Aviance was gay, and that it was just an argument that turned into violence. At 17, he was convicted of first-degree assault as a hate crime and sentenced to 17 years in prison. (He says he only pled guilty because he was advised to take a plea deal.)
Twist wrote raps with a nice flow and had an overall creative vibe. He showed me a couple chapters of a book he was working on; I showed him my pieces about gun control. At the time, many of us wanted to get out of Attica and hoped to land a transfer to one of two prisons, Sing Sing and Eastern, that were closer to New York City. Both prisons had—and still have—robust privately funded undergraduate programs. Sing Sing's is funded largely by a nonprofit called Hudson Link for Higher Education in Prison (run mostly by formerly incarcerated people), and Eastern's through the Bard Prison Initiative. The atmosphere of those institutions was less tense because of those opportunities. By 2015, after committing myself to my studies, I earned an associate's degree. I was transferred to Sing Sing the next year and lost track of Twist.
In September 1994, President Bill Clinton signed into law the Violent Crime Control and Law Enforcement Act, penned by Joe Biden, then a Delaware senator. Experts have had plenty of debates about whether the 1994 crime bill was responsible for a subsequent decline in crime rates to record lows, a rise in the prison population to record highs, or neither. (After peaking in the 2000s, the prison population has begun to fall; crime rates continue to decline as well.) What most scholars and policymakers can't do—but I can—is demonstrate how the crime bill has affected life on the inside of the American prison.
In prisons, two policies in particular, both enacted as part of the law, created a culture of ignorance, violence, and hopelessness. First, a ban on incarcerated individuals receiving Pell Grants led to the removal of most of the college programs—which once numbered more than 770—that were operating in nearly 1,300 facilities nationwide. Second, "truth in sentencing" policies offered states up to $10 billion to build new prisons, on the condition that they restructure sentencing laws to keep violent offenders in prison for at least 85 percent of their sentence, without regard for the individual's behavior or rehabilitation efforts.
In the years that followed, prison schoolhouses emptied and prison yards filled. Gang activity and violence within the prisons increased. TV watching proliferated, enervating prisoners and their creative development. In effect, the crime bill achieved one of the traditional goals of incarceration: to incapacitate prisoners.
In 2001, I was a gun-toting thug—a wannabe, really. At the age of 24, I shot and killed a 25-year-old man in Brooklyn. In 2004, after almost three years on Rikers Island, I arrived at Clinton Correctional Facility, near the Canadian border, with a sentence of 28 years to life, for murder and selling drugs. I had a ninth-grade education. By then, higher-education programs, which ran on private funds, operated in only a few New York prisons; I was not fortunate enough to be serving in one of them. So I politicked in the yard, watched a lot of TV, did a lot of drugs, and was sent to solitary confinement. (In 2006, I spent six months in Upstate Correctional Facility, a new, clean, and horrible prison devoted largely to solitary confinement—one of several such facilities built across New York with cash from the crime bill.)
The turn for me came after I was transferred to Attica, New York's most notorious prison, best known as the site of the 1971 uprising that left 43 dead. One of the prisoners' demands had been access to better education programs. In the decades after the uprising, prison programs began spreading widely—up until the passage of the 1994 crime bill. When I first arrived at Attica, in 2007, there were no higher-education programs. A few years later, I got involved with the writing workshop, and then the pilot college program. Because those programs were available to very few of us, Twist didn't even bother to apply. He figured that his disciplinary record would make him an unattractive candidate—and he was probably right.
In 2015, U.S. Department of Education administrators, realizing the harm caused to prisoners by the removal of Pell Grants, created a new program called the Second Chance Pell Experimental Sites Initiative, a three- to five-year pilot program offering some prisoners an education. Now, 67 educational institutions serve 12,000 incarcerated students in state and federal prisons annually. The program has recently been expanded by Education Secretary Betsy DeVos.
Even though the total education debt of Americans—$1.5 trillion—is more than what they owe on their credit cards or auto loans, there's still a lot of support for the Restoring Education and Learning Act (REAL Act), which would lift the 25-year-old ban on prisoners receiving Pell Grants. Even the National District Attorneys Association, representing the prosecutors who put us here, supports the REAL Act. Many top Democrat presidential candidates—including Bernie Sanders, Elizabeth Warren, Cory Booker, and Kamala Harris—have also signed on to sponsor it. Even Joe Biden, the author of the original crime bill, has said in a campaign speech that he would extend Pell Grants to prisoners, though he hasn't commented directly on the REAL Act.
In 2016, New York's governor, Andrew Cuomo, allotted almost $7.5 million from the state's criminal-forfeiture funds for college classes in prison. Private funders matched the amount. While New York's prisons are again starting to thrive when it comes to higher education, most incarcerated people serving time across America aren't as fortunate as I've been.
A 2019 report by the Vera Institute of Justice and the Georgetown Center on Poverty and Inequality said a full repeal of the Pell Grant provision of the 1994 crime bill could make hundreds of thousands of prisoners eligible for higher education. Recidivism rates would likely decline, too, according to the report, saving states a combined $365.8 million per year. With an education, formerly incarcerated people will likely find better-paying jobs, resulting in a $45.3 million increase in combined earnings during the first year after leaving prison.
It's impossible to understand the potential impact of reinstating Pell Grants without seeing how much was lost after they were taken away. Many prisoners will soon be returning to society, as they reach the end of their sentences. Because I have benefited from a few rare opportunities and learned my craft, I know that I will be all right when I get out. I don't know if Twist will.
In Sing Sing, I was able to continue my education. I will graduate in June with a bachelor's degree in behavioral science from Mercy College. I have been incarcerated for nearly 18 years, and it costs New York taxpayers more than $60,000 annually to keep me locked up. Still, my educational opportunities, particularly that first writing workshop, have been instrumental in helping me build a career as a freelance journalist from the inside. In this year's Best American Writing collection, my name is nestled on the cover between Leslie Jamison's and Jill Lepore's. I am now a contributing editor at Esquire, and I recently started a podcast. Last year I paid taxes on the income I earned from writing. It was the first time in my life I paid taxes; drug dealers don't report to the IRS. Paying taxes may seem like a weird thing to be proud of, but I brag about it because it shows that I'm no longer a criminal, even though I'm still in prison.
Last year, Twist transferred to Sing Sing, and we reconnected. He was happy to hear that I had made it as a journalist. I was sad to see that he had not yet entered a college program. Though he was proud of having participated in a Yale University educational program during a stint at the Green Haven Correctional Facility, he had also gotten in more trouble and spent several stints in solitary. I helped him get on a pre-college waiting list. He joined the prison drama program and, to his excitement, landed a part in a play, 1776, being put on at Sing Sing. Still, he will leave prison without a degree. Twist's conditional release is in December 2020. He'll be 30 years old. It frustrates me—and him—that he's so ill-prepared for life on the outside. He has made poor decisions while incarcerated that have shaped his life. He knows that. But the 1994 crime bill created a set of circumstances on the inside that lumped troubled young men together and offered them no opportunities. That has shaped Twist's life, too.
Wanting to understand how Twist's and my diverging experiences with higher education in prison had shaped our future prospects, I asked Twist if I could interview him. He agreed. So on a sticky August evening in Sing Sing, I talked with him. We met in a schoolhouse classroom with caged windows. He has a boxer's frame, and, except for a few scars from razor tag back on Rikers Island, he has a smooth-skinned, handsome face. Outside the window in the prison yard, handballs thwocked and men yelled about nothing. But Twist was talking to me about something serious—his life.
He estimates that he has been in 100 fights since he has been locked up. He also draws, sings, raps, and writes—he's a genius, he told me. "I'm not just some gay-bashing Blood," he said. "There's so much more to me than that." When I asked if he thinks college would have helped him hone his talents, he responded, "It would have added to the understanding of Twist." (Twist refers to himself in the third person on occasion. I'm okay with it.)
While we were talking, a fight broke out in the yard. Men came into the classroom, interrupting our conversation, in order to watch the violence through the windows. Since he was talking about deeply personal matters, Twist was annoyed, and he asked the men to leave. One of them took offense at his tone. They had a standoff that came dangerously close to blows. When the man left the room, I asked Twist if he thought he could have handled the situation better. "Two lions can't live on the same mountain," he replied. "I felt like that guy was challenging me."
With everything I have going on in my life now, I could never see myself engaging in such a senseless battle. But that was precisely the point, right? All the missed opportunities for education have left Twist with little outlet for his passion and pain.
A few days after I met with Twist, I learned that someone had broken his jaw—the same injury he and his friends inflicted years ago on Kevin Aviance. Twist has since been recovering on a special unit. The play he was so excited about was performed in his absence, with someone else in his role. Back in the classroom, weeks ago, I asked him about his plans after his release. "There's a lot I want to do when I get out, but I really don't know what I'm going to do," he told me. "I'm actually afraid."