Deval Patrick Says He's Right on Time
The former Massachusetts governor is a talented politician. Is he too late to prove that to primary voters?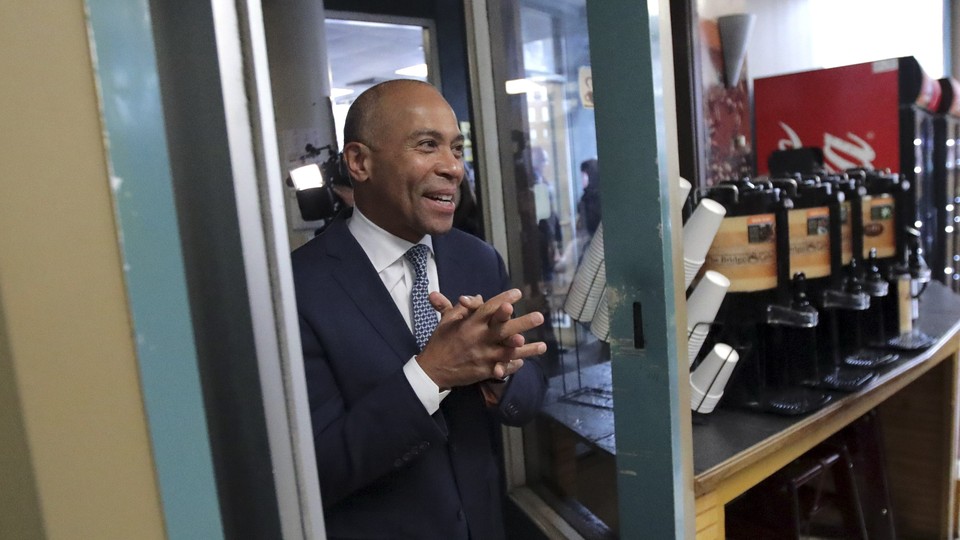 MANCHESTER, N.H.—On a conference call with supporters last night, Deval Patrick couldn't remember the name of his new campaign manager. Which isn't all that surprising, really. They've known each other for only a few days.
A few hours earlier, volunteers for his just-launched presidential campaign stood outside the statehouse in Concord, New Hampshire, waiting for the new blue-and-green Deval Patrick 2020 signs, which had been printed overnight. When the car arrived, the rear bumper still had a black-and-white Beto O'Rourke sticker—and there weren't enough signs for a rally. Actually, there weren't enough volunteers for a rally either.
Such are the challenges of a last-minute, seat-of-the-pants presidential campaign. The last candidate to launch his campaign by filing for the New Hampshire primary was Gary Hart, in 1987.
Aren't you too late to be entering the race?, I asked Patrick yesterday afternoon.
"I'm right on time," he said, and he might have a point. After 11 months of campaigning, no one in the largest, most diverse, most accomplished Democratic-primary field ever is anywhere close to capturing a majority of the party's support. At zero percent in the polls, Patrick, the former two-term governor of Massachusetts, is not far from the 2 or 3 percent currently necessary to be considered part of the second tier of candidates.
His concerns about the limitations of the current field date back to at least July, when he sat in the audience at the Democratic debate in Detroit. Afterward, he talked with friends and aides about what he was seeing in the race: The candidates weren't focusing on what was really wrong with America, he told people. He was dismayed with how much time was being spent talking about health-care plans that had no chance of ever happening. The big reform ideas being discussed—such as getting rid of the Electoral College or expanding the Supreme Court—were far-fetched and still seemed fixated on settling scores from the 2016 election. Yesterday, he said that Joe Biden's "empathy" hadn't broken through, and that Elizabeth Warren was running the "best and most disciplined campaign out there," but "the business of advancing an agenda once elected is a different undertaking."
Quietly, in the past six weeks, Patrick resigned from the board of the Obama Foundation. He met with the campaign experts who were still available, who walked him through the mechanics of organizing delegates and filing for primaries. He started talking with people he trusted about jumping in. "As a citizen, I'd be thrilled," he said people told him when he asked if he should run, but "as your friend, I wish you wouldn't." Sometime in the past two weeks, he told me, he had a long conversation with his wife, Diane, who had previously been opposed to a presidential run. Last year, Patrick said he wasn't running because of Diane's uterine-cancer diagnosis. This time she is on board.
Patrick told me that he knows how far behind he is, but said that he "already has the bones of a good team"—and that he was excited that 1,000 people had, by his first afternoon in the race, signed up on his website to volunteer, providing him with "practical and psychic fuel." Operatives on other campaigns scoff at this, saying he has no idea how much he's lagging on logistics and fundraising and hiring and infrastructure-building.
"I don't have any illusions about how hard it is," Patrick said. "But others shouldn't have any illusions about my resolve."
I accompanied Patrick up to the second floor of the statehouse, to watch him carry out the longest-running ritual in presidential politics: writing a check for the primary filing fee while Bill Gardner, New Hampshire's secretary of state since 1976, gives the 10-minute history of the state's primary that he makes every candidate sit through.
Since 1952, when changes to the state's voting laws made the New Hampshire primary a bellwether of national politics, 14 of the 17 winners have gone on to become president, Gardner told Patrick. The others came in second.
"That's a lot of pressure you're putting on me right now," Patrick said.
The campaign pitch that Patrick started making yesterday, his first day on the trail, isn't rooted in any of the bills that he signed as governor, but rather in how he helped Massachusetts find calm and unity in the aftermath of the 2008 financial crisis and the 2013 Boston Marathon bombing. When I watched the campaign-announcement video he released yesterday morning, I realized that it echoed, almost verbatim, something he told me a year ago: "Every time, the character of the candidate is a question posed. This time it's the character of the country, and I want that question posed. And I'm actually quite confident that if we pose that question in very clear terms, we'll win, and we'll deserve to win. I have that faith in the American people—and I want to have that faith that a Democrat will pose that question."
But the last time Patrick ran for anything was in 2010. He left office almost five years ago. When I asked him what he'd say to people who wonder where he's been while all the other Democrats have been on the hustings the past few years, he pointed out that he devoted much of the past year to helping his wife recover from cancer. But hadn't he mostly sat on the sidelines since finishing his term as governor, while his new rivals were in office or campaigning for others? He pointed out that he did a little campaigning in races that Democrats largely won in upsets, but that it was true his focus had been on starting a social-impact fund at Bain Capital (which he resigned from before heading to New Hampshire). "You're right," he acknowledged. "I had another job."
Voters who are looking to hear directly from and make physical contact with candidates before casting their ballot don't have much time to do so with Patrick—only about 2,000 hours remain before the New Hampshire primary, on February 11. And Patrick doesn't tend to be efficient in his time with voters; he likes to connect with each one individually. Yesterday, a young man in the Bridge Café, on Concord's main drag, asked him about the first thing he would do on the job; Patrick answered by explaining why he couldn't pick just one, and then went on at length about the many things he'd do. "The public seems to have more appetite to deal with root causes than it has in a long time."
The exchange ended with the man asking Patrick to pose for a selfie.
"Was that your first selfie of the campaign trail?" a reporter asked him as he headed out of the restaurant to talk with reporters. "No," he said, "I took a few on the way into the statehouse." He paused, seeming to take in the weirdness of everything. "That's a thing now, right?"
Warren, whose selfie lines are famously long, has been taking these photos for months. By my count, Patrick has taken four selfies since he launched his campaign. I checked in with the Warren campaign to see how many she's taken so far. She's at well over 80,000.