The Candidate Dividing Iowa Progressives
Warren supporters tend to like Pete Buttigieg just fine. Bernie supporters? Not so much.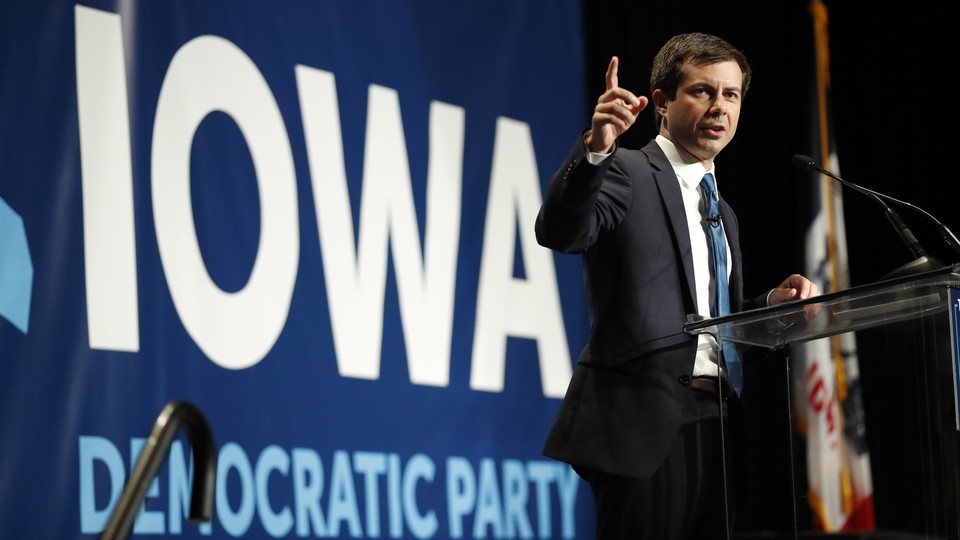 Politically speaking, Marie Herring, a 49-year-old supporter of Elizabeth Warren, and John Thomas Grindle, a 36-year-old Bernie Sanders fan, have a lot in common.
Both Iowans want Medicare for All, student-debt cancellation, and a government that taxes the heck out of billionaires. Neither harbors ill will toward the other lefty firebrand in the race. But the two voters feel very differently about one 2020 Democrat: South Bend, Indiana, Mayor Pete Buttigieg.
"Definitely, I like him," Herring told me. "He's a rising star."
To Grindle, though, Buttigieg is just "another corporate puppet."
For the past several months, the trio of Warren, Sanders, and former Vice President Joe Biden has been leading the polls in the state with the first-in-the-nation caucuses. But over the past few weeks, 37-year-old Buttigieg has been gaining ground: The most recent surveys of Iowa voters have shown the Indiana Democrat at or near the top of the pack of primary candidates.
His ascent is driving a wedge between Iowa progressives. Warren supporters I talked with in the state told me that, while they may not find Buttigieg sufficiently progressive on certain issues, they're dazzled by his intellect and attracted to his folksy charm. Most Sanders backers, though, tended to feel the opposite: Buttigieg, they told me—with his elite education, his moderate policy positions, and his appeals to Donald Trump–wary Republicans—represents everything that's wrong with the current Democratic Party.
Nationally, roughly 14 percent of Warren supporters have said that Buttigieg is their second-favorite primary candidate, according to the most recent data from Morning Consult. But only about 3 percent of Sanders backers said the same. In Iowa, the contrast is even more stark. Some 20 percent of Warren supporters in the state said their next choice would be Buttigieg, according to a new poll from Civiqs and Iowa State University, compared with 3 percent of Sanders backers.
This disconnect may have meaningful implications for the race going forward: If Buttigieg continues to surge in Iowa, at least some of Warren's supporters could be poised to give the Indiana Democrat another look. But more broadly, the distinction reveals very real differences between Warren and Sanders as candidates and the voters backing them.
Over the past month or so, Warren and Buttigieg have developed a kind of campaign rivalry. Buttigieg has repeatedly criticized the senator from Massachusetts for dodging questions on Medicare for All, while Warren has accused him of not dreaming big enough. It's surprising, then, that so many of Warren's supporters say they like Buttigieg. Sure, some worry that he's a bit green, having served in elected office only as the mayor of Indiana's fourth-largest city. But they're taken by his personality and his résumé, and they're tempted to consider his more incremental approach on issues such as health care. When I asked them about Buttigieg, Warren supporters used words like "refreshing" and "charming" and "bright."
Herring noted that Buttigieg isn't among her favorite 2020 candidates. Still, she said, "I'm very impressed with his story." The son of two Notre Dame professors, Buttigieg grew up in the industrial Midwest, went to Harvard (where Warren was a longtime professor), and became a Rhodes Scholar. Later, he joined McKinsey as a consultant and served as an intelligence officer in the Navy Reserves. "I'd like to believe that he's the future … as far as getting young people engaged," Herring said.
Some Warren voters I spoke with, including Herring, criticized Buttigieg for not supporting Medicare for All and instead proposing a narrower universal health-care plan, which he has branded "Medicare for All Who Want It." But for others, this adds to the small-town mayor's appeal. Logan Benson, a 23-year-old student at the University of Northern Iowa, said he is eyeing Buttigieg because the mayor's views on health care seem less radical and more reasonable than Warren's or Sanders's. "He does a good job of bringing in progressive supporters [while] leaving choice in the equation," Benson said, citing Buttigieg's support for a public option. "I think that's going to help him out a lot here [in Iowa]. That's why he's going to do well."
Shari Flatt, a 71-year-old retired schoolteacher living in Dubuque, told me that she's interested in Warren, but still has doubts on whether the senator's ambitious slate of policy proposals is actually feasible. "That keeps me looking at the moderates, like Pete," Flatt said. Plus, she added, in a race against Trump, Buttigieg "can hold his own, there's no doubt about that."
The Sanders supporters I spoke with were hardly impressed with Buttigieg's reputation, telling me they don't believe he is a viable option for voters looking for a "political revolution," as the senator from Vermont has promised to wage as president. "The heart of the Sanders campaign is that, because the problems are big in America, the solutions have to be big," said Tom Carsner, the 61-year-old co-chair of the Johnson County, Iowa, chapter of Our Revolution, an organization spun out of Sanders's 2016 presidential campaign. "I don't see that from Pete."
Asked to describe Buttigieg, Sanders backers used words like "disingenuous" and "elite" and "Republican." They seem to dislike him more than they do other candidates—even the most prominent moderate in the race, Biden. It's not simply that Buttigieg hasn't advocated for ambitious policies like Medicare for All; it's that they see him as a shape-shifting opportunist who used to sound more progressive when he first jumped into the race. Buttigieg's stump speeches once featured relatively radical proposals for overhauling the Supreme Court and abolishing the Electoral College. But as he has begun to more directly position himself as an alternative to Biden, he's talked less about those proposals and has taken more direct jabs at the progressivism of Warren and Sanders.
"Nobody was surprised by Biden being a conservative, neoliberal jackass," says Caroline Schoonover, a Sanders supporter and the co-chair of the Central Iowa Democratic Socialists of America. For someone who appears to share broadly the same ideology as Biden "but brands themselves as 'new' like Pete, it's kind of more gross."
Grindle, who works at a grocery chain in North Liberty and runs a Facebook page called Caucus for Bernie 2020, referred to Buttigieg as "socially liberal but basically a conservative." He and the other Sanders supporters I interviewed pointed to Buttigieg's numerous donations from Silicon Valley executives and his participation in high-dollar fundraisers, the kind that Sanders and Warren have sworn off. (Buttigieg went to Harvard with the Facebook CEO Mark Zuckerberg, who reportedly has recommended campaign hires to him.) "That's not a grassroots movement," Grindle said. "That's not a people-powered surge."
That so many Democratic voters have been impressed by Buttigieg and his imposing résumé—Harvard, Oxford, McKinsey—demonstrates that the party's priorities are all screwed up, some Sanders supporters told me. It "reinforces what I perceive as America's obsession with a Kennedy president," said Ash Bruxvoort, a Sanders supporter who runs an LGBTQ-friendly bed and breakfast in Mount Vernon, Iowa. Bruxvoort would much rather see Democrats elect a president who has "consistently talked about issues affecting working people and really comes to the table with experience, like, actually doing organizing work."
As the mayor has risen in the polls, he's also become a chief punching bag for some left-wing pundits, who have accused him of being a self-interested creature of the establishment and "the most lifelike android that Democratic consultants have ever manufactured."
Not every Sanders supporter finds Buttigieg intolerable, of course, just as not every Warren supporter likes him. But the different ways in which Iowa progressives are thinking about Mayor Pete could ultimately affect not only the Iowa results, but the Democratic primary down the line. With the caucuses on the horizon, Buttigieg has gone from a dark horse in the state to something of a front-runner with a real chance to come in first. His support is growing, while Warren's appears to have plateaued, and if Buttigieg continues to rise, he might siphon off some of her supporters. Looking even further ahead, if Buttigieg goes on to win the Democratic nomination, Sanders voters may be least likely to fall in line behind him.
In part, Warren supporters' interest in Buttigieg could be linked to who they are. Even though Warren has a similar policy platform to Sanders, her supporters are demographically more similar to Buttigieg's: Both constituencies are disproportionately white and college-educated, while Sanders has more support among both nonwhite Americans and voters with less education.
And Warren, who has said she's "capitalist to my bones," has more closely toed the establishment line, while Sanders, a self-described democratic socialist, has embraced his role as an independent insurgent. It's possible that Warren's base is more apt to support Buttigieg because it holds the establishment in higher regard. Sanders's supporters, meanwhile, are clamoring for an iconoclast, someone who promises to show no mercy to what they see as a broken system and its billionaire beneficiaries.
The dichotomy gets at a larger, more existential question currently facing the broader Democratic Party: Is it the party of Rhodes Scholars and Harvard professors, or of bartenders and blue-collar workers? Can it be both?