Nobody Talks About Impeachment on the Campaign Trail
It's strange. But it's not an accident.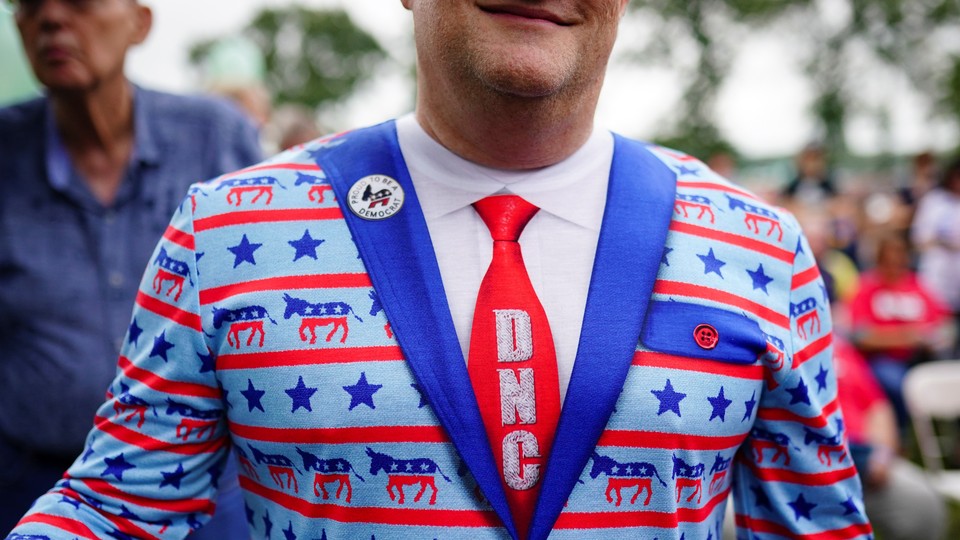 DES MOINES, Iowa—When I asked Cory Booker about the current crisis in America, he started talking about child poverty. We were standing in the parking lot outside a day-care center for low-income families here on Friday afternoon, and the senator from New Jersey had just finished a roundtable discussion that touched on ways to help young domestic-abuse survivors, parents staying at home with their children, and communities stricken by gun violence.
But what about the constitutional crisis that America seems to be wobbling toward over impeachment, I said, or the fact that it's become normal among Washington, D.C., insiders to imagine Donald Trump refusing to leave the White House if he's convicted by the Senate or loses next year's election?
"Oh, that crisis?" Booker said.
The impeachment fight is all-consuming. It's the biggest story in politics. No one is talking about anything else—except pretty much everywhere outside of Washington.
That includes here in Iowa, the first state that will cast votes for the next Democratic nominee, and where the candidates descended on Friday night for the latest (and biggest) event of the primary season so far. Officially this was a "dinner," but it was really four hours of 13 candidates speaking in an arena long after the plates of disconcertingly beige chicken and mashed potatoes had been cleared away, and as even the cash bars ran low on beer. A smoke machine puffed out four jets around the stage each time a candidate walked on. There were big signs and flashing lights and even one campaign handing out foam boots because—get it?—that's what Democrats want to do to Trump, give him the boot.
Yet of the 13 candidates there, just one mentioned impeachment: Tom Steyer, the billionaire activist whose political group and TV ads over the past two years have helped mainstream the idea of removing the president. Steyer argues that his long record of being outspoken in favor of impeachment is a key part of why people should support his candidacy, yet his mention of impeachment Friday night got a warm but not overwhelming response. For the rest, despite all their Trump bashing that the crowd ate up—starting with Iowa Democratic Party Chair Troy Price's introduction with "Let's beat Donald Trump and send his ass back to Russia!"—impeachment was absent.
Was that the right call? I asked Janet Petersen, the leader of the Democrats in the state Senate, at the end of the night. "Probably," she said. Iowans care about impeachment, and are paying attention to the national-security and economic-security issues at stake, "but that doesn't prevent them from paying attention to things that matter, like paying for preschool."
It's not that the candidates are going easy on the president. They appear to hate Trump and everything he stands for. The most cynical view is that candidates are making a brute-force political calculation, allowing others to speak up so that they can avoid risk. But Pete Buttigieg claims at least part of what's going on is that candidates, like everyone else, can't quite wrap their head around everything happening. "On some level, you could say that the stakes right now, the level of crisis we're facing, is so great that it's almost impossible to speak to it through a traditional political process like a campaign," Buttigieg told me in South Carolina last weekend. "In many ways, we may yet be underreacting."
Of course, part of being a politician is giving people what they want to hear. The candidates aren't just guessing that they shouldn't be talking about impeachment—they have teams of advisers and internal polls and focus groups and months of personal interactions that are telling them the topic gets them nowhere, for the same reasons they didn't talk much on the trail about Special Counsel Robert Mueller's report before or after a redacted version of it was released in the spring.
Even Andrew Yang—the candidate who finishes his rallies chanting, "Not left, not right—forward!"—on Friday afternoon threw in this line as he spoke to the crowd in Iowa: "If this is a game of rock-paper-scissors, Donald Trump is the scissors and I am the fucking rock!" But a few minutes later, marching across a bridge in front of hundreds of supporters chanting his name and his slogans, Yang told me that voters don't want to hear about impeachment, and that he doesn't think there's much point in talking about it anyway. "We have to face facts, where not a single Republican crossed the aisle to support the impeachment vote," he said. "That would certainly suggest that impeachment's going to run aground in the Senate and this is going to wind up Donald Trump claiming innocence and vindication."
As the candidates arrived at the arena with their supporters, Beto O'Rourke headed to a park across the street in the cold, wet dusk to officially end a campaign that for him had become a long, frustrated scream about the country's political crisis. As I waited for him, my phone rang with a call back from Gina Raimondo, Rhode Island's governor and the chair of the Democratic Governors Association. She was headed to a big dinner herself in Providence, for the NAACP, where she was expecting to continue her week-long streak of not hearing a single person in her state bring up impeachment. That's what makes her so worried about how the conversations on cable television and Twitter are impeachment-obsessed—instead of focused on the issues that Democrats usually win on. It's not like voters are hiding what they most care about: health care, climate change, and the perpetual feeling that they're working harder and harder but never making enough to get by. "Doctors say, 'Listen to the patient long enough and they'll tell you what's wrong with them,'" Raimondo told me. "We need to listen."
Somehow, Raimondo said, Democrats are expected to say that Trump has committed impeachable offenses and that they're on board with how House Speaker Nancy Pelosi is moving through the process, and also to not say anything about impeachment at all. The hyper-engaged and serious-minded may find this hard to accept, but even with every day's news out of the White House seeming like a point-by-point rebuttal to The Federalist Papers, most Americans still see the chaos of the moment as another case of politicians in Washington fighting with one another—like when the Tasmanian Devil used to spin off in whirlwinds of fury while the rest of the Looney Tunes characters looked on.
"Lots of people are struggling in America," Raimondo said. "Don't tell them Trump's bad—they know that. What are you going to do about it? If you're going to tell people what's good for them and what they should be concerned about, and not what they are concerned about, I don't think you're going to do very well."
Meanwhile, the race continues, with a giant blow-up dog that Elizabeth Warren positioned down the street on Friday morning, and with the Prince cover band that Amy Klobuchar hired to play at her after-party. The show must go on. "It has to," Booker told me. "We've had campaigns and elections during war time. We've had campaigns during civil-rights crises. It's going to continue—as it should."