A Bloomberg Presidential Run Comes Down to One Question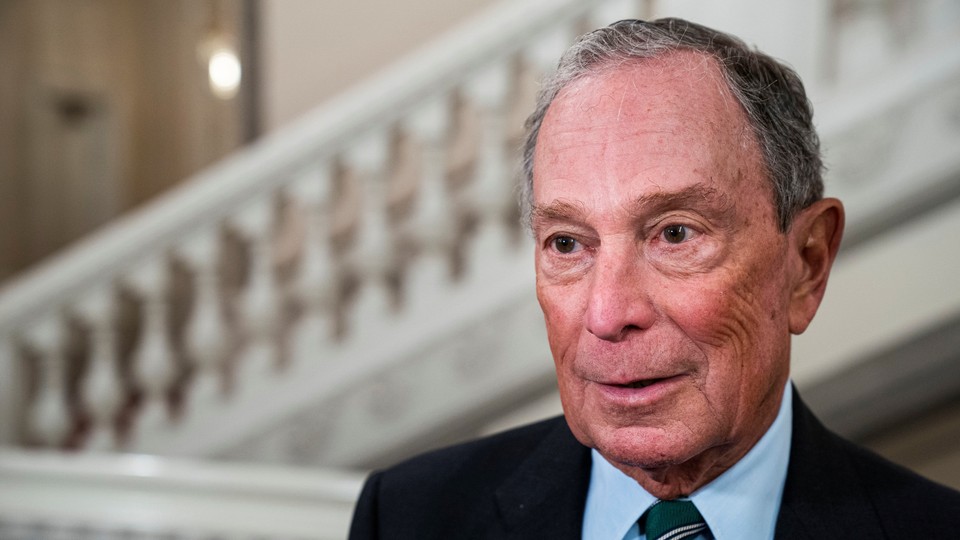 Most presidential candidates launch their campaigns with a rally, or a trip to Iowa or New Hampshire. On Thursday evening, a few hours after aides called The New York Times to say he was really, actually—no, seriously going to do this, Mike Bloomberg tucked in for a small dinner at a French bistro on the Upper East Side of Manhattan where a plate of french fries goes for $10. The next day, he sent a private plane with a few aides aboard to file his paperwork in Alabama.
Now, as we enter year 15 of Is he actually going to do this? speculation, a Bloomberg presidential run comes down to one question: How much do votes cost?
This might seem like a question the nascent Bloomberg campaign might want to bat down. Billionaires such as Bloomberg aren't exactly popular on the left these days. No matter. His campaign is leaning into Bloomberg's wealth with pride. "Mike has a history of spending what it takes to win," Howard Wolfson, a top adviser to Bloomberg since his 2009 reelection race, told me on Friday night. "And unlike the president," he added, "Mike's really a billionaire." (Donald Trump has a long history of inflating his wealth.)
Operatives on other campaigns push back on the prospect of an old, rich white guy opening his bank account in a race that has been defined so far by a party seeking something new and hoping to recapture the Obama magic. Senators Elizabeth Warren and Bernie Sanders quickly fundraised off Bloomberg's trial balloon, with Sanders's campaign manager, Faiz Shakir, writing this in an email to supporters: "Just what America needs … another billionaire using his wealth to try to buy an election."
Why, yes, comes the response from Bloomberg's team: He and his money are just what America needs, if the mission is to make sure President Trump doesn't get a second term. Bloomberg's aides see the massive spending he'd do in a primary as an argument in his favor. "It doesn't hurt us—it helps us," Wolfson said. More than anything, Democrats want to beat Trump, he said, and the money proves Bloomberg's case that he's the one to do it: "Having the resources to do the job is important."
Ads will go up soon, on TV and online. Plans to hire staff on the ground across the country are moving forward. Wolfson put out a statement earlier Friday announcing that Bloomberg would skip Iowa, New Hampshire, Nevada, and South Carolina, blowing past the four early states and into the mass of primaries on Super Tuesday on March 3, when the field will almost certainly be much smaller and more of the race will depend on who has the cash to advertise in markets across the country while running simultaneous operations in more than a dozen states. But aides aren't planning to wait—operations are expected to be up and running within weeks. Bloomberg is notoriously underwhelming on the stump, and if this run happens, it will be less focused on glad-handing and speeches than perhaps any since William McKinley campaigned from his porch.
Last fall, when Bloomberg was first looking at running in 2020, I was talking with a person who worked for years alongside him, and I was trying to get a sense of just how much Bloomberg was willing to spend. $1 billion? Maybe. $2 billion? Could be. $3 billion? There's no reason to take the one clear competitive advantage off the table, the person said to me, reflecting Bloomberg's mind-set. (Others involved with the primary race already think he could safely win the nomination with $500 million, and that's separate from the data operation he's pledged to spend hundreds of millions on, or the amount he'd then spend in the race against Trump.)
The way it would work in his mayoral campaigns, Bloomberg's aides told me at the time, was that they just had to present a plan for how the spending would win him votes, and as long as it looked solid, he'd sign off, whatever the price tag. Wolfson told me that for the 2020 campaign, there hasn't been discussion of a spending limit, but he expects the same general system to apply.
In 2001, Bloomberg spent $74 million, or $99 a vote, according to a New York Times analysis. In 2005, that became $85 million, or $112 a vote. In 2009, after he overturned term limits so he could run for a third term as New York City's mayor, he spent the most: $102 million, or $174 a vote, in what proved to be a race he almost lost. Any of these numbers are more than any presidential campaign has raised in total in the past year, but are also somewhere between a rounding error and a few days of interest for a fortune the size of Bloomberg's. (Various estimates peg his current net worth north of $50 billion, which is well more than twice what the estimates were when he first ran for mayor.) The same would go for dropping that level of dough into this race: He could put $7 million into each of the Super Tuesday primary states for as much as he spent per vote in that 2009 race.
Somewhere along the way, he might have to explain why he's running, besides wanting to beat Trump, though that does seem to be what this really comes down to. (Also, he simply wants to be the president, and has for decades.) A run means he'd have to address the people who have problems with his record, from stop-and-frisk to the lawsuits against Bloomberg LP to his nanny-state bans on unhealthy foods to cheerleading New York City's transformation into a sanitized playground for the wealthy—though he and others would happily defend those. There's also his reputation of demeaning women, and the sometimes controversial way he's talked about #MeToo.
Bloomberg has more government-executive experience from his time as mayor than anyone else in the Democratic field, both in terms of years and complexity: Steve Bullock, the only governor left in the field, runs a state with about two-thirds as many people as the Bronx, and the other current and former mayors in the field (Sanders, Cory Booker, Julián Castro, and Pete Buttigieg) come from cities that, combined, could easily fit inside Queens. The difficulty of running a city involves more than just population size, of course. There's a reason being mayor of New York City is often called the second-hardest job in America—a job that by numerous measures Bloomberg did exceedingly well, steering the government in the aftermath of the September 11 attacks through the financial crisis and beyond. Bloomberg has a combination of liberal social views and centrist economic views that mesh well with a certain strain of educated pragmatist who isn't willing to go as far left as the Democratic Party seems to be headed.
Is there an appetite for that kind of pragmatism beyond Acela Quiet Cars and cable talk-show sets? Bloomberg clearly thinks so. But it's worth remembering he only ever ran as a Republican in New York City because he thought he couldn't win in a Democratic primary—and he's running as a Democrat now only because he couldn't and wouldn't want to run in a Republican presidential primary, and because his team couldn't find a believable model for his 2016 dream of an independent run intended to force an Electoral College stalemate and kick the election to the House of Representatives.
To Warren, Bloomberg is a perfect foil, a wonderfully timed gift to take the heat off her after three weeks of being hammered for flimsy answers on Medicare for All. "It's not enough just to have somebody come in, anybody, and say they're going to buy this election," she told reporters on Friday during a campaign stop in North Carolina. "That's not what a democracy is about. We need to be a country that doesn't just work for those at the top, a country that works for everyone."
But Bloomberg's calculation is a simple math problem. Intense advertising, backed by an innovative digital operation and as many people as he can hire, could put him in the White House, Bloomberg would hope, defeating the reality-TV president during the commercial breaks. Which is why the most authentic candidate response may have come from Andrew Yang, who joked on CNN in response to the news of Bloomberg's possible candidacy: "It's probably going to change the price of advertising in some of the early states."