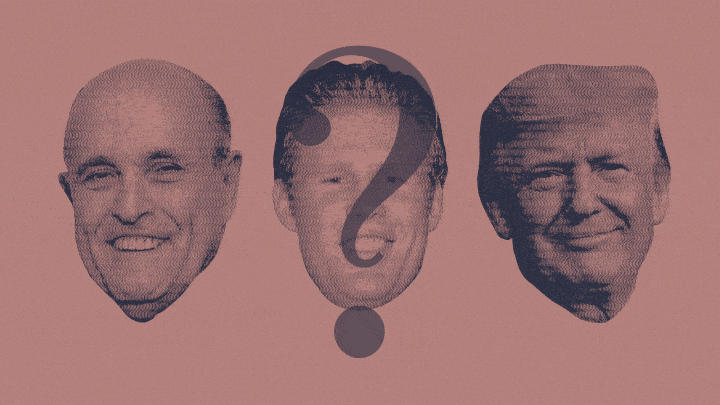 It's hard to turn on cable news or scroll through Twitter these days without catching the name "Giuliani." Rudy Giuliani, President Donald Trump's personal attorney, is a central character in the House's impeachment inquiry. Meanwhile, Rudy's third wife, Judith Giuliani, has commanded her own headlines as she's aired details of the couple's contentious, ongoing divorce proceedings. Scarcely mentioned, however, is Andrew Giuliani—the former New York mayor's 31-year-old son—who works in the White House.
Rudy Giuliani told me his son's hire "wasn't the usual 'hire my kid' situation." "He's known the president since he was a baby," Rudy said. "Now, did he know him in the first place because he was the mayor's son? Sure, but they also had a relationship independent of me."
The younger Giuliani has served in the Office of Public Liaison, beginning as an associate director, since March 2017, making him one of the longest-serving members of the Trump administration. According to White House personnel records from 2018, he earns a salary of $90,700. The public-liaison office deals with outreach to outside coalitions, and several of the current and former administration officials I spoke to for this story said Giuliani helps arrange sports teams' visits to the White House. (Sergio Gor, who is deputy chief of staff for Senator Rand Paul and close to Giuliani, called him a "liaison to the sports community.") But sports-team visits are more special-occasion than scheduling staple in the business of government, especially in this White House, where many title-winning teams decline invitations to visit or are simply not invited at all. (Trump has, however, given a large number of awards, such as the Medal of Freedom, to sports figures.) Steve Munisteri, who was principal director of the public-liaison office and Giuliani's supervisor from February 2017 to February 2019, told me that Giuliani fills out his time by serving as the office's representative at White House meetings about the opioid crisis.
Others who have worked with Giuliani offered a different take on his White House tenure. "He doesn't really try to be involved in anything," one former senior White House official told me, speaking on the condition of anonymity in order to be candid. "He's just having a nice time."
Yet for the differing opinions on the nature of Giuliani's role, the officials I spoke to were certain that Giuliani had nabbed a White House post in the first place because of his father. A second former senior White House official plainly called it "a nepotism job." But Munisteri said that anyone who frames it this way "has an ax to grind." He added that Giuliani, a former professional golfer, was qualified on his own for this particular role, because "it's the type of position where you need someone with an outgoing personality." (Andrew Giuliani didn't return a request for comment.)
Calling Giuliani's hire a pure nepotism play may be too strong a declaration, but one need look no further than Jared Kushner, the president's son-in-law and self-appointed Middle East expert, to see how, in even the most senior ranks of this administration, the chasm between experience and responsibility can matter little with the right surname. And one can also look to Giuliani, perhaps, to see the benefits of that dynamic: a well-paying job with unparalleled access to the leader of the free world. But his father's centrality to the Ukraine scandal could put it all in jeopardy.
Read: Rudy Giuliani: 'You should be happy for your country that I uncovered this'
Before joining the White House, apart from his golf career, Giuliani volunteered on Trump's 2016 campaign and worked as a sales intern at a boutique investment bank. What Giuliani may have lacked in government experience, however, he made up for in having Trump's trust. According to two former White House officials who were close with Giuliani during their tenures, Trump has long been a father figure to his personal lawyer's son. Giuliani, those officials said, credits Trump with helping him navigate the period after his father's divorce from his mother, Donna, when he was a teenager, and particularly with helping him repair his relationship with Rudy. "He loves POTUS, big time" for that, one of the officials said, and Rudy told me his own affection for the president stems in large part from helping bring him and his son back together.
From the beginning of Trump's presidency, Andrew Giuliani, whom most officials I spoke with described as gregarious and kind, has been loyal to the president. It's a quality that was especially rare in those early days of the Trump administration, when leaks flowed from the West Wing as if on tap. Having Trump's trust meant that Giuliani, despite his low-level role, was given a West Wing pass, free to move in and out as he pleased. (Munisteri admitted it was "rare" that associate directors were given so-called blue badges.) And as the person with one of the better golf handicaps in Trump's inner circle, Giuliani sometimes traveled with the president for the sole purpose of joining him for a round or two. Ultimately, Giuliani's face time with Trump in that first year rivaled that of far more senior officials.
All of which made then–Chief of Staff John Kelly "grumpy," as a fourth former White House official described it. When Kelly took over for Reince Priebus as Trump's chief of staff in July 2017, the source said, "he couldn't wrap his head around" Andrew Giuliani and the president's relationship, in large part because of Giuliani's father. Kelly took issue with Rudy's frequent television appearances, many of the officials told me, griping that the president's lawyer would go on shows to talk about one problem, but leave the set having created several more. Andrew, in Kelly's eyes, appeared little more than an unhelpful extension of his father. "Kelly hated him because he didn't like that there was this random guy … who played golf with Trump and whose dad was a problem," the second former official explained.
Kelly revoked Andrew's West Wing access, disrupting the staffer's otherwise freewheeling setup. Giuliani "flipped out" about the downgrade, the third former official said. Four of the former officials said Giuliani's father immediately spoke about it with Trump, who then ordered Kelly to restore Giuliani's pass and promote him to special assistant to the president. "Kelly just wouldn't," the third former official said. "Trump would think it was done. Then it wasn't … It was classic Kelly. Just ignore and assume Trump will forget." Kelly, the source added, "said the staff reported to him, not Trump, so it was for him to decide."
As is well known, Kelly was intent on closing off the circle of those in direct contact with Trump, demanding that even Kushner and Trump's daughter Ivanka alert him to their every interaction with the president in their capacity as advisers. Kelly, as I've reported, resented the couple's meddling in high-profile issues, like immigration, in which they had no experience. But Giuliani posed a different sort of problem for the chief of staff, in that he wasn't meddling, or improperly inserting himself in major decisions, or going rogue on his own projects—in Kelly's view, he just seemed, well, there. To Munisteri, however, any White House official's problem with Giuliani's access is simply a product of envy. "It's a jealousy thing," he said. "He's known the president since he was a kid. That's just gonna bother some people."
With Kelly long gone, the professional life of Andrew Giuliani has been, in some ways, on the mend: Three of the former officials, as well as another person close to Andrew, told me that even in this radioactive moment for Rudy, Kelly's successor, Mick Mulvaney, has restored his son's West Wing access (it's unclear whether he did so at Trump's behest), has promoted him to special assistant to the president, and takes no issues with his golf outings with Trump. And yet one of the officials said that Giuliani, talkative like his dad, has seemed much quieter of late. It's a change that anyone who spends time around Giuliani is bound to notice. (In 2009, when Giuliani was a contestant on the Golf Channel's Big Break: Disney Golf, his fellow contestants often griped on camera about his chattiness. "Talking. That's all he does," said one. "I mean, he would talk to this door.") "I think for the most part he's trying to keep his head down and not make any waves," the second former official said. "His dad is making that difficult right now."
The challenge now for Giuliani, as more and more administration officials come to think of Rudy as the source of their current woes, is whether keeping his head down will be enough to safeguard his position. "You've got to wonder what happens if Trump decides he needs to distance himself from Rudy," said the first official. "What happens to Andrew after that?"
Giuliani's is a setup that one would think he has no interest in complicating—not when he's finally gotten his blue badge back and he is, as the first official put it, having such a nice time. His father, for his part, doesn't seem to be worried. "I can't imagine anything happening," he told me. "That would be ridiculous."
We want to hear what you think about this article. Submit a letter to the editor or write to letters@theatlantic.com.
Elaina Plott
is a former staff writer at
The Atlantic,
where she covered the White House.