Amy Klobuchar Has a Pete Buttigieg Problem
She wants to be the moderate alternative to Joe Biden, but a certain 37-year-old mayor is standing in the way.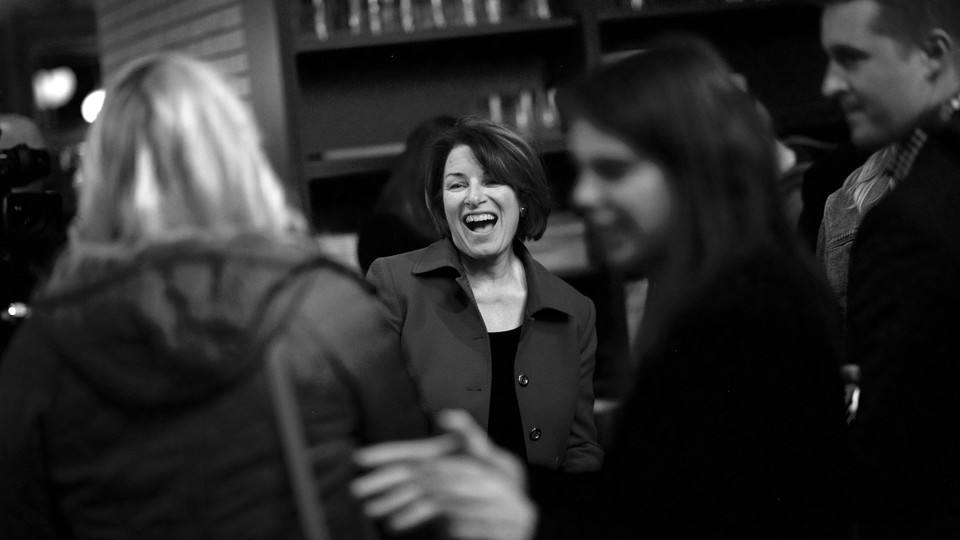 PHILADELPHIA—This could be Amy Klobuchar's moment.
The La Colombe coffee shop in the trendy Fishtown neighborhood was brimming with Democrats on Monday night, all waiting to hear from the senator from Minnesota turned presidential candidate. Young and old—and almost entirely white—they milled around wearing bright-green Amy for America buttons and dunking soft-pretzel bites in honey mustard. Most of them told me they're looking for a moderate candidate: someone thoughtful, someone with substance, someone who doesn't lean too far one way or the other. They haven't totally decided whom they'll support in the presidential primary. But they're Klobuchar-curious.
Klobuchar has been experiencing a boomlet of late: In less than a week after the last Democratic debate, during which she criticized Senator Elizabeth Warren of Massachusetts for refusing to explain exactly how she would pay for Medicare for All, Klobuchar raised $2 million, and she's gotten more endorsements from lawmakers in Iowa than any other presidential candidate. Recently, Klobuchar has more forcefully positioned herself as somewhere between the front-runners in the race—a moderate alternative to Warren and Senator Bernie Sanders of Vermont who can attract the voters wary of former Vice President Joe Biden.
This could be Klobuchar's moment. But it appears, at least right now, to be someone else's.
Pete Buttigieg, the 37-year-old mayor of South Bend, Indiana, has also been casting himself as the pragmatic alternative to the more progressive front-runners. And it seems to be working for him: The most recent poll from ABC/The Washington Post showed Klobuchar with 2 percent support nationwide, compared with roughly 9 percent for Buttigieg. While the voters I spoke with at Monday's event were happy to hear from Klobuchar and extol her experience as a purple-state senator, almost no one was fully committed to supporting her in the primary. But everyone—everyone—was singing Buttigieg's praises.
"She's practical, no-nonsense. She is what Washington needs," Laura Spechc, a 54-year-old database manager from the neighborhood, told me. But Spechc likes Buttigieg too, she said, and given his youth and skills as an orator, "I think he's more winnable."
Although many voters told me they think Buttigieg is more electable, Klobuchar has proved, time and again, that she can win. The Democrat is serving her third term in the Senate and has consistently outperformed other Democrats all across Minnesota, a state Donald Trump nearly won in 2016. It's the premise of her entire campaign: Americans need someone who can appeal to voters in states like Michigan, Wisconsin, and Pennsylvania that swung toward Trump in 2016, and she's one of the few Democrats with a proven ability to win red areas. In 2018, when Klobuchar was up for reelection to the Senate, she did 14 points better in the state than Hillary Clinton in 2016.
A new poll released this week from The New York Times and Siena College underscores how vulnerable Democrats still are in the upper Midwest and in other key battleground states. In Michigan, the poll has Trump leading Warren, running even with Biden, and narrowly trailing Sanders. "I think that the voters are looking for someone who can win," Klobuchar told me in an interview after Monday's event, when I asked her about the poll. "We still have people that need to get to know me. My experience has been the more they get to know me, the better I do, the more votes I bring in."
A majority of voters from swing states who were polled in the Times survey said they would prefer a more moderate Democratic nominee to a more liberal one. The voters I met last night felt similarly.
"Even though I love Elizabeth Warren, I love Bernie … the question is electability in the rest of the country," said Jan Ostroff, a 66-year-old retiree living in Philadelphia. "She has a lot of bills that have gone through, so she's worked the aisles." Ostroff said Klobuchar gives her hope that government might start actually accomplishing things.
"I like someone [who's] not afraid to say, 'That's not practical, wiping out old student loans,'" said Spechc, referencing Sanders's and Warren's proposals to eliminate most or all student debt. "It's not about policy. It's about the fact that [Klobuchar's] not creating a false hope, because that only serves to disappoint."
This concern over the more liberal candidates in the race has provided an opening for someone like Klobuchar, but Buttigieg seems to be getting more attention from voters. Nationally, the mayor has solidified his spot in the top tier of 2020 candidates. A recent survey of Iowa voters showed him eclipsing Biden in the strategically important state, and just this week, in an interview with Showtime's The Circus, Buttigieg said he thought the primary was shaping up to be a "two-way" race between him and Warren. (Though Buttigieg later backed away from the comments.)
It's notable that the mayor of America's 306th largest city would be more popular than a U.S. senator who represents a state of nearly 6 million. But while Buttigieg might have less experience than Klobuchar, he resonates with a younger and broader demographic, said 35-year-old Anthony Hatcher, one of the few people of color at the event. "I just think he's able to capture wider areas of the voting pool than she has been so far."
The voters at La Colombe also referenced Klobuchar's less-than-impressive polling numbers when they talked about their own hesitations about the senator, arguing that her message and speaking style aren't always compelling—especially when compared with Buttigieg. Eighteen-year-old Samantha Campbell, a student at Temple University, came with a friend to learn more about Klobuchar. Campbell wants to support a candidate who's more in the middle, she told me, but her favorite so far is Buttigieg. "He speaks very eloquently," she said, beaming when I mentioned his name. "I think he's moderate enough to beat Trump."
In Klobuchar's stump speech on Monday, she ran through her list of policy priorities, which include reentering the Paris Agreement, making community college free, lowering the cost of prescription drugs, and shoring up the Affordable Care Act. But her speech was at times difficult to follow. "Yes, I have big, bold ideas," she told the audience before pivoting to a story about the 2007 Mississippi River bridge collapse, citing the need for unity in times of trouble. Later, Klobuchar delivered a joke she constantly tells on the stump—about how Trump once mocked her for talking about climate change during a snowstorm, and she responded that she would like to know how his hair would fare in a blizzard.
"She's never been a particularly inspiring orator," said Sam Aronson, a 19-year-old student at Haverford College. Aronson is originally from Minnesota and has long been a Klobuchar fan. "She's been incredibly productive at really moving things forward when there's been a ton of gridlock. I'd be really excited to have her as a president," he said. "But at the same time … I'm still not sure how she gets [the nomination]."
Still, there are three months to go until the Iowa caucuses, and 52 percent of voters polled by ABC and the Post said they would be open to supporting another candidate. Klobuchar, who has officially qualified for the November primary debate, in Atlanta, may still have time to differentiate herself as the best option for voters who want a more middle-of-the-road presidential candidate. But for now, it's Buttigieg, not Klobuchar, who seems to have captured the moment.
"I just need to see her policies a lot more," Campbell said, referring to the senator. "I haven't really been paying attention to her, because my eyes are always drawn to Pete."