The Whistle-Blowers Are Multiplying
William Taylor is the latest in a procession of Trump-administration officials to cry foul on the president.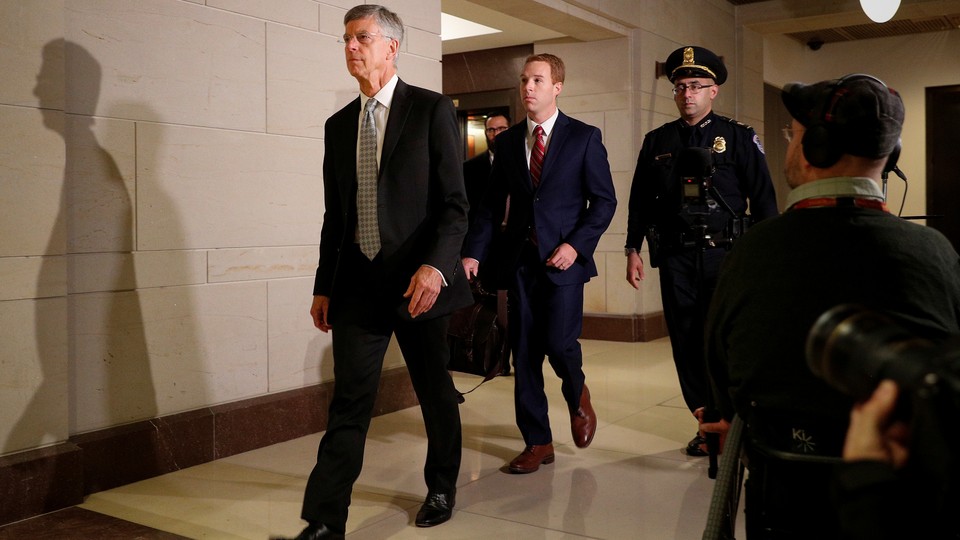 "Where's the Whistleblower?" President Donald Trump asked in a tweet this morning. The answer that Trump surely doesn't want to hear, however, is this: It's not just one whistle-blower anymore.
The president now finds himself virtually surrounded by them, as one official after another treks to Capitol Hill to accuse Trump of putting his own political interests ahead of the nation's. The clamor is powering the congressional impeachment investigation that Trump has failed to thwart, and that now threatens his presidency.
William Taylor, Trump's own envoy to Ukraine, yesterday became the latest senior official to cry foul over wrongdoing at the highest levels of the president's administration. In closed-door testimony to three congressional committees, the veteran diplomat detailed how a pressure campaign directed by the president sought to tie U.S. aid to Ukraine to the public announcement of a Ukrainian investigation into former Vice President Joe Biden and his son. It was the most damaging account yet of a quid pro quo that, despite denials from Trump and his lieutenants, fits the very definition of the term.
In telling his story to Congress, Taylor joined a procession of current and former administration officials who have both backed up and expanded the initial allegations from an anonymous whistle-blower that set off the impeachment inquiry. Fiona Hill, the former director of European and Russian affairs on the National Security Council, told House investigators that the maneuvering in Ukraine by Rudy Giuliani, Trump's personal lawyer, had prompted her boss, then–National Security Adviser John Bolton, to alert White House attorneys and liken Giuliani's machinations to "a drug deal." Kurt Volker, another top diplomat in Ukraine, reportedly testified that he personally told the country's new president, Volodymyr Zelensky, that he needed to publicly commit to a probe of corruption and the 2016 election to secure a face-to-face meeting with Trump. Taylor's predecessor, Marie Yovanovitch, detailed how she was abruptly removed from her post as ambassador to Ukraine after a concerted effort by Giuliani to attack her as disloyal to the president.
None of these officials—and others who have testified—went to Congress entirely of their own volition, like the whistle-blower, who submitted a formal complaint through the proper channels in the intelligence community. But several of them, like Taylor, protested the president's decisions to their superiors within the government and, when called upon by House Democrats, spoke up. In lengthy opening statements and hours of subsequent questioning, they provided detailed accounts of official malfeasance.
In that sense, they are all blowing the whistle on Trump.
In doing so, they ignored the Trump administration's directive not to cooperate with the impeachment inquiry and provided crucial momentum to the Democratic-led investigation. Even Gordon Sondland, the ambassador to the European Union and an object of scorn from Democrats for his role in the scandal, testified to Congress in defiance of an attempt by the State Department to block his appearance.
The president continues to direct his ire at the original, and still anonymous, whistle-blower, whom he denounced as "a partisan" and a "political hack job." But the officials who have come forward publicly, whether voluntarily or at the urging of Congress, point to a much broader chorus of discontent within the government that Trump runs. And they are much harder for the president to dismiss as deep-state opponents—or, as the White House described them yesterday, "radical unelected bureaucrats"—because they are Trump's own appointees.
So the president may want to cover his ears, because a scandal that started with a single blown whistle has, with each new deposition on Capitol Hill, turned into a high-pitched harmony.