Trump's Game of Chicken
The president has finally settled on his impeachment strategy.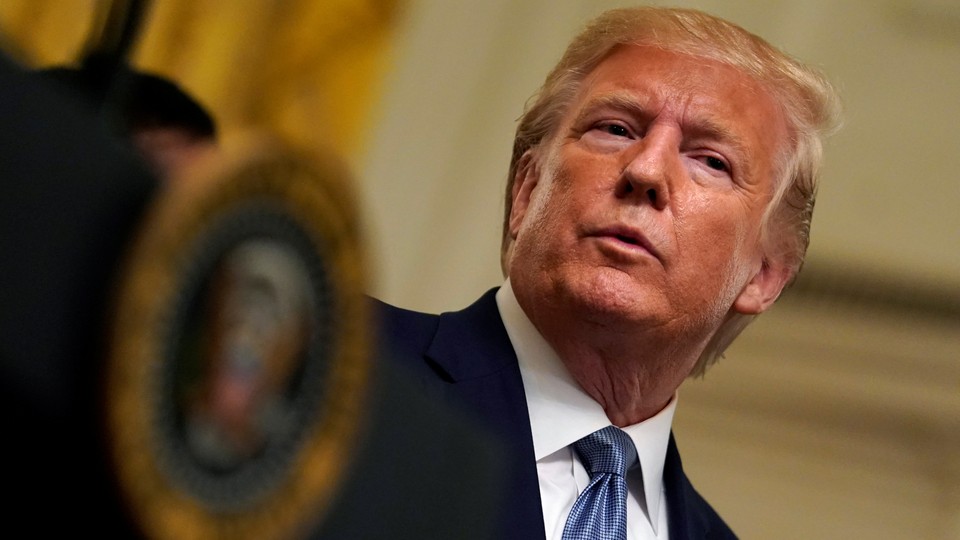 So it's come to this: In barely two weeks, the House impeachment inquiry of President Donald Trump has already devolved into the gravest game of constitutional chicken in decades. As of this morning, each side remains frozen in place by the White House's blanket defiance of congressional demands for documents and witness testimony about Trump's requests for Ukrainian help in investigating his potential 2020 rival Joe Biden. History suggests the road ahead may be both long and winding.
Just hours before European Union Ambassador Gordon Sondland was to testify before the House Intelligence Committee Tuesday, word came that the administration had barred him from cooperating with what Trump called a "totally compromised kangaroo court." By day's end, in an eight-page letter to Speaker Nancy Pelosi and three committee chairmen, White House Counsel Pat Cipollone had escalated Trump's resistance to all-out war, denouncing the House's demands as "baseless, unconstitutional efforts to overturn the democratic process," and declining all cooperation with "your partisan and unconstitutional inquiry under these circumstances."
In one sense, the White House's action is numbingly familiar. From Special Counsel Robert Mueller's investigation into Russian meddling in the 2016 election to the current congressional inquiry into Trump's solicitation of foreign help in the 2020 election, the pattern is the same: the nation's legal and political institutions invoke the most solemn processes and practices of American democracy with thunder and lightning and drumrolls and drama … and Trump responds, in effect, So what? The president's loyal ally, Senator Lindsey Graham of South Carolina, has promised to open a new ring in the ongoing circus by summoning Trump's personal lawyer, Rudy Giuliani, for sympathetic testimony before the Senate Judiciary Committee—an inquiry that will likely only further muddy public understanding of the Ukraine affair.
For House Democrats, who had hoped to swiftly gather evidence with an eye toward drafting articles of impeachment before the end of the year, the present stakes could hardly be higher. House Intelligence Committee Chairman Adam Schiff of California denounced the administration's refusal to let Sondland appear as yet more "strong evidence" of "obstruction of the constitutional functions of Congress," and he and the chairmen of two other committees leading the investigation—Eliot Engel of Foreign Affairs and Elijah Cummings of Oversight and Reform—said they would issue a subpoena seeking Sondland's testimony and relevant documents.
Precisely what the Democrats can do to compel the administration's cooperation is a much tougher question. Cipollone's refusal to cooperate "under these circumstances" seems to tease the possibility that the White House could change its attitude if Pelosi sought a vote from the full House, authorizing commencement of impeachment proceedings and setting rules for the process, as has been past practice. It seems just as possible that if she did so, Trump would move the goal posts again. In a background call with reporters Tuesday, a senior White House official repeatedly declined to speculate under what terms Trump might cooperate, while also seeming to acknowledge that he was not vowing to never cooperate in any way.
So far, when stymied by the administration in its requests for testimony or documents, the House has resorted to the courts, but that process is complex and takes considerable time. Not until roughly a year after Richard Nixon's Oval Office taping system became public did a unanimous Supreme Court order the president to surrender the tapes. And even then, the Court ordered the president to hand them over to the Watergate special prosecutor, Leon Jaworski, and the presiding judge, John Sirica—not to Congress itself. At the moment, no comparable criminal investigation of this president and his men is under way, and as long as William Barr remains attorney general, even the prospect of that seems exceedingly remote.
In the summer of 1973, when demands for the Nixon tapes first surfaced, the White House announced that the president would abide by a "definitive" judgment of the Supreme Court, but Nixon himself declined to say what that meant. Just whose authority would Donald Trump—who has brazenly defied conventional political norms at every turn—regard as "definitive"? His administration's expansive view of executive power was on vivid display in a Washington courtroom on Tuesday, when a Justice Department lawyer argued against the release of redacted portions of the Mueller report and its underlying grand-jury evidence to the House Judiciary Committee, which has been seeking the material since July.
The lawyer, Elizabeth Shapiro, contended that a crucial Watergate-era ruling by Sirica, which allowed the release of secret grand-jury material to Congress as a "road map" of evidence for impeachment, would not be decided the same way now. "If that case came today, a different result would be obtained," Shapiro insisted.
"Wow, okay," replied Chief Judge Beryl Howell of the federal District Court for the District of Columbia, who then added that the Justice Department was "taking extraordinary positions in this case."
So what is the worst-case scenario in Trump's war of wills with Congress and the courts? Consider this chilling passage from the British journalist Fred Emery's definitive history of Watergate. "The potential constitutional confrontation was grave," Emery writes in Watergate: The Corruption of American Politics and the Fall of Richard Nixon.
What could the judiciary do if the president defied its orders? It could cite him for contempt but it could hardly send a federal marshal to arrest him. The question would come back to Congress. Congress would have to decide if defiance, too, was an impeachable offense, and doubtless it would have done so had Nixon chosen to defy. But some members of the impeachment committee admitted afterward that they had no answer to the question of what would happen if the president refused to comply. If the president as commander in chief ordered the armed forces to surround the Congress, what then?
But consider, too, questions of scale and context. When the Watergate tapes finally were turned over as evidence to Jaworski, in July 1974, and then made public on August 5, the "smoking gun" conversation of June 23, 1972, revealed that Nixon wanted the CIA to order the FBI to halt its investigation into the break-in at the Democratic National Committee headquarters on grounds of national security. The crime was incontrovertible, and the resulting public and political firestorm led Nixon to announce his resignation just three days later.
Even with public support for the current inquiry growing in the latest polls, does Trump's solicitation of a "favor" from President Volodymyr Zelensky of Ukraine, in what resembles an implicit exchange for U.S. aid, rise to a comparable level? Do we already have what amounts to the closest thing we are likely to get to a smoking gun in the White House's own reconstructed summary of the July 25 phone call? Trump apparently agreed to release that text under pressure, because he thought it would exculpate him. Does its existence not all but guarantee an impeachment investigation that Pelosi and the House leadership had previously been reluctant to launch? Will the memorandum of the conversation and the accompanying allegations by now two whistle-blowers be enough to persuade wavering moderate Democrats to vote for impeachment, much less draw Republicans, who have so far maintained unified opposition to the mere idea?
Will Democrats proceed with their plan to draft articles of impeachment as swiftly as possible, while also seeking more facts and context? Will they somehow move for expedited legal appeals? Will they exercise Congress's vestigial powers of "inherent contempt" and send the House sergeant-at-arms to arrest recalcitrant witnesses and force their testimony, and establish some kind of due process for trial-like proceedings?
Schiff's office did not respond to emailed queries seeking guidance on the above points, but other House members have said such potentially extreme options are not off the table.
It's worth recalling that extraordinary tactics have worked in the past. When the former Nixon White House aide Alexander Butterfield mentioned the president's taping system to staff members for the Senate's select Watergate committee, he was surprised to learn they hadn't heard of it. Days later, Butterfield was getting a haircut when word came that the full committee wanted his public testimony. He refused. Then a lawyer for the committee called the barber to pass on the word that if he did not appear, the Senate's sergeant-at-arms would arrest him on the street. Butterfield testified that afternoon.
For now, the White House's posture is not only defiant, but belligerently so. "The President has done nothing wrong, and the Democrats know it," White House Press Secretary Stephanie Grisham said in a statement accompanying the release of Cipollone's letter. "For purely political reasons, the Democrats have decided their desire to overturn the outcome of the 2016 election allows them to conduct a so-called impeachment inquiry that ignores the fundamental rights guaranteed to every American. These partisan proceedings are an affront to the Constitution—as they are being held behind closed doors and deny the President the right to call witnesses, to cross-examine witnesses, to have access to evidence, and many other basic rights."
The impeachment process is already so far along that Democrats could relent only at the expense of an enormous loss of face and credibility. "Never mind" is not a viable option for the House speaker Trump has tried to brand as "Nervous Nancy." But will Trump's stonewalling buttress the Democrats' contention that he has forfeited the public's trust and tarnished his oath of office, or prevent them from building the kind of fresh, persuasive case they had hoped to construct against him? Anyone who claims to have a definitive response is delusional.
At the moment, Trump himself is wearing the battle as a badge of honor.
"And it's lucky that I'm the President, because I guess—I don't know why—a lot of people said very few people could handle it," Trump told reporters on Monday. "I sort of thrive on it. You know why? Because—because it's so important that we get to the bottom."
But get to the bottom of what—and when and how—is another question altogether, the answer to which may be a long time coming.