Nothing Will Persuade White Evangelicals to Support Impeachment
New polling suggests that Trump's base is totally unified behind the president, no matter what investigations might reveal.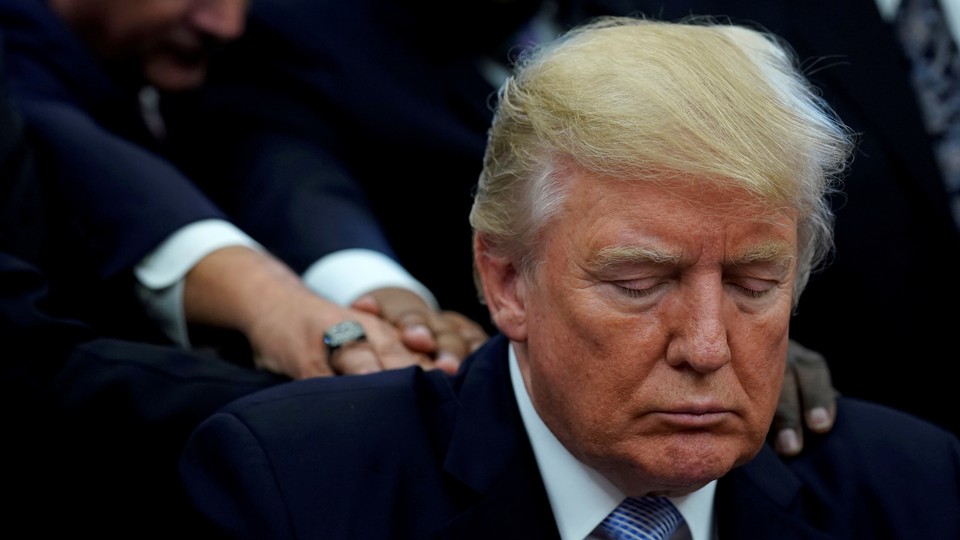 President Donald Trump famously once said that he wouldn't lose support even if he shot someone on Fifth Avenue in New York City. As his presidency enters its most dramatic phase yet, just one year ahead of the 2020 election, he might be right.
In mid-September, 94 percent of Republicans opposed impeachment. A month later—after the news about Trump's fateful phone call with Ukrainian President Volodymyr Zelensky, and after House Democrats formally launched an impeachment inquiry—their views are essentially unchanged. Even with these revelations, 93 percent of Republicans remained opposed to impeachment in mid-October, according to data released today from the Public Religion Research Institute. Of all Republican voters, two subgroups stand out for their unwavering support of Trump: those who primarily get their news from Fox, and white evangelical Christians.
It's easy to forget now, but during the 2016 primary, white Christians were intensely divided over Trump. Many religious voters in deep-red pockets of the country preferred Senator Ted Cruz of Texas, who is more clearly one of their own, or Senator Marco Rubio of Florida, who has championed socially conservative policies, over a reality-television star who once incorrectly referred to a book of the Bible as "Two Corinthians" during a speech at an evangelical university. But since 2016, these voters, along with Republicans generally, have consolidated behind the president. According to the new PRRI data, one year after Trump's election, 59 percent of Republicans and Republican-leaning independents said they would prefer for Trump to remain the party's nominee in 2020. Two years after his election, 66 percent said the same thing. And this fall, 72 percent said they want their party to keep Trump. Within this group, white evangelicals were among the voters most likely to want Trump on the ballot, at 82 percent.
A significant portion of Trump's Republican supporters are open about their belief in his infallibility: 42 percent of Republicans said there is virtually nothing the president could do to lose their approval. Among Republicans who cited Fox News as their primary news source, this number was even higher, at 55 percent. And Trump's most steadfast supporters are also most likely to condone his behavior: Nearly two-thirds of white evangelicals said Trump has not hurt the dignity of the presidency. By contrast, majorities of all other religious groups said Trump has damaged the image of the office.
These numbers reinforce the idea that some of Trump's supporters have come to see American politics as an all-out war. Whatever reservations they may have had about Trump when he first ran for office have apparently been soothed, either by his full-throated defense of his supporters' priorities or because these voters resent what they see as unrelenting attacks against him and his administration. Trump's evangelical surrogates have said as much. The Texas megachurch pastor Robert Jeffress recently said that Democrats were inviting a "civil war" by pursuing impeachment proceedings.
Hard-core Trump supporters are not representative of America, and they're not the only voters who have hardened their political position in the past few years. Only 29 percent of registered voters told PRRI that they would vote for Trump in the 2020 election, no matter who becomes the Democratic nominee. By comparison, 40 percent of registered voters said they would support the Democratic candidate no matter who it is, while 29 percent said their ballot remains up for the taking.
Regardless of how impeachment plays out in the coming months, the proceedings are not likely to bring any semblance of political unity or compel committed Trump supporters to change their mind. Even if the president goes down, some Americans have apparently decided that they're willing to go down with him.