The Trump Administration Has Only One Move
The U.S. financial system is powerful, but not so powerful that it can swiftly stop a military assault in its tracks.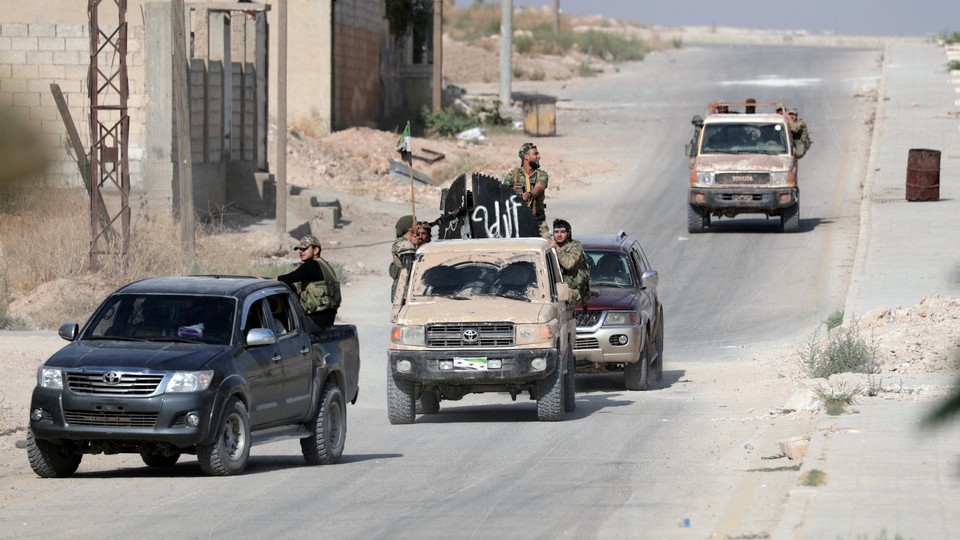 Turkey had to have seen this coming.
Granted, it didn't feature in the phone call last week where Turkey's President Recep Tayyip Erdoğan informed his American counterpart of his intent to launch an offensive against the Kurds in northeastern Syria, resulting in the retreat of U.S. forces from the region; the advance of Syrian, Russian, and Turkish forces into the void; the flight of tens of thousands of civilians; and the stirrings of a reborn Islamic State.
But the morning after the call, the threat to "totally destroy and obliterate the Economy of Turkey" cropped up like clockwork on Twitter, Donald Trump's preferred venue for such taunts. It was a predictable response from a president who, over the past three years, has repeatedly demonstrated resistance to using force and skepticism about any diplomatic endeavor that doesn't involve his personal negotiating skills. In economic sanctions he has found a sweet spot between the slog of diplomacy and the steep price of military action. They satisfy his hankering for economic leverage that can be ratcheted up and down as he pursues deals. In the case of Turkey's incursion into Syria, however, the hard limits of that happy medium are currently on vivid display.
Sanctions have been a tool of government policy at least since ancient Greece, but financial, travel, and other sophisticated penalties that first emerged during the George W. Bush administration have proliferated under Trump. Among the U.S. government's 32 active sanctions programs are exceptionally severe sanctions regimes with exceedingly ambitious objectives, such as coercing North Korea's dictator into giving up his nuclear-weapons arsenal, Iran's supreme leader into renouncing his nuclear pursuits and malicious activities in the Middle East, and Venezuela's authoritarian leader into ceding power and ushering in democracy.
This has, in short, become the Trump administration's one consistent move when confronted with the world's most complex problems: squeeze countries economically while staying open to dialogue and offering to release the economic vise if they mend their ways. The administration has proved adept at the squeeze, but more inept when it comes to changing behavior. It has so far failed to achieve its desired outcomes in Iran, North Korea, Venezuela, and now Syria.
Ahead of launching its military operation against the Kurds, the Turkish government was acquainted with this approach not just from observing Trump, but also from its own brush with the tactic. Last year Trump slapped sanctions on two Turkish officials and raised steel and aluminum tariffs on the country as part of an effort to pressure Ankara into releasing the imprisoned American pastor Andrew Brunson. The measures contributed to a precipitous drop in the value of Turkey's currency and ultimately to Brunson being freed.
Clearly, though, the prospect of Trump repeating the Brunson play wasn't enough to keep Erdoğan in check this time around, as U.S. officials themselves have acknowledged. The Turkish government would "tell you with complete confidence that nothing that we did, one way or the other, was going to deter the Turks from what they wanted to do in this case," a senior Trump administration official said on Monday while briefing reporters on the condition of anonymity. Erdoğan didn't have to call Trump's bluff; Trump was already showing his hand.
Erdoğan, in fact, may have priced in the possibility of economic retaliation in deciding to proceed with his offensive in Syria.
The Turkish president probably anticipated U.S. sanctions, Soner Cagaptay, a Turkey scholar at the Washington Institute for Near East Policy and the author of the new book Erdogan's Empire, told me. But Erdoğan and Trump have a good rapport, even an apparent "political man crush on each other" as like-minded "strongmen presidents," he noted. And Erdoğan expects Trump to ultimately "save the relationship," such as when the U.S. president held back last summer on imposing congressionally mandated sanctions on Turkey over the NATO member's purchase of a Russian missile-defense system.
"Erdoğan is betting on that once again: that Trump will prevent devastating sanctions against Turkey's economy and military following the incursion," said Cagaptay.
For the moment, that bet appears to be paying off. Amid a furious push in Congress to punish Turkey economically, Trump on Monday authorized sanctions against those associated with "Turkey's destabilizing actions in northeast Syria," while also hiking steel tariffs against the country and suspending trade negotiations between Washington and Ankara.
Thus far, however, the sanctions extend to only three Turkish officials and the nation's defense and energy ministries. The tariffs are likely to have a muted impact because Turkish steel exports to the United States have already plummeted as a result of previous U.S. duties, and a U.S.-Turkey trade deal was nowhere close to being finalized. Fellow members of the U.S.-led anti-ISIS coalition, who are now watching in horror as gains against the terrorist group are reversed, have arguably adopted tougher measures in response to the Turkish incursion than the United States has. France and Germany, for instance, have prohibited arms exports to Turkey. Republican and Democratic lawmakers are pledging their own reprisal, with House Speaker Nancy Pelosi calling for a bipartisan resolution to overturn Trump's Syria decision and stronger sanctions than the White House's.
The Trump administration's sanctions are "quite lenient and light," Cagaptay noted, and seem like an effort to "take some steam off" congressional efforts to penalize Turkey.
Expecting such a result, Erdoğan may have calculated that the upside of a military operation in Syria against Kurdish forces, whom the Turkish government considers terrorists linked to the country's own Kurdish insurgency, outweighed the downside.
If U.S. sanctions turn out to be mostly symbolic, "that would be a relatively minor economic or diplomatic cost worth bearing for Turkey to advance its military objectives in the region," Elizabeth Rosenberg, who worked on sanctions policy in the Obama administration and is now at the Center for a New American Security, told me by email.
The rollout of the Turkey sanctions has also been beset by confusion over their objective, a flaw that has plagued U.S. sanctions efforts against Iran, North Korea, and Venezuela as well. Trump is now attempting to halt a military operation he implicitly green-lighted just days ago by acquiescing to Erdoğan's plans and withdrawing U.S. troops from the battle zone, as he simultaneously invites Erdoğan to the White House and threatens to destroy his economy.
Trump-administration officials, moreover, state that the goal of the sanctions is to prevent Turkey from indiscriminately slaughtering civilians, wiping out ethnic groups, and forcibly resettling Syrian refugees, while compelling the Turks to negotiate a cease-fire and then a resolution of their conflict with the Kurds. But to extinguish a military conflagration unfolding in real time, the administration is resorting to measures that notoriously take a lot of time to come to fruition. The U.S. financial system is powerful, but not so powerful that it can swiftly stop a military assault in its tracks. It took years for international sanctions to help pressure Iran into agreeing to restrictions on its nuclear program during Barack Obama's administration. In fact, Trump-administration officials today continue to counsel patience for sanctions implemented in 2017 and 2018 to work their magic on Iran, North Korea, and Venezuela.
"More and more, the administration and Congress have placed heavy, immediate demands and expectations on the ability of sanctions and financial measures to punish, deter, and even change behavior in all our thorny national-security challenges," Juan Zarate, a top sanctions and counterterrorism official in the George W. Bush administration who is now the chairman of the Financial Integrity Network, told me by email.
"This first instinct towards the use of sanctions tends to absolve policymakers from making other hard decisions about the use of American power and tools, including military power and intelligence measures, to complement or enable their effectiveness," Zarate wrote. "In the case of Turkey and Syria, the ultimate effective sanctions threat against both Damascus and Ankara would have come with American troops still in place defending the peace that existed, holding valuable territory, and working along Kurdish fighters to contain the ISIS threat."