How Trump Lost the Impeachment Narrative
As the Ukraine scandal became a national conversation, the president known for his powerful sound bites was suddenly tongue-tied.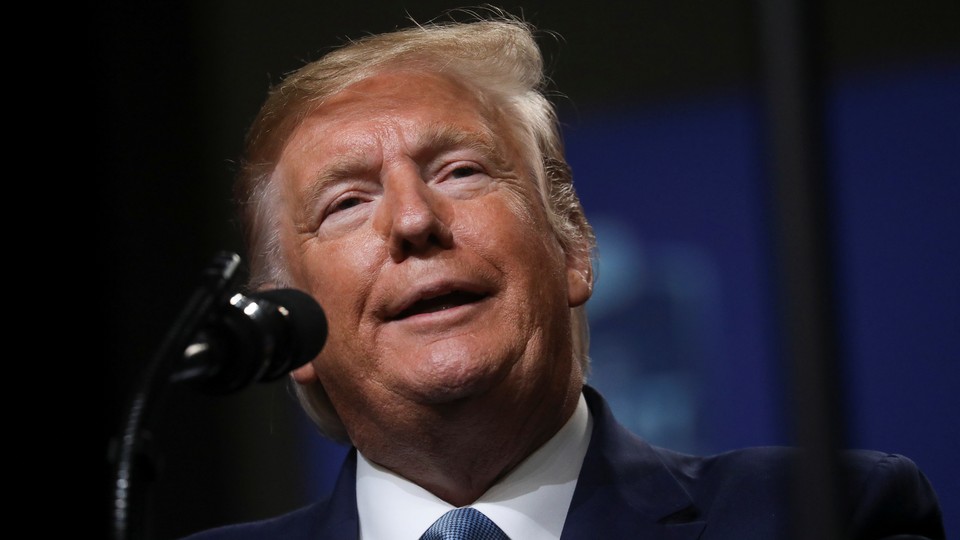 Catchphrases have always defined Donald Trump's presidency. In the same way that "no collusion, no obstruction" went hand in hand with the Mueller report, Democrats have managed to turn "quid pro quo" into the tagline for the current impeachment inquiry. It's perhaps the first time since Trump entered office that Democrats have managed to wrangle the first word on a presidential scandal—which puts them in a better position than ever to have the final word, too.
"There's a big problem for all of us in trying to push back" against impeachment: the lack of a clear message from the White House, one Senate Republican aide told us, speaking on the condition of anonymity in order to be candid. "We don't have those answers. We don't work in the State Department, White House, or National Security Council. There's no way we can answer those questions without [White House officials] sending out information that helps our cause. And they're just incapable of doing that."
Caught in unfamiliar terrain, the White House appears to be lost in this pivotal moment. And Republicans, bereft of guidance, have found themselves either mangling their attempts to defend the president or, as a growing number appear to be, unwilling to even try.
Yesterday, more than 30 House Republicans stormed the Sensitive Compartmented Information Facility (SCIF) in the basement of the Capitol, cellphones in hand, where a closed-door hearing was taking place as part of the impeachment inquiry. This flouting of strict rules governing electronics use in the sensitive space alarmed national-security experts.
The chaotic image made for a bizarre contrast to how other Republicans had discussed issues surrounding impeachment yesterday alone. When Senate Majority Leader Mitch McConnell was asked to confirm that he told Trump his July call with Ukrainian President Volodymyr Zelensky was "innocent," as the president claimed, McConnell bluntly denied that they'd even spoken about the topic. Later, when reporters asked Trump ally Senator Lindsey Graham of South Carolina whether the White House needed to do a "better job" of messaging on impeachment, he simply answered: "Yes." (The whiplash continued this morning, when Graham announced that he and McConnell would introduce a resolution condemning the probe.)
The messaging disarray began to manifest on September 25, when the White House released a summary of Trump's call with Zelensky—the centerpiece of the whistle-blower complaint. That day was an opportunity for the Trump administration to mold the controversy that was sure to ensue over the call's contents.
In the past, the administration had made the most of such opportunities: On March 24, for example, when Attorney General William Barr issued his four-page summary of Special Counsel Robert Mueller's report on Russian interference in the 2016 election, he set the tone for how the years-long saga would be perceived. The report, Barr told the country, revealed "no collusion" and "no obstruction"—phrasing that immediately infiltrated cable-news chyrons and Trump's Twitter feed.
It didn't matter that, upon its release, the report proved far more damning than the attorney general's cursory summation had suggested. Barr's insistence on speaking for the report—rather than letting the report speak for itself—may have been one of the reasons Trump avoided impeachment in the spring. But in the case of his call with Zelensky, Trump failed to follow his attorney general's blueprint: When the White House released the summary of the call, there was no authority figure like Barr out front reframing the narrative. There were no early talking points for Republican lawmakers to parrot.
White House attempts to reshape public impressions of the scandal have backfired. Mick Mulvaney, Trump's acting chief of staff, made a rare appearance in the White House press briefing room last week and fielded questions about Ukraine, but he only helped confuse matters. One reason an aid package to Ukraine was held up, Mulvaney said, was because Trump wanted the country to open an investigation into the 2016 election that could help him politically. Mulvaney later tried to walk back what sounded precisely like a quid pro quo. Trump, who in recent weeks has considered firing Mulvaney, "wasn't pleased," a person close to the president told us, speaking on the condition of anonymity to discuss Trump's views about his staff's performance. "The Mulvaney thing hurt us. You don't have to be a genius to figure that out."
Mulvaney could become a star witness in the impeachment proceedings, if Democrats are able to secure his testimony. Representative Jamie Raskin, a Maryland Democrat who is involved in the inquiry and is a former constitutional-law professor, told us that Mulvaney "essentially confessed to the crime. He has given us the essential conclusion which settles the matter of law, but there are a number of other facts that he could fill in." Summoning Mulvaney would undoubtedly set up a fight, with White House lawyers making the argument that he's immune from having to testify about conversations with Trump.
Trump has been told that he needs a more adept communications strategy to thwart the impeachment investigation, and he agrees it's necessary, the person close to the president said. Different advisers have floated different alternatives, one of which would be designating a spokesperson to handle press inquiries along with a group of aides who would rebut the allegations that Democrats have surfaced.
It's already late to be setting up a war room. Even before the call summary's release, House Democrats, responding to early reports on what it would reveal, appeared united in insisting that the president had abused the powers of his office, and that an impeachment inquiry was necessary.
Legal efforts to quash the probe have failed. Earlier this month, White House Counsel Pat Cipollone said in a letter to House Democrats that the administration wouldn't cooperate with the inquiry, and Secretary of State Mike Pompeo declared that the State Department would not make several officials available for testimony. Ignoring such pronouncements, a parade of administration officials have come forward anyway, delivering damning testimony of a quid pro quo undertaken by Trump. Cipollone's letter sparked a backlash. Even his former classmates at the University of Chicago Law School balked, writing to him that his letter "flouts the tradition of rigor and intellectual honesty that we learned together."
Trump's mantra has been that his call with his Ukrainian counterpart was "perfect." But some Republicans believe that the one-word defense is inadequate. They want a credible, substantive explanation of what happened that they can relay to voters. So far, there's been none.
On Tuesday, after William Taylor, the U.S.'s top diplomat in Ukraine, offered testimony that contradicted the White House's claim that there was no quid pro quo, Trump's press office released a rare statement. The response was a single paragraph, and it boiled down to a vague attack on Taylor, referring to the Vietnam War veteran and other administration officials who have testified as "radical unelected bureaucrats."
Until this point, the White House has seemed confident that Trump's Republican support in the Senate is a firewall that will ultimately prevent his removal from office. Should the House impeach Trump, the Republican-controlled Senate would hold a trial. Twenty Republicans would need to join with Democrats to force the president out. Under ordinary circumstances, that threshold would be impossible to meet. But nothing about this situation is ordinary.