Impeachment for Breakfast, Lunch, and Dinner
Thanks to a coming media storm, our 45th president is now inextricably linked to impeachment, whether he survives it or not.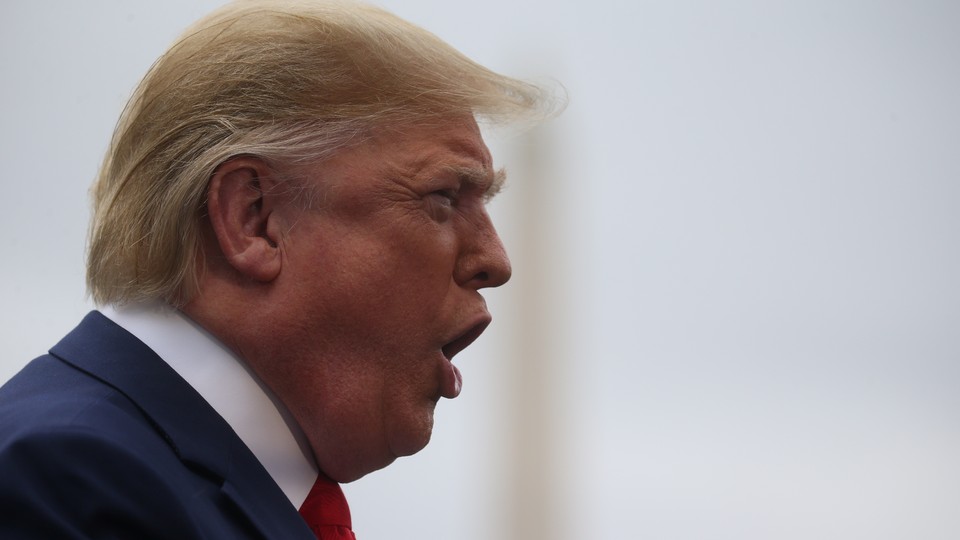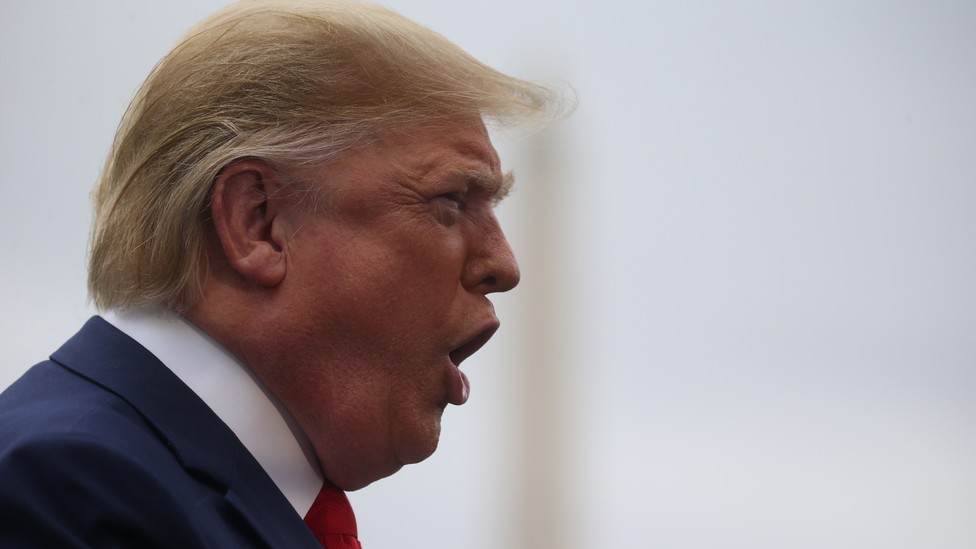 "The White House in Crisis" blares the afternoon banner on CNN. The visiting Finnish president is treated to a trademark Donald Trump tirade against the press. A mysterious manila envelope is delivered to Capitol Hill, and the United States' former special envoy to Ukraine testifies behind closed doors.
The House impeachment inquiry is barely 10 days old, and every news cycle is already awash in a flood of Ukraine-a-mania. For anyone who lived through Bill Clinton's impeachment two decades ago, it's an acid flashback, albeit one that now not only plays out in ink and airtime and over the internet, but is instantly magnified and refracted through the blinding prism of the spinning social-media whirl.
There's no point in protesting. For the foreseeable future, we're in for all impeachment, all the time. (Except, perhaps, on Fox News.) Hang on for the ride.
"Impeachment, war, major scandals—the media gets 100 percent focused on a single issue, and it's almost like you could cure cancer and some editor would say, 'Hold that for the weekend. We don't have any space,''' says Joe Lockhart, who was Clinton's White House press secretary in the thick of the impeachment fight. "Once the media gets fixated on a subject, every little detail becomes major news and 'breaking news.'''
Indeed, at her news conference with House Intelligence Committee Chairman Adam Schiff on Wednesday, Speaker Nancy Pelosi was hard-pressed to get any reporters interested in legislation to rein in prescription-drug prices or reset trade policy with Mexico and Canada. The only topics of interest were impeachment and the disparate strands of inquiry growing out of Trump's July phone call with the Ukrainian president in which he asked for help in investigating former Vice President Joe Biden and his son Hunter.
If Clinton's White House famously strived to compartmentalize its handling of the news of the president's affair with Monica Lewinsky and the resulting impeachment probe—handing off scandal-related work largely to lawyers and political strategists while the rest of the administration focused on routine business—Trump keeps pouring fuel on the impeachment flame with his every utterance, most recently with his public urging that China (and Ukraine) should investigate the Bidens. And Trump has repeatedly insisted he won't do any business with Democrats in Congress as long as impeachment is on the table. That alone all but guarantees relentless attention to a single story line.
"I don't know that this is interrupting them," says Michael Feldman, who was a senior aide to Vice President Al Gore during the Clinton impeachment and is now a political and communications consultant in New York and Washington. "This is what they do. You look to your leader for cues about how you should be spending your time. Our leader was saying, 'We're going to get back to the business of the American people.'"
Feldman has vivid memories of the febrile atmosphere in Washington in the days after the Lewinsky scandal first broke, in January 1998. "The White House had kind of shut down," he recalls. "Nobody knew what was going to happen next." At a birthday party for Andrew Friendly, a fellow White House staffer who had been Clinton's personal aide, Feldman sat at a table with Bruce Lindsey, counselor to the president; Nancy Hernreich, the director of Oval Office operations; and Betty Currie, the president's personal secretary, who would become a player in the running drama because she had helped arrange Lewinsky's furtive visits to the Oval Office. At the same table sat Friendly's uncle, R. W. Apple Jr., then the Washington bureau chief of The New York Times. "And we talked about the weather," Feldman says dryly.
Carl Leubsdorf, then the Washington bureau chief of The Dallas Morning News, has equally intense memories of those first days. "We were all constantly being asked to go off on wild-goose chases," he told me. "I remember being at a dinner party the Saturday after the Lewinsky story broke and getting a call seeking to match a story by Wolf Blitzer that Clinton was considering resigning. Knowing I had no way to match that, I told the desk that it seemed highly unlikely and that they should be very cautious. It was like that every night for the first couple of weeks."
In fact, Leubsdorf's newspaper was forced to retract a story that it had briefly posted online, alleging that a Secret Service officer had witnessed Clinton and Lewinsky in a compromising position and had already been in touch with the office of Independent Counsel Ken Starr. The paper's editor explained that its original source for the story had recanted the account.
I myself was sent on such a chase around the same time, after a rumor swept Washington that Leon Panetta, as Clinton's White House chief of staff in 1995 and 1996, had spied Clinton and Lewinsky canoodling in the White House movie theater. Panetta, by then out of government and back home in Carmel Valley, California, was not returning calls from the Washington bureau of The New York Times. So I, then the paper's Los Angeles bureau chief, was urgently ordered to board a Sunday-afternoon flight to Monterey to knock on Panetta's door in person. I was walking down the jet bridge to the plane and was only spared the trip when I got a call on my cellphone from Panetta's wife, Sylvia, saying he had seen no such thing.
In the end, Starr's final report would find no eyewitnesses to any encounter between Clinton and Lewinsky, but that wasn't known in the heat of the moment, when every tip, no matter how small or seemingly unlikely, was followed feverishly. A steady stream of leaks from Starr's office, and from the cadre of friendly conservative freelancers who were allied with him, constantly fanned the flames.
Kathleen Hall Jamieson, a veteran media scholar at the University of Pennsylvania's Annenberg School for Communication, told me she knows of no academic study that attempted to quantify the distracting effects on other news coverage during the Clinton impeachment, or the Nixon Watergate and Judiciary Committee hearings.
But the distracting effects on Clinton's public-policy initiatives were evident enough, for all his vaunted compartmentalization. (Remember, he delivered a State of the Union address to a joint session of Congress just days after the scandal broke and never so much as mentioned it.) Clinton had begun 1998 determined to press Congress for expanded authority to negotiate free-trade agreements, severely regulate tobacco products, and overhaul Medicare and Social Security.
"Every item on this ambitious agenda had a common theme: It would require Clinton to push his own party against its liberal grain," writes John Harris in The Survivor, his book on the Clinton years. "A politically prospering president might have been able to do this. A president fighting for survival—and thus dependent on every last Democratic vote in order to avoid being herded out of office by Republicans—proved virtually impotent to challenge his party's orthodoxies."
Trump's lack of discipline, and his seemingly insatiable desire for instantaneous rhetorical revenge on his adversaries via Twitter at all hours of the day, seem all but certain to keep the media focused on impeachment, if only because the president himself is focused on impeachment. Trump's relentless attacks on Schiff—not so long ago a well-respected but comparatively anonymous congressman from Southern California—have helped elevate the Intelligence Committee chairman into a national political figure.
The Lewinsky saga added a new term of art to the Washington politico-media lexicon: the full Ginsburg. That was a tribute to William Ginsburg, the bumptious medical-malpractice lawyer from Los Angeles who was Lewinsky's initial attorney and made history by becoming the first person ever to appear on all the Sunday-morning political TV talk shows in a single day. Nearly 30 other figures have since equaled that feat—including Rudy Giuliani, at the close of the 2016 campaign. Can a "full Schiff" be far away? Stay tuned.