The Atlantic Politics Daily: What Democrats Can Do Next
Faced with a wholly resistant White House, not a ton (is fining or jailing those who refuse to comply with subpoenas possible?). Plus: Keep an eye on Marie Yovanovitch and Gordon Sondland.
---
What We're Watching Today
(EVAN VUCCI / AP)
No GOP candidate for president has won Minnesota since Richard Nixon in 1972. President Trump was in Minneapolis last night hoping to turn that trend around. Peter Nicholas reports from on the ground at the rally, where supporters were unfazed by the core of the impeachment inquiry: "He asked for a little bit of help," one told Nicholas. "There's nothing wrong with that. All presidents can ask for help from other countries."
The White House is stonewalling Congress. Now what? Democrats in Congress have few viable options left to carry on their impeachment-inquiry proceedings without cooperation from the executive branch. Some members of Congress are floating a revival of "inherent contempt," Elaine Godfrey reports. But is fining or jailing the people who refuse to comply with subpoenas even possible?
Despite the administration's strategy to stonewall, key witnesses are coming out to testify anyway, David Graham writes. Keep an eye on Marie Yovanovitch (the recalled U.S. ambassador to Ukraine, a career foreign-service officer) and Gordon Sondland (ambassador to the EU, a Trump appointee).
+ "His public statements—and especially his tweets—are a record of impeachable admissions," Tom Nichols argues.
Turkey is still in NATO. It's been a presence in the alliance for nearing seven decades now: "But what kind of ally forces Americans to flee from their friend's American-made F-16s?" Kathy Gilsinan writes. "For that matter, on America's part, what kind of ally would arm and support a group Turkey considers a band of terrorists?"
—Christian Paz and Shan Wang
---
Snapshot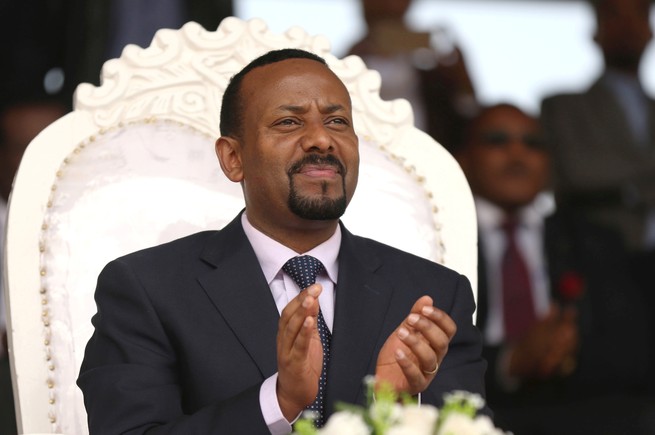 Ethiopia's prime minister Abiy Ahmed won the 2019 Nobel Peace Prize for his work securing a peace deal between Ethiopia and Eritrea. In 2018, our staff writer Hannah Giorgis reported on Ahmed's visit to the U.S. last August in this moving dispatch that captures the shared dreams of the diaspora.
---
Weekend Read
(Bulent Kilic / AFP / Getty)
As Donald Trump seized on fears of refugees and ISIS in his rise to the presidency, the battle to take down Mosul, ISIS's crown jewel in Iraq, was just beginning. This is what those moments felt like:
With summer moving toward fall, the refugee crisis, already four years in the making, began to take on the feeling of an exodus. It seemed as if Syrians were realizing en masse that the country would never be put back together again. The number of migrants making the journey from Turkey to Europe was skyrocketing. Munzer and I would call our friends and sources in southern Turkey and find that they were gone.

A friend who'd been our driver, shuttling us up and down the border region in a dusty minivan, texted Munzer a shaky smartphone video that showed him piloting a small speedboat toward a Greek island off the Turkish coast; sometimes the traffickers gave discounts to passengers who agreed to captain these craft. As he steered through a foggy dawn, his fellow migrants serenaded him with an Arabic take on "For He's a Jolly Good Fellow," their voices rising above the hum of the motor and the lapping of the waves.
→ Read the rest of Mike Giglio's account.
---
Our Reporters Are Also Reading
‣'Trey Is A Joke Among Us': Gowdy Is a Divisive Addition to Trump's Legal Team (Hunter Walker, Yahoo News)
‣ How Trump-Country Democrat Rep. Max Rose Got to Impeachment (David Freedlander, New York) (Paywall)
---
About us: The Atlantic's politics newsletter is a daily effort from our politics desk. It's written by our associate politics editor, Saahil Desai, and our politics fellow, Christian Paz. It's edited by Shan Wang.

We have many other free email newsletters on a variety of other topics. Browse the full list.