America Has Already Forgotten the Tree of Life Shooting
One year after the attack in Pittsburgh, survivors are grappling with a new reality: The rest of the country has moved on.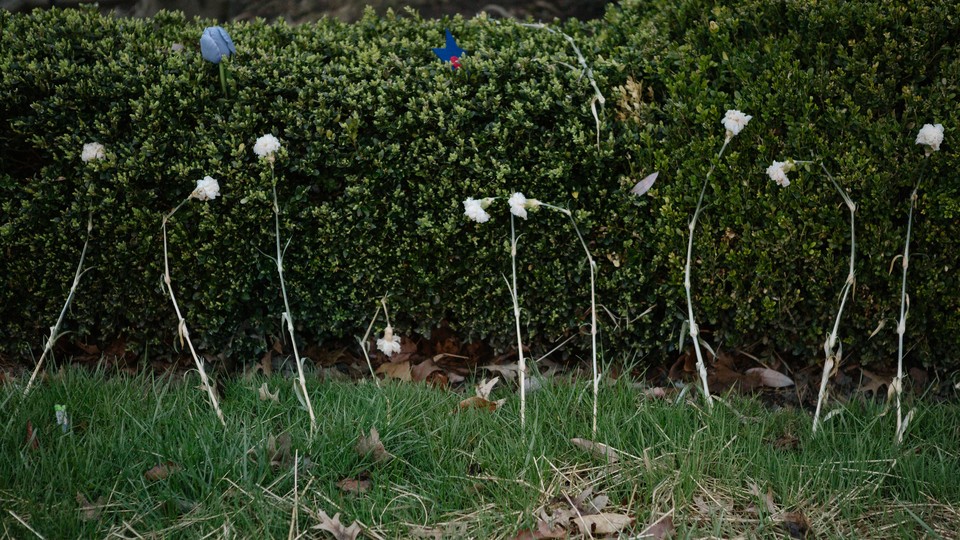 PITTSBURGH—Last year's shooting at the Tree of Life synagogue was a stone dropping in water, creating concentric circles of grief. At the center were the survivors and the families of victims. Then came the first responders, and the local leaders who handled the overwhelming logistics involved in the aftermath. On and on: members of the Pittsburgh Jewish community. Pittsburghers writ large. American Jews. And, finally, the whole of the country, which saw the attack as part of the long list of mass shootings that have already happened this decade.
Each of these circles has a different half-life for its grief. People in Pittsburgh's Jewish community still talk about the shooting over Shabbat dinners, but when they leave the city and strangers ask where they're from, "Pittsburgh" often no longer carries any particular meaning, many people I interviewed over the weekend told me. As after other mass shootings in America—the murders of children at elementary schools and high schools, of people dancing at a nightclub and shopping in a Walmart, of worshippers inside a Sikh temple and a black church—with each anniversary, the Pittsburgh attack will slip further into the great fog of forgetting, swallowed up by the latest national political drama or by workaday life. Yesterday, Pittsburgh's Jewish community marked one year since the deadliest anti-Semitic attack on U.S. soil. This morning, they still woke up with their grief, while America largely continued to move on.
These circles of grief converged yesterday outside the synagogue here in Squirrel Hill, the city's Jewish neighborhood. Five sophomore girls from a local Orthodox school said their morning prayers by the garden where the 11 victims have been memorialized. Semi-famous Jewish leaders showed up, from Jonathan Greenblatt, the head of the Anti-Defamation League, to Dani Dayan, Israel's consul general in New York. Seemingly random locals wandered by with their dogs or their kids. And members of the Tree of Life congregation stood by, ready to tell their stories in one-on-one conversations with anyone who asked.
Laurie Zittrain Eisenberg, a member of the congregation's board, told me her husband had been on his way to services when the shooting started, and he was turned back by police. Afterward, she said, they discovered they had become members of "the club no one wants to belong to." She helped solicit artwork to honor the victims, a selection of which is now shown along the building's fence. Half of the art, she told me, was submitted by teens from Parkland, Florida, where 17 people were killed at Marjory Stoneman Douglas High School in 2018.
Over the past year, victims of other mass shootings have routinely made these kinds of overtures to the Pittsburgh Jewish community. Each new attack creates an opportunity for grim reunion: Last spring, members of a cycling group from Newtown, Connecticut, the site of the 2012 Sandy Hook Elementary School shooting, came through Pittsburgh bearing a large packet of seeds—which had been given to them by yet another community victimized by a mass shooting. "They said, 'Yes, our friends at Columbine sent it to us and asked us to bring it to you,'" Zittrain Eisenberg told me.
This network of survivors serves as a support mechanism for communities in grief, but it's also a reminder of how little has changed since the Columbine High School shooting in 1999. Not much is structurally or politically different in the United States today compared with a year ago either, Zittrain Eisenberg said. Other shootings—in Thousand Oaks, Virginia Beach, El Paso, Dayton, and many other places—followed Tree of Life in steady succession. Zittrain Eisenberg is working with a team of volunteers from Tree of Life, who call themselves ambassadors, to reach out to the victims of mass shootings who come after them.
Those working with the community in Pittsburgh know how quickly the world outside it has moved on. Shira Stern, a rabbi from Marlboro, New Jersey, has visited Pittsburgh four times since the attack as a member of the Red Cross's spiritual-care team, but the shooting has largely faded for members of her community back home. She has been responding to disasters since 9/11, she told me, but none has affected her as much as the Tree of Life shooting, in part because it happened at a synagogue. "As a bereavement counselor, I have found that year two is worse than year one," she told me, reflecting on her work with survivors. "The mourning rituals are done, but grieving goes on forever."
In the first few days after the attack last year, the media descended on Pittsburgh, parking themselves on the leafy yards outside Squirrel Hill's creaky old houses and requesting endless interviews in people's living rooms. Not nearly as many television trucks or breaking-news reporters showed up for the first anniversary, evidence that the decay of memory and attention has begun. None of this is to say that the world does not care about Pittsburgh's synagogue shooting. Over the past year, I have met dozens of Jewish college students from across the country at conferences and student-journalism events. Invariably, conversations turn to the shooting, and, invariably, at least one student starts crying, remembering how isolated she felt on campus after the attack or how much her sense of security had been shaken. For some American Jews, especially young people, this shooting may have been their first encounter with deadly anti-Semitism, and their first experience questioning their safety as Jews.
But the forgetting is also present in Pittsburgh, in another way. Most shootings in the city affect African Americans—according to data from Allegheny County, black people made up 27 percent of the city's population and 80 percent of its homicide victims from 1997 to 2007. These deaths are rarely lamented and addressed in such a collective way throughout the city, however, and none to the degree of the Tree of Life shooting. After the synagogue attack, slogans such as "Stronger than hate" and "Building bridges" were everywhere, said Zack Block, the executive director of the Jewish nonprofit Repair the World in Pittsburgh. While some Pittsburgh Jews have tried to build relationships with black clergy and community leaders, he told me, the disproportionate support and resources directed toward the Jewish community have still struck some as hurtful. "I think that's part of the frustration that the black community had in the last year when the Jewish community is receiving all of this support, asking, 'What happens when we experience trauma?'" he said.
This is what America has become: layers upon layers of trauma, produced by political and cultural contexts that we continue to choose to live with. For a short time, survivors are given a platform and a microphone, but they shout their grief at a country that does not listen for long. At a service at the Soldiers and Sailors Memorial Hall in Pittsburgh last night, most speakers stayed away from politics: In a press conference in September, community leaders made it clear that this was the request of some of the victims' families. But when it was his turn to speak, Jonathan Perlman, the rabbi of New Light, one of the three congregations worshipping in the Tree of Life building on the day of the attack, made three requests. He asked the media to be more conscious of what it means to retraumatize victims in search of a "hot story." He called on federal prosecutors to back down on their request to commence the trial of the alleged shooter, Robert Bowers, just days before the Jewish holiday of Rosh Hashanah next year. And he beseeched federal and state governments to "finally take action on gun control—which they promised us."
In the year ahead, it is not clear that any of Perlman's requests will come to pass. The media continue to report on mass shootings in two-day frenzies. Federal prosecutors have pushed forward with their death-penalty case for Bowers, despite repeated pleas from the community that they pursue a different course. Local and national efforts to reform gun laws have stalled. As the country turns away, however, Pittsburgh, at least, is still listening to the Tree of Life victims. Perlman's line about gun control got the only standing ovation of the night.