A No-Win Situation for the Democratic Chairman
Tom Perez, the head of the Democratic National Committee, needs to please the various factions of his party without catering to any of them.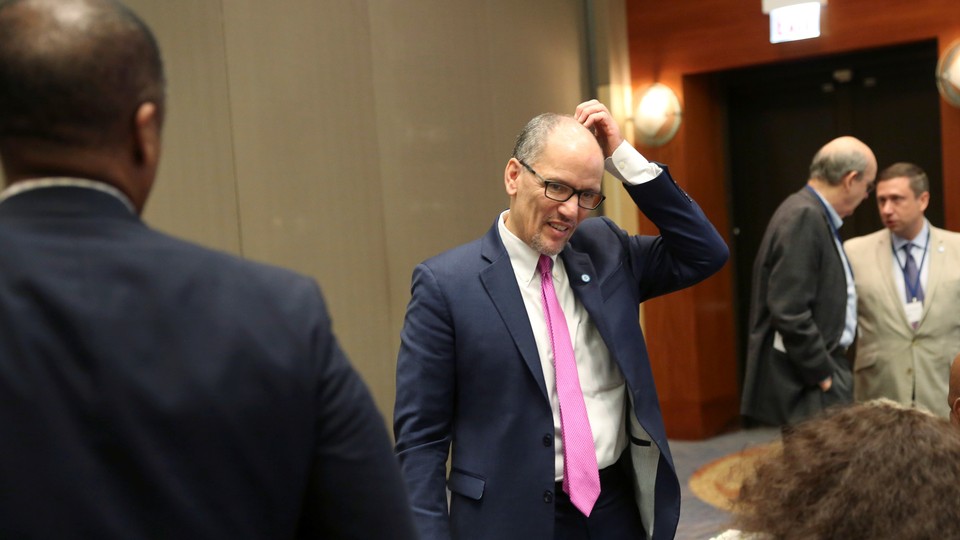 There are days when Tom Perez feels the weight of 2020 collapsing in on him—the sense that the future of his party, the country, and the world all depend on him pulling off a victory next year.
"If you have an impulse that you have to be liked by everyone, don't take this job," Perez told me as we drove around Ohio a couple of weeks ago, on the day before the October Democratic debate. "Because my job is not to be liked by everyone."
On the General Motors picket line outside Cincinnati that morning, Perez got close to a striker huddled under a Bengals blanket, who was staying warm by the heat of a trash-can fire. He told the woman that he wished he were still labor secretary, so he could do more to help her cause. Before the protest, Perez participated in an hour-long roundtable with gun-violence victims in Dayton. There, he met a teenager who'd been shot in a school cafeteria and a woman who wanted to know why her bipolar son had been able to just walk into a sporting-goods shop and buy a gun, which he later used to take his life. Perez listened and took notes. He told a mother whose two adult children had been shot that she was right—politicians do owe her change.
Before leading the Democratic National Committee, Perez spent his whole career in government: Justice Department attorney, Ted Kennedy aide, Maryland county elected official, Maryland labor secretary, head of the Justice Department civil-rights division, and labor secretary during Barack Obama's second term. Those jobs, he said, had been full of meetings that he would leave and feel like he could do something practical. Meetings these days, like the one he had with gun-violence victims, leave him "just profoundly sad and mad," he said.
"What I don't have right now is an immediate set of tools that I can say to this group: 'Next week, we can do the following to help you,'" Perez told me. "What we do have right now is what we're building ... and that 'we' is not just us, but the movement that is coming together to recapture our democracy."
He's still building. Even the Democratic politicians and operatives who regularly complain to me about Perez have acknowledged that he is in a no-win situation. Staffers at the DNC headquarters know it, too: If the Democratic nominee beats Donald Trump, Perez will get none of the credit, and if the Democrat loses, he'll get more than his share of the blame. The most frequent criticism I hear about Perez is that by trying to stay "neutral" and not shape the nomination process, he has actually done a lot—that in his mission to restore faith in a retrenched Democratic establishment, he's instead come off like the embodiment of the establishment's slow and awkward collapse.
For example, Perez's critics say that by refusing to change the established DNC rules and hold a climate-change debate, he is betraying the planet. (The counterargument: A concession might have opened the door to any number of topic-specific debates, and it's not clear that one debate on climate change would have significantly changed how the issue has been addressed in the race.) By not buying ads defending former Vice President Joe Biden from Trump's smears in the Ukraine scandal, some go as far to say, Perez has betrayed the party and the Constitution (though buying those ads would have opened the DNC up to accusations of favoring one candidate). But perhaps most of all, Perez's attackers say, by making primary-debate rules that rely on donor and polling thresholds, he's enabled outsider candidates to advance and prevented more experienced Democrats from gaining momentum.
I asked Perez about this last claim, specifically: Has he made it so that the candidate who becomes the Democratic nominee is the one who spent months hoop-jumping to qualify for the debates? "Tom hasn't made sure," he said. "The voters have made sure." He went on: "When you're at zero percent in the polling or 1 percent in a few polls, I don't see any historic precedent. We're three months and change out [from the Iowa caucuses]. I mean, nobody who was under 2 percent in the fall for the last 40 years won even a caucus. Nobody under 4 percent in December won anything."
Jeff Weaver, Senator Bernie Sanders of Vermont's top strategist, told me he sees DNC chair as "maybe one of the most difficult jobs in Washington," while making a point to say Perez has been working hard and doing it "capably."
Arguably, there has never been a time in modern politics when the DNC was more important. Even though some people have already dropped out, this is still the largest primary field in history (just like everyone else, Perez didn't expect quite this many people to run). And while Democrats are consumed with fighting for the nomination, with neither the time nor the money to start thinking as far ahead as next November, the Trump campaign is already raising and spending more than any other presidential campaign to date.
Democrats have no natural leader to turn to at this moment—Jimmy Carter is 95 with a broken pelvis and has been distant from politics for decades, Bill Clinton is virtually persona non grata in the #MeToo era, and Barack Obama has consciously removed himself from politics until after the primaries are over. "Once we have a nominee, he's going to be very involved in making sure that Democrats win," Perez said.
A strong party apparatus could be useful—if there were a strong party apparatus. Operatives say the DNC infrastructure was decimated under the leadership of the previous chair, Representative Debbie Wasserman Schultz of Florida, who was forced to resign after hacked DNC emails highlighted pervasive frustration with her management. Some argue that Sanders's 2016 attacks on the DNC undermined trust in the party that it hasn't recovered, even as he's extracted concessions and dialed back his diatribes in the years since. Big-dollar donations are double what they were at this point four years ago, but fundraising comparisons between the DNC and the Republican National Committee read like cruel jokes at Perez's expense.
Perez has identified April 29—the day after the primaries in six mid-Atlantic states—as when he expects to turn over the operation he's built to a presumptive nominee.
He has six months.
"I have never seen so many people getting involved at the grassroots level—the problem is, it's the people wearing the MAGA caps," Tony Eufinger, an attorney who came to another event that day in Ohio, a dairy-farm roundtable, told Perez. "The reason they're doing it is because [Trump] is speaking to them emotionally. The only way you can overcome that is with something real, something tangible they can touch."
The RNC has millions of dollars to cover hundreds of staffers and new technology for voter outreach. Rather than the macro, Perez's approach has been to focus on the micro. Take his Ohio tour: the picket line, the gun roundtable, the meeting with panicked farmers, a meeting with two Democratic women in red suburbs who'd never run for office before they flipped state-legislature seats last year. As one of Perez's aides told me last week, the plan is to "do as much as we can, with as little as we can." Their internal comparison point is not what the RNC is doing for next year, but what the DNC was doing this time four years ago.
Hillary Clinton had about 400 people on staff at the end of the 2016 primaries. The DNC is looking to have 1,000 potential staffers trained and identified by May for the presidential or other campaigns to hire. So far only a few dozen DNC staffers are in battleground states, who mostly focus on efforts like putting together a network of faith leaders in Detroit, or a weekly Spanish-language news program in South Florida. The party has already tapped election-law experts in predictably difficult spots like North Carolina, with the aim of having them in place not just before the election, but before key decisions like polling locations are made.
There are days when the current operation seems to be gelling, and days when it seems silly, like when Perez decided, on national television, to riff through his time onstage before the July debate with a sing-along: "Old McConnell had a farm, E-I-E-I-O, and on that farm he kept all those bills that passed the House, E-I-E-I-O!"
He can cascade through clichés, going from "taking it on the chin" to "knife in the back" in 15 seconds flat. He tends to speak in bits setting up punch lines, like pointing out that Trump went to Wisconsin and said farmers were "over the hump," though "actually, they're over the barrel."
The hokey doesn't stop when speaking about himself. "I have a friend who said, 'Tom, what you have to understand about yourself, and what I've learned about you is, when people see a fire … 98 percent of the people run the other way. You are one of those people who heads toward the fire.'"
But he could get caught in the fire, I told him. And the building might burn down anyway.
"And people will remember me from what I did," Perez said. "What I'm trying to do is recruit more first responders, because this is a five-alarm blaze and our democracy is on fire."
On the morning of the debate, I was with Perez in Westerville, Ohio. He stopped at a CVS for a Pepsi.
"Hey, Tom Perez!" the cashier said. "I get all your emails."
"Sorry about that," he replied, smiling.
"I don't mind," she told him.