The Atlantic Politics Daily: The Syria Stumble
Which countries now stand to gain after the Syria cease-fire? Also, Trump's plan to host the G7 at one of his properties. Plus, reflections on the legacy of Elijah Cummings.
Today in Politics
It's Friday, October 18. Today, who else benefits from the U.S. withdrawal from Syria? ¶ Plus, what to make of the Trump National Doral resort's new hosting gig. ¶ Finally, remembering Elijah Cummings, a reluctant partisan warrior.
(AARON JOSEFCZYK / REUTERS)
A brief cease-fire brokered by the U.S. and Turkey seems to be doing little to contain the damage already done.
1. Who will monitor ISIS prisoners still being held in northern Syria? "Since the defeat of the Islamic State's territorial caliphate, the U.S. has relied on Kurdish-led militias to hold some 11,000 ISIS fighters … according to a Defense Department estimate," Kathy Gilsinan reports. What happens if these prisoners escape?
2. Two other countries stand to benefit. "The chaotic withdrawal from Syria will severely weaken U.S. efforts in the country—and could also be a boost for Russia and Iran," Mike Giglio writes.
3. Democratic presidential hopefuls criticized President Donald Trump for a policy that amounts to abandoning the Kurds. But where were they when the U.S. wanted to pull out of Afghanistan? The conditions were similar, Peter Beinart argues.
+ "Unless Congress acts, the Kurds may not be the last allies this president abandons," U.S. Senator Chris Coons writes.
---
Argument of the Day
(JONATHAN ERNST / REUTERS)
The White House announced this week that the U.S. would host the 2020 G7 summit at the president's Trump National Doral golf course, near Miami.
In other words, Trump is choosing to host an important international conference at a resort he owns, which has been struggling badly. In a presidency marked by the shameless intermingling of the personal and the political, it may be the most brazen act of self-enrichment yet.

[Acting White House Chief of Staff Mick] Mulvaney barely tried to justify the ethics of the choice during a briefing.

"He's not making any money off of this just like he's not making any money from working here," he said, without offering any explanation for why such a statement was true.
→ Read the full argument from David A. Graham here.
+ More from David: Trump has no shame, Graham argued last month when the president addressed questions from reporters about the Ukraine scandal during the UN General Assembly:
"While Trump may not have been ashamed of the political power play, the filing of a formal legal complaint by the whistle-blower creates a concrete legal process, as well as a rising threat of impeachment—both things Trump fears."
---
In Memoriam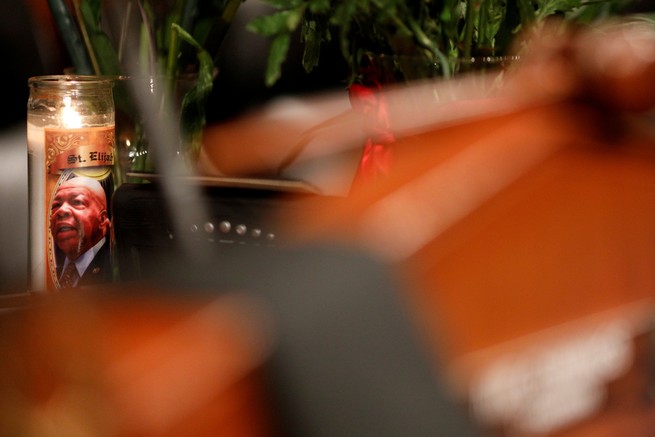 (TOM BRENNER / REUTERS)
Elijah Cummings, the stalwart representative from Maryland who passed away this week, was overseeing a powerful House committee at the center of the Democrats' impeachment inquiry.
But he wasn't just the Democratic warrior that came to define his public persona.
Cummings had an inclination for befriending the Republicans with whom he sparred. And there was a time two years earlier—as Peter Nicholas has written—that Trump listened, really listened, to Cummings:
Sitting together in the Oval Office that day, Cummings was blunt. The 13-term congressman told the president that his words were "insulting" and that "most black people are doing pretty good." Trump didn't get defensive or angry. He listened quietly, taking it in, Cummings recalled. "Probably nobody has ever told you that," Cummings told the president. "You're right—nobody has ever told me that," Trump replied.
→ Read the rest of the story here.
---
Weekend Read
(BRENDAN SMIALOWSKI / GETTY)
Our White House reporter Peter Nicholas spoke with close associates of the president to take the temperature on what's to come, as the impeachment inquiry ramps up.
Apparently absent from his life are traditional family bonds, creative outlets and hobbies, even exercise. (While some of his children are visible and vocal advocates for their father, Trump's relationships with them are notoriously complex.) Splayed out on Twitter, his life has always seemed a limitless diet of Fox & Friends episodes and interpersonal disputes. Long gone are the trusted aides with whom he seemed comfortable (and who were willing to speak their mind), such as the senior adviser Hope Hicks.

"I think what we're viewing, if you think about the human side of it, is the man has no life. He just has no life," the person close to him told me.
---
Before You Go
(BOB WANDS / AP)
A former speechwriter to Barack Obama listened to the 2020 Democratic candidate Elizabeth Warren give a major speech in New York last month, invoking the first woman to be appointed to a U.S. Cabinet position.
→ Read Susannah Jacob's story on what policy inspiration Warren has drawn from Franklin D. Roosevelt's labor secretary.
---
About us: The Atlantic's politics newsletter is a daily effort from our politics desk. Today's edition was written by Saahil Desai, with help from Christian Paz and Shan Wang.

You can reach us with questions, comments, or concerns anytime by replying directly to this email.

Your support makes our journalism possible. Subscribe here.